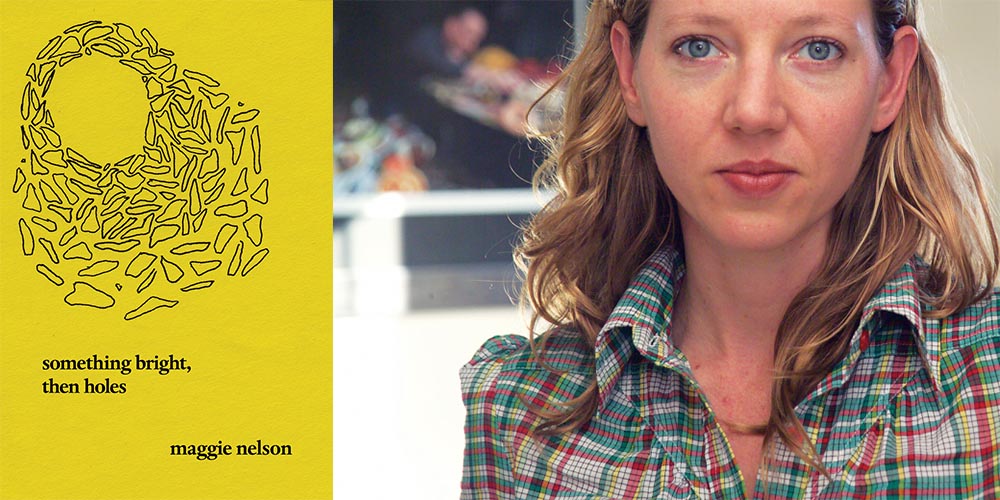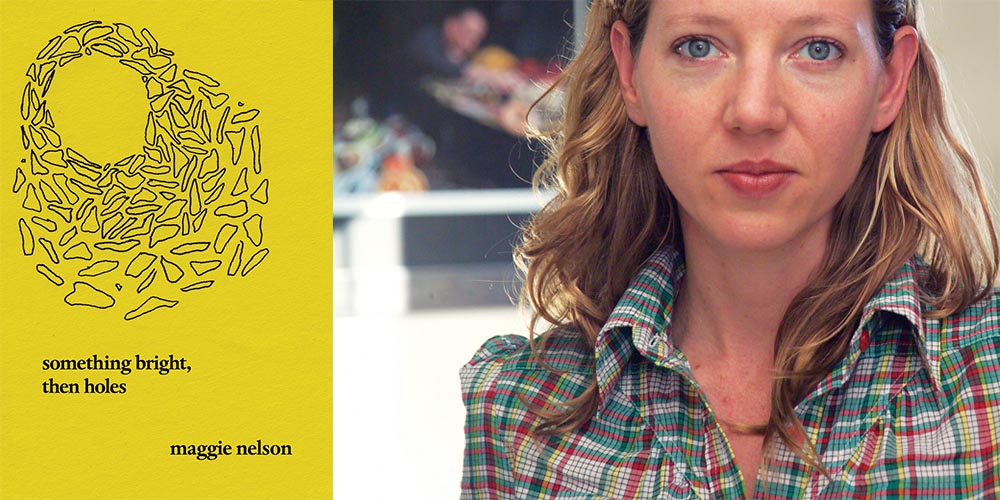 Maggie Nelson defies classification. She is the author of nine books, spanning poetry, autobiography, art criticism, and theory. This week, Soft Skull Press has reissued her book of poetry, Something Bright, Then Holes. First published in 2007, Something Bright was Nelson's fifth book, and she has not published a new book of poetry since. Nelson's nexus is fluidity: gender, pleasure, desire, and the body are questioned with equal rigor as modality, criticality, and theory. Those concerns are present in Something Bright. "I don't have to be ashamed of my desire / Not for sex, not for language," the narrator tells us in "A Halo Over the Hospital." But in this collection, Nelson's heady, narcotic philosophizing is underpinned by a more personal vulnerability. "Live with your puny, vulnerable self / Live with her," we are told.
While Something Bright, Then Holes charts many landscapes—from the polluted Gowanus Canal, to a friend's hospital room, to the inner tautologies of "leave-taking"—the collection centers around the issues of love and loss. "What part of this autonomy / am I not supposed to like?" the narrator expounds in "The Mute Story of November." The self and the other (romantic, or intellectual) are like binary stars. They threaten to destroy or consume one another: "Yesterday we found something very hard / at our core, a fierce acorn. I don't know / if we were born with it, or if its mass simply accrued / in the darkness."
INTERVIEWER
I wondered if you could talk about the experience of having a book reissued ten years later. Is there a sense of Didion's invitation to check in on the selves we once were? An old friend come to visit? Or, the sort of estrangement that one often feels as an artist from the work that came before?
NELSON
It's a beautiful edition, so I feel very lucky. It's also sweet to me that my dear friend Tara Jane O'N​eil did the first cover and then did this one as well. I feel estranged from this book in the sense that it is my last book of poetry—not like, the last book of poetry I will ever write, but the last one I've written, and it's wild that a decade has gone by since. But I can see many themes in these pages that have cropped up in my more recent prose books, so I feel a strong continuum of thought. There was kind of a magic splintering happening inside me at the time of Something Bright—very painful, but also magic. It's also the last book I wrote in New York, and I can really feel that—all that time spent talking to and about strangers at the canal, all that looking outward, all the late nights, the wandering, the perching. My life isn't like that anymore. Anyway, it's nice to see these poems again. Read More