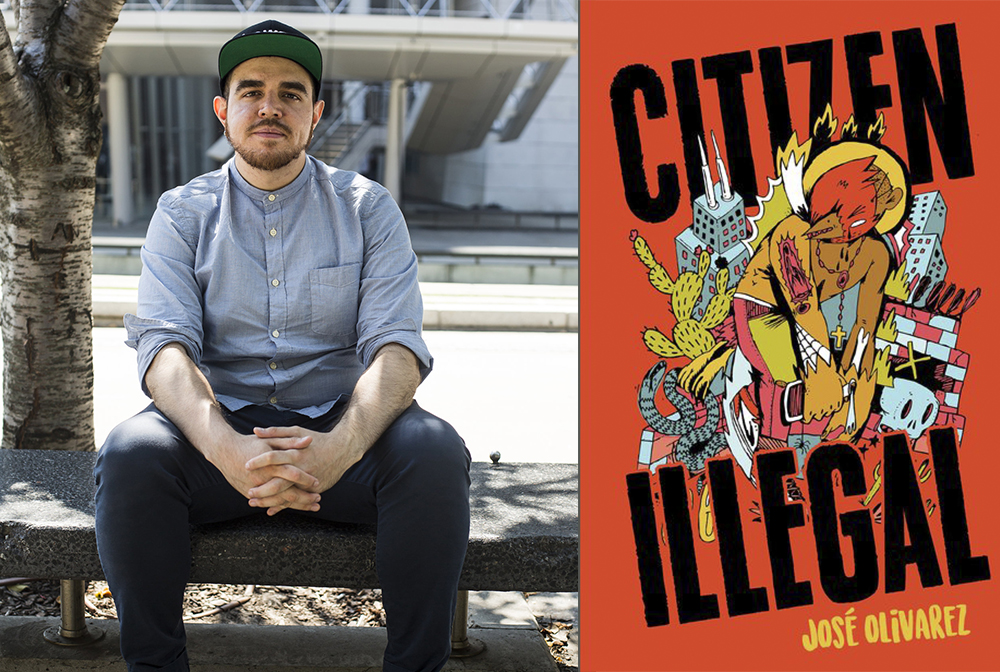 The first poem I encountered from José Olivarez's forthcoming book, Citizen Illegal, was "A Mexican Dreams of Heaven" at The Adroit Journal. When I read it, I started cracking up in the living room. I read it out loud to my partner, who was in the bedroom, and she also cracked up. The poem elicits the painful laughter that comes with so much truth:
there are white people in heaven, too.
they build condos across the street
& ask the Mexicans to speak English.
i'm just kidding.
there are no white people in heaven.
Olivarez's poems span gentrification, gentefication (which Olivarez defines in this interview as the returning of a neighborhood to the communities who are being displaced), migration, anger, love, cheese fries, family, loss, therapy, white America's engagement with immigrants and people of color, futures (including defecating donkeys), pasts (including a very sweet imagined recollection of his mother out dancing), more love, tough love, generous love, and, of course, as a Chicago poet, The Bulls.
I met Olivarez for a coffee in Chicago to speak about the book. He was coming from a Teaching Artistry workshop at the Poetry Incubator, a conference for poets who integrate activism and community engagement into their creative practice. I already knew of José—he used to work for the same organization, DreamYard, that I work for in The Bronx. He has since worked for Urban Word, and now is at Young Chicago Authors, all organizations centered on building with youth through poetry. His workshop at the Incubator focused on the transformative possibilities of poetry and the imagination. These possibilities are at play in his own work. In "A Mexican Dreams of Heaven" he shifts the power balance and makeup of what heaven is, who gets to go to heaven, what it's like. I suspect these visionary reversals derive partly from his work with kids, with the desire to imagine a future for them, to start imagining one with them.
INTERVIEWER
What scares you the most about this book?
OLIVAREZ
I wanted to make a book of poems that the people I love will be proud of. A lot of the poems are about my family, my experience as a first generation Mexican-American Chicano, and I wanted to write poems that were not shameful, not ashamed. I wanted them to be poems that my brother wouldn't be embarrassed to show his co-workers, that my mom could share with the family, with her co-workers, that my students would want to give to their friends. I didn't want them to look at the poems and think wow, José is so ashamed of us, or, José is so sad to be a part of us. I am very proud of my people, where I come from, and my community.  Read More