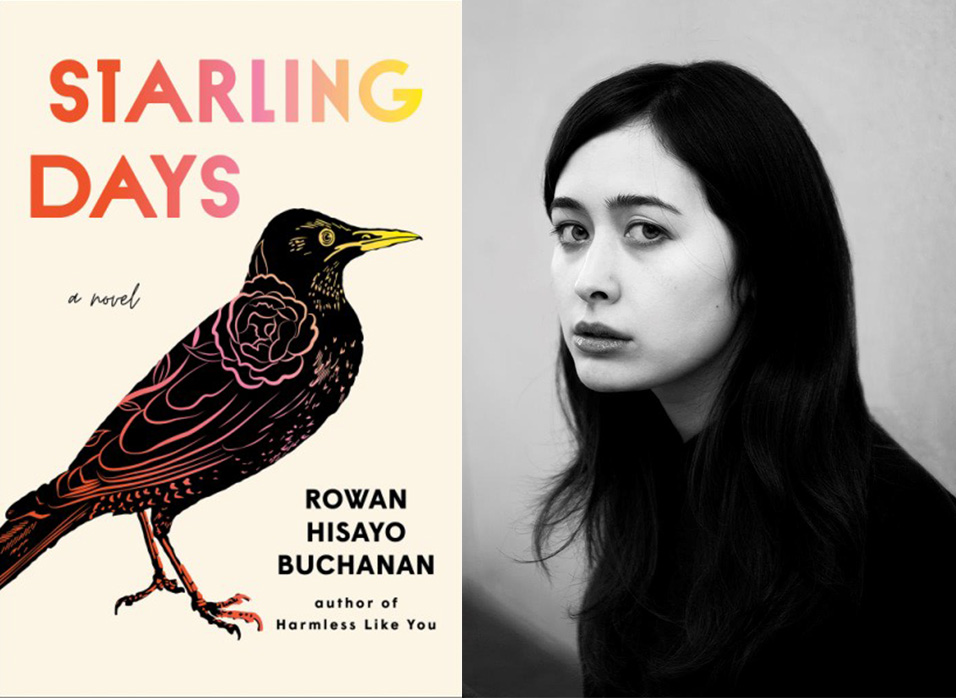 The first moments in Rowan Hisayo Buchanan's Starling Days are quiet. Mina, a thirty-two-year-old classicist, is walking along the George Washington Bridge on a humid summer evening. She feels the bridge shudder in the wind. She looks past Manhattan's skyscrapers and imagines her husband, Oscar, working at home in Brooklyn. It's not apparent to the reader why she's here—perhaps Mina herself is uncertain—but then she looks at the river, and remembers what people say about jumping: "When a body fell onto water from this height, it was like hitting a sidewalk." She gently tosses one of her flip-flops over the edge, before a policeman interrupts the scene. From these first careful sentences, Buchanan sets the tone of the novel, the proximity of its narration. Starling Days is as immediate, changeable, and surprising as real life.
Mina and Oscar are young, recently married, and coping with an intensification of Mina's depression. Alternating between their points of view, Buchanan maps their attempt to find the key to Mina's suffering. But despite their intimate knowledge of each other, their shared histories and identities, and their most tender efforts to bring about change (they temporarily move to London early on in the story) many of Mina's emotions remain impenetrable. When Mina is hospitalized after an overdose attempt, Oscar attends to her: "For the whole visiting hour, his face was twisted with confusion. 'Why did you do this?' he'd asked. But she couldn't point and go, There, that. That's what's wrong with me." The dynamic of this scene replicates itself throughout the novel—the effort to make sense of the inexplicable, the ensuing confusion, the twisted face.
In the darkest moments of this cycle, Starling Days is heartbreaking to read, and yet, most days, I closed the book with immense gratitude for its refusal to pathologize family history or identity. It feels rare—in both literature and in our world—to sit with sadness and allow it to be unruly. Buchanan proves that to recognize that some sadness is unalterable is not necessarily a melodramatic plunge into despair. Strange, enduring sadness has a mirror: small, repeated gestures of survival. In the hospital, Oscar is still looking at Mina, and inviting her to try. 
Rowan and I first spoke via Skype, but our conversation spilled into emails and messages in the weeks that followed. We spoke about choosing to hold on, and about the literature that helps us do so. 
INTERVIEWER
Where did Starling Days begin?
HISAYO BUCHANAN
Maybe books are the record of everything I've been fascinated with for several years. I could say Starling Days began in several places and they would all be true.
As a writer, I'm often thinking about how much language we have. In contemporary culture, there are so many words we can use to describe our identity. I could tell you that that I'm mixed race, that I'm dyslexic, that I'm bisexual, on and on. Each word describes something true and important about me. At the same time, no words quite describe the feeling I get when I see a bird take off from a tree that I previously thought was empty. It's odd to be simultaneously overwhelmed by language and also to find it inadequate.
As I tried to find ways to talk about mental health, often the language around it felt like a way of silencing the experience. A particular phrase stuck out to me: "You have to love yourself, before you ask someone else to love you." It felt both true and very untrue. It's extremely hard to conduct a relationship—romantic or otherwise—with someone consumed by their suffering, and yet it's unfair to expect someone to feel able to love themselves if they're not receiving any love.
Novels and fiction are a way of examining something I don't fully understand, so I wanted to write about a couple where one person is struggling with their mental health, and show both sides of the relationship. Although the things that happen to Oscar and Mina are not the things that happened to me, I have loved and cared about people who've experienced severe mental health challenges and, when I was a teenager, I experienced very serious depression. I felt able to think about both sides, and invested in thinking about both sides.