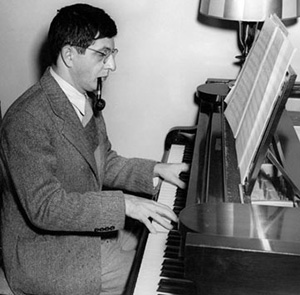 The name Bernard Herrmann may not be as familiar as Aaron Copland or Samuel Barber, but you'd know his music instantly. Some of it—the shrieking strings from Psycho's shower scene, for instance—is as famous as anything written in a classical idiom this century.
Herrmann wrote film scores—most notably, nine for Alfred Hitchcock, including Vertigo, North by Northwest, and The Man Who Knew Too Much. But despite his music's indirect fame, Herrmann (whose centenary is June 29) has yet to get his due as a serious composer. And he was one. His life had the dramatic arc of a great twentieth-century maestro: expulsion from Juilliard, works commissioned by the New York Philharmonic, major awards, an underappreciated symphony, friendship with Charles Ives, a feud with Leonard Bernstein.
The word centenary usually implies fanfare—live performances, retrospective essays, new biographies competing for the cover of the New York Times Book Review. But scrolling through the News and Events section of bernardherrmann.org is underwhelming. There's a smattering of concerts, mostly abroad (Edinburgh, Bristol, Frankfurt) and nothing from the New York Philharmonic that once performed his music. Herrmann's estate is once again trying to sell the original score to Psycho (in 2009, it was sheepishly withdrawn from auction when it failed to garner a minimum bid). The Minnesota Opera is staging Herrmann's forgotten opera based on Wuthering Heights. Perhaps a headline in the Twin Cities Daily best sums up the state of affairs three decades after the composer's death: Who in the world is Bernard Herrmann?
I recently bought a few Herrmann sound tracks but, after listening to them, found them disappointing. Something was conspicuously absent. I couldn't shake the feeling that I was listening to the sound track of a missing movie.
Is there a way to free film scores—especially those as artistically rich as Herrmann's—of their film-cue obligations without deflating them? Can casual listeners appreciate Herrmann without the aid of Jimmy Stewart following Kim Novak around 1950s San Francisco? Maybe scores could thrive in a different context. In honor of Herrmann, I conducted an experiment. I loaded two scores, Psycho and Vertigo, onto my iPod and tried them out as personal sound tracks for wandering around New York.