April isn't all cruelty and taxes. Every year, during the first week of the month, we celebrate The Paris Review at the Spring Revel. This year, we gathered friends, fans, and family to honor Joy Williams and sixty-five years of the magazine. John Waters, the legendary mustachioed auteur, was the self-described "monster of ceremonies," escorting guests through an evening that recognized the emerging and established writers who have found a home at The Paris Review.
The stars at Cipriani rivaled those across the street on Grand Central's ceiling, as Don DeLillo, Radhika Jones, John Waters, David Sedaris, Patricia Marx, Tina Brown, Sir Harry Evans, Michael Cunningham, Lesley Stahl, Morgan Entrekin, Lewis Lapham, Hailey Gates, Ellie Goulding, Amor Towles, Dana Spiotta, Joanna Coles, Henry Finder, Emma Cline, and Kwame Anthony Appiah toasted with Review readers old and new.
Guests hushed to the sound of George Plimpton interviewing Eudora Welty, a snippet from the first season of our podcast. As the crickets of Jackson, Mississippi, faded away, our publisher, Susannah Hunnewell, toasted Paris Review comrades who had died this year, including Drue Heinz, Bokara Legendre, and John Ashbery.
The first award of the evening bridged the Review's past and present. Named for our founding editor George Plimpton, the Plimpton Prize is presented each year to a new voice in fiction. The novelist David Gates presented Isabella Hammad the prize for "Mr. Can'aan," from our Fall 2017 issue. Her story, which begins on the banks of the Jordan River a week after the Six-Day War, immerses the reader in the inheritance of loss passed through generations of Palestinians. In her speech, Hammad noted that the prize had brought her more than one kind of encouragement:
Over the last few years since I've been living in New York, the conversations in this country surrounding the Israeli occupation of Palestinian lands and lives have definitely been changing … This should not distract us from the reality that the situation there has not improved. In fact, it has become palpably worse. Nevertheless, at a time when it is often difficult to feel hopeful about the future, that a story about Palestinians should win a prize like this does help me to feel a bit of hope.
David Sedaris, known for spinning his own sadness into impossibly funny yarns, was awarded the Terry Southern Prize for Humor by the incomparable Patricia Marx, who threatened to upstage her honoree on the microphone as she explained her love for his work:
There are plenty of writers whose work I like, but with those writers—let's just say I didn't read Crime and Punishment and wish I could visit the prison in Siberia and sleep on the bed of nails with Dostoyevsky. Emily Dickinson, Virginia Woolf, Sylvia Plath—depressed. It's different with David Sedaris. You read a story about his family or his boyfriend, Hugh, or even a line of his like, "As bad a dresser as I am, anything beats being judged by my character," and you know you need to meet this writer immediately.
As Cipriani's legion of waiters noiselessly disappeared dinner, John Waters praised Joy Williams for her lifetime of characteristically uncompromising writing:
Ms. Williams is a desert rat, and I mean that as a compliment. She calls wild animal trophy hunters psychopaths, and I agree with her. And wishes Earth First would rise again, though she realizes they were branded terrorists and anarchists by the FBI. You could say the same for her writing. It confuses our values and destroys moral superiority. "She's probably not for everybody," the New York Times once warned. But who are these "everybody" she's not for? The literary deplorables, that's who. If you can't appreciate Joy Williams's writing, you have no business being a reader. Get outta here, go to a movie or something!
For all the hard edges and vacant horizons in her work, Williams warmly accepted the award and turned her appreciation to the magazine, extolling,
The Paris Review appears to me a strong, glittering chain of continuity, a continuity of artistic excellence and discovery and verve, bridging the years, harboring all manner of marvels and singularities. I'm so happy to be honored here at this literary revel of revels, on the list, a very special list. I will tell you, I feel a churchy exultation and joy right now. Hadada, hadada, hadada.
Our interim editor, Nicole Rudick, brought the evening to a close and the guests close to tears as she expressed her pride in the magazine's potential and encouraged the audience to imagine that every Revel could be the best one yet. May April always bring renewed Review merriment—next year with you!
Take a look at the photos below, by the photographer Matteo Mobilio, plus more from Vanity Fair and Avenue magazine—and we hope to see you next year!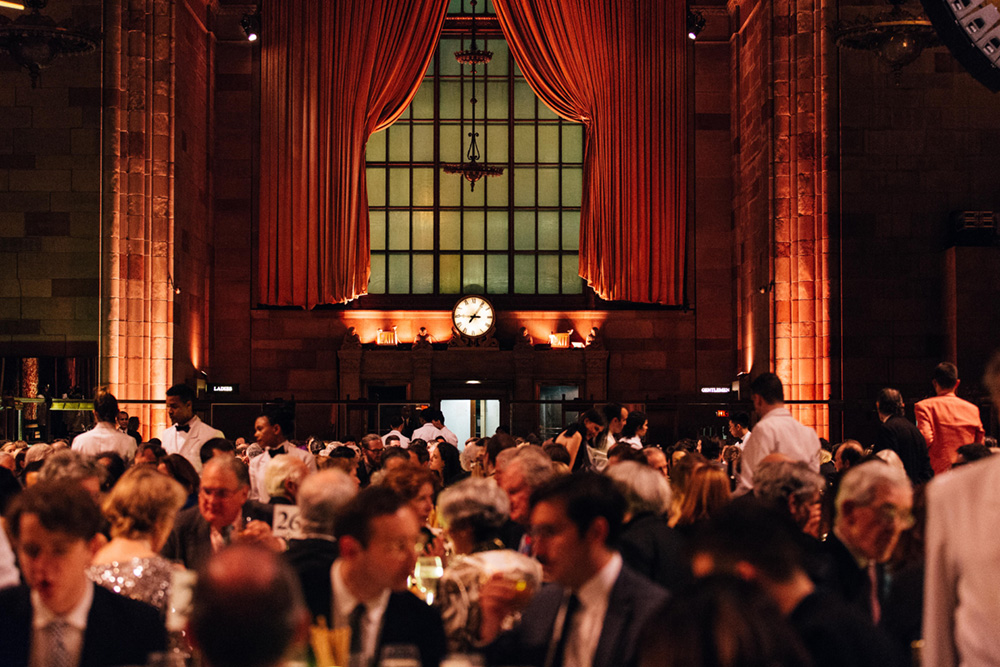 Julia Berick is the development and events director for The Paris Review.