Interviewed by Paul Winner
Issue 209, Summer 2014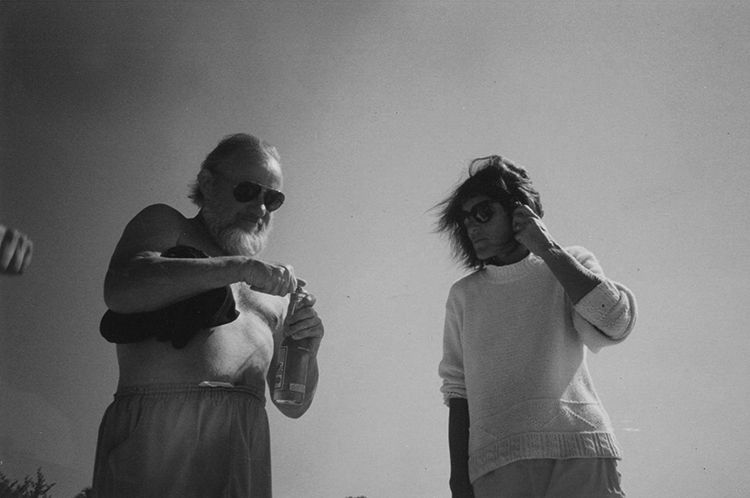 With Robert Stone in Key West, ca. 1995.
Joy Williams couldn't find her glasses before a lecture some years ago and used prescription sunglasses instead. During Williams's walk to the podium, an audience member was heard asking if the writer had gone blind; another remarked how inspiring it was for Williams to recall the lecture from memory. She had been asked to discuss craft. She did not discuss craft. She discussed Kraft cheese and the "twiddling" nature of art pursued "within a parameter of hours in prisons, nursing homes, and kindergartens," and then she opened a valve. What would be the point, she said,
to discuss the craft of Jean Rhys, Janet Frame, Christina Stead, Malcolm Lowry, all of whose works can teach us little about technique, and whose way of touching us is simply by exploding on the lintel of our minds. It is not technique that guided them. Their craft consisted of desire.
She went on:
We are American writers, absorbing the American experience. We must absorb its heat, the recklessness and ruthlessness, the grotesqueries and cruelties. We must reflect the sprawl and smallness of America, its greedy optimism and dangerous sentimentality. And we must write with a pen—in Mark Twain's phrase—warmed up in hell. We might have something then, worthy, necessary; a real literature instead of the Botox escapist lit told in the shiny prolix comedic style that has come to define us.
She smiled, thanked the audience, and sat. There were no questions. A student at the reception wondered aloud if tonight's craft talk could have possibly destroyed future craft talks. "I hope so," her friend said.
The Paris Review had already run several of the earliest, weirdest Joy Williams stories before George Plimpton agreed to publish State of Grace under the magazine's book imprint in 1973. The novel, her first, would be nominated for the National Book Award when its author was thirty. (She lost to Gravity's Rainbow.) She went on to write three more eerie, eccentric novels of life on the American margins as well as four renowned collections of stories, upon which her reputation solidly rests. Many have attained cult status beyond the normal anthologies—"Traveling to Pridesup," "The Blue Men," "Rot," "Marabou," "Brass"—and are frequently passed around M.F.A. departments with something like subversive glee. They are, as Williams probably hoped, unteachable as craft. The New York Times admitted more than it meant to, perhaps, when a reviewer claimed her work was "probably not for everyone." Over the decades, wildly different stylists—Donald Barthelme, Don DeLillo, Raymond Carver, William Gass, Karen Russell, Bret Easton Ellis, James Salter, Ann Beattie, Tao Lin—have all expressed unqualified admiration.
Williams was married to Rust Hills, fiction editor of Esquire, for thirty-four years, until his death in 2008. Now she divides the seasons between Arizona, Florida, and New England, crisscrossing the country in an old Ford Bronco with two sable-black German shepherds, writing in motels or as the occasional guest of a college. She uses a flip phone. She types postcards in lieu of e-mail. She has never owned a computer. She continues to wear the same prescription sunglasses, indoors or out, night or day.
She was a writer-in-residence at the University of Wyoming when this interview was arranged. It was October; snow whipped between the ranges like a sandstorm, while several big rigs had jackknifed on black ice coming into Laramie. I phoned from a coffee shop, and she gave me directions: thirty miles north to a ranch where the Bureau of Land Management had relocated herds of wild mustangs. Williams was staying in a red-roofed log cabin with a porch swing and fire pit. The sun broke through like something from Doctor Zhivago. Everything about the wintry scene felt germane to this particular artist: the scope and grandeur of the natural world, the monkish quiet, two dogs with lively personalities, and—roaming everywhere—hundreds of wild horses, nervous and arrogant. Huddled in a hoodie, Williams made coffee with almond milk before sitting across from me at a pine table. She got up several times to retrieve objects or fuss with the dogs. When the talk was over, she drove us into town for a martini and we returned after dark. There was a fat moon. She cut the truck's headlights and moved, very slowly, through the herds as they sniffed and stepped aside, hides glowing with moonlight.
"Forget the interview," she said. "Write about this."
Paul Winner
INTERVIEWER
What do you teach, when you're visiting a college? Is there a philosophy you try to impart?
WILLIAMS
James Salter once taught a whole course of novels that were written when the authors were the same age as his students. Isn't that clever? Well, it could also be intimidating. Mostly you just need to support them until they get older and sort themselves out a bit.
INTERVIEWER
What kind of child were you?
WILLIAMS
An only child, growing up in Maine. My father was a Congregational minister. He had a church in Portland. It was a big city church, a beautiful, very formal place. His father was a Welsh Baptist minister who, as a young man, won the eisteddfod in Wales. His prize was a large, ornately carved chair, the bard's chair, which I wanted very badly as a child. The chair made it to this country but was given to my father's older brother, who gave it to a historical society in Wilkes-Barre, Pennsylvania, from which it was washed away in a flood. Preachers and coal miners, my genealogy.
INTERVIEWER
You said you still own your father's Bible.
WILLIAMS
Oh, yes. He had lots of Bibles. I kept them all. I've got my father's notebooks, his sermons. One of these days I'll get them organized. My mother always said she was going to throw them out. They're not meant to be read, they're meant to be heard, she said. But I've still got them.
INTERVIEWER
Were you a good student? An avid reader?
WILLIAMS
When I was a child I thought the answers to tests had to be transmitted to a person through some kind of food. Perhaps I read it in a book. In any case, it seems I was always preparing myself for tests, or thought I was. I was uneasy with my presence in life. Who was I, anyway? What was I supposed to do? Even with my obsession with preparing for the tests of the day, I was an indifferent student before I went to college. I had my heart set on Colby, in Maine, this tiny liberal-arts college, but I didn't get in. Marietta, in Ohio, is where my father went, so I went there. I loved it. I was Phi Beta Kappa.
INTERVIEWER
Do you have your key?
WILLIAMS
I do. Do you want to see it? The first was stolen, so my husband tracked down the Phi Beta Kappa people and got me another one. They don't give it to just anybody, apparently. As I said, I loved college. I had the guidance of an elderly, morose, chain-smoking English professor—Dr. Harold Dean. I never spoke well or argued well in class. But filling up blue books with the gleanings and gleamings of thought, which somehow became a new thought—that was very fulfilling to me. I read Donne, Dickinson, transcendentalism, Eliot, Camus, surrealism. I drank it all up. I was obsessed with Dickinson. The professor gave me her collected poems, three volumes in a box set. A lovely thing. It fared very badly in Florida, all those years, eaten by insects.
INTERVIEWER
Is it true that when you left home, your family gave you multiple copies of the same book?
WILLIAMS
Miss MacIntosh, My Darling. When I was going off to college, I got two copies of this thing, this impossibly neurotic, very strange book by this woman who'd been working on it her whole life, Marguerite Young. What were they thinking? I got Berryman's collected poems at some point for a birthday, but back then I guess my parents read a review somewhere and thought, You know, well, Joy thinks she's going to be a writer.
INTERVIEWER
Had you already started writing? You were published quite young.
WILLIAMS
Not so young.
Want to keep reading?
Subscribe and save nearly 40%.
Subscribe Now
Already a subscriber? Sign in below.