W. S. Merwin
Issue 18, Spring 1958
You were always a stray and grating
Stiff-necked lot, I am sure of it; graceless.
And nothing loose about your hands.
Great ones at vanishing, some all the time.
Bearing little but grudges; though some
R…
Want to keep reading?
Sign in—or sign up for a free trial…
Free Trial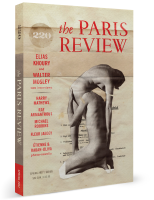 …or get your subscription now!
Subscribe