Maureen N. McLane
Issue 206, Fall 2013
& the moon and all stars
you can name
are fantastic!
It's not cool
to be enthusiastic
not chill
to say hey!
There's a fucking sun
still shining
over every goddam thing
except what happens at night!
—& even…
Want to keep reading?
Sign in—or sign up for a free trial…
Free Trial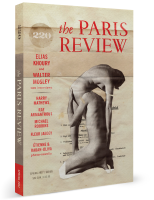 …or get your subscription now!
Subscribe