Aimee Walker
Issue 178, Fall 2006
It was not male, who galloped
across a divided
landscape, or female.
Everything in twos,
but this was one.
Inside his ship, Noah's
dilemma: what was to be done
with this huge, mateless thing,
wet and shive…
Want to keep reading?
Sign in—or sign up for a free trial…
Free Trial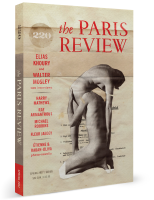 …or get your subscription now!
Subscribe