Anne Carson
Issue 171, Fall 2004
It was the sound of her writing that woke me. Since you ask, this
is what I remember. Her desk is just outside my room. Some days
I hear sounds too loud. Some days I hear a crowd and there is
no crowd.
Want to keep reading?
Sign in—or sign up for a free trial…
Free Trial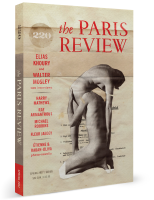 …or get your subscription now!
Subscribe