John Hollander
Issue 12, Spring 1956
The silly fish deceived him
As he approached the creel:
He thought the whole thing real
And his black heart believed him.
And so, for a simple meal,
He contrived to creep
Past fishermen asleep.
I know it must have peeved him
That I, a sharper angler,
Had acted as his strangler.
Want to keep reading?
Sign in—or sign up for a free trial…
Free Trial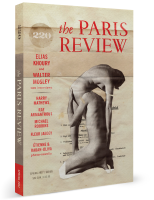 …or get your subscription now!
Subscribe