Jordan Smith
Issue 91, Spring 1984
In a nearly empty off-season cafe, just across
From the row of grand Saratoga hotels, I lost faith
In the elegance of the facades fronting Congress Park,
Their flush, hardly graceful Nineties air—restored,
privileged
Moments of an assured, more frankly reserved century.
Want to keep reading?
Sign in—or sign up for a free trial…
Free Trial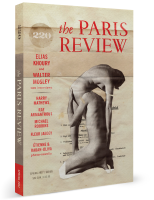 …or get your subscription now!
Subscribe