John Ash
Issue 114, Spring 1990
As in an old memoir, the rhododendrons were over.
Hunger persisted, and the light was weak —
the light of music and books, the light paintings cast
on bowls of fruit and table cloths, to make them ours . . .
Want to keep reading?
Sign in—or sign up for a free trial…
Free Trial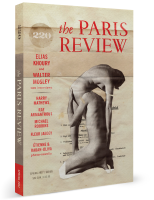 …or get your subscription now!
Subscribe