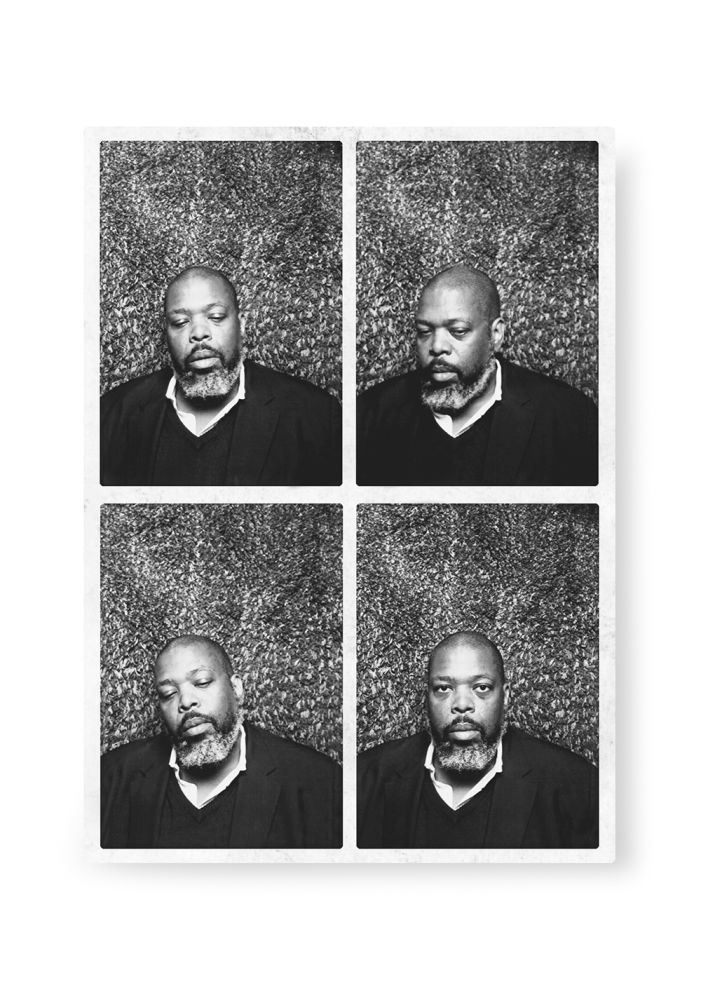 In his open, ­omnivorous writing on literature, ­visual art, and performance, Hilton Als has made critical analysis and introspection a conjoined practice. The essay, which he has called "a form without a form," is his primary mode, and he invariably interweaves family and friendship, American fixations on and lived ­experiences of race and sexuality, metaphor and reality. In "The First Step of Becoming an Art Historian," one of Als's earliest published pieces, from 1985, he describes coming "to realize a desire to relate the illusion of memory, based on [others'] facts, to the illusory present." It may still be as good a statement of his purpose and methods as any.
Als was born in Brooklyn, New York, in 1960, and grew up there with his four older sisters and younger brother. He attended the High School of the Performing Arts, and his first forays in art criticism were published in Ballet Review and the Brooklyn City Sun when he was in his early twenties. After editorial stints at the Village Voice, Vibe, and the New York Times, he was appointed a staff writer at The New Yorker in 1994 and has served as its chief theater critic since 2013; he was awarded a Pulitzer Prize for that writing in 2017. Als published The Women in 1996 and the collection White Girls in 2013, each a hybrid of memoir, portraiture, and criticism. Many of his essays are uncollected, but his voice is unquestionably influential: when Als received a Windham-Campbell Prize, in 2016, the jury cited his "ingeniously provoking" essays that take "enormous risks in content and form" and "break open standard narratives of gender and race."
Als has also written screen- and teleplays, self-publishes the broadside project "After Dark," and has curated exhibitions of the art of Alice Neel and Christopher Knowles, as well as a three-part show of his and others' visual work. (His widely followed Instagram account is yet another forum for his curiosity about the human as a living work of art.) Playing across these varied subjects and forms is an eye that resists sentimentality but is fascinated by all of our vulnerabilities—and by the grammar of this scrutiny. As he puts it in the opening essay in White Girls, "I, you, me, us, words let alone concepts I struggled with."
Our conversations took place last winter: once in the offices of The Paris Review and twice at Als's West Village apartment, a space filled with books and talismanic pieces he has gathered and been given, including art by Kara Walker, Judy Linn, and Diane Arbus, a bronze bust of James Baldwin, and an ornate mirror that once belonged to Laura Nyro. These sessions capped a fantastically busy few years of work and travel for Als, and he was thinking about changes professional and personal. His rich voice, in person as in his writing, was palpably alive and emotive in the questions that he, too, asked, and in his searching interest in working out answers together.
INTERVIEWER
What does home mean to your writing?
ALS
It's a great question, because I now, at last, have a grown-up apartment, the first place where I can really work—and sort of drift around. I had a desk built in, made for me. The first thing I said when I got the Windham-Campbell Prize was, I can move now. It was a bit like 1988, when I lived in Brooklyn and heard about an apartment in Tribeca. I had no money, but I said, I'll take it—and the next day I got a raise and a promotion at the Voice.
INTERVIEWER
And the home you grew up in?
ALS
My little brother pointed out not too long ago that we moved so much when we were young and that our mother must have done it in part to protect us. And because there was no capital and we were always at the mercy of some landlord, we had relatively little control over where we landed. I remember feeling very vulnerable to the relatives—my mother's siblings, et cetera—we sometimes stayed with. One of the great things about becoming an adult was having my own space. My mother was very intent on my independence. It is a great sadness to me that she didn't live long enough for me to take care of her, to give her a house of her own.
We grew up under the yoke of social services. The government ­issued food and caseworkers came into your house, to see if you had a radio or if there was a man there. So there was no real privacy. My sister Bonnie and I would go pick up the food, and it was very shaming to her. I think all of these things added up for me. For years, in my place on Beach Street, I never locked my door. Everybody was welcome, in part because I never wanted anyone to feel excluded. My mother used to bring in homeless women and give them a cup of tea. I still don't want anyone to feel excluded, but I know now, too, that it's okay for me to lock my door at night or when I'm working. This apartment feels like the step before buying my own home. If you don't come from capital, or don't have a partner who does, how do you understand how to do this?
INTERVIEWER
"Where am I from?" and "Who made me?" are questions you continue to ask in your work.
ALS
At one point, I was writing a fiction about my grandmother, my father's ­mother. Her name was Frances Williams—Rolston was her maiden name—and she was the only daughter. She was born in Barbados, of a certain class. Well, I don't know for sure, because the sad part is that this history only goes back as far as your parents, and they never tell you. But they were all very light-skinned. Her mother was Irish, maybe, or half something. This much I know—my grandmother was attracted to darker men of color because of her politics, and she married Lisle Williams, my grandfather. My middle name is Lisle. They lived in Bridgetown, the capital, in Saint Michael parish. Truly, these are the only facts I can confirm. Maybe there was some strife about them coming together. She was very clever, and she had a beautiful house and an ­incredible sense of how to stretch money. My mother used to say, Mrs. Williams can take a handful of peas, throw it in the pot, and feed ­everybody. I really loved her, she was my go-to person, but she was fixated on my father, who was the middle child and continued to live upstairs, in her home, as an adult. My mother snatched me out of that environment and made me a hard worker.
I also really want to write about my aunt, my father's sister, who had been a brilliant pianist with perfect pitch but ended up as the powder-room attendant at the Rainbow Room. She wanted to play jazz, but my grand­father said jazz was for whores and stopped her. Some members of my family wish I would stop writing, I'm sure! My mother also had a sister who was left behind in Barbados, which was such a heartache to her that I borrowed some things about my aunt for my mother's story, when I was working on The Women. Even though my mother was dead, I was still so sad for her about her sister that I couldn't say in my writing why she had been left.
INTERVIEWER
How do you grapple with that instinct to protect elders? How is it related to negotiating queer differences at an early age?
ALS
The damage suffered by people I know and love is almost always based on the trauma of the only elder they had treating them badly or being interested only in their silence. And what you're left with, by the grace of God and some miracle, is this inner self. Our experiences are painful and sometimes annihilating, and if we have the strength to crawl out of and excavate that wreckage, we have to ask ourselves how to describe the truth of it.
INTERVIEWER
Your work has often been a kind of wrestling with the idea of facts through the imagination.
ALS
For me, writing is a way of struggling through the intricacies of an anti­empirical sensibility. And there must be words other than fiction and nonfiction. I see fiction not as the construction of an alternate world but as what your imagination gives you from the real world. Toni Morrison is a novelist, but I've been to her hometown, Lorain, Ohio, and seeing it made those books seem truer than if she were writing nonfiction. Those gorgeous early novels are inventions and acts of reporting, all at once. On the other hand, I wonder if there's a way of writing the truth when you're queer that's different than if you're straight. Is there a way of writing the truth if you're of color, if you're Afro-Caribbean, that's different than if you're white? I've never read anything that helped me with this issue, except by the people who do it. I'm trying to learn how to be of service as a writer. I know that if my family got as upset about The Women as they did, the book must have had some fundamental emotional truth. I thought I was writing them a love letter. I think the difficulty for them was that I was talking emotionally about how I was reacting to them, particularly when it came to how my mother was treated, which often wasn't well—or well enough for me.
INTERVIEWER
They wouldn't be the first people to respond to a memoir in ways that are about their own pain, or about feeling disserved by the work in some way.
ALS
Do Italian Jews feel that Primo Levi did a disservice? That he made things up? Does it make it less interesting? I don't know. The history of literature is ­accounts of consciousness that wouldn't hold up in a court of law but do hold up on the page and in our hearts and minds. I have a friend who was furious with her mother's memoir. I said to her, No memoir is true, and that helped her.
INTERVIEWER
You've written, "What are essays but an 'I' standing in the middle of experience?"
ALS
I've had so little to work with, but grasping the facts about my family was difficult for other reasons, too. My partner, Evan, asked me recently when my father died, and I said, I think it was 2001? My father had so obliterated the idea, let alone the reality, of his love that he was a kind of figment of my imagination for many years, even before he died. Writing that first section of The Women took five years because I actually couldn't remember him. He was central to my mother's love story but not to my life, except, of course, as a bad paradigm for the kind of guys I used to be interested in, and women, too—vain, snobby, difficult, and only interested in me if I reflected them.
INTERVIEWER
You found a way in through mesmerizing negation—the litany of facts and feelings your mother never spoke of. It seems like a strategy that has been meaningful in other writing, too—in your essay on Robert Gober and in your Windham-Campbell talk.
ALS
So much of what I learned about my family was hearsay. And you had to respect my mother's privacy. She kept this weird green metal box that had official papers in it, birth certificates and passports, and I was looking for something in there a long time ago and found a bankbook that said "Hilton Williams." Remember, that's my father's last name, which I don't have. So I asked her about it—and those were the days when you did not ask your parents this kind of question. She said, We were thinking of getting married, and we didn't. And that was all she said. I remember showing Tina Brown some writing once, and she said, It's so confusing, who belongs to whom. But that's the whole point. The thing that really freed me when I was writing The Women was a friend, Darryl Turner, saying, It's not your mother, it's a character. I learned that if they're characters, you don't think about what they have given you or taken away—they're just someone you're describing. Darryl really loved teaching, and he could free me in ways that were very powerful.
INTERVIEWER
So much of the work is about how families, and knowledge about them—memory itself—have been fractured, shaped by colonialism and emigration, as well as about the impact of adults' silences and lies on children, their witnesses. The paucity of facts as inheritance, as history.
ALS
I'd been ashamed about what I don't know for years, and lonely writing about it. And I've thought, Am I stupid? Am I crazy? I've decided to go to Barbados and sit down with the records. I think I have the strength now to get whatever facts I can from archives. About three years after my mother died, I was down there and went to an antique shop owned by a relative of hers, and he said to me, Oh, I heard Marie was down here. I said, My ­mother? No. She died. And I thought, He knows that, but it doesn't matter to him! Another inheritance is this profound carelessness about other people's emotional lives. So if I write emotionally, as I did in The Women, what was I expecting? My mother was dead, but I was expecting her to read it and tell me that she loved me.
INTERVIEWER
She was your first reader and great supporter. Was your childhood writing a way to be close to her?
ALS
It was, although I always say that I wrote to get a word in edgewise in my family. A deeper truth is that I really admired my sister Bonnie, who wrote ­poetry, and I'm sure I was emulating her, in a sense. She was so formative ­because she showed me art in action—that it could be part of your life. She also did makeup that was very unusual. I was lying in bed the other day, ­remembering a book she had called Science in the World Around Us. I thought it was such an incredible thing to study. The universe! She's the one who brought those kinds of texts home. On some level, Darryl was her twin, to me. When you asked about home and writing, I thought about James Baldwin, who said that you carry home with you—you can't escape from it. He means it metaphorically, but it's important for me that home is also an actual place. And my writing is changing so much because that fear has dissipated. In this apartment, I'm living in a house like my grandmother's, but without the gloom and drag. And if it's not shaming to maybe someday own something, then you can leave it to someone, and there's legacy. For decades, those ideas were so horrifying to me—as a queer person, as a person of color, and because of my family. Did I think I was better than them? I'm so moved when West Indian kids say to me, I don't know anything about where I'm from. Because of the lies and willful negligence of memory in this community, we're taught that legacy isn't valuable, but I've kept asking questions and trying, through writing, to understand where I come from.
INTERVIEWER
And what it takes to go on making oneself, every day.
ALS
Kara Walker said this wonderful thing, when someone was criticizing her—If you only knew how much it takes just to go into the studio every day. That's what I feel—if people only knew how hard it was to write. I feel that writers get a bad deal not just from their families but in professional circumstances. I tell my friends who are actors, When you're complaining about the screenplay, don't just blame the writer, give notes that are helpful. It's such a mysterious thing, but we don't get a lot of credit for bringing mystery to the table, or trying to understand and explicate something in front of other people.
INTERVIEWER
Thinking about criticism as a job of educating yourself in public, while sustaining clarity and mystery at the same time, means giving up the idea of being right or wrong.
ALS
I remember an editor telling me that readers got upset because I used a lot of dashes. And I thought, That's so funny, because the dash is the consciousness leaping, it's like a bridge from one idea to another. The interesting part of criticism is getting people to engage with their own consciousness and think about what is happening to all of us, together, now, as opposed to looking for a yes or no vote from the critic. The pleasure of it is also in discovering new work and giving language to an experience that will be different, or forgotten, the next day. It's such an ephemeral art that I cover—theater. But I see how it's related to my own writing, in that it's trying to capture the truth of an experience in the moment and consider how consciousness changes it. For a long time, I was so allergic to the empirical in fiction and nonfiction that I didn't know where to begin. I was allergic to novelists who were certain that what they were making was a novel, and to journalists who believed it was journalism, and I was for sure distrustful of memoirists who said, At three years old, I remember my mother didn't kiss me, or whatever. I could only describe the truth that I felt, which was that the truth was not empirical, was what I knew in all ways, was coming in from different directions, and was not the whole story.
INTERVIEWER
Your sentences pull readers into thought and feeling in formation, in a way that's at once constantly mobile and ­assertively authoritative. Can you talk about this tension?
ALS
You know how when you see footage of Thelonious Monk playing the piano and he starts dancing and tapping his foot? My sentences are like that to me. They're natural to who I am. I feel lucky to be able to make them. My job is great because it's figuring out how to engage you in a conversation and bring you into the experience. I'm fascinated by some of the twentieth-century poets who write criticism, because they do it in such a strict way. They seem to feel that if they allow their poetry to get into that work, it'll be a lie. I love the dryness of Eliot. Or Brodsky, who writes fascinatingly boring essays about being an expatriate. I read them with glee because I learn a lot—it's helped me see what I don't want to do in a review or essay.
INTERVIEWER
Who were your early teachers?
ALS
When I was writing the profile of Jane Fonda, she talked about how when she was young, she was always drawn to the mothers of girls she knew—older women were the horizon to her. Clearly, I was drawn to men who were kind and from whom I could learn. My English teacher in junior high school was an incredible man named Jeffrey Waingrow. Because I read quickly, he would give me other books to read. On weekends, sometimes, I would go to his house, and we would take walks in Brooklyn. He gave me The Great Gatsby and The Denial of Death. I was thirteen, but he didn't condescend to me, he was interested in my possibilities, and I just adored him. It was as if the hope that my mother had for me was realized by someone who had some power in the world. Then my mother worked at an after-school program with a woman who had a friend who had books he wanted to give away. My mother said, My son will take them.
INTERVIEWER
And that was how you met the poet and playwright Owen Dodson?
ALS
He was trying to clean up his living room, to deacquisition his books, and he didn't want money, he just wanted to give them to someone who might want them. An enormous thing he taught me was that you could be an artist and have the respect of your peers. The people in his home were mostly people of color who had "achieved" in the arts. That was something I had never seen in my life before.
INTERVIEWER
But you'd already made contact with Paule Marshall, hadn't you?
ALS
Oh yes! She was another person I loved. I looked her up in the phone book. I would just call people up.
INTERVIEWER
Where do you think that impulse came from?
ALS
My mother loved artists and art. When I called Paule Marshall, I was saying to my mother, See, it's possible to be in the world and to connect with somebody you love. It never occurred to me that people would say no. I wrote fan letters to Richard Avedon saying that I wanted to work for him. It was my predisposition to not be fearful or to see art as empirical. I mean, doing this interview frightens me, but I believe that if something makes you feel that way, you should do it. If you see art as empirical, then artists aren't real. I never felt that they weren't real, so of course I would call Paule Marshall up and tell her how much I liked her stuff. Of course I would go to her apartment building to try to meet her. But it's not even about fear—I never felt there was a separation between the art that I loved and myself, or that you needed credentials to make a connection. There was no gulf to cross. So Owen was a big, beautiful realization of what I'd always felt, which was that artists together in a room were really interesting.
INTERVIEWER
And after Owen?
ALS
A man named Patrick O'Connor worked at New American Library. I got a job reading slush for him. There I made a really great friend named Danny Frank, and we read Proust together. At the same time, I was writing fashion and beauty copy for Essence. It was like composing sonnets—This blush, which transforms your mood, will allow others to see a new you! That kind of thing.
INTERVIEWER
How old were you?
ALS
In my early twenties. It was after Purchase, which I left when I was eighteen. Then I went to the New School for a while, and then I went to Columbia. At the New School, I studied Chinese art with Professor Chang, whom I loved. He said, You're a very good art historian, you should think about it. For years, there were opportunities that I didn't fully accept because I didn't know how, but there were people saying, You can do it. Kenneth E. Silver was my great professor at Columbia, and he would let me stay at his apartment when he was away, and he helped me go to Europe for the first time, when I was twenty-five.
INTERVIEWER
I remember you saying in the late eighties something like, Ken told me not to go to graduate school, just to write. That was a gift.
ALS
There were incredible people along the way who gave me information like that, and I would just run with it. I didn't know where I was running, but I could take it, and it would give me such solace. My chances were more real to me because of these mostly male figures who were loving and saying I could do it. I could get through the eight thousand jobs I needed to have or the increasing disconnection from my family. Because once you catapult yourself out of the home you come from, you're a different person to them—not to yourself. Elaine Pagels was another person who told me to write and was ­incredibly kind, as was Molly Nesbit. But I didn't know how to take advantage of all that was given to me at Columbia, so I dropped out. I should've gotten a degree, but I never did. I loved art history deeply, but I didn't know how to make it work for me. In the same way, I could love my friend Kevin deeply, but I didn't know how to make it a thing. I didn't know! I loved Darryl and other people where the reciprocity was profound, but they had other primary relationships. It's taken me this long to understand the connections. And how much do we, as queer children, hesitate to be seen as artists, from having been hurt because of our difference? Why would we not feel that it was dangerous to put ourselves forward? Before I met Evan, for me to claim someone and for them to claim me was horrifying. I understood it as having to do with ownership and with saying "I" in a way that takes up too much space. Now I think that it's not about property, but about belonging. You belong to your home, and it belongs to you. This person, you belong to them, and they belong to you.
INTERVIEWER
I keep thinking about the differences, as you said, between the way one's life may look to others and the way it and one's ambitions feel to oneself.
ALS
But ambition was what I equated with people who would use others to get what they wanted, or who stepped over the dead body without a second thought, once they got what they wanted. I don't mind the word anymore, but the word to describe me is determined—determined to get better as a man and a writer. A determined person doesn't court favor, discount, or hurt other people to get what they want, whatever that want is. I've known a lot of ambitious people, and I am not one of them.
INTERVIEWER
How did you go from leaving the university to working at the Village Voice?
ALS
When people would ask me when I was going to get a degree, I'd say, I graduate when Kevin graduates! The summer he did, in 1984 or '85, I was a secretary in the art history department at Barnard, he worked across the street in the Columbia art history department, and we'd meet every day at five. I was only ever doing my own writing, and Molly Nesbit had to have a talk with me, because truly, I didn't even answer the phone! There was a job posting—in those days a notice on the bulletin board—for an ­assistant in the art department at the Voice. They hired me basically to clean up and make files, because it was a mess. I became very organized because I wanted the job.
INTERVIEWER
And a couple of years later you were appointed picture editor?
ALS
Yes. Then I got a staff writing position there in 1991. That whole time was such a weird blur, because I had so many jobs, and Kevin got sick and my friend Carlos got sick. I worked at the New Museum library, in the basement, where there was asbestos, but the job was helpful because I had flexible hours. And I could leave work, get on the train at Bleecker Street, and be up where Kevin lived on East Ninety-Seventh. But he had no sense of time by then and would think days had gone by. He died in 1992.
It's still so weird, all of the people who are gone. Claire Sheedy ­really helped me during that time. She took me to an AIDS support group. I ­remember that feeling of a tribe, and the energy that floated up through the middle of the room from all of the "survivors." My first teaching job was for Claire—I volunteered to teach a class on diary writing at the Red Cross, where she worked. She said, You can't tell these women anything personal, because they've been battered, and you're going to be this nice guy who pays attention to them, and they'll fall in love with you. And of course, I was so nervous that I walked in and said, I'm very nervous.
INTERVIEWER
In the midst of all of this loss, you began writing for The New Yorker. Is it true that Tina Brown wanted to hire you as a staff writer, but you walked away? It sounds almost apocryphal.
ALS
It's really true. Ian Frazier loved a piece I wrote about him in the Voice. I had published little reviews, but this was maybe the first longer essay. He told Chip McGrath to get me to write for the magazine, so I started doing Talk of the Town pieces. I did one in Gertrude Stein's style about the reading of The Making of Americans at Paula Cooper Gallery.
INTERVIEWER
And one about Mama Montego's radio show after your mother's death.
ALS
Oh, that was the first! I remember running up the stairs to Ian Frazier's apartment, and him reading it, and his smile. He said, They're going to take this, they're going to take this. This works, this works. I don't think I even had a bank account then. And because in those days it was a New Yorker check, Darryl photocopied it ten times and made a collage.
INTERVIEWER
So you wrote more Talk pieces, about the roller rink in Brooklyn and Toukie Smith and Raven Chanticleer.
ALS
It wasn't hard for me, because all those years of secret boyhood writing train you that the focus of attention should be on the subject, not on you. And I think because Tina Brown was wanting to hire younger people and to diversify, she asked me to her office. She said, I haven't read your Talk stories . . . And I truly did not understand a word past then. It might have been a psychological block. It's like what I said in my speech at a Columbia M.F.A. graduation—"It takes a long time to make it to the welcome table if you've been standing at the sink of making do." Tina Brown actually said, Go see the money people. But I didn't know what that meant and was too ashamed to ask. So I walked out and went back to my job at Vibe.
INTERVIEWER
How did your first profile, of André Leon Talley, come about?
ALS
I worked on it for a long time, first for the Voice. I was still a staff writer there, but needed more income, so I was also working at the New York Times, as a picture editor, and at Vibe, as an editor at large. At some point, I was on unemployment. I don't remember how I got to the Times, but I do ­remember crying at that job, because there were people who had spent their lives there, and the elevator would reek of alcohol after lunchtime. When Kathy Ryan kindly said, You're a great picture editor, I wanted to throw up, ­because I was thinking that I couldn't spend my life there. The profile didn't appear in the Voice, and then it was going to run in Vibe, but when Jonathan Van Meter ­resigned, I quit on the spot. So it didn't happen there, either. Henry Finder was at The New Yorker—I'd known him from when he used to edit Transition—and he asked to see it. I had done a lot of reporting, but the essay was still very rough. He said it was interesting, so I worked on it all summer—I was really just learning how to write—and two people were ­incredibly helpful. Veronica Geng would come to my apartment, read a draft, and say, You ­remind me of George Trow—there are more ideas here than story. And she showed me an editing trick that was profound, about not describing every step—how to move through time on the page. Ian taught me to use precise details and unusual quotations, not the same old lines by Diana Vreeland, for example—great lessons. Then I realized I could put myself in the part about going to the gay bar with André and watching how he was treated. In the end, it was one of those experiences when you know something has broken through for you in your writing, and I didn't have any embarrassment about faxing it in. Henry called right away and said, It's great—and we'll pay you seven thousand dollars. In my whole life, I had never seen seven thousand dollars. I was thirty-four years old. Well, I had to go to the New Yorker offices, and Tina said, I wanted to hire you two years ago, what happened? I said, You spoke so quickly and you were so famous that I truly did not know what you meant. She said, I'm hiring you, that's what I mean. And she did. People still underestimate her. She was very tough, but what she gave me was important. At one point, I was suffering from what others thought about my work, and she took me out to breakfast and said, But it's your writing. It was like a gift of myself, which, given my psychology, was astonishing. It wasn't even about her approval. It felt like a statement of fact by someone who saw me.
INTERVIEWER
Do you have writing rituals?
ALS
Yes. The ritual aspect is getting my head together to do it. I don't want to add more shit to the experience, so it's very simple. I love Wendy Williams, because she doesn't speak English. She speaks Wendy, and that frees me to imagine my own language. I wake up early and have a little breakfast, then Wendy's over, and I make the bed and get to work. I also like to stop writing at a thought that's going to be waiting for me the next day so it's less daunting sitting down again.
INTERVIEWER
Are you out at the theater most evenings?
ALS
During the season, it's three or four nights a week. It gets a little wearying, but I treat it with a great aspect of hope. I used to feel guilty if I didn't cover everything, but now I know I can't. I think if there's anything of value in my work as a critic, it's been introducing readers to young playwrights and showing different American theater traditions, the incredible work post–Tennessee Williams, post–Arthur Miller. María Irene Fornés, Adrienne Kennedy, Ed Bullins—those new voices, and stories that hadn't been told.
INTERVIEWER
Where would you place Edward Albee?
ALS
Albee was the gateway to those writers—and the playwright I loved the most, because he was furious at the patriarchal structure. So much of what happened after him was extraordinary, even if it was terrible. But it's plateaued now at a level of banality, where the ideas come first. Too many playwrights try to find characters to fit their ideas, as opposed to making something organic. I was talking to Dianne Wiest about Jane Bowles, because she had been in In the Summer House, and I asked her what she thought made a play. She wrote to me, "A great play turns you [the audience] into each character . . . It pulls at you to question your thoughts and feelings through the prism of characters. A great play requires hard work from an audience. It is not about something, it is the something. The conflict belongs all to you and you live it and carry it with you." I thought that was one of the greatest things I'd ever heard about theater.
INTERVIEWER
It has to efface itself, in a way, while also being an event?
ALS
The kind of fuck-you energy that I loved so much when we were in our twenties has become institutionalized. It's a funny thing to say, but it's ­become ­theatricalized! Like a machine of theater, as opposed to being in the ­moment. Most everybody is working on the status quo, even if it's avant-garde. Here's the thing—we need a repertory or national theater that would keep people going. I feel rejuvenated when I go to Chicago, because the ­actors there work all the time, and I've seen performances that are breathtaking.
INTERVIEWER
How did theater become your beat?
ALS
Nancy Franklin was the theater critic with John Lahr, and when she took a leave, Deborah Treisman, my editor, asked if I would be interested. For a little while, I covered what John Lahr didn't want to or couldn't, because he lived in London. It was Broadway this, that, and the other. Then I read that the Classical Theatre of Harlem was doing Genet's The Blacks. I wrote to David Remnick and Deborah, and said, This is the kind of thing I want to write about. Once I realized that, it became really exciting.
INTERVIEWER
Do you remember the first play you ever saw?
ALS
It's funny, I just found an edition of the collected plays of Neil Simon my father bought for me at Brentano's, which doesn't exist anymore. I think he took me to see The Sunshine Boys, and I'm sure he took me to That Championship Season, because I remember getting the souvenir program.
INTERVIEWER
So he was paying you that kind of attention?
ALS
Let's not get ahead of ourselves, because after my mother died and several things became clearer, like her mother's alcoholism, I understood that she had made him spend that time with us. We'd go for long walks with him, my brother and I. We walked miles of New York, and he loved to eat in ­different parts of the city—Germantown, an Italian place in the Village called Emilio's, a place in Brooklyn called Lundy's. I think he was excited by different cultures and didn't perceive them as white, just as different. But when I started to come to Manhattan by ­myself, when I was still young, he freaked out. I remember my mother on the phone with him saying, But you exposed him to all these things! My father was so conflicted about children, and boys in particular—he could give you something with one hand and take it away with the other. I'm writing about Baldwin now, and in No Name in the Street, he talks about his stepfather taking him to be circumcised when he's five. It's this terrifying event he scarcely remembers. But I think, You do. Your body remembers. I went through life pretending I didn't ­remember my father's terrific beatings. Or not pretending, but not having any sense memory of it. His attention was push-pull. And he was a relatively privileged person, so you have to ask, how much did he absorb from the culture or influence he purported to hate? In the culture I grew up in, ­either children don't exist or they exist to be punished. It's that old colonial bullshit, and I feel that it produces—the blood is boiling in me now—this incredible ambivalence about love. The child's imagination doesn't exist by itself, but without some mirroring, you develop a rich inner life. My aunt said that she knew I was gay when I was five, and I also wonder if adults started to change toward me then, and if those cultural and psychic divisions fostered imagination.
INTERVIEWER
One way to describe your prose is that it dramatizes how untenable such divisions are. But a love of portraiture is also key.
ALS
I like the mad people in the attic.
INTERVIEWER
You've written about a lot of iconic art and artists while also helping ­neglected work to be seen, including in the shows you've curated.
ALS
That's a big impulse. It feels a bit like what Diane Arbus said—In some small way, if I don't show these things, people wouldn't see them.
INTERVIEWER
You've quoted Arbus saying, "I work from awkwardness. By that I mean I don't like to arrange things. If I stand in front of something, instead of ­arranging it, I—"
ALS
"Arrange myself." Yes, I love that. It's so beautiful. I had dinner with her daughter recently, and she asked if I wrote profiles much anymore, and I said I find them difficult because I have to become the person. The Arbus school of writing.
INTERVIEWER
Become them—also like an actor? You once said that you think of your work as "method writing."
ALS
Montgomery Clift famously said that your body doesn't know you're acting. I'm almost in a dream state after I've finished a profile. I don't remember much about the experience.
INTERVIEWER
A kind of fugue state?
ALS
Yes, and here's the problem for me—in our business, everything is personal. But sometimes the relationship with the subject is actually production for use, not friendship. I've been confused for twenty-five years about this issue. The problem is that I go inside, and I assume that people are giving me the right to.
INTERVIEWER
Is it the journalist-and-murderer dynamic? Each needs something from, and can feel betrayed by, the other?
ALS
Yes, but am I the murderer? Or are they?
INTERVIEWER
Everyone is a little of both, no? What about your process on the page?
ALS
I write in longhand, revise in longhand, then type it, then revise more on the printed page. And when I get a proof, I rewrite on that.
INTERVIEWER
At what point does Deborah Treisman read your work?
ALS
She reads the second or third draft, and then sends edits. It's not too much anymore. She'll just need to cut, usually. And then I start driving her crazy, because I tinker for three days.
INTERVIEWER
When do you know something is done?
ALS
It's never done. I just have to stop. Elizabeth Hardwick was very helpful with that. I sent her a review, and she wrote me a letter saying something like, They're brilliant comments, but such scrupulosity must stop. It was a huge lesson. I didn't stop writing like that for another ten years. Crazily. About every period and comma. But she was right. If I wanted to have volume, I had to stop. We have to let go.
INTERVIEWER
Baldwin said that writing involved finding out what he didn't want to know, but something forced him to do it anyway. Do you agree?
ALS
I don't think so. I feel it has to do with love, and writing is a way to be in love and not be hurt. I've been wanting to write an essay called "The Quiet in Fiction." I was never attracted to the big scenes in novels but to reflection. In Madame Bovary, when she would dream, it was so transformative and elevating to me. I don't think I'm looking for dramatic transformation as much as the acknowledgment that there is a dramatic feeling.
INTERVIEWER
How is this hurt related to the question of not seeing oneself represented versus seeing oneself grotesquely misrepresented or used as a gratuitous plot point? You've written about the tedium and horror of the latter, but in "Tristes Tropiques" you also refer to "the noise of the marginal and the marginalized rising up because they believed what white people had to say about them in the first place."
ALS
What I'm articulating here is that when artists allow ideology to ­become the work, they sell our imagination cheap. They're not letting ­others have the experience of looking, of alchemy, of invention—they're rendering that unimportant. I'm going to teach "The Decay of Lying," by Oscar Wilde, this semester, and some of the things he says are so nutty, but one of the beautiful things he says is that the only real people are those who don't ­exist. He means that what we imagine is so much more powerful than the literal. I think that ideological art can involve the literalization of facts that we already know. What Arbus gives us is the poetry of the soul. Stormé DeLarverie was a real person, and Arbus also makes her a figment of our imagination. If I have any kind of credo or ethos as a writer it's, Don't condescend to your audience. Let them have their imagination. And by doing so, you're feeding your own.
I sometimes feel confused about being an educator. A lot of young ­students I meet across the country are interested, primarily, in their own stories. But what are we doing if we're not in conversation with other people? When I was at Columbia, there was no African American studies department, but in some weird way, it didn't matter to me that I didn't see myself in my education. The point was to find metaphors that described me to myself, and then use what I'd read to move the conversation forward and talk about my experience. I'm sure that AIDS also affected that, as it has everything for the folks who came of age during that terrible, terrible time, which did so much to twist love, let alone our bodies. I try very hard to use my time to untwist all of that. But I never felt that ­because I didn't see myself, I didn't exist. So when I hear this from students, I'm perplexed. And when I read work by younger writers who can only
refer to themselves, it's alarming. My question is, What will writing be in the future?
INTERVIEWER
Where do you see your own writing going?
ALS
Capital is really time, and if we heirs to the great essay fortune—that's a joke—had more time, I think the work would be different. Not necessarily better, but different. I'm also understanding my own body better now. I think that's the work of queer people in general. It's not identity politics—it's actually feeling worthy of making art. And it's the related struggle, for any number of artists I love, of how much you give the world and how much you give yourself. My mother, as best she could, separated from her mother. She wasn't an alcoholic, and she was a constructive listener for her kids. It's very moving to me, that effort. The thing is, it behooves us—a word my aunt used to love—it behooves us to move away from our families. But then, there's the pain of leaving. I don't know how to do both yet.
INTERVIEWER
Is that process connected to negotiating closeness to and distance from a subject or text? I'm thinking of the relation of some of your earliest published writing, which were experiments in the voices of others—Ian Frazier's, Stein's, Louise Brooks's—to the first-person fiction that is "You and Whose Army?" and to the Gober essay, which you took as an opportunity to write about some of your first experiences seeing art that was meaningful to you. That piece is partly about tracking how one might move from being amazed in the presence of someone's work—Rauschenberg's, when you were young—to writing as oneself.
ALS
The ten years that I was not involved with anyone were crucial in terms of learning not to be my mother and understanding that my voice, that feeling of, Oh, this is me—which still feels far away and unattainable—is the thing I'm always working toward. Other people feel it about my work, and I'm glad. At the same time, I recently reread one of the very first things I published and thought, Wait a minute, my voice was already there. So I also had to learn to kill off what Virginia Woolf calls the "Angel in the House"—that inner thwarting voice. It's not dead yet, not completely, and I've had to get help in trying to diminish it. I'm very interested now in writing about black psychoanalysis and black trauma, as well as about who I was and want to be. I'm so compelled by fiction, too, because it pushes me much more quickly and readily than nonfiction to construct work that's entirely voice, and not in marriage to another person's story or voice. I'm not saying that I would ever publish any of it, but it's important to me as an exercise. Whether it's a play, a story, or an essay, I feel fortunate to be able to speak in these different ways.
But isn't it a miracle that we've ended up as ourselves? I think writing takes you where you need to go and that my new writing is leading me. Writing about art is also a way of paying a debt to those great professors who thought I had talent. I love not letting them down. But the only real voice to listen to is the one that tells you where you should be going with your work. So that's where I end up going.