Interviewed by Andrea Aguilar and Johanne Fronth-Nygren
Issue 212, Spring 2015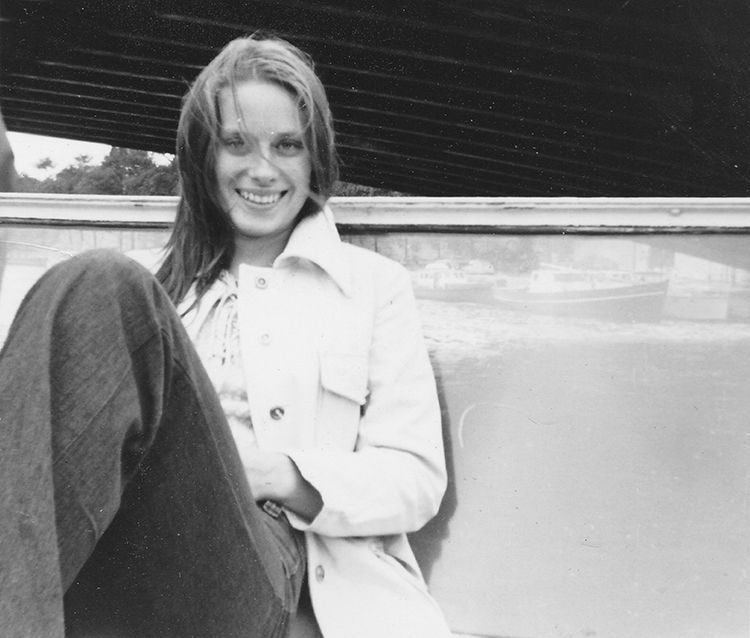 Lydia Davis in Paris, 1973
This interview began in Oslo, in September 2013, as a public conversation between Lydia Davis and her translator Johanne Fronth-Nygren at the Norwegian-American Literary Festival. The day before, Davis had met Fronth-Nygren for an introductory lesson in Nor­we­gian. "Soon we were talking about cats and gardens and family members, all in Norwegian," Fronth-Nygren remembers. "That knowledge, of cats and gardens and family members, followed us onstage."
Their public conversation was supplemented the next spring by two private sessions, one with Fronth-Nygren and another with the Spanish journalist Andrea Aguilar, each of whom visited Davis at home, in the converted school building she shares with her husband, the painter Alan Cote, in ­upstate New York. Fronth-Nygren describes the scene: "In the field across the road are the cows Davis has written about in 'The Cows.' Or rather, two of the cows she wrote about have been slaughtered and replaced by new cows, while the third, which refused to enter the van to be taken to slaughter, is still grazing in the field. Inside the big brick building, the three cats dart up and down the stone steps and lounge in squares of sun under the tall classroom windows."
Both interviewers describe Davis as a gracious and conscientious hostess. In Aguilar's case, the questions and answers continued as Davis and Cote sped her to the Albany train station. (When they discovered the train was delayed, Davis gave Aguilar a guided tour of the station, pointing out restrooms, the newsstand, and the waiting area.)
Davis is the author of one novel, The End of the Story (1995), and six story collections. Her translations from the French include new versions of Swann's Way (2002) and Madame Bovary (2010). She received a MacArthur Fellowship in 2003 and is the recipient of the 2013 Man Booker International Prize. She was recently made an Officier de l'Ordre des Arts et des Lettres by the French government. Since this interview was completed, Davis has continued to work at her Norwegian and recently finished reading her first Norwegian novel, Det uoppløselige episke element i Telemark i perioden 1591–1896, by Dag Solstad.
—The Editors
INTERVIEWER
Many of your stories deal with what you might call the ethics of parenting. Like "The Old Dictionary," for example, where a mother worries that "even though my son should be more important to me than my old dictionary, I can't say that each time I deal with my son, my primary concern is not to harm him." Where did that story start?
DAVIS
Oh, that just started with the perception that I was treating this old book better than I was treating my son.
INTERVIEWER
So the narrator is you? Is that often the case?
DAVIS
Just because a story uses material from the writer's life, I don't think you can say that it's her life, or that the narrator is her. As soon as you select the material from your life, and arrange it and write it in a stylized manner, it's no longer really identical to that life and that person. But often something will start from my real life. So there I am with the dictionary. And here is a conundrum, a puzzle, and often one question will lead to other questions that seem logical to me. What do I treat the best and why? But again, it's stylized. I'm leaving out a great deal. It's not a complete picture.
In general, it is true that I am always examining how I live my life. Always. It's sort of relentless. Not just, Have I had a healthy breakfast? But everything. There is a constant judge. Maybe it's my poor mother who lives on in my head. She was always judgmental, and her mother was ­judgmental. There's a long line of mothers passing judgment, and it's sometimes very ­oppressive. If I take a short break from work and lie down on the sofa to read and stay there half an hour instead of ten minutes, just how bad is that? Is that really bad? Suppose some nice person writes you a letter and you love getting it but you don't answer for two months. That's more clearly a bad thing than spending an extra five minutes reading on the sofa.
INTERVIEWER
I think of the narrator of your story "Glenn Gould," who wonders whether there is a way of being selfish without hurting anyone.
DAVIS
By never marrying, and living alone and having long conversations in the middle of the night with a friend. And by never seeing that person.
INTERVIEWER
In the recent story "Writing," the narrator says, "Life is too serious for me to go on writing." Do you feel that way? Could you ever stop writing?
DAVIS
I do stop for periods. But I can't see stopping altogether, just because I enjoy it so much. I have posed myself that question. If you were alone on a desert island and there were no more world and no more people, would you go on writing? Supposing I had the pen and paper, I probably would.
Like a lot of my stories, that one just followed one momentary thought—What am I doing here, putting odd sentences together and creating some little piece of nonsense, when people are dying on the other side of the world and our government's going to damnation? It's something that a lot of ­artists, I'm sure, feel at one time or another, that they're wasting time or doing something frivolous. So instead of answering myself and ignoring it, I wrote it out as a little thought. I didn't know how much value to give to that story, but I showed it to a very severe critic and she liked it, so I decided it passed.
INTERVIEWER
In another story, "The Letter to the Foundation," from the same collection, you seem to write about the obstacles to writing and to teaching.
DAVIS
That's much more to do with teaching than with writing. There I am trying to take on the persona or character of a midlevel, not very interesting academic who gets a minor grant that is major in her little world, but not otherwise. That story is mainly made up of complaints about teaching. I find teaching difficult and let that all come out in the story. That was the part I enjoyed writing the most, all those crazy problems of teaching, all the dread.
INTERVIEWER
You rarely give your characters names. Why is that?
DAVIS
I've always felt that naming was artificial. I've done it. I wrote about one woman and called her Mrs. Orlando, because the woman I based her on lived in Florida. Recently I wrote a story called "The Two Davises and the Rug" because I have a neighbor named Davis and he and I were trying to decide which one should end up with a certain rug, and I was very fond of using that name, even though it wouldn't make much difference to anybody if I called it "The Two Harrises and the Rug."
When I was about twelve years old, I wrote a story for a school assignment about a girl named Wimple. I could have called her Jane or Betsy, but even then I didn't give my characters usual names. I don't know exactly why not.
INTERVIEWER
What was the story about?
DAVIS
A girl who is not able to go to sleep and who decides to climb out her window, down the fire escape, and have an adventure. So she does . . . but it's a pretty short story. It's mainly about how she gets down the fire escape and how she annoys the neighbor with her noise, and then realizes she is never going to be able to climb back up the fire escape. So she decides just to face her parents' displeasure and come in the normal way. But it has a good bit of dialogue when she's making noise getting out the window. Her mother calls from down the hall, Settle down, Wimple, try to get some sleep, or something like that, typical of what my mother would have said.
INTERVIEWER
You don't write very much dialogue, or description either.
DAVIS
Well, I do like descriptions. In my novel, The End of the Story, there are ­descriptions of the Southern California landscape. If a landscape, or anything else, moves me, I want to write about it, but I don't like to think that description is a necessary ingredient—like, since you've started with a scene with dialogue, now you must have a description, and now you must do this, and now you must do that.
This takes us away from your question, but as James Wood noted, there is some Thomas Bernhard in that novel. When I'm trying a new form—­trying to do something I'm not used to doing, which was true of the ­novel—I do look consciously for a model for what I think I want to do. For The End of the Story, Bernhard's long monologue rants provided one model, and then Elizabeth Hardwick's Sleepless Nights was another, a novel written in fragments. Marguerite Duras's The Lover was another. All three give the ­impression that you're stepping inside someone's mind. This is the reason I'm not so fond of chapters, or wasn't for that novel. As soon as you get a chapter break, you know there's an author who deliberately decided to break the chapter. It breaks the illusion that you got inside someone's head and they're just thinking on and on. I find dialogue artificial in the same way. Even the quotation marks coming one after another after another. It's one thing if the narrator says, I remember that when he appeared in the doorway he said, What are you doing here? We'll remember isolated sentences, but we won't remember the whole conversation. At least I can't remember whole conversations.
INTERVIEWER
You let your work be collected as "stories" but never as "short stories." Why is that?
DAVIS
To me a short story is a defined traditional form, the sort of thing that Hemingway wrote, or Katherine Mansfield or Chekhov. It is longer, more ­developed, with narrated scenes and dialogue and so on. You could call some of my stories proper short stories. Most of the others I wouldn't call short ­stories, even though many are very short. Some you could call ­poems—not many.
INTERVIEWER
So you consider some of your stories to be poems?
DAVIS
Yes, it depends very much on the impulse behind them. Some I want to be very flat and prosey. They'll still have their own music and rhythm, but they won't be songs. And then others I think of as songs. And those are poems, even if they don't look like poems on the page. I think I have always held poems in the highest esteem, of all forms of writing, and still do. I'm not saying there aren't amazing stories and amazing novels. But I suppose that what a poem can do amazes me more.
INTERVIEWER
Do you consciously plan to write one kind of story or another? Or is each one intuitive?
DAVIS
I'm leery of planning stories out ahead of time. Almost without exception they'll start from an idea or a phrase, which I then plunge right into and explore. If I stop to think, This ought to be in the first person plural, or, This ought to be one unbroken paragraph, or whatever, I think it would stop me. They are intuitive. They may all embed a bit of narrative because I like narrative. I'm very fond of stories and storytelling—I think most people are. Almost everyone gets more alert when someone says, Listen to what happened to me yesterday.
Another problem with terminology is that my so-called stories could fall into so many categories. I don't want to have to stop and think, Today I wrote a philosophical meditation, or, Today I wrote an anecdote. Today I wrote a vignette. Today I wrote an epi . . . what is it, an epigram or an epigraph? I always forget. The point is, I don't want that kind of worry.
INTERVIEWER
What about your stories in the form of letters? Did you actually send
these letters?
DAVIS
Yes. These I will categorize—as letters of complaint. They started with "Letter to a Funeral Parlor," complaining about the word cremains. It's a horrible word, combining cremated and remains. Only people in the funeral-parlor business like it. I don't think any grieving families like cremains. I started it as a serious letter and then I saw the humorous possibilities. Then it got too literary to send, but after a while I thought I would still like to send it. So I revised it back down to a more serious letter of complaint, and I did send it. They didn't answer. Other letters of complaint followed, because I realized that I had a lot to complain about.
INTERVIEWER
You're very good at it, if I may say so.
DAVIS
I am very good at complaining. I have sent almost all of them.
INTERVIEWER
But no replies.
DAVIS
I did get one reply. One of the letters of complaint was to a frozen-peas manufacturer. These were peas that we liked very much, but the design of the package was very poor, and I didn't feel that it really brought out how good the peas were. Since I liked these peas, I thought they should improve their artwork. They replied indirectly by sending me coupons. It turned out that that company, which was a little organic company, was owned by a much bigger food company, which also produced a different kind of pea. So they sent me coupons for the other frozen peas and that was all.
But that's the trouble with any form. I can often start a serious piece of writing and immediately see the possibilities of it being a little story.
INTERVIEWER
More and more you seem to use found materials in your stories.
DAVIS
Back in the early eighties, I realized that you could write a story that was really just a narration of something that had happened to you, and change it slightly, without having really to fictionalize it. In a way, that's found ­material. I think it's hard to draw the line and say that something isn't found material. Because if a friend of mine tells me a story or a dream, I guess that's found material. If I get an e-mail that lends itself to a good story, that's found material. But then if I notice the cornmeal making little condensations, is that found material? It's my own, I'm not using text, but I am using a situation that exists. I'm not making it up. I find what happens in reality very interesting and I don't find a great need to make up things, but I do like retelling stories that are told to me.
INTERVIEWER
The last time I was here you mentioned that you jot things down on scraps of paper. What happens to those scraps?
DAVIS
They pile up in my study. And then I use them. Sometimes when I'm just sort of tidying up, I go through them and type them onto the computer and then either do something with them right away or else I just leave them there for later. When I travel, I carry around a notebook with me. I use notebooks a lot because my brain tends to live in the moment. I'm always afraid of forgetting something.
INTERVIEWER
You don't seem very interested in high drama.
DAVIS
I guess I'm not. The cornmeal, for example, is certainly not dramatic, but I ­noticed what it was doing and suddenly that cornmeal seemed like a little living thing to me. It was creating something all on its own. Some people wouldn't ­notice that or might think that's a stupid idea. But I think, If it's interesting to me, I'll try to convey it. This has partly to do with keeping a notebook all the time. You can put something unimportant in there as well as something important.
INTERVIEWER
Sometimes you use your notes about your writing as material, too.
DAVIS
Yes, and in a way that, too, is found material, because I'll make notes when I revise a story, but then when I read over the notes, I like them as a text, so then I actually revise them.
INTERVIEWER
You revise the notes for revision?
DAVIS
Yes. I think there is now a "Revise 3" and a "Revise 4."
INTERVIEWER
There is something note-like about leaving out articles the way you sometimes do. "Wife One in Country" is one example.
DAVIS
Maybe notes are a way to write something that's difficult. It's like someone who's weeping, and when someone else tries to comfort her, she just says, Can't talk about it, can't talk about it right now—leaving out the I. The I
by itself is too hard to say.
I have a lot of books on Zen Buddhism. One of my favorite titles is Open Mouth Already a Mistake. That may provide a better insight into leaving out articles. It has something of the saying, the tag, or the pronouncement.
INTERVIEWER
Your reading in Zen Buddhism informs many of your stories—for example, "New Year's Resolution."
DAVIS
"My New Year's resolution is to learn to see myself as nothing." I had fun with that one because, you know, "nothing," according to that discipline, is a good thing, but according to my upbringing and Freud and family dynamics, "nothing" is a big problem. So that story is about two disciplines colliding and the poor head caught in the middle saying, Uh, wait a minute . . .
INTERVIEWER
Do you think you're attracted to the short form partly because it's something you can do in between other things—teaching, translating, child rearing, housework?
DAVIS
It's hard for me to say. When I first began writing really short stories, it was a ­period when I had huge amounts of time. I had no money, but I wasn't really trying to earn any money. I was working as a caretaker of a house—someone else's house. So I had a house and a tiny allowance and lots of time from morning to night. No children. I had time to write a whole novel if I wanted to, but instead I wrote very short stories. And yet, on the other hand, the very shortest of stories came about when I was translating Proust. I was spending all day, from ten to three, on Proust, translating these long, complex sentences, with no time really to write much. I loved constructing those sentences, but I think I also needed to resist it a little bit by writing very, very short things. Just a title and two or three lines.
INTERVIEWER
How do the translator Lydia Davis and the writer Lydia Davis influence each other?
DAVIS
I can't tell exactly what effect the translating has on my writing because there's no parallel life in which I didn't translate. Because of my family's interest in other cultures, other languages, I think, part of my mind is always in another country. A lot of my influences have been foreign, European especially, and I've wanted to combine those with a very American sensibility. I know that my work in translation has deepened my understanding of English and what I can do with English, because when you're a translator, as you know, you have to translate this particular sentence—you can't avoid it—so you have to think of all the possible ways to do it in your own language. That's a great discipline.
How does my own writing affect my translating? I never impose my own style on the thing I'm translating. To me that would be almost morally or ethically wrong. What I enjoy about translating is getting completely into the head, into the style, of the other writer—being there and writing in English in a way that is as close as possible to the way the book was written in the original.
INTERVIEWER
Do you feel a particular kinship with any of the writers you have translated?
DAVIS
I translated Blanchot's texts because I felt a kinship there. I liked his lack of pretentiousness, his way of going deeply into a small, mysterious moment of interaction between people—or between abstractions that he treated as characters. I liked the fact that he didn't need a dramatic story line.
INTERVIEWER
Are there specific qualities of English, as opposed to French, for example, that you value when you're writing?
DAVIS
I value the fact that English has two parallel vocabularies—the Germanic vocabulary and the Latinate vocabulary. For example, we have the word ­undersea, and then we have submarine. Or underground and subterranean, all-powerful and omnipotent. So we can shift registers. We can say something in a very plain, blunt, Anglo-Saxon way, like "I will not do that"—all Anglo-Saxon monosyllables. Or we can say it in a fancier, more distant, abstract, Latinate way, like "I prefer not to permit myself to approach such a notion." Or, in a passage of plain Anglo-Saxon, you can throw in one Latinate word, unexpectedly, to great effect.
Of course French has its own amazing resources. For instance, you can make elaborate and elegant constructions using the word dont, meaning "of which," "in which," "about which," "about whom." I found that to make the equivalent constructions in English was a real challenge when I was translating Proust—they never sound as neat as they do in French. There are many things you can do syntactically in French that you can't do in English.
INTERVIEWER
Somebody said that your characters often sound like intelligent foreigners who have learned to speak correctly but haven't quite mastered colloquialism, which makes for a surprising, comic, eye-opening effect. Is that something that you are aware of when you write?
DAVIS
I certainly don't strive for it, but I am aware that I speak pretty standard English. That's the way I talk and the way I write. I did write one story that was deliberately full of slang. It was called "The Meeting." It was based on an actual job interview–type meeting that I had. The narrator gives a little monologue about how frustrating it was and how she wishes her old mother had been there to beat up the interviewer. I thought, This is the time to use a lot of slang. Since I don't use slang naturally I decided to look at an old slang dictionary I had. I ended up using a lot of slang that was outdated or British. At the close of the story, I call the interviewer "summer complaint!" and "dog's breakfast!" That was fun.
INTERVIEWER
It's been pointed out that your translations are very precise, that they have great clarity and also—again—a certain foreignness. Is it possible that there is some sort of hallmark you're putting on your translations after all?
DAVIS
I certainly wouldn't do that deliberately—ever, ever, ever. When I translate Proust, I am trying to be Proust in English. If I compare the earlier translation of Swann's Way by Scott Moncrieff, with all his flourishes, to the way I translated it, yes, mine is plainer. But so is Proust. Scott Moncrieff's is more redundant, more embellished. What I'm trying to do is get out of the way and let Proust's own style come through in English. If people notice this— that Proust is cleaner and clearer in my translation—it is not because of my own style, but because I'm being more faithful to his style than the previous translator was. For example, Proust writes "the entrance to the Underworld." That's the plain French, and that's how I translate it. Scott Moncrieff writes "the Jaws of Hell," so he introduces a metaphor that isn't in Proust.
There is, however, something that I have less control over. More and more I think that each of us, as a writer, has a preferred vocabulary. So even though I'm trying to stay very close to Proust's own syntax, my word choice may reflect my own preferences. If Proust says entrée, you can say entrance but you can also say way into—the way into the underworld. That wouldn't be out of the question as a choice. In that sense, your own style does show up.
INTERVIEWER
You choose to use the cognate—the word in English that is etymologically close to the French.
DAVIS
Yes, I often choose to use the cognate in both Proust and Flaubert, even though the cognate might make for a slightly more formal English. In fact, my English when I'm translating is probably more formal than my own ­native choices would be—which goes against what I just said about preferred vocabularies. In my effort to stay close to the French, I probably use more Latinate words than I would in my own writing. So it's complicated. But if people can really read into my translations of Proust and Flaubert and the Dutch writer A. L. Snijders and hear something similar in all of them, then maybe I am, without meaning to, imposing something of my own style.
INTERVIEWER
In your own writing, I've noticed, you don't seem very keen on metaphors.
DAVIS
Do I not use metaphors? I don't consciously avoid metaphors, or similes for that matter. If they don't happen in my writing, it may be because I find the thing I am writing about compelling enough without comparing it to something else. Maybe I don't want to introduce some completely different world or image. For instance, in the case of the cornmeal making little drops of condensation in the story "Cornmeal," I could say, "like little nipples on the underside of the plate," but then you introduce nipples into the story. Or dew drops—"like little dew drops"—but then you introduce the outdoor landscape. If I avoid metaphor, and if I have to think of a reason why, it may be that I don't want to distract from the one thing that I'm concentrating on, and a metaphor immediately does that. It introduces some completely, even incongruous, other image and world. And it can work very beautifully, but maybe I don't want to leave the scene of what I'm describing.
INTERVIEWER
You don't use symbols in your stories, do you?
DAVIS
No, I don't think symbolically at all.
INTERVIEWER
What kind of books did you gravitate to as a child?
DAVIS
Lately I have been working on a project involving a children's book, called Bob, Son of Battle, about dogs. That book moved me very much, but there are many I could name. Some are very well-known still, like The Secret Garden and The Lion, the Witch and the Wardrobe and The Hobbit. Others may be less well-known in Europe, like The Yearling, about a boy and a fawn he adopts. I think the ones that made the deepest impression were either the ones that moved me because of some human conflict, tragedy, grief, sometimes resolved and sometimes not, or the ones like The Hobbit that simply created such a magical and believable alternate world that I was completely taken away, although I've been realizing that even those stories that seem to depend completely on the fantasy and the "other world" very much involve complex characters. The Lion, the Witch and the Wardrobe has four children in it, and the children continue from book to book, and their characters are very important to the story. These are not happy stories, the most powerful ones, but they have happy, rewarding moments or elements in them.
INTERVIEWER
What did you read as you grew older?
DAVIS
A lot of my reading was for school. I loved reading Robert Frost's poetry in great depth. I got very excited about reading Nabokov's so-called minor books, such as Pnin. James Agee's Let Us Now Praise Famous Men made a great impression. That's a very eccentric work, but also very beautifully written, very detailed. That was an important book to me.
INTERVIEWER
You mentioned writing a story when you were twelve. Did you always write?
DAVIS
More than writing, I remember reading. From age ten to fifteen I went to school in New York City, and the school had a library especially for the younger grades. It was the way I like libraries to be—dark, with freestanding bookshelves and walls lined with bookshelves and window seats where you can curl up on a cushion. All the bookshelves filled with books that children want to read. It was like heaven for me, for three years. But then, at the beginning of the school year in eighth grade, I went to that library, happily prepared to settle down with a book, and I was told, No, the eighth graders don't use this library, they use the upper-school library. So this Garden of Eden was now forbidden to me. The upper-school library was much more research oriented, much more what you'd imagine an older girls' library to be, with encyclopedias and research desks, brightly lit. We didn't have computers in those days, but it wasn't the sort of dark den where you went to read and read and read, and I remember knowing, very explicitly, that I had to grow up and be something or do something, when I only wanted to read. I wanted to grow up and just be a reader, just someone who read. Even then I knew that wasn't a job.
In any case, to answer your question, I wrote for school assignments, but I didn't write on my own all that much. What I did on my own was play the piano and read scores. What I did on my own happily was play the piano. I would get very impassioned about certain pieces of music, and I would buy the score to follow along as I listened to a recording. In school, yes, we were given a lot of writing assignments. I still have some of the papers that my teacher gave back to me when I was twelve, with very careful red-pen markings. I got in touch with her seven or eight years ago. Since then we've met a few times. She's a great reader and she read my Proust translation. I love the fact that her careful teaching laid the groundwork for my doing such careful work, all those years later, on the Proust translation, which she then found helpful in her reading of the French. I love that exchange, that she taught someone who then became helpful to her in what she wanted to do.
INTERVIEWER
Your mother wrote stories and your father criticism. Do you think that predisposed you toward writing yourself?
DAVIS
It wasn't just my parents. All their friends, practically, were writers or the wives or husbands of writers or professors. So even though neither my sister nor my brother grew up to be a writer, it was very much taken for granted that this was something someone could do in life. This may have given me confidence, having been born into this world. I've never felt that I had to produce, produce, produce. And I write from my own interest. If something interests me, whether it's a piece of language or a family relationship or a cow, then I write about it. I never judge ahead of time. I never ask, Is this worth writing about?
INTERVIEWER
Did you see your parents writing at home?
DAVIS
We lived near Columbia University, and my father did a lot of work at his office there. My mother worked at home while I was in school. I was certainly aware of their writing, because when my mother wrote a story or my father wrote a book review, the other one would read it and give comments before it was sent out. I well remember the tension in the household when the other was reading the work. "Shhh, Daddy is reading my story." "Mother is reading my review, don't bother her." When I began submitting stories for publication, I guess I had my parents' example in the back of my mind—you write a story, you finish it, you show it to a friend, you get it as good as you can, and you send it to a magazine.
INTERVIEWER
Were you ever included in their conversations about their own writing?
DAVIS
I don't remember them showing me their work when I was young. Certainly they did later. I would show them mine. I remember a story I wrote in college that had a not very nice mother in it. I gave it to my mother to read and comment on. It is very touching for me to look back on now. Even though, in the story, there was an unflattering portrait of a mother who was like her, she wrote something like "I'm sad to read the description of this mother" and went on to say "this part is good" and "that part might need work," and so on.
We also left each other notes when there was a family conflict. I guess it was my mother's idea that we should put it in writing, or that we should ­articulate it, because I can see our different handwriting going back and ­forth over this problem, whatever it was. I thought it was kind of a terrible thing that we did that in my family. Because it made writing . . . oh, the text became full of emotion. I still have some of the notes that my mother left for me. In fact, we did a little dialogue.
INTERVIEWER
I have always admired the way your stories try to put emotions in order.
DAVIS
I suppose that was part of the family training—Let's try to figure this out. Here's how I feel, you tell me how you feel. It is a way to work out some emotional situations, and certainly that went on in our house. It's just that when I come across those long messages from my mother it fills me with sadness.
We had a happier form of writing that was a family tradition. At Christmastime we would, for each gift that we gave, write out a little humorous poem of maybe four or six lines, about the gift. My parents were very good at this, both of them. I was not particularly good at it, but I would try.
INTERVIEWER
Did you take writing classes in college? Do you remember the first stories you wrote as an adult?
DAVIS
I used to think I hadn't taken any writing courses in college—if you asked I would have said that I didn't even know they had them—but they did have them, and I did take one, in my last year. I also took a summer course taught by Grace Paley. But I wrote other stories in college, for myself. After my brother went off to the army, I wrote a pretty traditional story about a girl and her older brother. He is going off to join the army and she is walking him to the subway, something like that, and telling him that it is ­going to be hard for her at home without him there, just her alone with her ­parents. And I wrote a story about my piano teacher. I'm ­pretty sure that would have been my freshman or sophomore year in college, because I remember taking piano lessons then, and keeping it a secret from my parents. I guess I felt that I had to have some private life and that was my private life, to take piano lessons without telling them. And then in Grace Paley's class, when I was nineteen, I wrote a story about Buenos Aires, where I had spent two months when I was eighteen. It shows the influence of Hemingway, strangely. That may be partly the foreign setting and the characters speaking a little Spanish, but the descriptions were also ­Hemingway-esque. That was quite a good story, I actually published it online a few years ago. But it wasn't until I was out of school altogether that I can be certain I was writing them for myself or for my own interests rather than for a course.
INTERVIEWER
Was Grace Paley an important writer for you? Did you learn anything from her work in particular?
DAVIS
I liked her stories very much, and for a long time she was one of the few contemporary—I mean living—writers I read and admired. It was her ­humor and her economy, her realism, her conversational style, and also, in her life, the priority she gave to political activism that I admired so much. I don't ­remember the workshop very well though, unfortunately—she was very quiet, there at the head of the table.
INTERVIEWER
What things do you think have changed in your writing process over the years?
DAVIS
Well, that's hard to answer because the kinds of stories that I'm writing have changed so much. The process changes with the kind of story I'm writing. When I was young, I never would have taken, say, found material and shaped it and changed it into a story of my own, which I do now. It was much harder then, partly because I was new to it. I didn't have years of practice.
Also, when you're young, the main thing is that you want to be a writer, you want to write something. It's not that the thing itself is calling out to be written. So then you have to think, What can I write about? and then you look around you. That's probably why I wrote family stories or a story about my music teacher. Now it's the other way around, and has been for a long time—the material will speak to me, and I will respond to it.
INTERVIEWER
You've written only one novel. Is it for lack of the right material?
DAVIS
About any one of my family members I could write what would amount to a novel. At times I've started writing about members of my family and I've stopped because it seemed infinite, the family experience or the experience of one member, mother, father, sister, brother. There are so many memories, so many feelings, that I don't want to start. It would go on so long. Certainly there are forms of novels I would like to try—for instance, those of Sebald, Handke, or Bernhard—but I've also written no more than one novel because of the way I work. Other things are always occuring to me, shorter writing projects or translation projects.
INTERVIEWER
You lived in France for three years in the early seventies. Do you think the French novels of the fifties, the nouveau roman, influenced your work?
DAVIS
At college I took a course in the nouveau roman, specifically in Robbe-Grillet and Michel Butor. Butor's novel Degrees made a huge impression on me. It's about a school and a classroom. I loved the close attention to detail in that book in particular. Living in France you'd think I would happily get to know all of the contemporary writers and immerse myself in them. But I didn't. For a while I liked reading the books in the Série noire—­especially the American detective novels in French. Those were the first books in which I forgot I was reading a foreign language. That was good for just getting more comfortable with French. But my primary aim was to work on my own writing, so for that I was reading things written in English.
INTERVIEWER
If it wasn't the nouveau roman, then what made you want to tell stories in a different way?
DAVIS
Why didn't I just continue writing traditional short stories, like my mother? Why wasn't I happy with that? I don't know. I was always a rather rebellious child. I ran away from school once, I disobeyed my parents regularly, things like that. Being rebellious—and stubborn—may have had something to do with my later development as a writer. I found the traditional form of the story very constrictive, very constraining. I wasn't happy doing it. Then I read the stories of Russell Edson, an American poet. He would call those stories poems, but I wouldn't. They are bizarre little narratives, absurd and strange, and I suddenly saw that I could try pieces of writing like this and that it would be great fun. I was happy trying something new. So from then on I felt no compulsion to write something traditional. I mark that very clearly in the fall of 1973. I was twenty-six years old. Maybe when you look back at your life, you make a thing like that sound a little neater than it really was. Still, I kept journals very intensively then, so I know. It was still a big struggle, but it was exciting.
INTERVIEWER
Did you really run away from school?
DAVIS
Yes. I was fifteen and we were reading Thoreau, and I got very excited about the ideas in Walden, which actually caused me to run away from school with a knapsack full of tiny volumes of Shakespeare. I thought I would live in the woods and read Shakespeare. I don't know what I thought I would eat. I went off after lights out and walked down the highway.
INTERVIEWER
How far did you get?
DAVIS
As far as the village down below the school. About a three-mile walk. Then a police car stopped me. I tried to claim that I was on a school hike. Of course I was returned to my dormitory. I didn't try to run away again.
Well, strictly speaking that isn't true. A year or so after that, I claimed I was taking the train from Brattleboro down to New York City to go home for the weekend, but instead took a train in the opposite direction and spent the weekend by myself in Montreal, staying at a YWCA and taking photos.
INTERVIEWER
Do you think your early training in music shaped you as a writer?
DAVIS
Very much so, though I didn't realize this until a few years ago. For one thing, my high school courses in music theory emphasized the structure of a piece of music. You don't get the same instruction in literature. Or rather, it's not as vivid, or at least it wasn't for me. Say you're being taught a Chekhov short story. Your teacher might talk about the structure of it—the beginning, the end, the middle, recurring themes—but in a music-theory class, your teacher has a piece of music on, you're listening to it, and he's shouting over it, Here comes the bridge passage, now it's in the ­dominant key, now it's returning to the tonic key. It's very immediate. I got a lot of that and I got a lot of ear training. Especially playing the violin, but playing the piano, too, and singing in the chorus and the madrigal group. I was always listening, listening, and listening. Is the violin in tune? I think that helped me listen all the more carefully to people, how they spoke, and their intonations, their moods, based on how their voices ­sounded. And just to pay more attention generally. If you have a teacher saying, It's almost in tune, but it's a little sharp, or it's a little flat, you have to listen even harder.
Maybe in other ways, too. I hadn't thought of this before, but one of my favorite composers was always Bach, and he still is. Think of the fugues. Here you have a highly cerebral structure, something almost mathematical. And yet it's very emotional at the same time. So within that very mathematical and very disciplined structure, you have this huge emotional impact.
INTERVIEWER
Is the tension between order and emotion something you see more in your early work?
DAVIS
It would be too black-and-white to say that in the early years my stories were all about trying to put order in emotion. Some were. Others were fable-like stories, little myths or fantasies that had nothing to do with ­family or ­relationships. And pretty early on, in the long story called "Lord Royston's Tour," I was ­taking material from letters. But then, there is sort of a progression. Because you get tired of trying to figure out emotions and relationships after a while. The world is so full of so many other things. In the new book, making stories out of those Flaubert letters or out of people's dreams, I'm just very moved by the beauty of writing itself. The beauty of a sentence in another person's writing. Or the beauty of a very simple sentence when somebody is telling me a dream. So I enjoy the material of it more than ­making it serve a purpose for me. There may be nothing very fancy about the writing, but I like that. Plain.
INTERVIEWER
Could we look closely at one more story together, "Head, Heart"—

Heart weeps.
Head tries to help heart.
Head tells heart how it is, again:
You will lose the ones you love. They will all go. But even the earth will go, someday.
Heart feels better, then.
But the words of head do not remain long in the ears of heart.
Heart is so new to this.
I want them back, says heart.
Head is all heart has.
Help, head. Help heart.
DAVIS
It's a story about grief. When I came to try to express this particular grief, a poem was what I wanted. No "story," no talk, but that distillation. That difficulty speaking, almost. But I don't consider myself a poet, so it was hard for me to sit down and write a poem. It was very close and very private. It's ­funny how now I can talk about it—at the time, even though I wanted to write it and I wanted it to be good, and finished, I did not have any intention of publishing it or letting it go out into the world. I wrote it and finished it and got it right, then I put it aside. It was only years later that I felt enough distance so that I could let something so private become public. It has its roots in Anglo-Saxon literature and in Gerard Manley Hopkins, who was himself very influenced by Anglo-Saxon literature. All the alliteration—"help," "head," "heart." That is from Anglo-Saxon poetry. And then the ­vocabulary. "Remain" is Latinate, but all the other words are Anglo-Saxon. They're very simple. Almost all of them are monosyllables. To me the simplicity of the vocabulary, the repetition, the alliteration all get closer to the most basic and most difficult emotions. There's no fancy language coming on top of them. If you can do that without sounding simpleminded, it's very powerful. I have an earlier version that was a little more talky, that wasn't as economical. I think it started with "Heart is disturbed" or "Heart is having some trouble dealing with this." It was longer and more narrative. Then I got it down to just "Heart weeps." The last revision was very simple. The last two lines were something like, "Help, head. Help, heart. / You are all heart has." And I didn't like it. Didn't like it, but didn't know what to do about it. Then I realized I could just reverse the lines, except I'm not addressing head till the last line, so the line before can't be "You are all heart has." It has to be in the third person—"Head is all heart has." Which is better anyway. The narrator doesn't address head till the very end. Then comes this vital comma. It just shows you how important a little punctuation mark is, how much power it has. Here it signifies the command to head. It's the imperative form of the verb. And then, without the comma, you still have the imperative but now "heart" is the direct object. That little comma makes such a difference.