Charles Simic
Issue 212, Spring 2015
Bald man smoking in bed,
Naked lightbulb over his head,

The shadow of his cigar
Next to him on the wall,

Its long ash about to fall
Into a pitch-dark fishbowl.
Want to keep reading?
Sign in—or sign up for a free trial…
Free Trial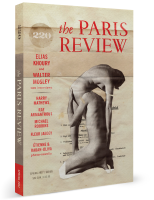 …or get your subscription now!
Subscribe