Interviewed by Christopher Lehmann-Haupt and Nathaniel Rich
Issue 178, Fall 2006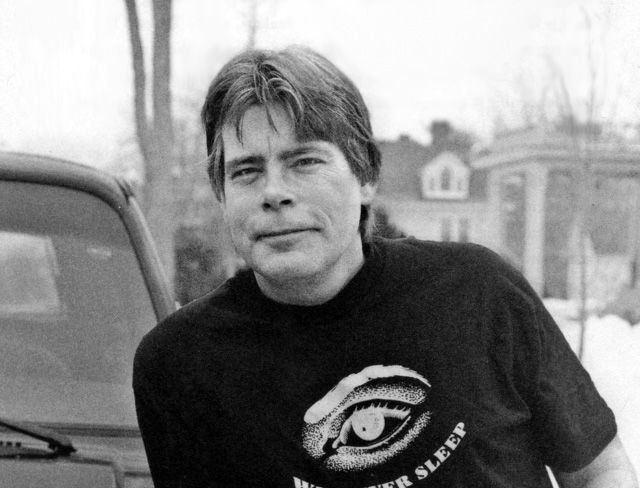 King in Bangor, Maine, 1994.
Stephen King began this interview in the summer of 2001, two years after he was struck by a minivan while walking near his home in Center Lovell, Maine. He was lucky to have survived the accident, in which he suffered scalp lacerations, a collapsed right lung, and multiple fractures of his right hip and leg. Six pounds of metal that had been implanted in King's body during the initial surgery were removed shortly before the author spoke to The Paris Review, and he was still in constant pain. "The orthopedist found all this infected tissue and outraged flesh," said King. "The bursas were sticking right out, like little eyes." The interview was held in Boston, where King, an avid Red Sox fan, had taken up temporary residence to watch his team make its pennant run. Although he was still frail, he was back to writing every day, and by night he would take his manuscript to Fenway Park so that he could edit between innings and during pitching changes.
A second interview session with King was conducted early this year at his winter home in Florida, which happens to be within easy driving distance of the Red Sox's spring training compound in Fort Myers. The house lies at the end of a sandy key, and looks—by virtue of a high vaulted ceiling—something like an overturned sailboat. It was a hot, sunny morning and King sat on his front steps in blue jeans, white sneakers, and a Tabasco hot sauce T-shirt, reading the local newspaper. The day before, the same paper had printed his home address in its business section, and fans had been driving by all morning to get a peek at the world-famous author. "People forget," he said, "I'm a real person."
King was born on September 21, 1947, in Portland, Maine. His father abandoned his family when King was very young, and his mother moved around the country before settling back in Maine—this time in the small inland town of Durham. King's first published story, "I Was a Teenage Grave Robber," appeared in 1965 in a fan magazine called Comics Review. Around that time he received a scholarship to attend the University of Maine in Orono, where he met his wife, Tabitha, a novelist with whom he has three children and to whom he is still married. For several years he struggled to support his young family by washing motel linens at a laundry, teaching high-school English, and occasionally selling short stories to men's magazines. Then, in 1973, he sold his novel Carrie, which quickly became a best seller. Since then, King has sold over three hundred million books.
In addition to forty-three novels, King has written eight collections of short stories, eleven screenplays, and two books on the craft of writing, and he is a co-author with Stewart O'Nan of Faithful, a day-by-day account of the Red Sox's 2004 championship season. Virtually all of his novels and most of his short stories have been adapted for film or television. Although he was dismissed by critics for much of his career—one New York Times review called King "a writer of fairly engaging and preposterous claptrap"—his writing has received greater recognition in recent years, and in 2003 he won the Medal for Distinguished Contribution to American Letters from the National Book Foundation. King has also been honored for his devoted efforts to support and promote the work of other authors. In 1997 he received the Writers for Writers Award from Poets & Writers magazine, and he was recently selected to edit the 2007 edition of Best American Short Stories.
In person, King has a gracious, funny, sincere manner and speaks with great enthusiasm and candor. He is also a generous host. Halfway through the interview he served lunch: a roasted chicken—which he proceeded to hack at with a frighteningly sharp knife—potato salad, coleslaw, macaroni salad, and, for dessert, key lime pie. When asked what he was currently working on, he stood up and led the way to the beach that runs along his property. He explained that two other houses once stood at the end of the key. One of them collapsed during a storm five years earlier, and bits of wall, furniture, and personal effects still wash ashore at high tide. King is setting his next novel in the other house. It is still standing, though it is abandoned and, undoubtedly, haunted.
INTERVIEWER
How old were you when you started writing?
STEPHEN KING
Believe it or not, I was about six or seven, just copying panels out of comic books and then making up my own stories. I can remember being home from school with tonsillitis and writing stories in bed to pass the time. Film was also a major influence. I loved the movies from the start. I can remember my mother taking me to Radio City Music Hall to see Bambi. Whoa, the size of the place, and the forest fire in the movie—it made a big impression. So when I started to write, I had a tendency to write in images because that was all I knew at the time.
INTERVIEWER
When did you begin reading adult fiction?
KING
In 1959 probably, after we had moved back to Maine. I would have been twelve, and I was going to this little one-room schoolhouse just up the street from my house. All the grades were in one room, and there was a shithouse out back, which stank. There was no library in town, but every week the state sent a big green van called the bookmobile. You could get three books from the bookmobile and they didn't care which ones—you didn't have to take out kid books. Up until then what I had been reading was Nancy Drew, the Hardy Boys, and things like that. The first books I picked out were these Ed McBain 87th Precinct novels. In the one I read first, the cops go up to question a woman in this tenement apartment and she is standing there in her slip. The cops tell her to put some clothes on, and she grabs her breast through her slip and squeezes it at them and says, "In your eye, cop!" And I went, Shit! Immediately something clicked in my head. I thought, That's real, that could really happen. That was the end of the Hardy Boys. That was the end of all juvenile fiction for me. It was like, See ya!
INTERVIEWER
But you didn't read popular fiction exclusively.
KING
I didn't know what popular fiction was, and nobody told me at the time. I read a wide range of books. I read The Call of the Wild and The Sea-Wolf one week, and then Peyton Place the next week, and then a week later The Man in the Gray Flannel Suit. Whatever came to mind, whatever came to hand, I would read. When I read The Sea-Wolf, I didn't understand that it was Jack London's critique of Nietzsche, and when I read McTeague, I didn't know that was naturalism, that it was Frank Norris saying, You can never win, the system always beats you. But I did understand them on another level. When I read Tess of the d'Urbervilles, I said to myself two things. Number one, if she didn't wake up when that guy fucked her, she must have really been asleep. And number two, a woman couldn't catch a break at that time. That was my introduction to women's lit. I loved that book, so I read a whole bunch of Hardy. But when I read Jude the Obscure, that was the end of my Hardy phase. I thought, This is fucking ridiculous. Nobody's life is this bad. Give me a break, you know?
INTERVIEWER
In On Writing, you mention how the idea for your first novel, Carrie, came to you when you connected two unrelated subjects: adolescent cruelty and telekinesis. Are such unlikely connections often a starting point for you?
KING
Yes, that's happened a lot. When I wrote Cujo—about a rabid dog—I was having trouble with my motorcycle, and I heard about a place I could get it fixed. We were living in Bridgton, Maine, which is a resort-type town—a lake community in the western part of the state—but over in the northern part of Bridgton, it's really rough country. There are a lot of farmers just making their own way in the old style. The mechanic had a farmhouse and an auto shop across the road. So I took my motorcycle up there, and when I got it into the yard, it quit entirely. And the biggest Saint Bernard I ever saw in my life came out of that garage, and it came toward me.
Those dogs look horrible anyway, particularly in summer. They've got the dewlaps, and they've got the runny eyes. They don't look like they're well. He started growling at me, way down in his throat: arrrrrrrrrrggggggghhhhhh. At that time I weighed about two hundred and twenty pounds, so I outweighed the dog by maybe ten pounds. The mechanic came out of the garage and said to me, Oh, that's Bowser, or whatever the dog's name was. It wasn't Cujo. He said, Don't worry about him. He does that to everybody. So I put my hand out to the dog, and the dog went for my hand. The guy had one of those socket wrenches in his hand, and he brought it down on the dog's hindquarters. A steel wrench. It sounded like a rug beater hitting a rug. The dog just yelped once and sat down. And the guy said something to me like, Bowser usually doesn't do this, he must not have liked your face. Right away it's my fault.
I remember how scared I was because there was no place to hide. I was on my bike but it was dead, and I couldn't outrun him. If the man wasn't there with the wrench and the dog decided to attack . . . But that was not a story, it was just a piece of something. A couple of weeks later I was thinking about this Ford Pinto that my wife and I had. It was the first new car we ever owned. We bought it with the Doubleday advance for Carrie, twenty-five hundred dollars. We had problems with it right away because there was something wrong with the needle valve in the carburetor. It would stick, the carburetor would flood, and the car wouldn't start. I was worried about my wife getting stuck in that Pinto, and I thought, What if she took that car to get fixed like I did my motorcycle and the needle valve stuck and she couldn't get it going—but instead of the dog just being a mean dog, what if the dog was really crazy?
Then I thought, Maybe it's rabid. That's when something really fired over in my mind. Once you've got that much, you start to see all the ramifications of the story. You say to yourself, Well, why didn't somebody come and rescue her? People live there. It's a farmhouse. Where are they? Well, you say, I don't know, that's the story. Where is her husband? Why didn't her husband come rescue her? I don't know, that's part of the story. What happens if she gets bitten by this dog? And that was going to be part of the story. What if she starts to get rabid? After I got about seventy or eighty pages into the book I found out the incubation period for rabies was too long, so her becoming rabid ceased to be a factor. That's one of the places where the real world intruded on the story. But it's always that way. You see something, then it clicks with something else, and it will make a story. But you never know when it's going to happen.
INTERVIEWER
Are there other sources for your material besides experience?
KING
Sometimes it's other stories. A few years ago I was listening to a book on tape by John Toland called The Dillinger Days. One of the stories is about John Dillinger and his friends Homer Van Meter and Jack Hamilton fleeing Little Bohemia, and Jack Hamilton being shot in the back by a cop after crossing the Mississippi River. Then all this other stuff happens to him that Toland doesn't really go into. And I thought, I don't need Toland to tell me what happens, and I don't need to be tied to the truth. These people have legitimately entered the area of American mythology. I'll make up my own shit. So I wrote a story called "The Death of Jack Hamilton."
Or sometimes I'll use film. In Wolves of the Calla, one of the seven books in the Dark Tower series, I decided to see if I couldn't retell Seven Samurai, that Kurosawa film, and The Magnificent Seven. The story is the same, of course, in both cases. It's about these farmers who hire gunslingers to defend their town against bandits, who keep coming to steal their crops. But I wanted to up the ante a little bit. So in my version, instead of crops, the bandits steal children.
INTERVIEWER
What happens when the real world intrudes, as with the incubation period of rabies in Cujo? Do you go back?
KING
You can never bend reality to serve the fiction. You have to bend the fiction to serve reality when you find those things out.
Want to keep reading?
Subscribe and save nearly 40%.
Subscribe Now
Already a subscriber? Sign in below.