Interviewed by Edward Hirsch
Issue 102, Spring 1987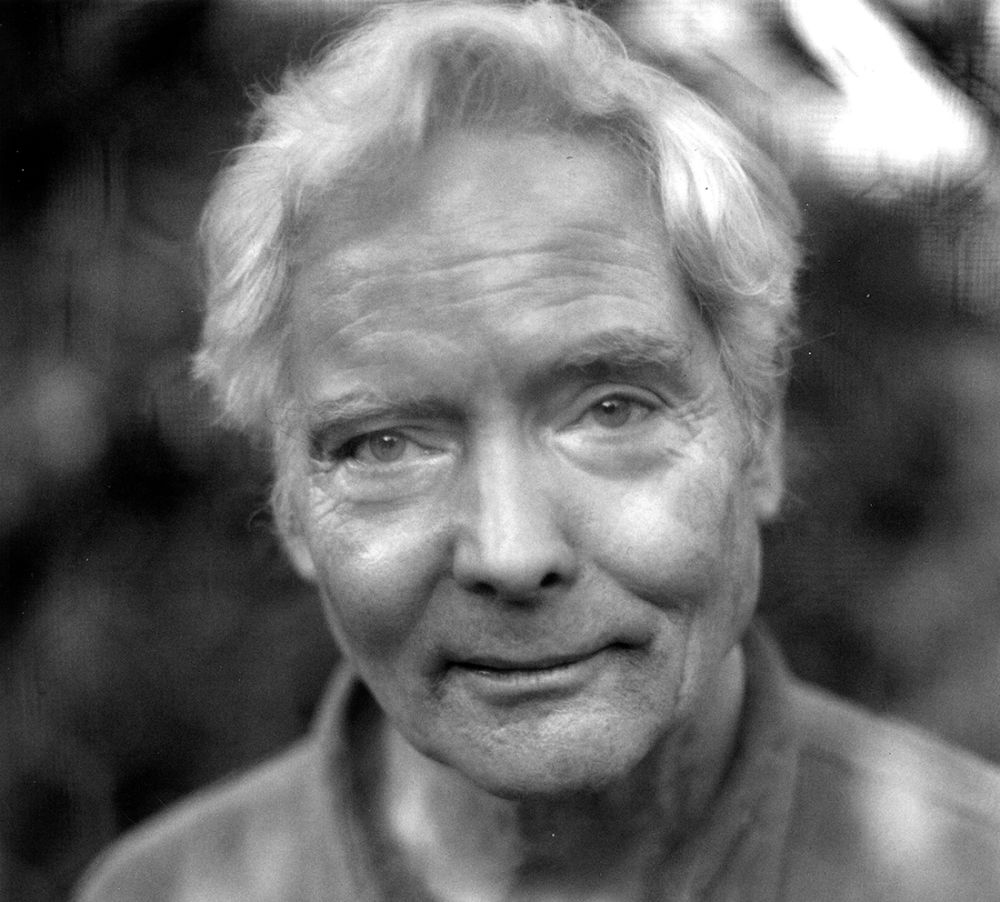 I went to visit W. S. Merwin at his home in Ha'iku, Hawaii, on the northeast coast of Maui, in mid-June, 1986. The Merwins (William, his wife Paula, and their chow puppy Maoli) live towards the end of a winding, rocky dirt road that deadends at a cliff overhanging the Pacific. They have three acres of land that Merwin has planted—in red volcanic clay ruined by fly-by-night pineapple farming fifty years ago. He and Paula tend it now like concerned parents whose growing children were once sickly—healthy at present but needing constant attention. Because of his efforts, the grounds are richly alive with native vegetation: huge mango, banana, and papaya trees, looming palms whose leaves have been splayed by the hard winds, flowering pink, yellow, and red hibiscus, white gardenia plants, giant red heliconias that look as if carved from wax, white birds-of-paradise, ferns of all kinds. There is a large vegetable garden and a small enclave of native plants—some of them endangered Hawaiian species—which Merwin keeps in plastic pots protected by a roof of palm fronds and chicken wire.
The house, which Merwin designed himself, is sided in Eucalyptus robusta. It has high ceilings, dark eucalyptus floors, sliding glass windows and doors. It is surrounded by deeply recessed lanais, which are filled with potted plants and bird feeders. Always one is aware of the vista of the Pacific in the distance.
The furniture in the house is mostly country French (an old armoire, a heavy wooden dining-room table), a reminder of Merwin's many years in rural France. There are wooden bookcases crammed with books in almost every room. The books themselves are varied and wide-ranging, though they also demonstrate Merwin's concentrated interests in Zen Buddhism, in ecology (I counted six copies of America the Poisoned—five "to give away"), botany, gardening, agriculture, history—in the life of Native American and other tribal societies, and in Hawaii itself. All in all, the house and its surrounding property create the feeling of a wholly encompassing and engrossing world.
William Stanley Merwin was born in New York City in 1927 and grew up in Union City, New Jersey, and in Scranton, Pennsylvania. He has published twelve books of poetry to date: A Mask for Janus (1952), The Dancing Bears (1954), Green with Beasts (1956), The Drunk in the Furnace (1960), The Moving Target (1963), The Lice (1967), The Carrier of Ladders (1970), for which he was awarded the Pulitzer Prize, Writings to an Unfinished Accompaniment (1973), The Compass Flower (1977), Finding the Islands (1982), Opening the Hand (1983), and The Rain in The Trees (1987). He is well known for his work as a translator and has published at least fifteen books of poetry in translation, including Selected Translations, 1948–1968 (1969), for which he won a PEN Translation Prize, and Selected Translations, 1968–1978 (1979). He has also published four books of prose: The Miner's Pale Children (1970), Houses and Travellers (1977), Unframed Originals (1982), and Regions of Memory: Uncollected Prose, 1949–1982 (1986). He is currently finishing three new manuscripts: a new book of poems which Atheneum will publish, a volume of translations from the Argentine poet Roberto Juarroz, and another, done in collaboration with Soiku Shigematsu, of translations from the medieval Japanese Zen master and garden designer Muso Soseki, both of which North Point Press plans to publish. And for the past few years he has been working on several long essays on Hawaiian history and its bearing on the present. Merwin has lived in many places over the years—Spain, England, France, and Mexico as well as in New York City—but he has now settled, it seems permanently, in Hawaii.
Our interview took place on consecutive June days in Merwin's study. Both times we met in the late afternoon at an hour he usually reserves for working in the garden. The light on both afternoons was radiantly bright—the ocean sparkled in the background. On both days Merwin was barefoot (in Hawaiian houses it is polite to leave your shoes at the door) and wore khaki shorts and a T-shirt—his usual dress at home. Moderately tall, he has curly graying hair, intensely clear eyes, and at fifty-nine he still looks remarkably boyish and handsome—the poet incarnate.
INTERVIEWER
In the past thirty-four years, you have published twelve books of poetry, three books of prose, and at least fifteen books in translation. Yet you said recently that "writing is something I know little about." How is that possible?
W.S. MERWIN
The kind of writing that matters most to me is something you don't learn about. It's constantly coming out of what I don't know rather than what I do know. I find it as I go. In a sense, much that is learned is bound to be bad habits. You're always beginning again.
INTERVIEWER
Do you write every day? Ezra Pound once advised you to write seventy-five lines a day. Have you followed his advice?
MERWIN
I haven't written seventy-five lines a day, but for years I've tried to stare at a piece of paper for a while every day. It tends to turn one into a kind of monster.
INTERVIEWER
How's that?
MERWIN
You have to be rather relentless about pushing other things out of the way. This activity of writing, which has no promises attached to it, comes to be given a kind of arbitrary but persistent importance.
INTERVIEWER
Would you say something about the hymns you used to write for your father? Were those your first poems?
MERWIN
I suppose they were. I was about five years old when I wrote them. I wrote them on my own, and I was very disappointed that they weren't used in church.
INTERVIEWER
You have a highly developed ecological and environmental consciousness. When did it start?
MERWIN
I've tried repeatedly to figure out just when and how it began. It's probably impossible to say. Such dispositions come long before most decisions, I think. But there are two things I remember. First, I had a rather repressed childhood. I was brought up never to say no to anybody, never to say I didn't like something, never to talk back. But one day—I must have been around the age of three—two men came and started cutting the limbs off the one tree in the backyard, and I simply lost my temper and ran out and started beating them. Everybody was so impressed with this outburst of real rage that my father never even punished me. And the second thing: I was so fascinated by these watercolors in a book about Indians that I began teaching myself to read the captions. The Indians seemed to be living in a place and in a way that was of immense importance to me. So I associate learning to read—English, oddly enough—with wanting to know about Indians. I'm still growing into it. I've never outgrown that. The Indians represented to me a wider and more cohesive world than the one I saw around me that everyone took for granted. I grew up within sight of New York City, and whenever I was asked what I really wanted to do, I would say I wanted to go to the country. I'd been taken out and had seen the country when I was very small and that was what I always wanted to go back to. I'm not sure of the exact origin, but I do know that it goes back a very long way. Feeling that way about "the country" has made me ask questions that I suppose are strange to many of my contemporaries, but they seem to get less and less eccentric as our plight as a species grows more and more desperate, and we behave accordingly. As a child, I used to have a secret dread—and a recurring nightmare—of the whole world becoming city, being covered with cement and buildings and streets. No more country. No more woods. It doesn't seem so remote, though I don't believe such a world could survive, and I certainly would not want to live in it.
INTERVIEWER
Your father was a Presbyterian minister. Do you think you inherited from him a Presbyterian urge to improve the world?
MERWIN
I don't think it was an urge to improve the world. It was an urge to love and revere something in the world that seemed to me more beautiful and rare and magnificent than I could say, and at the time in danger of being ignored and destroyed. I think I felt that as a very small child. Though how much of it I owe to my father or his family, I can't say. The world around me did not seem to me to be satisfactory. There was something incomplete about the world of streets and sidewalks and cement—and I did have a very strong sense of growing plants and trees and so forth, and still do. I remember walking in the streets of New York and New Jersey and telling myself, as a kind of reassurance, that the ground was really under there. I've talked and tried to write about that, but I feel that I haven't even begun to say it. But that hunger, that tropism, is something that I don't believe we can live without, even if we aren't aware of what we're missing and by now many of us aren't aware of it. We're missing it just the same. We're deprived of something essential.
INTERVIEWER
Is it some profound connection to the natural world?
MERWIN
The connection is there—our blood is connected with the sea. It's the recognition of that connection. It's the sense that we are absolutely, intimately connected with every living thing. We don't have to be sentimental and pious about it, but we can't turn our backs on that fact and survive. When we destroy the so-called natural world around us we're simply destroying ourselves. And I think it's irreversible.
INTERVIEWER
Do you see a connection between poetry and prayer?
MERWIN
I guess the simple answer is yes, if only because I think of poetry as an attempt to use language as completely as possible. And if you want to do that, obviously you're not concerned with language as decoration, or language as amusement, although you certainly want language to be pleasurable. Pleasure is part of the completeness. I think of poetry as having to do with the completeness of life, and the completeness of relation with one's experience, completing one's experience, articulating it, making sense of it.
INTERVIEWER
How about the influence of Zen in your work?
MERWIN
When you talk about prayer in Judeo-Christian terms, prayer is usually construed as a kind of dualistic act. You're praying to somebody else for something. Prayer in the Western sense is usually construed as making a connection. I don't think that connection has to be made; it's already there. Poetry probably has to do with the recognizing of that connection, rather than trying to create something that isn't there.
INTERVIEWER
In your memorial poem to John Berryman, you remember that "he suggested that I pray to the Muse / get down on my knees and pray / right there in the corner and he / said he meant it literally." What do you think of the advice?
MERWIN
I think it's excellent advice. Writing poetry is never a wholly deliberate act over which you have complete control. It's important to recognize that writing is at the disposition of all sorts of forces, some of which you don't know anything at all about. You can describe them as parts of your own psyche, if you like, they probably are, but there are lots of other ways of describing them that are as good, or better—the muses, or the collective unconscious. More suggestive and so, in a way, more accurate. Any means of invoking these forces is good, as far as I'm concerned.
INTERVIEWER
What did you learn from Berryman during your undergraduate days at Princeton?
MERWIN
I tried to put some of that in the poem I wrote about him, some of the main directives that he made. Intransigence was one of them. He taught me something about taking poetry very seriously. He was certainly one of the two or three brightest individuals I've ever known, and his sense of language was passionate and had immense momentum. His integrity was absolute. He was a wacky man, but that devotion was like a pure flame all the time and that was a great example for me.
INTERVIEWER
You've written an affectionate memoir of R. P. Blackmur, "Affable Irregular." Was he an example for you as a writer and an intellectual?
MERWIN
I revered Blackmur. He was a kind of mentor and parent, except that the relation was not intimate, and there was a great deal of awe in it. I think that Blackmur had, in some ways, the most haunting literary intelligence I've ever known. He was a critic of a kind I really revered, too, and he was not serving himself with his opinions. He thought of a critic as a house waiting to be haunted. I haven't reread those essays in many years now, and yet things that he said and attitudes that he embodied, I've never forgotten. I know that he had deep uncertainties and yet he was a man of great independence. He reassured me. He encouraged me to believe that my own hankering after independence was okay.
INTERVIEWER
So he encouraged you to follow your own path?
MERWIN
I think he did that with many people. I don't know how many people took the advice. I think that even without his advice I probably wouldn't have fit into the academy. I'm very uncomfortable around institutions for any length of time. They make me uneasy. Like a shut-in.
INTERVIEWER
Who were the first poets your own age that you knew?
MERWIN
Well, I knew Galway Kinnell at Princeton, but we didn't read each other's poems very much. James Merrill came through once to see Blackmur. I didn't really know the poetry of my contemporaries very well until I came back from England and lived in Boston. I was almost thirty.
INTERVIEWER
So you were already developed as a poet in a certain way?
MERWIN
In a certain way. Until then my main influence had been Pound and all the poets of his generation, the great figures of that generation. And Pound turned me toward medieval poetry.
INTERVIEWER
A lot of your early work seems to have followed a Poundian program. How central was he to you as a model?
MERWIN
He was very important. Pound's ear was a revelation to me when I was eighteen and nineteen. I mean I really heard something clear when I read him. Many poets since Pound have heard something pure and penetrating in his work. I don't subscribe to a lot of the myths about Pound. I've tried to. Pound is so important to me that I've wanted to admire him very much. The intellectual coherence of Pound's work is something that I don't any longer believe in. I really think he was a very chaotic, fragmented, and troubled man. I don't think it adds up to this prescient and profound, architectural perfection that Hugh Kenner and some people have read into it. One minute I find him dazzling, the next minute disappointing and often exasperating. The example of writing by what you heard rather than out of your opinions—it was funny, he was so opinionated—that was the side that appealed to me. I imagined it was more exceptional than I do now. Now I suspect that all poets proceed by hearing. It was Pound's devotion to language and to poetry, and that incomparable ear.
INTERVIEWER
Would you talk about your visit, which you have called a pilgrimage, to see Pound at St. Elizabeths in the 1940s?
MERWIN
I was staying with friends in Washington, at Easter vacation, when I went over to see him. He received me in this open ward, with people wandering around, flushing imaginary toilets. He sat in a deep chair and held forth. I was eighteen—I didn't have much to say to Pound—and he told me all about how, when the hundredth canto was finished, the whole thing was all going to fall into place and so on. It would be like putting the keystone in the arch, or the lintel on the doorposts. He was also wonderfully generous and wrote me postcards afterwards. "Read seeds, not twigs E.P.," he wrote. And he gave me a bit of advice about translating, about taking translating seriously as a kind of practice, about learning languages and trying to get as close as possible to the sense and the form of the original. I didn't know what he meant about a lot of those things until I had been practicing for a while, until I had been trying to do it.
INTERVIEWER
What initially attracted you to translation?
MERWIN
At eighteen it's very hard to find something to write about. I was writing a lot but it was perfectly clear to me that what I was writing wasn't about very much. You have what you think of as your feelings when you're seventeen and eighteen, and they are your feelings, but they're very far from your words, you know, and the words are a mess. With translation, it was possible to actually work on something—and pay attention just to the writing, to the writing of something—and getting the words right, coming at it from the other end, from the "how" side.
INTERVIEWER
When did you begin to translate primitive or archaic poetry?
MERWIN
I guess I didn't really start translating it until I was well into my thirties anyway. I had always wanted to learn an oral language, a nonliterate language. I don't know what it was about my education and my temperament and character that kept me so long from doing that. Those Crow versions, for example, which I did about 1970 or '71, were all done from Robert Lowie's work on the Crow in the thirties. And I had very much the feeling about the Crow, along with American Indian poetry in general, and many other non-literate poetries, too— that even as we talked about it, it was disappearing. And I think of it as of comparable importance to, say, the burning of the library at Alexandria. But I never did set about learning one of those languages until quite recently. I went to Crow country when I was doing those translations. I tried to find out what other work had been done on the Crow since Robert Lowie. It turned out very little work had been done at all. There had been a little bit of work done on the grammar of the language, but no more collecting of material; and Lowie himself only collected a few pages of lyrics. So, from a vast tradition, that's all that's left. It's like having maybe one or two pages of Herrick and one of Donne and two or three of Keats out of the whole of English literature. You know, you're grateful for them, but it makes you sick to think of what's been lost. The Crow were not the only ones, either. The Crow were one of many great cultures. You look at those Crow lyrics, and you know they are the last of a vast, deep, powerful tradition. We brought about the loss of those things. They're lost; we can't reinvent them.
INTERVIEWER
Do you think your early work, and maybe even your strong interest in translation, indicates any ambivalence about being an American poet?
MERWIN
No, I never thought about it that way. There was a time when I really tried to sort that question out. But translation never entered into it—I mean, translation always seemed to be a way simply of expanding the possibilities, you know, of not being stuck. American poetry of the forties, which I grew up in, seemed to me pretty wooden. I mean, it was like living in a packing crate, and I knew I had to get out of that. Trying to figure out what it meant to be an American poet was something I did particularly during the years when I was living in England and very much wanting to get back to America. I certainly knew that I was not an English poet. But what it is to be an American poet I still don't know. It's nice that we no longer have to think about that. We still seemed to have to worry about it in the forties.
INTERVIEWER
How did you come to know Robert Graves? What kind of a relationship did you establish with him when you worked as a tutor in the family?
MERWIN
Well, it was a family relationship. The second tutoring job I had was in Portugal with the Portugese royal family. I was paid forty dollars a month. I was given a house and meals and so forth, and there were no expenses at all. During the summer I went across Spain on milk trains and I was determined to meet Robert Graves, so I just went and knocked on his door. I was staying in a house down in the port of Soller, and Robert arranged to put me up in one of the empty houses in the village there so we could spend some time together. And while I was there, the tutor, who was supposed to be coming out for his son, wired and said he couldn't come, and Robert said, "Would you like the job?" and I said, "Sure." So that's how I got it. Piece of luck.
INTERVIEWER
And how long did you work for him?
MERWIN
I worked for him for only a year, but then I went back and lived in the village for part of another winter, translating The Poem of the Cid for the BBC. I've been trying to put together some things about Robert since he died. He was not the easiest man in the world to get along with. We didn't really get along—I mean, not very well. He got along badly with many young people, and especially with other poets, and we didn't part on the best of terms.
INTERVIEWER
What was the problem?
MERWIN
It was all a very tiny circle, and when anything was abrasive, it became very abrasive. I tried a couple of times after I left Robert to bridge the gap because I knew there was really no reason not to be friends, but Robert had decided he didn't want to be friends. He said he was born without a reverse gear. I would feel even worse about it all if so many other people had not had much the same experience.
INTERVIEWER
I've felt the influence of Eliot in some of your work. Did you know him?
MERWIN
Yes, in the early fifties, in London. Eliot was a very kind man. In those days I smoked and liked French cigarettes, and people used to give him French cigarettes, which he no longer smoked. So whenever I went to see him he would open a drawer and hand me a whole bunch. That was a big thing in London in the early fifties, and I was touched that he remembered. We used to sit and reminisce about America. There was a side of Eliot that was very homesick for the States, and I was feeling homesick in London, too. We had several wonderful conversations—about the Ohio River and about his family out on the Mississippi in St. Louis and about the riverboats. It's very strange to think of him having any connection with that world. He talked about the Delta Queen, that steamboat that went up and down the river until a few years ago. He really wanted to take a trip on that. I wanted to write verse plays in those days, when I was in my early twenties. But, after a while, I came to feel that the plays weren't going very well and that the verse certainly wasn't helping them. As long as I had this fixation about verse plays, I wasn't learning anything about writing plays. I talked to him about that. I said I was thinking of abandoning writing them in verse altogether and trying to write them in prose. "Well," he said, "I've thought of doing that, too, but if I were to write my plays in prose, there are so many other people who could do it better."
INTERVIEWER
How important was Auden to you as a poet and as a man?
MERWIN
I admired Auden enormously. I love some of his poetry. We never knew each other very well personally. In fact, I think we only met twice. I have a few marvelous avuncular letters from Auden at the time when he did the introduction to my Yale Younger Poets book. But we never became friends. Our paths just didn't cross. I was very much in awe of him. I was shy about intruding on him. I used to see him padding around the Village when we both lived there, but I didn't go over and tap him on the shoulder, which I suppose I should have done. Once when he was away, and I was walking around the Village with Allen Ginsberg, Allen said he had the key to Auden's apartment. He asked, "Shall we go and look around Auden's apartment?" He said, "I hallow that man." And I said, "So do I. Let's go." So we did, and I must say it was the most god-awful mess I've ever seen. Obviously nothing was ever cleaned or dusted. He had some people staying there who were apparently just as messy as he was. Someone had asked him how he would sort out the mess when he got back and he said, "Well, we'll just peel off the top layer and they can take that with them."
INTERVIEWER
Do you think that the way you grew up created a nomadic streak in you?
MERWIN
Probably. But I think I always wanted to travel. I mean, when I was very small, I remember the great joy of being in my father's church, being allowed to go up to his study a few times and watch the boats on the river and imagine going to sea. It was the old dream from Sir Walter Raleigh—wanting to ship out. It was one of the things that made me read Conrad when I was fourteen. Conrad was one of the first authors who made me want to write.
INTERVIEWER
You've been criticized for excluding "the apparatus of the industrial revolution" from your work, especially from your early work. What do you make of that criticism?
MERWIN
It's probably just. What someone writes about is never an entirely rational or deliberate choice. I've always envied poets to whom the immediacies of history were more tractable than I've found them to be. My difficulty may have to do with the fact that, although I lived in cities as a child, I was never allowed to have much to do with them, and I did feel alienated. I've always felt very different the moment I got out of cities or came back to them. But for many years, of course, this made for a real ambivalence, because I felt the need for the ultimate city, which for me was New York, and yet for the exact opposite, for the country, wherever I could find it, and they were always both pulling at me.
INTERVIEWER
Your fifth and sixth books, The Moving Target and The Lice, are explosively different from the books which preceded them. On a technical level, they break with the formal tradition of the forties and fifties, breaking up lines and stanzas, loosening diction and syntax. And about two-thirds of the way through The Moving Target, you suddenly abandon using punctuation altogether. What happened?
MERWIN
In the late fifties, I had the feeling I had simply come to the end of a way of writing. I didn't reject it, but it was no longer satisfying. So there was a period of close to two years when I wrote very little poetry. And then all of a sudden, the first poems of The Moving Target came out, I wrote almost half of the book in a few weeks—it was all coming from a different kind of impulse that I had not known was preparing itself. I was in Europe, knowing that if I came back to the States, I would have to get involved in an academic career, or something like that, which I didn't want to do, and yet, not wanting to be in England any more, the tensions of wanting to change my life, and not yet knowing quite how to do it, this all built up, with the result of a release of a new kind of writing, and many of the images and poems of the first part of the The Moving Target. The second part of that book was written after I did get back to New York and was living on the Lower East Side. Probably the dropping of punctuation was partly the result of many years of reading Spanish and French poetry. Suddenly, they seemed to be a part of a tradition that was mine if I wanted it. Also, I came to believe that poetry has a much stronger relation to the spoken word than prose has. Punctuation basically has to do with prose and the printed word. I came to feel that punctuation was like nailing the words onto the page. Since I wanted instead the movement and lightness of the spoken word, one step toward that was to do away with punctuation, make the movement of the words do the punctuating for themselves, as they do in ordinary speech.
INTERVIEWER
James Wright went through a similar crisis in his work at about the same time. Do you see a connection between what happened to you and what happened to him?
MERWIN
Oh, yes. But neither of us knew what the other was doing. A number of people—like Louis Simpson and Robert Bly—were moving in that direction. The Beats were around also. We didn't so much influence each other as feel the same things. It was perfectly clear that the things I had felt as a kind of straitjacket could be broken out of after all. The straitjacket really wasn't there. We didn't have to pay attention to it anymore. The other thing about that time—I don't know that anyone has described it very thoroughly, and maybe nobody can—but all of us were about the same age, and we all went through that at pretty much the same time—throwing out the respectable way of going about things too. We were throwing out all of the apparatus of literary careers and everything, saying, Ah, that's not important; what's important is writing a different kind of poem. And that's wonderful. In some ways I wish that poets younger than us had gone through that experience. I love the idea of dropping—even if it's just for a few months—all of the assumptions about what makes poems and what makes literary careers and what makes any of these things, and living without that for a while.
INTERVIEWER
I wonder how much you think of yourself as belonging to a specific generation of poets who share similar experiences. You've dedicated work, for example, to Galway Kinnell, Richard Howard, Anthony Hecht, and you've written a moving, haiku-like elegy for James Wright.
MERWIN
I feel a part of that generation. But I don't feel part of any school or approach or movement or anything like that. I never have. In the late fifties, all of American poetry was supposed to be divided into two camps. That never made any sense to me at all. I've always liked disparate kinds of poets—Robert Creeley and Denise Levertov and Gerald Stern and Richard Howard and Anthony Hecht, and so forth—without feeling that there's any disloyalty or impossibility in that. I'm sad to see other poets and critics who insist that poetry has to be of a certain kind or it's not poetry.
INTERVIEWER
Would you talk about your experiences in the embryonic peace movement and the anti-nuclear movement in the U.S. and abroad? How politically active have you been? How did it affect your work?
MERWIN
I've always known that there were connections. I've tried to find them in different ways, but I've realized that I wasn't doing it very well. I did a bunch of essays about political events back in the early sixties. My involvement began in the fifties. The first demonstrations that I was involved in were in the late fifties and early sixties in the States. One of the first was outside Fort Dietrich, Maryland, where there was a biochemical warfare base. We were glad if there were six or seven of us standing outside the gates on what we called a vigil. Demonstrations in those days in the States were tiny—I mean, sometimes you were lucky if there were twelve people. On the other hand, in 1958, I had been in England, and was on the third Aldermaston march, which was the largest march in England since the Chartists, and very nearly split the Labour Party. It was huge, and the whole of central London at the end of that march was just jammed with people standing in silence. It was unforgettable. I also remember that Ted Hughes and Sylvia Plath came and watched the end of that. Ted and Sylvia were reluctant to get involved in that kind of thing, but they did come and watch.
INTERVIEWER
The Lice is your bleakest, most apocalyptic and agonized book. It's fueled by a savage ecological and political rage. I wonder what your current feelings are about what you call the "overt misanthropy" of The Lice.
MERWIN
When I wrote The Lice, I thought that things were so black, that what we as a species had done was so terrible that there was very little hope, and certainly not much point in writing. The arts really were over; the culture, the salutary role of the arts in our lives—that was finished. There was nothing left but decoration. I'd become more interested in raising vegetables. In some ways, I think it's even worse now. But I don't think you can get stuck with just plain anger. It's a dead end in the long run. If the anger is to mean anything, it has to lead you back to caring about what is being destroyed. It's more important to pay attention to what it is that you care about. I don't want to preach about that, but that is how I've tried to find my way out of that impasse by returning to the things that I did care about. They're still there. I remember, for example, just as I was beginning The Lice, the Cuban missile crisis was happening. It was a great shock to me. I'd been working in the anti-nuclear movement, and I kept walking through the streets and hearing people saying that we should drop the bomb on Cuba, that it was high time, that we should have done it years ago, and things like that. I kept waking up in the morning in a real fury. I finally thought, Well, I know all of the things I don't want and what's wrong and what seems to be the trouble, and so forth. But if someone were to say to me, What would you think of as a good way to live? I wouldn't have any answer at all. I thought I really should find the answer to that. I had this place to live in France, this little farm, and I thought, I'm going to go there. I realized I didn't know how to grow even one lettuce plant. I'd eaten food all my life and I wouldn't be able to recognize it as it grew. It was about time I learned something as simple and obvious as that. So I went there and spent several years just trying to grow the things that I ate, and to make sense of things of the kind. A lot of The Lice came during the time that I was trying to work that out. I still haven't found any eternal answers. What is happening in the world is terrible and irreversible, and that history is probably a doomed enterprise. But in the meantime, it's important to live in the world as completely as we can. In Thoreau's journals he's mourning the closing of the Concord Common. He says people will no longer be able to pasture their cows or go on picking blueberries there. He says, This is terrible. Then he says, I didn't pay enough attention to it while it was free. Thoreau was always saying things that I seem to have been looking for.
INTERVIEWER
Beginning with The Moving Target, and continuing through the next few books, your poems evidence radical dissatisfaction and distrust of language, a sense of the inadequacy and failure of speech. Do you still "believe too much in words," as one poem put it?
MERWIN
I do. I have a faith in language. It's the ultimate achievement that we as a species have evolved so far. (I don't mean that I think we are the only species with a language.) It's the most flexible articulation of our experience and yet, finally, that experience is something that we cannot really articulate. We can look out and see the sunlight in those trees, but we can't convey the full unique intimacy of that experience. That's the other side, one of those things that makes poetry both exhilarating and painful all the time. It's conveying both the great possibility and the thing that we can't do.
INTERVIEWER
You once wrote that "absolute despair has no art. I imagine that the writing of poems, in whatever form, still betrays the existence of hope." That seems to be part of a more optimistic and celebratory turn after The Lice.
MERWIN
As I was talking about these two dimensions of language, I realized that I also think this is true of existence and life, too. We know perfectly well from the moment that we know anything about mortal existence, that it is mortal, in the sense that there's no hope—you're going to die. And yet, we go on, our hope is involved in what happens every day as we wake up and go through it and meet friends and talk and read poems and see the light come and go. Our hope is not a thing in the future; it's a way of seeing the present.
INTERVIEWER
I sense some of the same apocalyptic fervor from The Lice in some of your most recent work. In your poem "The Inauguration, 1985" you write, "We have elected the end because we have looked on everything alive with a look that has killed it and we see it already dead." Does that summarize your current political feelings?
MERWIN
To a great degree. I write poems of that kind with a considerable amount of doubt. They seem to me to run the risk of preaching or didacticism or rant. But we have to try to write what we feel, if we can. If we have any talent, any use of language that's a little bit out of the ordinary, we have to try to use it. And we have to try to use it in the times when it seems desperately necessary. I don't know that a poem is going to change the course of history, but one can't stop to wonder, to guess about its effects before one does these things. This question came up again and again during the Vietnam War when a lot of us were trying to write poems about it. Did the poems do any good? We'll never know. We certainly wrote, all of us, some very bad poems, and we knew it. But the alternative was not to do it at all, and that seemed unthinkable, and it still does. A bad poem, after all, doesn't do any harm; it disappears in a little while.
INTERVIEWER
You have written a lot more memoirs in the past few years. Is that the sign of coming to a certain age?
MERWIN
I've asked myself that. I suppose it is because suddenly it seems possible to write about certain things that may be a way of describing age. But, you know, deliberate plans to write things, as I think back about it, and what I eventually have written, seem to me a little like two people walking along roads where they can sort of wave to each other over the hedge, but not much more. Sometimes I spend three or four years trying to write something, and then all of a sudden start writing something quite different that works, or seems to, whereas the first may not have done so. You know, I spent five years trying to write plays in England, and I wrote five plays, but I didn't like any of them. But out of that, I think, came changes in the way I was writing poems, and I think that out of the poems at the end of The Drunk in the Furnace and some of the poems after that came, much later, the prose of Unframed Originals. Obviously you have to write one thing to make the next thing possible. You can't have written things in a different order. I think that's the way it should be, too.
INTERVIEWER
When did you first come to Hawaii?
MERWIN
I first came here in the late sixties for a reading and I thought it beautiful, but it didn't seem to have much to do with my life at the time. And then I came back in the mid-seventies and it did, and I stayed.
INTERVIEWER
Do you think you'll stay?
MERWIN
Oh yes.
INTERVIEWER
Recently you've begun translating chants and songs from Hawaii. What do you find compelling about the poems?
MERWIN
I'm just feeling my way. Everything that I ever might have fancied I learned about translation is in abeyance while I try to work this one out. There are no chants in English. English has never been a chanted language, so there is no tradition to draw on or to extend. I have the long-standing wish we spoke of to work from an oral tradition, and also the urgent feeling that this tradition is part of a culture that is being lost. But I'm an outsider. Putting it into English isn't going to save it, though it may save some kind of link with it, you know, which seems to me to have some point. I feel it is tied to other kinds of extinction of various things too. Several species a week are now becoming extinct, and this is an accelerating process. It's all because of human action, entirely human action. It's natural for species to become extinct, of course, but not at the rate that we have brought it about. Languages, cultures, and our own language are suffering the same fate. These aren't different processes. They're not different books on a shelf; they're all the same book. Any way of trying to turn that process around is useful. The love of what's there and the attempt to articulate it, the attempt to make this connection with it, the attempt to put it into reverent and complete form in our own language, into words that have some of the excitement of the original poetry, is a way of both paying respect to it—a living and enthusiastic respect to it—and maybe keeping it alive a little bit longer, or just keeping oneself alive a bit longer. At the same time, I've been working with the Hawaiian language as well as with Crow, and indigenous poetry even in translation has led me to some doubts about the imperial present of our own language—it betrays our lack of any sense of place. To some, no doubt, this is an advantage.
INTERVIEWER
Recently, you've gotten more and more involved in writing nonfiction. I wonder if you'd talk about the impetus behind your book about Hawaii?
MERWIN
I'm writing—trying to write—about what has already happened and what is still happening to these islands. I tried to write essays on political things twenty-five years ago. And I stopped because other people were finally writing about the same subjects better than I could. I don't think I have any particular gift for this. My mind is not a historian's mind at all. I want to write about these subjects simply because they seem to me urgent. The subjects are things that are passing rapidly from these islands and an examination of how and why this came about, and I want to write about it before these things are gone. I want to write about them because they are still, in many cases, vexed questions, and conceivably, by writing about them, one might be able to do something to check the flow. And because I care about the place, and the culture and language of the place. While they're still here. And also, because in each case, each of these subjects seems to be a kind of focus or symbol for things that are happening everywhere in the world. Again, there is always the danger of getting close to writing tracts, and I don't want to do that. But when one is talking, for example, about Kaho'olawe, the sacred island of a culture that has been treated with something like contempt for two hundred years—and this island has been systematically exploited by a different attitude and a different race—when you start writing about this island, it has both a symbolic and a practical significance. When you begin to tell the story to indigenous peoples anywhere in the Pacific, they immediately know what you're talking about and recognize it in every detail. If you start talking to Native Americans about it, they know what the story is all about. There are people all around the world who know what the story is about. It's a story of arrogance, exploitation, and consistent destruction. If the island of Delos were being used as a bombing range, as Kaho'olawe is, there are a great many people of European background who would know what that was about, and they would be outraged. The fact that it is happening to another race is something that makes it seem quite unreal, still, to people of European descent. That cultural obtuseness is something that fascinates me and makes me want to look into it in myself and in the world around me and try to write about it. We try to save what is passing, if only by describing it, telling it, knowing all the time that we can't do any of these things. The urge to tell it, and the knowledge of the impossibility. Isn't that one reason we write?

Author photograph by Nancy Crampton.