Eleanor Ross Taylor
Issue 102, Spring 1987
Who will meet her?
sitting ahead of me,
her face a crushed girlskin,
her head rotating
almost acceptably, as if she were
just looking out west windows of the bus,
then out of the east and back,
a run of negatives . . .?
Want to keep reading?
Sign in—or sign up for a free trial…
Free Trial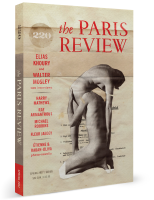 …or get your subscription now!
Subscribe