Interviewed by Elisabeth Sifton
Issue 110, Spring 1989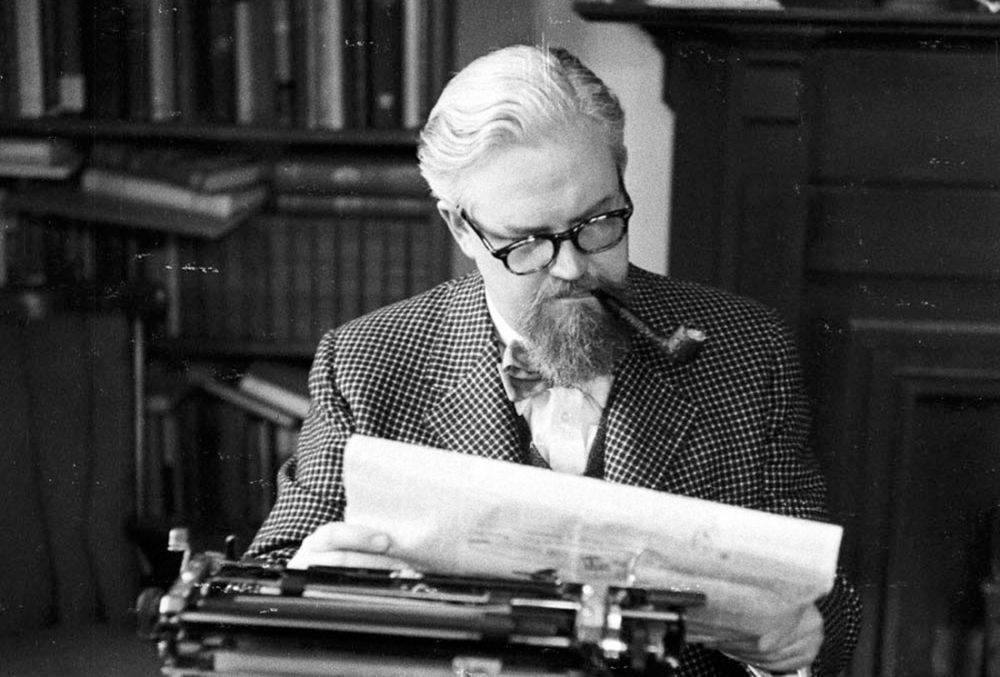 Robertson Davies, undated. © Walter Curtin/Library and Archives Canada
When we met in the autumn of 1986 to conduct this interview in front of an audience at the 92nd Street YMHA in New York, Robertson Davies was already famous not only as a novelist, critic, and man of letters, but as a compelling performer of literature: his readings and lectures were always given to sold-out houses. The robust presence of this "wizard of the North" (characteristically he was as gratified to inherit this title from Walter Scott as he was amused that few people any longer knew where it came from) came as no surprise: a filled-out broad-chested figure, clad in slightly old-fashioned clothes (that evening he wore his signature leather waistcoat, all the better looking for age, beneath a well-cut jacket), with an easy, erect carriage; a deep, skillfully-modulated voice; fine straight nose; luxuriant white beard and hair.
"The introducer has approached me by what may be called the biographical path," Davies once wrote. "He begins by telling that I was born, and when, and where. As soon as he mentions the date of my birth I can see the audience doing a little sum in their heads, after which they look at me with renewed interest to see how I am carrying the burden of my years. He is all kindness; he romps through the public details of my life, but under the circumstances I cannot laugh or weep."
Voilà. Mr. Davies was born in 1913 in Ontario and educated in Canada and at Balliol College, Oxford. He worked at the Old Vic as writer, teacher of drama history, and actor; it was there that he worked with Tyrone Guthrie, and there that he met his wife, whom he married in 1940. Upon his return to Canada, Davies embarked on a career as a kind of one-man Canadian cultural center, embassy, and gadfly; apparently he had little difficulty doing several full-time jobs at once, as well as writing plays and novels, stories, lectures, and critical essays. In 1942 he became editorial writer for the Peterborough, Ontario, Examiner; he was the paper's editor and publisher from 1946 until 1963. He also wrote a column under the pseudonym of Samuel Marchbanks, as well as other reviews and criticism.
During the 1950s, Davies's first novels—the three that are now called the Salterton Trilogy—were published; he became literary editor of a publication called Saturday Night, for which he wrote book reviews; he was elected to the board of governors of the Stratford Shakespeare Festival, a position he held until 1971; and with Guthrie he documented, in three books, the festival's activities in its initial years. In 1959 he began another newspaper column—"Writer's Diary"—in the Toronto Daily Star.
In 1963, Davies moved to Massey College at the University of Toronto as master, a position that kept him at the center of Canadian academic life until his retirement in 1981. Meanwhile, he composed the novels of the Deptford Trilogy (Fifth Business, The Manticore and World of Wonders) and the first book of a third trilogy, Rebel Angels. Since his retirement, the best-selling What's Bred in the Bone and The Lyre of Orpheus have completed this threesome.
Throughout these years, in countless lectures, articles, and public appearances, Mr. Davies continually urged upon his sometimes unwilling, unready, or unable countrymen the delights, rewards, and indispensable glories of art. "What does Canada expect from her writers?" he asked. "Canada expects nothing from her writers. But what may Canada expect from her writers? She may reasonably expect what other countries get from a national literature. First a sense of national character. Second, vigilance on behalf of intellectual freedom and moral vigor. Last, we may expect a true depiction of the essence of what our life in Canada is." And what kind of literature is that? "Works with completely irrefutable power to convince," he continued, "works that cause the reader to be visited, dimly, briefly, by revelations such as cannot be produced by rational thinking. Works in which you can see not yourself but, for one second, the inaccessible. Ah, but to have glimpsed the inaccessible is, however imperfectly, to have gained access to it. That is what your writers can give you, if you want it, and let them know that you want it. The decision rests with you."
INTERVIEWER
You've just returned from a triumphant trip to Scandinavia and also to London. In the past you've remarked that the British view of "colonial" writers was not as generous as it might be. How was it this time?
ROBERTSON DAVIES
Well, it was a mingled greeting. A great many people were extremely kind and friendly, and of course the more informed British—that is, roughly ten percent of the population—no longer regard Canadians as colonials. But some do, and one or two quite influential reviewers made it very, very clear that they expect little from Canada. One of the strangest experiences that I've had as an author was some years ago when a novel of mine was reviewed in The Times of London, and reviewed very favorably. But the review began with these chilling words: "To speak of a good novel from a Canadian writer sounds like the beginning of a bad joke." With friends like that, who needs enemies?
INTERVIEWER
This travel must be gratifying, but surely it takes time and energy away from your writing, and you've told me that life has been very hectic since you retired from Massey College in 1981. How do you manage all these public engagements?
DAVIES
It's difficult to manage public engagements particularly when you're retired. When people ask me what I'm doing, I have to tell them that I'm doing very much what I did before I retired, except that now I have secretarial assistance only one day a week. People deluge me with things to be done and when I say I am busy, they fall into extravagant mirth and shout: "You can't be busy, you're retired!" I have been wasting my time doing things which seem to be imperative without being in the least important. I think you know that it is very unfortunate for a writer to spend too much time jaunting about talking, for although that is flattering, and it is delightful to appear before audiences and to meet people directly in this way, you really ought to be home working at your desk. Quite honestly, if you wanted to, you could as a writer spend twelve months of the year at conferences, pep groups and ginger sessions, talking to students and doing all kinds of things except your proper work. You just simply have to get down to it. Meanwhile, I have sat in a sort of pen at the Booksellers' Fair, autographing copies of bound proofs for supposedly eager booksellers, and otherwise making myself a motley to the view, as Shakespeare, who knew all about it, says. My publishers are anxious that I should rush about and talk to people, but I have laid down a few ground rules: I will not drive wildly fifty miles at dawn in order to breakfast with fourteen librarians in a cellar somewhere, nor will I speak to schools. My agent is anxious that I should be on something called The Today Show, which is apparently big magic, but I daren't tell him I have never heard of it. I recall once being "cased" by one of Dick Cavett's underlings to see if I would be any good on his show, but I was found unworthy. Ah, if all this brouhaha had happened thirty years ago, when I had energy and appetite for it! As I once said of George Bernard Shaw, he bloomed at twenty, but nobody smelled him till he was forty. My scent has been even later in catching the breeze. The BBC also wanted a film about me for its Authors and Places series, so I had to hie me to the beautiful old city of Kingston where I grew up—a very beautiful Loyalist place, full of domes and towers and looking altogether more like Bath than a place on this continent—and revive my childhood and youth for the camera. Great fun; we had horses, and soldiers, and all sorts of gaudy delights. And the weather was good to us.
INTERVIEWER
What are you working on now? Or do you resist being asked this?
DAVIES
No, no. I am at the moment winding up to write another novel, and when I say "winding up" I mean I am making notes and plans and perpetually building up what I will eventually write; that is the way I work. I make very, very careful plans and a great many notes—so many notes indeed that sometimes they are as long or longer than the eventual book. And sketches of characters and suggestions and references to things that will be useful. All that takes a long time. Getting to work on a new novel is a dismal business, for the beginnings never seem to get any easier with the passing of time. I toil like a swimmer who feels himself about to sink beneath the waves at any moment. Like all my novels, this one began with quite a simple idea, but as I work on it a mass of complexities assert themselves, and I have to struggle to keep from being overwhelmed by extraneous detail. But then—at least the way I work—when you begin to write, you can write quite briskly because you have done all the preparatory work beforehand. I hope it turns out well. But with novels, like cakes, you never know. Even when I finish a book, I'm never sure whether it is good or rubbish. This new one has a few characters of marked oddity, some explorations of realms of knowledge not visited by everybody, and a view of life and people that is decidedly unsentimental, though not wanting in pity. My books come in threes, and though not really trilogies or series, they are linked by characters and a point of view. But they are tedious about chronology: What's Bred in the Bone leaps backward in time from Rebel Angels, and this third book—its name is The Lyre of Orpheus—moves forward in time. If I planned them, this would not happen, but I don't: they just occur.
INTERVIEWER
What gets you started? Do you start with the characters, with a situation, with a dramatic kernel of something? In the actual drafting of the text, do you start at the beginning and go right to the end?
DAVIES
The kernel is something that recurs to me over and over and over again, that will not be escaped and that I realize finally is demanding to be written about. It may be either a picture in my mind of something happening, or an idea of something that might conceivably come about. If it is appreciably insistent, I eventually know that it must take the form of a novel and I must get busy on it. The book forces itself into my mind when I am lugging furniture, or pulling weeds, and I have hopes of it. I often read, with amazement, of people who suffer from writer's block; I might enjoy a wee block, just to have time to catch my breath. I find in the initial, discovery stage that a great deal of other matter that is supportive to the kernel idea has also been building up. That's when the note taking begins, and it moves quite rapidly. For instance, I did not write Fifth Business until ten years had passed since I first became aware of the idea that lay behind it: it was simply a scene that kept occurring in my mind, which was of two boys on a village street on a winter night—I knew from the look of the atmosphere that it must be just around Christmastime—and one boy threw a snowball at the other boy. Well, that was all there was to it, but it came so often and was so insistent that I had to ask myself, Why is that boy doing that and what is behind this and what is going on? Then the story emerged quite rapidly.
INTERVIEWER
When you saw those boys on the snowy street, was it a generalized Canadian street or was it a specific locale?
DAVIES
It was the street on which I was born in a Canadian village, and it was right outside my own house. But you see, it was not anything directly associated with my own childhood because the boys were ten, eleven, twelve years old and I left that village when I was five.
INTERVIEWER
Is it in the note taking or in the actual writing that the characters take on their own life, or does this occur earlier?
DAVIES
Well, you see, I hesitate to talk about this, because it sounds mystical and perhaps rather absurd, but I assure you it is not: the minute I recognized that the picture meant something I should pay attention to, the whole thing began to come to life, and I knew who the boys were and I knew what the situation was and I quickly became aware of what lay behind it. Some of it had to be invented, some of it had to be fetched up and rejected—a great deal is rejected in the course of such work—but it was all there as soon as I began to work. And when I began writing, I wrote from the beginning to the end as I always do. I know that many writers—Joyce Cary for instance—compose the principal scenes of a novel before putting the connective work around it; other people work backward and do all sort of interesting things, but I don't. I just go from start to finish, and that's the first draft.
INTERVIEWER
A number of writers who similarly go from start to finish find that their novels change enormously as they are written, surprising their creators. Have you had that experience?
DAVIES
I do know the story when I begin, but I don't know how it's going to end. I know about two-thirds of it, and then the end emerges as I go on. I shrink from saying this, but I've agreed to come here and talk about it, and it's true: I hear the story, I am told the story, I record the story. I don't pretend that some remarkable person somewere else is whispering in my ear, or that a beautiful lady in a diaphanous garment is telling me what I should write. It is just a part of my own creative process that I am not immediately in touch with and certainly not in full control of. And so the story emerges. There can be no two ways about how it's going to end. It just ends the way it's going to end. I don't think that that is very mysterious, for if the story is any good, it must have an inevitability, although some critics dispute that. They say they're full of coincidence and this, that or the other; but the fact is that my life seems to be much fuller of coincidence and curious happenings than the lives of critics. What I mean is, the kind of mind which makes a critic is analytical, cool, an infinitely, unenviably, cautious mind. A recent piece of professorial criticism of What's Bred in the Bone was very severe with me for my attraction to arcane lore and weird belief—no use explaining that to me the arcane lore isn't arcane at all, and makes wonderful sense, and that almost all belief is strange, if you catch it with the light falling on it in a certain way. I wish professorial critics, who often write so dully, would give me the credit for a minimum of wits, and stop elevating themselves as the standard by which all belief and understanding should be measured! What sort of books would Balzac and Dickens have written if they had listened to such stuff?
INTERVIEWER
You once wrote, "All the critics in this town are the bastard children of Scotch parents."
DAVIES
Yes, critics have this nanny quality, but they vary enormously. Some are friendly and kindly, and are interested in your work and take it seriously, but the ones who get under my skin are the academic critics whose whole training is to detect faults. They call them "flaws." I call them "flawyers," which they do not like. I one time nailed one of these people and said, "Tell me of a novel that you know that is free from flaw. Now how about War and Peace?" "Oh, infinitely flawed." "What about Remembrance of Things Past, Proust's great novel?" "Oh, a mass of flaws." I think it would be splendid if we could get a committee of these wonderful people to write a flawless novel, but they won't do it and I question whether it would reach publication. The opposite sin is the creation of meaning or intent where none was planned. A Ph.D. candidate wrote of World of Wonders that its hero was christened Paul, and that his life story exactly paralleled that of Saint Paul! I said mildly that this had not occurred to me. He replied, with an indulgent smile, that many things appear to the critical reader of a book which have eluded the attention of the author, and that this gave the book "resonance"—for me, the resonance of a dull thud. It is extremely disagreeable to be treated as a sort of idiot savant who must be explained to himself and to his readers.
INTERVIEWER
Now, the requisite Paris Review question: How do you write your novels? In your instance, this is a more interesting question than usual because you have an extraordinarily beautiful italic hand. Do you write the first draft of your novel longhand or do you type?
DAVIES
I type because writing by hand I find to be a very great betrayer. If you write carefully and try to write legibly, as I do, you finish a page and think, That's a handsome page. This is absolutely wrong. Also, you can only write so long with a pen before your hand becomes tired, and then your invention begins to tire. If you type, which I do because I had my earliest training as a newspaperman and learned to use the typewriter readily, you have what you've written there before you cold and bare. Then you can go over it, and it is as though someone else had written it and you can edit it with great severity. I am a terrible fidget about form, and the first typed draft is often pitifully ragged and messy. But then after it goes to my secretary, who makes a clean copy, I revise extensively. The heavy work is done, but I like revising. As for editing, though I try to be stringent, you will recall that I resist your editorlike zeal for total clarity—all the lights blazing and not a dark corner to be found. I am a writer much given to light and shade, and I firmly believe that to know all is to despise all.
INTERVIEWER
I want to ask about your early newspaper experience. Your father owned and edited a newspaper, and you became well acquainted not only with the typewriter but with the entire printing process—the linotype machines, the presses, the distribution network. How has your knowledge of the way a work of art is mechanically reproduced and distributed to the public influenced your sense of your own writing?
DAVIES
It's influenced my writing immeasurably more than I could possibly define. When I was a boy, my father was a newspaperman, my two brothers were newspapermen, my mother was intensely interested in newspaper work, and I heard newspaper talk at every meal. In a newspaper family you learn not only all the news that's fit to print, but all the news that is not fit to print and you acquire an insight into human nature and the essence of a community that is very hard to acquire, I think, in any other way. I was the editor of a newspaper for twenty years. During that time I had to deal with not only the recorded news, but the news I knew about that might be supportive of the recorded news but some of which could not possibly be printed because it was so extraordinarily damaging and often wounding. You find out what people are like, and how they live, and what they're up to at night, and what goes on behind the lace curtains. The world you report is rarely more than half the world you know.
INTERVIEWER
Presumably you also learn something about people's interest in these matters and how they respond to news.
DAVIES
Yes, and how disagreeably they gloat over the misfortunes of their neighbors, and how they wince and scream when some folly of their own has to be reported in the paper. Oh, you can find out a lot about people running a newspaper.
INTERVIEWER
Are these responses that you anticipate or play upon in your work as a novelist?
DAVIES
Yes. As a newspaper editor you have to sit there in your office and listen to the knock on the door and know that some angry, offended person is going to come in and tell you about something that you never thought would have offended an angel in heaven.
INTERVIEWER
You have combined novel writing not only with newspaper work but also with academic work. You just spoke rather scathingly about academics. Those run-of-the-mill academics you were talking about can't have been entirely happy when you showed up in the halls of Massey College at the University of Toronto. You must have been a rather exotic bird compared to many of them. How did it go?
DAVIES
It went extremely well. When I speak harshly of academics, I am speaking about less than fifty percent of them. Most of my academic friends are marvelous people, and it was a great pleasure to work with them and to talk with them and to hear their opinions about everything. So it was wonderful to join them, and I greatly enjoyed teaching. I liked the association with students and I liked the association with my colleagues. Not all of my colleagues, of course, took the same view I did of the kind of work I did. A few of them felt that I was a blackleg because I should have been criticizing, and I was writing.
INTERVIEWER
What is a "blackleg"?
DAVIES
A "blackleg"? A blackleg is a scab. It's an old term and perhaps one not familiar in the United States, but it's a common English expression. I should explain to your audiences by the way, that I am not English, whatever appearances there may be to the contrary. I am the usual Canadian cocktail: Welsh, Scots, quite a bit of Dutch, a dash of Red Indian, but no English. And all, of course, dominated by the old Empire Loyalist bias.
INTERVIEWER
Do I hear a rumble of Canadian nationalism?
DAVIES
Canadian nationalism is a very hot topic at present, and nationalism always brings a lot of idiots into prominence who cannot see beyond the ends of their noses. Of course we Canadians don't want to be eaten by the U.S.A., but anybody with any wits knows the small countries—and we are small in population—must be linked with somebody, and the United States is the obvious link for us, in economic matters; as for art and literature, we are nationalist when we feel these to be in peril. I think myself lucky that in my lifetime Canadian writers have ceased to be asked by publishers in New York to change the venue of their stories to somewhere south of the border. That certainly happened to me in connection with several plays. Our independence is a dicey affair and can never be complete; who is completely independent? We just don't want to be chawed down to a nubbin.
INTERVIEWER
Hear, hear. Now what about Marchbanks, your alter ego in the newspaper column you wrote for so many years, whom you have comment that becoming a professor "would ruin one for comprehensible writing of any kind." It didn't seem to ruin you. On the contrary, your novels got better and better while you were running Massey College. Was there some kind of synergistic interplay and feedback between your work at Massey and your novel writing?
DAVIES
No, it wasn't precisely that. When I'd been a newspaper editor, I had been engaged chiefly in writing plays. For a variety of reasons, which any playwright will understand, I decided that that wasn't satisfactory and I was going to try my hand at writing novels, and I did and liked it much better.
INTERVIEWER
What did you prefer about novel writing?
DAVIES
Anybody who has been a playwright, unless he's a playwright of well-established reputation, knows that his position in the theater is a very weak one, and that the wish of the director or some important actor infinitely outweighs his; and the opinions of the money people, who always want something that's already happened to happen again, are very important. You're perpetually subjected to governance by people who haven't written the play and are trying to make it as much like some previous success as possible. That's very tedious and you get sick of it. When you're a novelist, you're writing a play but you're acting all the parts, you're controlling the lights and the scenery and the whole business, and it's your show. When it's done, one turns it over to the editors and they are delightfully kind about it and away you go.
INTERVIEWER
You worked for many years with Tyrone Guthrie. Do you feel that the work you did with him, or with other actors and directors—indeed your theatrical work in general—has affected your novels in any way?
DAVIES
Yes, it's affected them very strongly. I'm not in any way a devotee of realism, and the theater is never realistic, even when it's pretending to be intensely so. It is selective, the dialogue is selective, and the dialogue in the kind of plays I like best is immensely selective—finely polished, and arranged to convey the greatest possible amount of meaning with the least use of words. That is what I think really good dialogue ought to be. It is not a phonographic reproduction of the way people actually talk. It's the way they would talk if they had time to get down to it and refine what they wanted to say. Working with Tyrone Guthrie was interesting because he was a man of extraordinary capacity in his dealings with comedy. He had a remarkable sense of comedy, and you couldn't work with him without being infected by it. He had not, however—I don't say this in a derogatory way, because he was a dear friend of both myself and my wife—he had not a great deal of compassion and had a weak understanding of tragedy, and you need those things if you're going to be a novelist. So that had to come from somewhere else.
INTERVIEWER
Then compassion and a sense of tragedy go together, perhaps?
DAVIES
Yes. True compassion—not just what Mark Twain called "leaky waterworks." And tragedy as purgation and exaltation.
INTERVIEWER
Many of your readers and reviewers are dazzled by how much you know about everything, by how much they can learn about so many things in your novels—some of it quite arcane and special, some of it information that perhaps we all should know but don't. Mary McCarthy once argued eloquently that the novel is among other things a conveyor of a huge amount of social and cultural, as well as psychological and philosophical, information and truth. You can learn to make strawberry jam by reading Anna Karenina, as she said. Do you like the idea of instructing your readers on all that lore about gypsies or cellos or art forgery or Houdini, to name a few subjects quite randomly?
DAVIES
Well, you see, the actual fact is that I don't. I say a few things, I provide a few details, but if I may be permitted to say so, I work on the Shakespearean plan. Everybody says, Oh, Shakespeare must have been a sailor. Do you notice how in the beginning of The Tempest people cry, "Man the bowsprit," or "Split the binnacle," or whatever it is? He must have been a sailor. Others say, No, no, he must have been a lawyer. Remember in The Merchant of Venice he has a scene in a law court that is quite like a law court. No, no, no, Shakespeare must have been a soldier because he has a place where Henry V cries, "Follow your spirits and upon this charge, / Cry God, for Harry, England, and Saint George." It's all hooey. Shakespeare had a few telling details that he injected into his plays that made them seem realistic, and I have the same in my novels. I don't know a very great deal about anything. Indeed, the areas of my ignorance are fantastic in their scope. But you know, I have one reminiscence which has a bearing on this. When I wrote Fifth Business, there were some scenes in it which took place in the First World War, the experiences of a Canadian soldier. I say virtually nothing about the war except that there was a great deal of mud, that there were a lot of horses who might panic, and that most of the time it was infinitely boring. That is all. But you know, one man said to me, "Where were you during the war?" and I said, "Well, frankly, after I got here I was in the cradle." But he had fought in France and he said that it was just like that. He asked, "How did you know it was like that?" If you have the kind of imagination a novelist needs, you have a notion of why it was like that. You do not need to write endlessly about what kind of sidearms somebody takes when he goes on a night raid and that kind of thing. That creates boredom.
INTERVIEWER
I see that, and indeed your novels are filled with the suggestive, essential detail and not the unnecessary supporting material. But they're also filled with details that I suspect you may make up. For example, in Rebel Angels, packing the cellos in a special poultice of horse manure to "cure" them. Do tell us . . .
DAVIES
Well now, I'm not going to answer your question technically. I'll just put it to you: If you were going to bring a sick cello back to its full voice, how would you do it?
INTERVIEWER
That's the way I'd do it. Absolutely!
DAVIES
You ask yourself those questions and the answer asserts itself unequivocally . . . Still, there must be a few tricky bits in my books or they wouldn't be books by me.
INTERVIEWER
There are two subjects you surely know a great deal about. One is children.
DAVIES
Children?
INTERVIEWER
Children. Your first book was about Shakespeare's boy actors, you've written operas for children, you've taught them how to do stage work, and the childhood scenes in your novels are especially powerful. You've also said that you think great novels have a kind of "enchanter" quality. What are your notions about this kind of spellbinding magic, which, of course, children attach immediately to art?
DAVIES
My family background was Welsh, and the Welsh are very, very fond of storytelling and tend to be rather good at it. They're also fond of children, but they are not, in the modern way, infinitely tolerant of children. They think children need to be taught and they teach them. They teach them very often through stories. I feel that this quality of storytelling is basic to the novelist's art. Sometimes I am asked to talk to groups of students about writing, and the poor souls are filled to the brim with all the complex business about theories and types of narrative and this, that and the other. What I say to them is, "If you're a writer, a real writer, you're a descendant of those medieval storytellers who used to go into the square of a town and spread a little mat on the ground and sit on it and beat on a bowl and say, 'If you give me a copper coin I will tell you a golden tale.' If the storyteller had what it took, he collected a little group and told them a golden tale until it got to the most exciting point and then he passed the bowl again. That was the way he made his living, and if he failed to hold his audience, he was through and had to take up some other line of work. Now this is what a writer must do." I get so sick of writers who make tedious demands on their readers and expect them to bear with them through infinitely refined analyses of meaning and this, that, and the other. You really must have a story and you must tell it, or people will just put the book down and they will find it to be one of those books, unlike the ones you sometimes read about in book reviews, that once put down is impossible to take up again.
INTERVIEWER
On the other hand, in your own book reviews you are insistent on recommending certain writers whose work is rather difficult, maybe even tiresome in patches, but well worth the effort. Surely you're not advocating merely simple stories, for after all you admire greatly some very complex and demanding writers.
DAVIES
Yes, I do, and I admire writers who are sometimes enviably self-indulgent, like Victor Hugo. Last summer, I was rereading Les Misèrables, and really that book has sometimes as much as ninety pages about something that just happens to interest him, a political or religious matter or something of the sort. And you think, When is he ever going to get on with the story? But the story is so good that you put up with these digressions, and also he writes so fascinatingly about his odds and ends that you can't stop.
INTERVIEWER
He's a special favorite of yours.
DAVIES
I'm very fond of Victor Hugo, and a book that I read when I was eleven years old and have reread many times through my life and admired enormously is Notre Dame de Paris. I wish that the people who see those many movies called The Hunchback of Notre Dame would read the novel. It's worth any of those movies twenty times over. Or a great nineteenth-century novelist like Balzac—infinitely enchanting. You cannot put him down. Even when he is telling you the details of rural newspaper publishing. Well, of course, that is very interesting. It absolutely grips you. You cannot stop reading Balzac. You cannot stop reading any of the great Russians. The great English writers: Dickens more than Thackeray, but Thackeray is much finer than some people are prepared to admit. Trollope is endlessly gripping, though it's rather crunchy granola: you chomp your way resolutely through it, and it's worth it because the story is so good. It's the storyteller's quality that they have. Nabokov said that he thought that the most important element in a novelist's armory was what he called by a Russian word, shamanstvo. It means the enchanter-quality. The word shaman is familiar to everyone. The enchanter quality, the ability to keep people wanting more, is not something that can be taught, and often it is associated with what critics call a "bad literary style," but it is irresistible. Dickens had it. Nobody praises Dickens's style, but who can resist his enchantment? Only professors, and only some of those.
INTERVIEWER
These are all nineteenth-century writers. Are there twentieth-century writers who have this enchanter-quality?
DAVIES
Yes, Evelyn Waugh, for instance. I think that Graham Greene has it also. A substantial number of the modern writers who have this ability tend to be either Continental or American. I think that English writing at the moment is somewhat in a trough. There aren't the writers who grip you and hold you quite as much as there were, for instance, when Evelyn Waugh was still alive. J. B. Priestley, whom so many critics put aside, had extraordinary shamanstvo.
INTERVIEWER
The writers whom you love or who impress you form one category; the writers whom you feel have influenced you form another. Bruce Chatwin once remarked that there were two ways of reading, reading for love and reading for plunder, in other words, reading to learn how writers accomplished certain effects, solved certain technical problems, or just in general went about doing their work. That's a legitimate means of being influenced. Who are the writers who have influenced you? Did you become acquainted with them in your childhood or adolescence, or later on when you began writing?
DAVIES
Well, I don't know. I'm quite often asked about influences and I don't know of influences. I can't recognize them, and if I could recognize them I would be terrified that I was copying someone else and they are inimitable. The narrative energy of Dickens and Balzac, the many-layered irony of Thomas Mann—wondrous to admire and dangerous to imitate. The only influence I can think of is . . . well, there are two, and they were both encountered when I was a child. One everybody knows, and that was Daniel Defoe. I used to tell young reporters that if they wanted to learn to write magnificent newspaper English they should learn to write like Daniel Defoe. None of them did. The other writer who immensely influenced me as a child, just because I loved the story rather than the style—it was a translation—is a writer named Johann Wyss who wrote The Swiss Family Robinson. It is a tale of infinite enchantment, and I thought, This is the way to do it, you know. He just keeps the marvels coming and coming and coming.
INTERVIEWER
Another influence on your work that I know you've been asked a great deal about is that of Jung. Before you read Jung, you read Freud, and there are critics who say that your early work is influenced by Freud, that you can see the influence of him in the pages. Tell us about Freud first and then we'll get to Jung. How did you go from one to the other?
DAVIES
Ah, you see, when I first went to university in Canada, we had a very fine professor of psychology. He was very keen on Freud and knew very little of Jung, and he lectured us about Freud and encouraged us to read Freud, and I did. I found Freud extraordinarily fascinating and refreshing because he seemed to find answers to questions that I had asked, and to confirm things that I had dimly suspected. In that way he was enormously helpful and enlarging to a very young man. But as time went on, I discovered that Freud's attitude toward life was what is called in the lingo of psychoanalysis "reductive." Everything is brought down to something quite small. It is as though we were all still children, whatever age we might have reached: children weeping in the darkness for some fancied trouble of the past, or some denial in love, or misery of some sort. You can get enough of that. As I read Freud and about Freud, I discovered that there were very few people who discussed Freud without taking a fearful swipe at somebody called C. G. Jung. And I wondered, Why do they hate Jung so much? I must have a look. And so I began to read Jung and immediately became enchanted by him. I discovered that Jung was a man with whom I had far more basic sympathy than with Freud. Jung had, like myself, a country childhood. He grew up among country people, and farms, and farm animals, and quite simple people who worked on the land— instead of very cultivated Viennese neurotics. So his outlook on life was much more like the one to which I had been accustomed. Of course there was the basic fact that Freud was Jewish, and the Viennese Jewish culture gave his thought a cast that I could understand and sympathize with but not enter into. Jung was Swiss and Protestant, and I could understand his sort of worldview, and the ethical background of his thinking, more readily. Also, his disposition to regard myth and legend as feeding life and springing from life, as well as being a constant source of reference and refreshment in the living of life, seemed to me to be wonderfully enriching. I became a great devotee of Jung without ever rejecting or pooh-poohing Sigmund Freud, who is one of the great liberators of the human mind.
INTERVIEWER
And without in fact undergoing any analysis?
DAVIES
Oh, no, no, no. I didn't because of the advice Dr. Jung himself gave to Laurens van der Post who went to him and said that he wished to be analyzed. Jung said, "Why do you want to be analyzed?" and van der Post said, "Well, because it is one of the great experiences of our culture in our time, and I wish to share it." Jung said, "Oh my friend, don't talk like that. When something in your life becomes wholly intolerable, come to me and I perhaps will analyze you. But don't undergo this experience simply to find out what it is like. It is too demanding, too exhausting." And though he didn't say it, it is also too hard on the bystanders. This is true. I'm sure that there are people in this audience who have been associated with someone undergoing analysis. It's rough on the standersby. So Jung simply talked with van der Post most productively and enrichingly. That is why I would never undergo a Jungian analysis. Nothing is killing me, though I am not utterly free of neurosis and foolishness.
INTERVIEWER
What do analysts say about the analysis in The Manticore?
DAVIES
Ah well, that has been a source of enormous pride to me. I wrote that book with a good deal of misgiving because what I had to do, or what I was attempting to do, was to collapse a Jungian analysis—the first part of it, the anamnesis—into about a year when it would normally take two, perhaps three years. I thought, This is very daring and I'm going to get jumped on by all the Jungians. In actual fact, the book was very well thought of in Zurich, which gave me enormous pride. But it was not, as some critics who knew nothing about it said, a kind of potted course in Jungian analysis. Certainly not. It was a way of telling the story economically.
INTERVIEWER
You were raised a Presbyterian, then confirmed an Anglican in your Oxford years. Now you talk about Christianity's failure to cope with either sex or evil—which I take to be two separate subjects?—and say that its insistence on striving to achieve perfection is perhaps misplaced or wrongheaded. You've often spoken most movingly about the powerful impulses of myth and legend, and the religious impulse in human life and art. Yet sometimes you seem a gnostic. In your writing of recent years, how does all this fit in?
DAVIES
That is something I think about a very great deal. I was certainly brought up a Presbyterian. In my childhood I acquired by heart a very valuable document that was called The Shorter Catechism. It was accepted by the Presbyterian Church and the Parliament of England in, I think, 1647. It contains 107 questions, the first of which is, "What is the chief end of man?" If you memorize The Shorter Catechism you have a kind of theological skeleton to work on. Later on this led me away from Presbyterianism, which I didn't like because of the predestination doctrine that goes with it. But that early doctrinal training still remains with me and I am grateful for it. When I became interested in Jung, I became interested in his attitude toward Christianity—which was a very honest one because he was the descendant of a long line of Lutheran pastors; so he was not an enemy of Christianity, though he recognized certain restrictions in Christianity that I think are becoming more and more apparent as the present century moves on. One is the rather meager place it seems to have for women and all that women imply. I don't mean women as adversaries or as people different from men, but women as people who have extraordinary things to contribute to the great mass of civilized thinking, feeling, and living. Unless Christianity can reconcile itself to women as it has not done up to now, I don't see how it can continue to maintain its hold over thoughtful people. As for gnosticism, I was once accused by the chaplain of Massey College of being a gnostic. He was very angry with me indeed. But part of being gnostic was using your head if you wanted to achieve salvation or even a tolerable life. That is something that the Christian church tends rather to discourage. Salvation is free for everyone. The greatest idiot and yahoo can be saved, the doctrine goes, because Christ loves him as much as he loves Albert Einstein. I don't think that is true. I think that civilization—life—has a different place for the intelligent people who try to pull us a little further out of the primal ooze than it has for the boobs who just trot along behind, dragging on the wheels. This sort of opinion has won me the reputation of being an elitist. Behold an elitist.
INTERVIEWER
In a book of essays by Robert Louis Stevenson entitled Men and Books (long out of print, alas), there is an essay in which he expresses the notion that Scottish writers are more akin to North American than to English writers. Do you think that's true? As a Canadian writer, do you feel more affinity with Scottish, Celtic, or American writers than with the English?
DAVIES
Well, no. Rather disappointingly, no. I'm very interested in the writing that goes on in Scotland and indeed in all the Celtic countries and of course in Ireland. I do not respond quite so immediately and warmly to writers in the United States, because their concerns are different from mine and their approach to them is different from mine. They seem to be infinitely concerned with very subtle details of feeling and life. I find this exemplified, for instance, in many stories in The New Yorker where whether the family will have pumpkin pie or something else on Thanksgiving Day is a decision with infinite psychological and sexual repercussions. I take this quite seriously. I admire their subtlety—but I get so sick of it. I wish they would deal with larger themes.
INTERVIEWER
I hope you don't think New Yorker writers are representative of American culture across the board.
DAVIES
Perhaps not. I just see their stories every week because I've been taking the magazine forever and I haven't the wits to stop.
INTERVIEWER
Saul Bellow once said—and was roundly criticized for it— that American writers, presumably excepting himself, fail to grapple with what he called the central human enterprise. Grappling with the essential human enterprise may be a numbing matter, but what—in the end—is the aim of the novelist? You once wrote to me, "I love to make people laugh but the pull is to tears." You have also said that you write comedies, yet sometimes there is a strong tragic element in your books. Certainly they all seem to be about the central human enterprise. Then I found in one of your books the statement that novelists would be wise to explain to the readers that life is a damn rum thing.
DAVIES
Yes. A fearful mingling of comedy, tragedy, and melodrama, which is the stuff of so much of human experience.
INTERVIEWER
Do you write comedies or do you write tragedies?
DAVIES
I suppose I write comedies. My pull is toward comedy. And I have a very high opinion of comedy; comedy is fully as revealing in its probing of human problems as is tragedy. The thing about comedy that I greatly value is that it is infinitely harder to fake than tragedy. I have not often pulled out the vox humana and the voix céleste stops, but I know I have made quite a few people laugh, and that is not the easiest thing to do. It is extremely easy to be gloomy and to say, This is a terrible situation and everybody has got to be serious about it, and because I'm being serious about it, I am a writer of consequence.
INTERVIEWER
Nietzsche said, "Guilt is a substitute for thought."
DAVIES
Yes, indeed it is. But to see that life is funny and not to mock or jeer at somebody's predicament, cruelly and without understanding, simply because some aspects of it are funny—that takes a bit of doing. I saw an instance today on Fifth Avenue, a situation that was either comic or tragic depending on how you want to take it. This girl was sitting there in the rain begging, and she had a big sign that said what her trouble was. It was a quite ordinary tale of betrayal and misery and this, that, and the other—if it was true, and I don't know if it was true. But the person sitting in the rain looking wretched, even if she was not an honest beggar, was tragic. That someone of her age should be sitting on the sidewalk begging may mean not that she can't do something else, but that she has chosen to do that. It's tragic. You have to balance these two things against one another. Life is, as you said, a very rum thing.

Author photograph by Nancy Crampton.