Interviewed by Willard Spiegelman
Issue 149, Winter 1998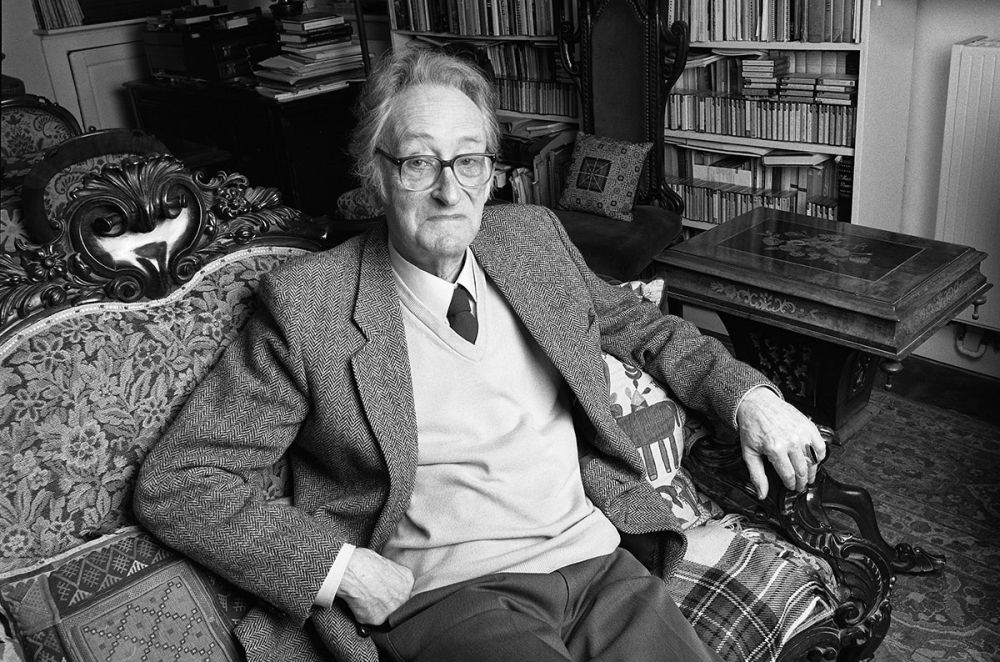 Photograph by Norman McBeath
This interview was conducted through a series of letters, followed by a full afternoon of conversation in July 1998, at the Tomlinson house in Gloucestershire—its quaint and typically English address, Brook Cottage, Ozleworth Bottom, Wotton-under-Edge. The Tomlinsons have lived at Ozleworth since 1958. Originally, they bought one half of the cottage, then—three years later—the other, breaking through a wall to expand their space. With its stone walls, slate roof, low-beamed ceilings and casement windows, the house fits anyone's postcard or dream image of idiomatic English architecture. Outside, a border garden surrounds the cottage; on a moist midsummer day it was bursting with hollyhocks, flowering mint, buddleia, deep purple poppies and (of course) roses.
The interior of the cottage reflects simultaneously the Tomlinsons' unshakable Englishness and their lifetime of international travel and living abroad. Staffordshire figurines stand on bookcase and mantel; Victorian commemorative china and faience from Quimper decorate the walls, along with prints by Hiroshige and Piranesi. A beautiful nineteenth-century parlor piano with intricate carving stands across from the stereo. Brightly colored Indian fabrics, Mexican candelabras and Native American artifacts add still more generous accents.
The poet—tall, rail thin, courtly—wears an impressive jet ring, set in silver and extending to the knuckle; it is a memento of travels in, and fondness for, the American Southwest. Tomlinson met his wife, Brenda, in their native Stoke on Trent when he was sixteen and she fifteen. She was so blond that he thought she must have come from the large immigrant Czech community that had settled in Stoke during the 1930s. She was, in fact, the postman's daughter.
Charles Tomlinson's first "pamphlet of verse," entitled Relations and Contraries was published in 1951. In his 1985 Collected Poems he chose to include only a single poem from the early work, so his first "authentic" book was The Necklace (1955). In Seeing Is Believing (1958) Tomlinson achieved his characteristic voice and subject matter: the poetry since then has been marked by a painterly attention to landscape and to place in general, by an objective rendering of scenes and characters, and above all by a reluctance to indulge in confessional, narcissistic self-displays of emotion or melodrama. Since the Collected Poems, four elegant shorter volumes have appeared, the latest of which is called Jubilation (1995), which puns on the Spanish jubilación, the word for retirement.
Having retired in 1992 from a long teaching career at the University of Bristol, Charles Tomlinson was prepared to devote himself full-time to reading, writing and translating, with occasional travels and lecturing. In 1997 a botched routine cataract operation deprived him of sight in his left eye. In the following months the poet suffered an understandable (and by his own admission, uncharacteristic) depression. Brenda, his wife of fifty years, pulled him through with a combination of attentive care, cheerfulness and reading aloud. The Tomlinsons have made such recitations a standard part of their life together, and the poet said that during his convalescence War and Peace and all of Jane Austen brought him around. "Why have books on tape, when I have Brenda?" he asked.
INTERVIEWER
In your poem "Jubilación" you write about rejoicing in retirement. Obviously, the ordeal with your sight was unanticipated: how has it affected your retirement?
CHARLES TOMLINSON
You begin with the very episode I'm trying to put behind me, the failure of a cataract operation. A good place to begin in some ways, then we can put it behind us both. Although the loss of central vision in my left eye came as a great shock, I've managed to finish a new book called The Vineyard Above the Sea. The title poem is partly a response to Paul Valéry's "Le Cimetière Marin," but also a continuation of my many poems of gratitude to Italy. In addition to that, I've gone on to write a surprising number of things drawn from the Cotswold area in which I've long lived and to which I've now retired. So it's really business as usual.
INTERVIEWER
Have you come to rely more on your ears than your eyes at this point?
TOMLINSON
I still gather nourishment from sources that have been there for a long time. I've always counted on the ear as well as the eye—what poet doesn't? So whatever adjustments have been taking place, or may take place, there's no overnight somatic transformation to report: I continue to look with the right eye, though I no longer experience the easy panoramic sweep with which I once read a landscape, and the same is true of reading a book. I'm painfully aware of that. But translating painful awareness directly into verse has never been my way. One thing I will confess—the period of this unanticipated injury has required much coming to terms with. I think I'm through the first phase. Despair is no longer perpetually at my elbow. The anger I felt at first (perfectly irrational) with fate or whatever has slackened, though not completely disappeared. I have so many friends, and that awareness has sustained me and moved me away from self-involvement. And I have my wife. Indeed, before the ghastly surgery took place, I wrote for her and for them the little poem that concludes my Selected—the New Directions volume of last year—and that poem places eye and ear in some kind of perspective. It's called "A Backward Glance":
Searching my verse, to read what I'd once said, It was the names on names of friends I read And yours in every book, that made me see How love and friendship nurture poetry.
INTERVIEWER
Although you claimed to look forward to retirement, it would seem that a backward glance would also be inevitable. Your career has gone on for almost fifty years. How would you characterize its progress? Could you begin with your education, first at school and then at university? How did you prepare to become a poet?
TOMLINSON
When I got to university I was deeply disappointed. I realized rather quickly that the teaching from my tutor at Cambridge was inferior to the stimulus I had received at school. You need two good teachers in any school, which is what we had, to get through the message of civilization—the role schools are there to fulfill. I owe everything to my two good teachers: Gerhardt Kuttner (soon to be anglicized as Gerard Cutner), a German Jew and a refugee from Hitler, who taught us German; and a Scot, Cecil Scrimgeour, who taught us French and who was much influenced by the Quakers and yet admired the civilization of Louis XIV's France. When I told a colleague in the French department at the University of Bristol a few years ago that at school we read Racine, Corneille, Molière and worked our way in considerable detail through an anthology containing Hugo, Baudelaire, Gautier and Verlaine, he said, "We don't expect that kind of thing nowadays." I felt his tone meant he thought I was exaggerating. What I didn't tell him was that this anthology contained a thorough account of French versification and that we'd also done a Balzac novel. Our German wasn't as concentratedly taught as that, but to have a grounding in Schiller, Heine, Kleist and Carossa was no mean beginning, and to have someone who could explain to us Kant's categorical imperative, give us a rapid outline of Nietzsche, introduce one to the work of Rilke, describe the way Thomas Mann pared an apple with surgical precision—well, all that was opening a way beyond the black industrial town where I was born into a sense of Europe itself.
INTERVIEWER
So reading took you from the provinces into a more cosmopolitan, or international frame of mind?
TOMLINSON
It was that sense of belonging to Europe, which took root early in my imagination. When our French teacher, as background to Racine, gave us a course on tragic drama, reaching back to the Greeks, and actually quoted from Aristotle's Poetics, my heart stood still. He explained all the Greek terms like peripeteia and anagnorisis to us. So when I saw Puccini's La Bohème (my very first opera) at the local theater, I noted how many of these terms applied to the Puccini and, back at school, told him of this. "Yes," he said, "but rather cheaply embodied." My feelings were a little dashed. I still think he was somewhat hard on Puccini, but the salutary challenge introduced me to the notion of critical standards, and the realization that terminology in the abstract couldn't really help you with the question of quality. A good early warning about the futility of theory.
INTERVIEWER
How about life at Cambridge?
TOMLINSON
My final year at Cambridge was a compensation for my first. I acquired a new supervisor, a young man just returned from service at sea, and this was Donald Davie. We went on to educate each other and ultimately to criticize each other's verse. This was the beginning of a fifty-year friendship, ending only with Donald's recent death. Without his introduction and approval of my first real collection, The Necklace, I should not have found my way into print. His thinking about poetic syntax in Articulate Energy clarified my own enormously and in many ways prepared me to write my first full-scale book of poems, Seeing Is Believing. This book, with the help of another friend, Hugh Kenner, who like Donald saw and believed, found a publisher in New York, beginning what was to be a long and fruitful relationship with America. The youthful European needed that. There was a new world. Henry James complained that it had no ruins. But he had never been to the deserts of the Southwest and seen the cliff dwellings of the Canyon de Chelly or the remains of Quarai and those in Chaco Canyon. All that, alongside modern America, was part of my continuing education—something Cambridge had failed to prepare me for.
INTERVIEWER
Although characteristically British in style and temperament, you have been unusual in your affection for America— its landscape, people and art. How did this come about? With what provocation?
TOMLINSON
You're absolutely right. When I first went to America, it was the place you didn't go to. When I got back, people said, "Glad to be home, I imagine." My resolute reply was always, "Not particularly." How did it happen, my being drawn to America? All bits and pieces, to begin with. A monochrome reproduction of a Georgia O'Keeffe in a book that was a twenty-first birthday present (we were to meet her in New Mexico), a fascination with the poetry of Stevens and of Marianne Moore that was later to extend itself to Williams, thanks to the insistence—which I first of all resisted—of Gael Turnbull. Gael was one of those people American poets had reason to be grateful to. He spoke up for Williams, and from Migrant Books in Worcester he distributed Charles Olson, Robert Creeley, William Bronk, Allen Ginsberg. In his review, Migrant, there were French Canadians and there was Ed Dorn.
INTERVIEWER
Did this Americaphilia (if I may coin the term) affect your status as a fledgling poet back in Britain?
TOMLINSON
Having come under the influence of Stevens fairly early, I didn't find it easy to publish my poems in England, so I started sending them to Poetry magazine. Henry Rago, the editor then, was a great editor. Much to my amazement, I was awarded a number of prizes by Poetry (something that could not have happened here and hasn't since). Then Hugh Kenner persuaded his own publisher, McDowell, Obolensky, to take on Seeing Is Believing, a book just about everyone had refused in England. After its publication Henry wrote to ask if I was interested in being considered for one of the scholarships from the Institute of International Education, which aimed to facilitate travel in the States for young European writers. So off we went, Brenda, myself and our young daughter, and the greatest adventure of our life began. And great friendships began too. I think especially of those with James Laughlin and with Fred Morgan, who in The Hudson Review had been one of my first publishers along with Poetry.
INTERVIEWER
In addition to American poets, you came to know all sorts of other people, and to visit landscapes that even Americans in the fifties were rather unadventurous about seeing. What about the painters?
TOMLINSON
As I mentioned, my sense of America cohered out of many fragments, among them that tiny reproduction of a Georgia O'Keeffe, utterly unknown here at the time. I came to America at a period when the New York School had shifted attention from Paris to that city. For me, it was one of those periods of rapid assimilation—Jackson Pollock, Willem de Kooning, Arshile Gorky, particularly Gorky. But then I wanted to know more about what came before and gradually, or rather in quick leaps during the years, I managed to acquaint myself with the whole long story, going back to the Hudson River landscapes of Frederic Church and other nineteenth-century painters. I became a friend of the great collector Seymour Adelman, largely because he heard me read a poem on Thomas Eakins. He came up to me after the reading and said: "Would you like to see some of Eakins's photographs?" Ask and it shall be given! I asked a Sante Fe friend of Georgia O'Keeffe how I could get to see so reclusive a person. That, too, was arranged, and one morning—we were living in Albuquerque at the time—a telegram arrived from Abiquiu with an invitation to lunch. When I wrote up the visit many years later and it appeared in The Hudson Review— O'Keeffe was in her nineties by this time—another telegram and another invitation. She'd actually read the article. So America meant places and art, and it also meant people.
INTERVIEWER
You have made part of your mark throughout your career as a translator. You began with Italian poetry; a few years ago I heard you lecture on Dryden. Obviously you had languages when at school; students today (at least in the States) generally do not. How did you make this particular turn?
TOMLINSON
What luck I had to be educated by the two teachers I've already told you about. Of course, we learned Latin, too, and although it wasn't brilliantly taught, the form and logic of the language helped reinforce the lessons of French and German. This meant when I got a job in Italy I could pick up the language with relative ease. When I'd returned to England and later got a job at the University of Bristol, I met a fellow teacher, Henry Gifford, who knew both Russian and Spanish. He somehow conveyed enough Russian to me to permit me to collaborate with him on a little book, Versions from Tyutchev. After which he said, "Why don't we do some Antonio Machado?" "But I don't know Spanish . . ." The same persuasiveness as before, with incredibly detailed "transparencies," as Henry called them—literal translations plus notes line by line beneath the originals. The closeness of Spanish to Italian also helped me here. Eventually I realized that I really must learn Spanish, and my friendship with Octavio Paz gave me a further incentive. So I ended by translating Machado, a short selection of César Vallejo and many poems by Octavio himself. Octavio and I even wrote a bilingual poem together, "Airborn," which we each translated into our own tongue. I simultaneously came to realize just how many of our poets, going back to Chaucer, had been great translators, all the time extending the possibilities of English by introducing new forms and new ideas for poetry. So I went ahead and edited The Oxford Book of Verse in English Translation.
INTERVIEWER
And Dryden?
TOMLINSON
Dryden was one of the greatest of our translators. His Virgil and Pope's Homer could do a lot to repair the neglect of classical studies, but then you realize that the kids by and large aren't really equipped for any kind of poetic experience that requires a little historical imagination—seventeenth-and eighteenth-century poetry must sound as foreign to some of them as the originals Dryden and Pope were translating. Not only languages, but historical awareness has suffered in the great dumbing-down.
INTERVIEWER
Are you gloomy about all this?
TOMLINSON
There are the heartening exceptions. And there are the teachers capable of giving students a sense of direction. We had an extraordinary phase at Bristol when Augustan English and French literature of the classical period were being taught together. A brilliant young classicist, a Dryden scholar, suddenly energized the teaching of Augustan poetry, and students were no longer impatiently waiting to abandon all that for the romantics. As part of my own continuing education, I was called in to examine the French—it might be anything from Montaigne to Racine to Baudelaire. Hard work for teachers, of course, but you felt you were fighting back against the know-nothing schools with their lazy abandonment of spelling and grammar and their language teaching that got as far as how to book a hotel room on the other side of the channel. I think the kids performed magnificently— they taught me a lot, both about their chosen authors and about the resilience of the human mind awakened by great literature.
INTERVIEWER
To tackle a related but complementary fact of your life: could you comment on what to an American observer looks like an admirably quaint, almost old-fashioned lifestyle here at the cottage: no telephone and so forth. Do you feel separated from the world?
TOMLINSON
I suppose quaintness is very much in the eye of the beholder. A more affectionate response to this house might be that it's but one example of the endless variety of English vernacular architecture, a lesson in the use of local materials—stone and limewash—and of a tactful relationship with its surroundings. A dangerously old-fashioned lifestyle? I really must fill out for you the sense of what goes on here or from here. For practically forty years I taught in a leading British university in our fifth largest city. We brought up a family of two girls and, like the rest of contemporary humanity, were busy getting them to school, music lessons and friends. We all went to the opera together in Bristol and by the time they began at the Royal Academy of Music, they had seen most of the classics. When we could afford it we went to Italy en famille and the world of Renaissance art and architecture awaited us.
INTERVIEWER
And the house itself?
TOMLINSON
Yes, the house. The absence of a telephone didn't prevent us from using the public phone at the top of the hill, or our many friends from coming here—among these, Octavio Paz and his wife, Jaccottet, Attilio Bertolucci (whom I was to translate), German, Spanish, Portuguese and Mexican friends. Brenda and I have traveled all over the world. If you can't find us here, you might have to go to Siena, Lisbon, New York, Toronto or even Kyoto. This house may be our center, but its geographical position has never restricted us or shut us off from the world. We're not in retreat from anything, any more than one is living in Connecticut or Dallas. In fact, this area offers a stimulating range of very sophisticated neighbors, including musicians, writers, art historians who are part of the nation's consciousness. For fifteen years our nearest neighbor was Bruce Chatwin, and those famous books of his underwent much discussion beneath this very roof before they were published. In an hour and twenty minutes we can be in Oxford. In an hour and a half the train gets us to London. It's not North Dakota, you know. But one thing I've left until last. Let me say just this: every day here is a quiet celebration of married love.
INTERVIEWER
Let me return to my earlier inquiry about literary Englishness and Americanness. You are rare in admiring, or paying homage to, both Williams and Stevens. Americans tend to pick sides. Does being British have the advantage of allowing you to admire both of them—and their schools— with no parti pris?
TOMLINSON
Perhaps this is a question of generation rather than being British. Marianne Moore admired both, so did Yvor Winters with whatever reservations he had about either. I always thought the redskin-paleface division between them a rather cheap contrast. I suppose all the reams of cogitation Stevens accumulated in his poetry made those of the Objectivist tradition rather impatient, as they did me after a certain point, though there are many fine things in the later poetry too.
INTERVIEWER
What do you get from both of these poets?
TOMLINSON
Both poets—Stevens and Williams—can give you the sense of a sudden dawning freshness, an enlargement of mind and senses like, as Stevens says, "The way, when we climb a mountain, / Vermont throws itself together." He prefers the effect of perspective, whereas for Williams the enlargement is more intimate, as in the unfolding of the flower in "The Crimson Cyclamen," which is closer perhaps to the modern world, to the world of time-lapse photography, as Kenner has suggested. Stevens's vista-effect still carries with it something of the old sublime of the Hudson River school. I like both ways of seeing.
INTERVIEWER
Your remark in the preface to Collected Poems that you reached a point where "space represented possibility and where self would have to embrace that possibility somewhat self-forgetfully, putting aside more possessive and violent claims of personality" looks—on the face of it—like standard English politesse, an unwillingness to promote the self to the exclusion of other things in the world. It is also a version of a great remark by Elizabeth Bishop: "What one seems to want in art, in experiencing it, is the same thing that is necessary for its creation, a self-forgetful, perfectly useless concentration." Another poet famous for reticence, and eye, description, travel, and so forth: do you feel affinities with her?
TOMLINSON
I've always admired Elizabeth Bishop. In 1956 I asked F.W. Bateson, then editor of Essays in Criticism, if I could review the Chatto Poems—just out then. His reply was, "We don't want that sort of thing—it's just Marianne Moore and water." So I didn't write on Bishop for several years. I persuaded myself that I disliked the tone of much of her Questions of Travel and wrote a rather negative review of it in Shenandoah. A pity. I would have liked to meet her. Even in that review I had conceded, "There are few other poets writing who, in the handling of detail, of internal rhyme, of awkward yet convincingly expressive rhythms, show more professionalism." A funny word to use! And the tone, too! Ah, the follies of youth. I think I redeemed them partially, twenty-five years later, with a piece in Parnassus. Alas, she was dead by then. Yes, I've felt affinities with her. I could still kick myself for that review in 1966—though I wasn't wholly at fault: I continue to believe that there was a self-conscious archness at times that damages the marvelous detail.
INTERVIEWER
At what point did you settle into various congenial poetic forms and habits—the pseudo-elegiac couplets, the various rhyming schemes: your first poems were not like this at all.
TOMLINSON
To carry the longer poems of Seeing Is Believing, I invented a mainly four-stress line that would work me free of the track of the iambic pentameter though permit me to modulate towards that if I must. This has lasted me for many years and gave the formal scaffolding for political poems like the one on the death of Trotsky, "Assassin," and, in a book a decade later, "Prometheus," about the Russian revolution. Rhyme was important to such poems, but it was years before I ventured to try rhyming couplets—something that an immersion in Dryden encouraged me to do. In poems like "Assassin" and "Prometheus" rhyme acted as a sound link that must never become too predictable or static. It was a kind of syncopation punctuating the forward progress of an energetic syntax.
INTERVIEWER
This sounds like the language of Donald Davie, yes?
TOMLINSON
I was embodying Donald Davie's description of syntax as "articulate energy"—and underscoring it with rhyme and half-rhyme. There is the clarity and constancy of a four-beat line that also records motion and change, and rhyme plays its unexpected part in the reconciliation (frequently to be canceled) of those opposites. But the underlying factor is that of a fluid but lucid line that continually encounters things and then moves on. What keeps the experience alive is an unclotted diction. The great lesson came from eighteenth-century verse with its verve and clarity—from that and also from the Americans. Not so much Stevens here as Moore and the Pound of "Hugh Selwyn Mauberley." But the line is what matters: it must be supple and it must be lucid. It can be as slim as you like (another lesson from American poetry) or it can marshal many unstressed syllables around its four-stress base. I feel the typical movement of these poems reenacts the way we perceive things—reason and feeling trained on a world that is other than we are.
INTERVIEWER
Can you cite some examples from your work of syntactic thinking, or the way Davie's ideas influenced your own practice, the way you deliberately manipulate syntax when composing; or are you aware, afterwards, of your own unconscious manipulations?
TOMLINSON
Davie's book on syntax coincided with my own conscious rediscovery of it in a poem called "Fiascherino." Look anywhere in my poems and there are longish sentences that go on unwinding and finding out and checking meaning. There you have it—thinking via syntax. Davie awoke me to what I already knew—the power of the sustained sentence in Wordsworth, Coleridge, Cowper, Kleist (the last of these I had experienced at school and can still recite). Without Davie I might not have dug out all I knew. I'm less conscious of manipulation than of playing tunes on the verbal piano, variations on grammatic possibilities. Playing, that's the word! There's a lot of play in these games with sound and syntax—often more humorous than readers seem to realize.
INTERVIEWER
What about rhyme? "The Chances of Rhyme" seems like a characteristic ars poetica: How much do you leave to chance when composing? When does the rhyme come in?
TOMLINSON
As for those rhyming couplets I mentioned, they are mostly used in poems that have a semihumorous content like "A Doggerel for My Seventieth Birthday." I use a fair amount of half-rhyme in order to undermine the Augustan tone or keep it on its toes.
INTERVIEWER
But rhyme is used for more than just semihumorous purposes.
TOMLINSON
For years my wife and I have noticed a curious thing. If one approaches our house by way of the hillside above it, it is difficult to know exactly what one is looking at. For instance, the road beyond the house at times appears to be a plume of smoke. Recently I took those rhyming couplets—or rather half-rhyming couplets—and tried to convey this experience of ambiguity, which is resolved once you come face to face with the house and enter it. The half-rhyme here, rather than relaxed humor, registers or counterpoints the slip in perception. As for the question of chance that you raise, that too is part of perception. A walk implies a series of chance encounters, although you know pretty well where you're going. These chances are then accepted as part of the day's possibilities. The same thing happens with rhyme. I use rhyme of some description in most of my poems. Before I begin, or simultaneously with starting, I often write out the alphabet on the sheet of paper I'm using, so as to be prompted by a side-glance of the eye. Once one is taken forward on the wave of inspiration, it is surprising how sensitive one becomes to such momentary suggestions, and rhymes fly to one's fingertips from the written-out letters.
INTERVIEWER
Many people—especially those we label landscape poets— think in terms of favorite places. Auden's "In Praise of Limestone" is a locus classicus of this kind of thing. Your landscapes are everywhere: Gloucestershire, Italy, New Mexico, upstate New York. Is this because you participate fully in any landscape where you find yourself, or did you deliberately seek out those you suspected in advance would be hospitable?
TOMLINSON
The Italian poet Giuseppe Conte says that love and travel awake the senses in similar ways. You are alert. You see anew. Places for me have often been happy chances like rhyme. I arrived in the deserts of New Mexico in 1960—still on our first American trip—because the Yeats scholar Donald Pearce, encountered in California, knew someone who lived in Albuquerque and who was deeply knowledgeable about life in the Indian pueblos. We saw many dances and ceremonies in the pueblos. Two years later we went back and have been returning ever since. The moment of our first trip was just in time to catch sight of some of the survivors of the D.H. Lawrence era—Dorothy Brett, Ravagli (Frieda Lawrence's husband), Witter Bynner. On our second trip we went to Mexico itself. In a bookstore there (chance once again!) I found a new volume by Octavio Paz, Salamandra, translated some of the poems and we became close friends, meeting with surprising frequency afterwards. I seem to have been following in Lawrence's footsteps. For a time, during my Cambridge years and just after, he was a literary moralist who counted greatly for me. When I found a job in Italy in the early fifties— another complete chance—we were living only a stone's throw from Fiascherino, where Lawrence and Frieda had been in 1913-1914. It had hardly changed. It was a marvelous place of introduction to Italian life. And we still go back there. Upstate New York was another matter of chance—we knew Fenimore Cooper's novels, of course, and we happened to find ourselves in a poetry-reading tour which took us to Colgate, which is no great distance from Cooperstown. All these places—and now I can add Spain and Portugal—I associate with lasting friendships and with renewed visits.
INTERVIEWER
The people, in other words, came first?
TOMLINSON
But you were also asking me about my attitude to landscapes. My landscapes, as you say, are everywhere. However, I prefer not to be thought of simply as a landscape poet or as a connoisseur of the rural, either. Put it this way: any critic of Cézanne who described him as a painter of country scenes would be moving in the wrong direction. You must begin with the question of style, as in my poems you must begin with the question of tone. They possess what Arnold described as "the tone of the city, of the center." One of their characteristics is their aim of urbanity, in short.
INTERVIEWER
Where have you been happiest?
TOMLINSON
I am as happy in the middle of the deserts of New Mexico and Arizona as I am in the more opulent scenes of Tuscany, but I write of all that in the same idiom in which I write about New York. It would be amusing to make a list of places in my poetry that are simply townscapes: New York itself, Paris, Rome, Budapest, Lisbon, Stoke on Trent (where I was born). And what of the extraordinary landscapes of the marble quarrying region around Carrara? They change every time you see them. The stone villages seem the only stable part of the scene and they, too, piled up on the slopes, take the shape of quarries and are the same color. They are as thrilling to me as Manhattan, and I need all my urbanity of style to define and express the beauty of either place.
INTERVIEWER
So style then becomes a reflection of your vision? And mere scenery is secondary? Keats said "scenery is fine but human nature is finer." I think also of Blake's famous aphorism: "Where man is not, nature is barren."
TOMLINSON
My attitude to landscape, when writing poems, is ultimately a question of style—an urban or urbane style, but the reflection of an ideal urbs, of civilization, of what I've learned about the precise fit of word and concept, of the rhythms of the body—particularly while walking—translated into the progress from line to line. But scenery, the pastoral, life in the Cotswolds are not my aim.
INTERVIEWER
A book by the American critic Roger Gilbert, Walks in the World, deals with the motif of the poem-as-a-walk, the poet walking and contemplating, and so forth. Your own remarks and habits suggest that you fit into this Wordsworthian vein. Can you remember specific times when poems sprang from things seen or thought of while you were perambulating?
TOMLINSON
I write down lines, phrases, grammatic constructions while perambulating—my sixty-odd notebooks are full of these. Like Nietzsche, I tend to distrust thoughts that have not come to me when in physical motion. The physical motion goes straight into the syntax. I reinvent the sense of physical motion when I start to write and the imagination takes charge.
INTERVIEWER
Is place a matter of spiritual questing for you, or of aesthetic appreciation?
TOMLINSON
I don't know what "aesthetic appreciation" is. I never quested for anything. I'm simply there and I'm bowled over. Surely Conte's comparison with being in love is completely accurate? And, as with love, the question of fidelity arises. One must go back and back and gaze more and more. But aesthetic . . .?
INTERVIEWER
Your poetry both tacitly and explicitly praises the virtues of moderation—a habit you share with Auden and Horace, our two masters of this tone of voice. Another (I assume) ars poetica and personal self-portrait is "Against Extremity," in which you say some harsh things about the so-called confessional poets. I assume you are referring to Sylvia Plath and Anne Sexton although you delicately avoid naming them. How do you separate the created self or the speaker of lyric from the depths of psychoanalytical subjectivity? What sense of self is necessary for poetry, for your poetry?
TOMLINSON
I think my kind of poetry is utterly opposed to the sort of solipsism that weaves a fantasy between oneself and the world. Of course, people with various grouses and psychological hang-ups feast on their own view of things. Plath could imagine her own father, whom she had scarcely known, as a Nazi and then transfer this mania to her husband. She is, needless to say, a far more impressive writer than Sexton and with extraordinary verbal intuition. I don't really know "what sense of self is necessary for poetry." Rimbaud is hardly a figure of moderation, but every time I read him, I am overcome once more by the sheer freshness of invention, as if an impregnable innocence had somehow persisted throughout those years of vagabondage.
INTERVIEWER
Rimbaud is hardly one of the first several dozen poets I would assume would come into your list of favorites. Does "freshness of invention" mean that you think of poetry as a heightened version of speech? What do you try to be on your guard against in conceiving and then working through a poem—in terms of diction, I mean.
TOMLINSON
A short time ago you reminded me that my career had gone on for fifty years. I was about to put you right, but then realized that you were indeed right. It is, unbelievably, fifty years since I began. What do I try to be on my guard against? The fact that I exercised that kind of watchfulness at the beginning, so that now I sit down fairly certain that I cured a lot of bad habits more than half a life ago, in the first phase of that fifty-year period. Blake was the problem and his prophetic books. Blake simply lost the bounding wiry line of his lyrics when he came to write those long lines of the prophecies. Without having experienced the discipline of the bounding line, I flung myself into the shapeless fume of putting the world right by repetition. I was also trying to be a painter at that time and attempted to integrate illustrations and text. The illustrations were the better part. The text was nowhere. I had read Whitman too, and my last school prize (the influence of that German teacher) was Nietzsche's Thus Spake Zarathustra—fatal from the point of view of diction and its encouragement to be hortatory. Since God was dead, I summoned forth the gods—shades of the weaker side of D.H. Lawrence here. The vatic and the hortatory! What could have been worse? I wanted to pull down the cathedrals and consign them to the graveyard of dead giants. (Of course, I didn't really believe all that, but why did I say it?) Occasionally something of the aphoristic side of Blake came through in the shape of the more symmetrical propositions of The Marriage of Heaven and Hell.
INTERVIEWER
A fearful symmetry?
TOMLINSON
But clearly I couldn't achieve a real symmetry until I'd found a line that could be proportioned. To begin with, it had to be shorter. Once I'd got hold of that fact, I quickly learned that you couldn't shout in a short line. I also began to reflect consciously on the use of rhyme. So bit by bit I did the hard work, which freed me for the much harder work of exact expression and a diction that defined what one was talking about as one began to move to the dance of rhyme. After a time it wasn't restraint I was looking for, but melody and clarity. Once the diction of these poems appeared as heightened speech, then I could somehow begin to span the gap between the conceptual qualities of Augustan poetry and the kinetic qualities of a Hopkins, without losing my way in the over-clotted effects that could have been a real danger from that quarter, and evidently were for Dylan Thomas (another influence to avoid, as I soon realized).
INTERVIEWER
This is where some of your American poets must have come in handy.
TOMLINSON
So I finally discovered "Thirteen Ways of Looking at a Blackbird" and that became my talisman and my way out of the romantic jungle. I discovered Marianne Moore's "The Jerboa" that "makes fern-seed / foot-prints with kangaroo speed" and started to see what rhyming might be. But why does it take so long? I had the Moore in a secondhand copy of Michael Roberts' Faber Book of Modern Verse, acquired as a student. Why couldn't one see at a glance that this was more congenial than all that Blakean pother? It took years.
INTERVIEWER
To the extent that you are self-conscious about your compositional methods, how can you tell when you have got hold of something, or when something has got hold of you? How do you know when a poem is finished? Is it merely, in Valéry's memorable phrase, abandoned?
TOMLINSON
I'm not sure that Valéry merely abandoned "Le Cimetière Marin." The French are over-full of memorable rhetoric. I've always found a certain discrepancy between some of Valéry's prose statements and the verse. If ever a poem had finish, surely "Ébauche d'un serpent" did. So does "Palme" in a different way. But you're asking me about my own methods of composition. The methods differ so much I hardly know where to begin to answer. Sometimes I know exactly how I want to end. Sometimes I get stuck on the very last line. Occasionally I've started over again by changing the meter. Sometimes I've found a poem hiding itself in the middle of something that ended up in the wastepaper basket. I know when I've finished all right, but I don't always know how to finish. Then sometimes I finish and decide the final line or lines are superfluous. The process somewhat reminds me of making a film and all the labor of the cutting room.
INTERVIEWER
Are you an avid moviegoer?
TOMLINSON
Apart from literary efforts, I spent much time on seeing films and writing film scripts early in my career. Richard Swigg, in his remarkable book Charles Tomlinson and the Objective Tradition has shown in some detail the way both images from and the actual sound track of Citizen Kane have percolated into the poem "Assassin," for example. I even tried to get a job in films. The concentration on all that visual material surely brought something to bear on the shape of the poems themselves—a certain concision, the effect of the single shot.
INTERVIEWER
Because of your bookishness, your vision, your travels, you seem enormously curious about the world. (This is not always true—even of great poets.) Do you see the world as discrete objects, part of a vast plan, symbols in some Baudelairean series of correspondences, evidence of meaning or design? Or do you see it—whether spiritually or aesthetically—as a cause for celebration?
TOMLINSON
I see the world in all its variety as a cause for celebration, for exaltation. I detest the idea of symbols in a series of correspondences. Let things be what they are, and that is enough for me. The trouble with some of Hopkins's poems is that he arbitrarily gives symbolic meanings to his subject matter. How differently he works in the notebooks, where the forms of nature are often left in all their this-ness and he doesn't force them into symbolic cohesion. His poem "Epithalamion" (a title he obviously tacked on once he'd decided on the symbolic meaning), begins with a lovely evocation of a river in which boys are bathing. By the close he decides what the scene means: "Wedlock. What the water? Spousal love." Then he gets stuck and can't finish the piece, incapable of settling for what is there and abandoning his symbolic interest.
INTERVIEWER
Your lovely poem "For a Godchild" suggests a strongly anti-Catholic or anti-clerical streak, and a strong commitment to what at least in the States goes under the name secular humanism. You say you must make sure that the child
. . . ponders well what she takes to be the dues of deity— and learn that a god who harbours anger where thirst has no slaking, eyes no ease, is either of her own or others' making.
I wonder whether this attitude is as unfashionable as it is in America. We are the most churchgoing, God-fearing, religious people in the Western world, by the way.
TOMLINSON
My poem is a Blakean response to other people's attempts to rigidify the unknowable. You remember the way Blake speaks of "the mind-forg'd manacles" and how, in a poem like "The Human Abstract," the tree that bears the fruits of deceit isn't to be found in nature, but in the human brain. I tell my godchild that she should distrust a god who, like Dante's, encourages you to think you shouldn't "wipe / a sinner's eyes in hell." The existence of that god "is either of her own / or others' making," like the mind-forg'd manacles and the fruits of deceit.
INTERVIEWER
How would you characterize your own weltanschauung?
TOMLINSON
I'm not so sure that your "secular humanism" or "a strongly anti-Catholic streak" quite cover what you so flatteringly call my weltanschauung. My first full-scale book, Seeing Is Believing, contains a rather Kantian poem, "In Defence of Metaphysics." I live—my poems live—in a world of presences that touches on the unknowable, where "to name the Name" seems crudely premature. I think, too, that a secular humanist would scarcely begin a poem as I do with
It was the song of Adam the devil envied most, and the song of Adam that Adam lost . . .
and go on to talk of "the steady spate / and the hidden source," or in another book, Annunciations, which has Lorenzo Lotto's great annunciation on its cover, mention "the sheen / drop by drop / still spilling-over / out of the grail of origin." A Catholic friend who had been reading a review of one of my books remarked, "I see the reviewer takes you to task for your atheism." The reviewer was Michael Edwards, one of our most learned Christian critics, and what he actually said was, "The ethic of these poems is not Christian, but neither is it secular." In writing poems, I do not think that if I say this, I am disqualified from saying that. I'm not a Catholic, but there is much in the Catholic tradition that is precious to me—many Italian churches, and indeed most of Dante himself.
INTERVIEWER
Let's end with something more specific, which also returns us to the start of our discussion. The poet of Seeing Is Believing was also a painter, perhaps a long time ago. I know you have discussed your own work as a visual artist in various prose works, but I wonder whether you might say how your earlier efforts worked in tandem with your literary ones. Did you ever think of yourself as a serious artist, or as just a Sunday dabbler?
TOMLINSON
Can you imagine me ever being less than a serious artist? As for a Sunday dabbler! The suggestion leaves me breathless and sputtering.
INTERVIEWER
I mean no offense. Please go on.
TOMLINSON
The second phase of my artistic efforts (1968-1978) coincides with and expresses what I call "a season in Eden" (the opposite of Rimbaud's Saison en Enfer—he, for me, has often been a touchstone for what cannot any longer be undertaken, but also for sheer vivacity). I moved from very exact pencil drawings to equally exact collages that utilized chance effects—decalcomania.
INTERVIEWER
The chances of rhyme went, so to speak, hand-in-hand with the chances of hand and eye? How did the work progress?
TOMLINSON
It resulted in a 1978 Arts Council exhibition at the Hayward Gallery, which toured in England, Wales and Canada. A book appeared, In Black and White, badly produced because the publisher had never done an art book before, but with a splendid introduction by Octavio Paz, who had always encouraged my visual activities. A second book, Eden, excellently produced, appeared from a small press in Bristol; a third, Words and Images, attempted to show how the rocks and light of my poetry had discovered a new dimension. In 1978 I realized that my season in Eden was at an end.
INTERVIEWER
Why? How come?
TOMLINSON
I do not know. Probably because I was doing too much, with poetry, graphics, and full-time teaching and research. You cannot anyhow stay in Eden for long, and ten years isn't bad. My poetry benefited from my residence there in becoming, I think, more open to chance encounters with artistic possibilities. I cannot repeat this phase now because I am virtually blind in my left eye—I no longer possess the sense of visual inevitability that was once my dearest gift. I've spoken of a "second phase."
INTERVIEWER
This sounds mysterious, positively Yeatsian.
TOMLINSON
I didn't mean to be mysterious, but this seemed far more important than the first one, when I was copying Blake's prophetic books. The interesting fact is that the illustrations to these, or whatever one wants to call them, were far purer than the rhetoric of the text itself, and this purity led me by stages into a breathable atmosphere.
INTERVIEWER
Purity is another Donald Davie word.
TOMLINSON
Yes. This purity led me also to produce individual pictures. I worked much in color then and exhibited in London at the Leicester Galleries, Gimpel Fils and the Brook Street Gallery. Curiously enough a recent look at these early images (the first in years) made me reflect on how they had somehow played a hidden role in the emergence and invention of my later Eden. This first phase began in the late forties and early fifties, continuing up to about 1958.
INTERVIEWER
That was then; this is now. Can you summarize the most recent phase, and say something not only about where you have been but also where you are now?
TOMLINSON
Well, let me try to put things into some sort of perspective. I'm still immensely grateful to those poets who encouraged me when I was young. Williams, Marianne Moore, Louis Zukofsky, George Oppen. I took down Moore from the shelf again only this week—what audacity, what accuracy of phrase! The encouragement I owe to those Americans helped me to speak as an Englishman, helped me to find my own voice. The sense of that support stayed with me right across the years, and I think it is that sense of people who have stood by me—my wife above all—that enabled me to get through this last, ghastly, half-blind year. I kept to my writing and the sheet current of it carried me forward. Then came a pause: I'd temporarily exhausted my supplies. Then something unexpected happened, only two or three weeks ago. We took a friend to Somerset to look at the country where we'd once lived at the start of my literary career. An enormous elation, partly caused by the sheer beauty of the place and the grandeur of the great cathedral at Wells, swept over me. So much for secular humanism! I was writing a poem a day—including a couple of long ones. Everything I encountered seemed to turn into poetry. Last week—only last week—I realized I must rein myself in, because next week we are off to Tokyo, where I shall be giving a reading. So in this state of enforced restraint, with the energies burning in my very fingertips, I can say, as I enter my seventy-second year, that I have never felt so full of possibility. The promise of the future has never seemed so fecund. I need no longer go on about the failure of that operation. I think I've come through.