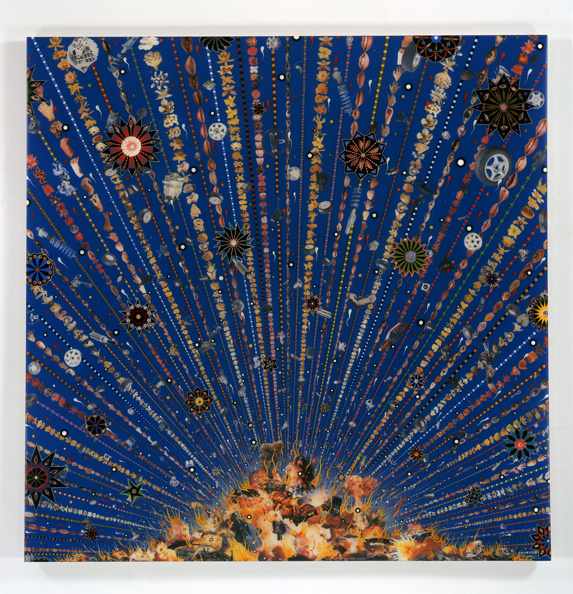 Car Bomb, 2008. Photocollage, acrylic, resin on wood panel. 60″ x 60″. © Fred Tomaselli. Image courtesy of the James Cohan Gallery, New York.
When Motherless Brooklyn author Jonathan Lethem announced in April that he would be relocating from Boerum Hill, Brooklyn, to the white-collar, academic enclave of Claremont, California (where he'd take over David Foster-Wallace's teaching slot at Pomona College), the borough felt a twinge of old-time, Brooklyn Dodgers–style rejection. Fortunately for dwellers of Kings County—and others who hold resident New York bards dear—Fred Tomaselli was simultaneously putting the finishing touches on the installation of his latest crackerjack show: his unabashedly gorgeous, conceptually expansive midcareer retrospective at the Brooklyn Museum.
Tomaselli is a Brooklynite in the same way most New Yorkers come by their adoptive heritage—as immigrants from ambition. Born in Santa Monica and raised in Orange County, within spitting distance of Disneyland's Matterhorn, he moved to Los Angeles in 1981, only to leave for New York, and rusty, desperate Brooklyn, in 1985—"one last crazy stupid thing before I got old and lost my nerve," he later recalled.