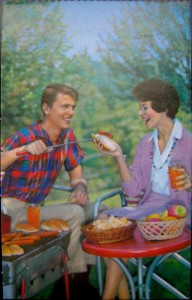 The first time I cooked for him, it was the height of August. The meal was very simple: a salad; a pasta; some peaches I roasted and served with ice cream. Nothing special. And he seemed to like it okay. But the writing was on the wall: this was a man who ate to live, and not the other way round.
For some of us, this is unthinkable. I am always plotting my next meal, mulling over my last, calculating my degree of appetite. Those days when illness robs me of hunger are among my most hopeless. I remember food scenes in movies and books better than others. The city is mentally mapped by cookies and hamburgers; noodle stands are my landmarks; a trip is an opportunity to eat new things, and work up an appetite, and try more.
Iris Murdoch, one of the few serious writers to unabashedly march on her stomach, was right on the money when she wrote the following:
Of course reading and thinking are important but, my God, food is important too. How fortunate we are to be food-consuming animals. Every meal should be a treat and one ought to bless every day which brings with it a good digestion and the precious gift of hunger.
My brother once depressed me unutterably by declaring that if he could take a pill and never have to eat, he would. I pitied him his joyless existence, although in fairness he seems jolly enough. My father, too, is indifferent to pleasures of the table; left to his own devices, he subsists entirely on Chef Boyardee, smoked oysters, and (judging from the empty containers arrayed on the counter) the occasional jar of baby food.
The above-mentioned gentleman, who would come to play a big role in my life, is not, at least, one of those dreary "food-is-fuel" types. He's game to try most things. He's nice about my cooking. He likes a good fish taco as much as the next guy. But he doesn't really care.
This is, of course, a small thing, really. The literature of food is filled with long-suffering gourmets and the men who love them, from Ruth Reichl's Reluctant Gourmet (detailed in Comfort Me with Apples) to Amanda Hesser and Mr. Latte (Cooking for Mr. Latte) to Julie Powell and her husband (Julie and Julia) to Tamasin Day-Lewis and beau in Where Shall We Go for Dinner? When a couple is otherwise compatible and happy, what are a few meals between them?
And yet. A part of me has always fetishized those relationships in which a couple was joined in their pursuit of all things sybaritic. I fantasized about finding someone who would be the Michael to my Jane Stern, so we could, like them, devote our lives to tracking down blue-ribbon pies and oyster shacks. (I cried when I learned that they were divorcing.) I pored over those parts of Julia Child's memoirs devoted to her relationship with the supportive gourmet, Paul. I swooned over cookbook editor Judith Jones's tales in The Tenth Muse of cranking out boudin with her husband, Evan, and traveling the French countryside in search of authentic regional cuisine.
People have occasionally asked me why an old boyfriend and I stayed together past the point of all logic. There are, of course, many complex reasons, but I don't think appetite is incidental. He was my partner in barbecue. And Grandma slices. And apple pie. And, yes, brussels sprouts. (The most heartfelt declaration of love I can remember occurred in 2004 when I set before him a plate containing a miniature meat loaf and a twice-baked potato.) Even at the worst point of our breakup we came together to share ribs he had brought me from Leon's, in Chicago, and homemade spaghetti from Mrs. Robino's, in Wilmington. Not sharing them was unthinkable.
There is no romance there now. And of course there is occasional strife. But there is also a remembered thrill when we make plans, and start shooting e-mails back and forth about just where we will eat, or what I will cook, and then when I get to experience the pleasure of cooking for someone who really appreciates it. People wax eloquent about food as love, food as community, food as sociology. Conversely, we hear about food as an avoidance mechanism, or a crutch. But sometimes a crutch helps you walk when you wouldn't otherwise be able to.
The other evening, bitter cold, I decided on the spur of the moment to attend one of the Robert Burns dinners taking place around the city. Would anyone want to join me? I hesitated for only a moment before calling my old boyfriend; there have been times when we have both been prickly and we know how to set the other off. But when we were seated in the restaurant, and they bore in the haggis to the strains of a bagpipe, and read Burns's "Address to a Haggis," and it was all bizarre and savory and perfect, there was no one else with whom, in that moment, I wanted to be.