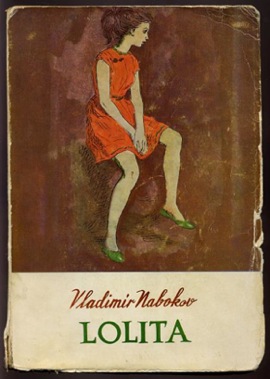 When my dad gave me a stack of his old college paperbacks, I think the education he hoped to foster was aesthetic, not erotic. But one of the books was Lolita, and to a twelve-year-old boy with passable reading comprehension skills, the twelve-year-old girl with the "honey-hued shoulders" and the apple-patterned dress was, above all else, sexy:
There my beauty lay down on her stomach, showing me, showing the thousand eyes wide open in my eyed blood, her slightly raised shoulder blades, and the bloom along the incurvation of her spine, and the swellings of her tense narrow nates clothed in black, and the seaside of her schoolgirl thighs.
At least Nabokov was teaching me fresh vocabulary. I had to look up nates, of course, but another new word, nymphet, was helpfully defined throughout the book. Suddenly I saw the world through wiser eyes. Who among my seventh-grade classmates, I wondered with a frisson, was such a creature? What girl had that "soul-shattering, insidious charm" that, while invisible to me, made the antennae of certain adult males tremble?
For much of middle school, I'd been enamored of a smart and introverted girl in my grade. I'll call her Anna. Red-haired, freckled, and painfully pale, Anna was hardly a dead ringer for Dolores Haze, but I was observant enough to recognize the "ineffable signs—the slightly feline outline of a cheekbone, the slenderness of a downy limb"—that marked her as a nymphet. Read More