The poetry in the Summer 2020 issue hails from Portugal, Uruguay, Iran, France, India, China, Lithuania, and the United States. To celebrate the range of this work, we asked the translators responsible for bringing these poems to our pages to explain a particular challenge they faced in the process of translation. As Margaret Jull Costa says in her Art of Translation interview, "There's something so very intimate about poetry and about the process of translating it." The following essays in miniature attest to this delicacy.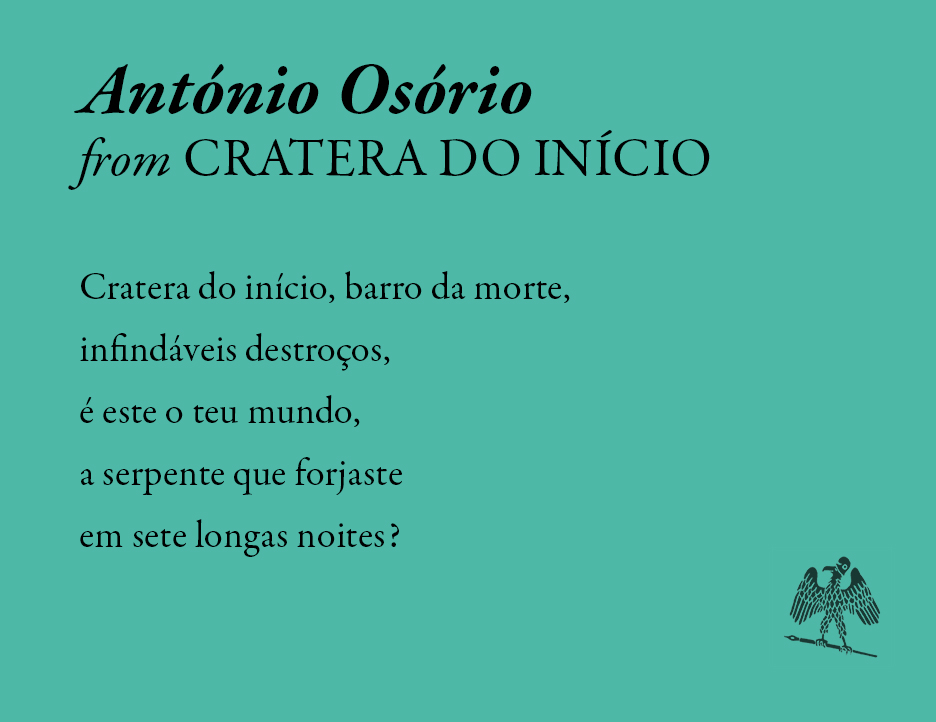 Translating from a Romance language (Portuguese) to a Germanic one (English) always involves the choice of how Latinate to sound. The English language derives both from Latin and German and often offers two words for every idea. One can say "Holy Spirit" or "Holy Ghost," "sacred" or "holy," as Jorge Luis Borges reminds us, and most words representing abstract ideas stem from the Latin while the majority of words exemplifying concrete ideas come from the Saxon. In a newspaper article, the choice may be irrelevant; in a poem, the choice matters.
One such instance in our translations of António Osório is the noun serpente, which may be rendered as serpent (from Latin) or snake (from Proto-Germanic). In the poem "Crater of the Beginning," we chose the former, whereas in "The Circus," we opted for the latter. In "Crater of the Beginning," the serpent is a mythological symbol in the biblical sense, so it is obviously the tempter in the book of Genesis that best fits the translation. In modern English, the word snake gradually replaced serpent in popular use, so we considered snake the more appropriate noun in "The Circus," given the poem's modern-day context. Our choice of the monosyllabic word snake also accomplishes three things: it renders the sense of immediacy, it fills the reader's imagination with circus-related stunts, and it acts out onomatopoetically the hissing sound (the sn- consonant cluster) of the limbless, scaly, elongate reptile.
Finally, the Portuguese verb estava (meaning "was") in the last line of "The Circus" provides another example of the Latin-versus-Germanic choice. Unlike English, the Portuguese language has two separate verbs for to be: ser and estar. If we were to succeed in transmitting the intensity of the poem's final image, we needed an alternative to the ordinary meaning of estava. We needed a muscular verb capable of specifying the seductive nature of the scene. By opting for the verb stand to refer to the position of the snake, we conferred strong physicality to an otherwise lukewarm verb, and we let its presence assume an upward movement within the poem itself, as if it would spiral up through the preceding lines of the poem and subsume it all into itself. In addition, the sibilant consonants (snake and stand) enact the hiss, which in turn enhances the uneasiness, thus making vivid what is only latent in the Portuguese. —Patricio Ferrari and Susan Margaret Brown, translators of António Osório's "Crater of the Beginning," "September," and "The Circus"  Read More