We're out this week, but we're re-posting some of our favorite pieces from 2011 while we're away. We hope you enjoy—and have a happy New Year!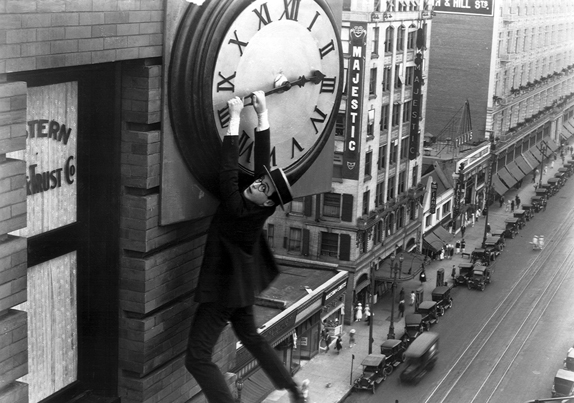 The final installment of a three-part saga. Martin is hitchhiking from Kansas City, Missouri, to New York City in order to catch the last day of Christian Marclay's The Clock at the Paula Cooper Gallery. Read Part 1 and Part 2 here.
"You got a way of making a man get to talking, friend," Sam told me. We had slowly worked our way into his life story, which involved him being adopted by Tennesseans who were somehow heirs or related to heirs of the Pepsi-Cola fortune, dropping out of Emory University, working part-time as an industrial air-conditioning chemical cleaning salesman, and then opening his own air-conditioning cleaning company, which in less than five years and with several hospital, university, and prison contracts across the Southeastern and now Midwestern states had turned him into an independent multimillionaire. But he was having "woman troubles"—I had gotten lucky with that lie—"because, to tell you the honest God's truth, Clancy, and I ain't proud to say it, I've got wives in four different states. Kids with two of them, and the third one's pregnant. Even with my income it's spreading it a bit thin. Thank the good Lord for my trust fund." I knew if I kept Sam talking we'd sail right past Newark, and sure enough, when we got to his turn he was in the middle of the sad love story of Sam and Sally, and the fight they'd had in Bali last year when she realized all of the international calls he'd been making late at night "for business"—I shook my head with the great sympathy and genuine feeling of brotherly love one married man has for another in such situations—and as we approached the truck stop where he planned on leaving me (I was close enough now that I figured I would just call a cab, it couldn't cost more than a hundred dollars), he said, "Where'd you say you're headed again? Hell, we made it in half the time we figured." Sam does not believe in letting the speedometer drop below "a C note." Most of the way he was swooping between cars on the highway as though they were parked and we were a very low flying F-16. Time slows drunkenly at that speed, especially in an opulent, muscular truck, with a charismatic Korean chatting amiably beside you while you cling with sore fingers to the handle of the door, the soft tones of the iPod switching randomly from Gun Club to Elvis to Gyptian to Chopin's Nocturnes.
"Far as we've come I guess I can take you right into Brooklyn." The truck stop is already a mile behind us. "I sure as hell hope we don't get snarled up in some Friday traffic. Course it's not even rush hour yet, and we're headed into the city, not the other way 'round. But I'm gonna be cursing your name when I'm driving back the other way. Hell, you look like you could use a favor. You're in a bigger hurry than I am." And back to Sally, who morphs seamlessly into Joanne, who I'm trying to keep straight from Christine, and wondering how many times Sam has said the wrong name in bed.