Michelangelo Antonioni was not happy with the grass. This was the summer of 1966, and London was experiencing an extreme drought. The director had shot the pivotal scene in Blow-Up where David Hemmings photographs an unconsenting Vanessa Redgrave and her lover, and maybe, or maybe not, a murder at Maryon Park. But the grass looked terrible, scraggy and yellow, so Antonioni had the crew spray-paint it green, and then shot the whole sequence again.
Antonioni would've approved of the grass in Kassel, though. It was incredibly green, food-coloring green. The leaves, too. The city, at the northern tip of the province of Hesse, in the middle of Germany, is known for having been nearly obliterated by Allied bombs in World War II and for Documenta, the hundred-day international exhibition of 150 contemporary artists that takes place every five years. I was there with my girlfriend, Liza, for the event's thirteenth incarnation, but at some point, everyone I met would mention the destruction—whether to explain the city's history of manufacturing weapons or the blocky postwar architecture.
The painter and professor Arnold Bode organized the first Documenta in 1955 in order to exhibit publicly the "degenerate" art that had been banned under the Third Reich. The work of prewar and wartime modernism was displayed in the ruins of the Fridericianum Museum, not just as an act of recovery but of testimony, too. This year, the director is Carolyn Christov-Bakargiev, and the exhibition spread beyond the renovated Fridericianum to the main square, the train station, the Brothers Grimm Museum, the sprawling Karslaue Park, and more. There were paintings, installations, films, performances, lectures, seminars, and, as described in the press packet, "periodic activity." I was there for three days, which is enough time to realize how little time that is, especially since this year Documenta extends beyond Kassel to Alexandria, Cairo, and Kabul, where ruins, recovery, and testimony are not distant concepts.
From the train station, the streets slope down to Konigstrasse, the main thoroughfare, and Friedrichplatz, the town square, where you could watch massive white clouds drifting above the massive green spread of the park below. Every few minutes a helicopter rose into the sky and then descended. In the brief silences, you could hear the jaunty strains of an organ grinder by the tram stop. Throughout the city the organizers had erected white corrugated metal boxes, appealingly scaled-down versions of shipping containers in which you could buy tickets, sign up for tours, and browse through art books and the hundred specially commissioned feuilletons in assorted sizes and colors. These included contributions from Lydia Davis, William Kentridge, Lawrence Weiner, Etel Adnan, Alejandro Jodorowsky, and others. You could also get them all collected in one enormously imposing green hardbound volume called The Book of Books.
Friday we started at the Fridericianum. "C'est rien pratiquement," said a woman coming out of one of the rooms, and that was an accurate description of Ryan Gander's installation: an artificial breeze moving through the ground-floor of the building. A door suddenly blew open and we started toward it, but the guard jumped ahead, pulling it shut and waving us back. That, it turned out, was not part of the piece. Ceal Foyer's installation was only slightly less ethereal. In a white cube of a room, the first and last lines of a Tammy Wynette song surged over and over, a lush, croony ache: "I'll just keep on / Til I get it right." Not a wall of sound but a cloud.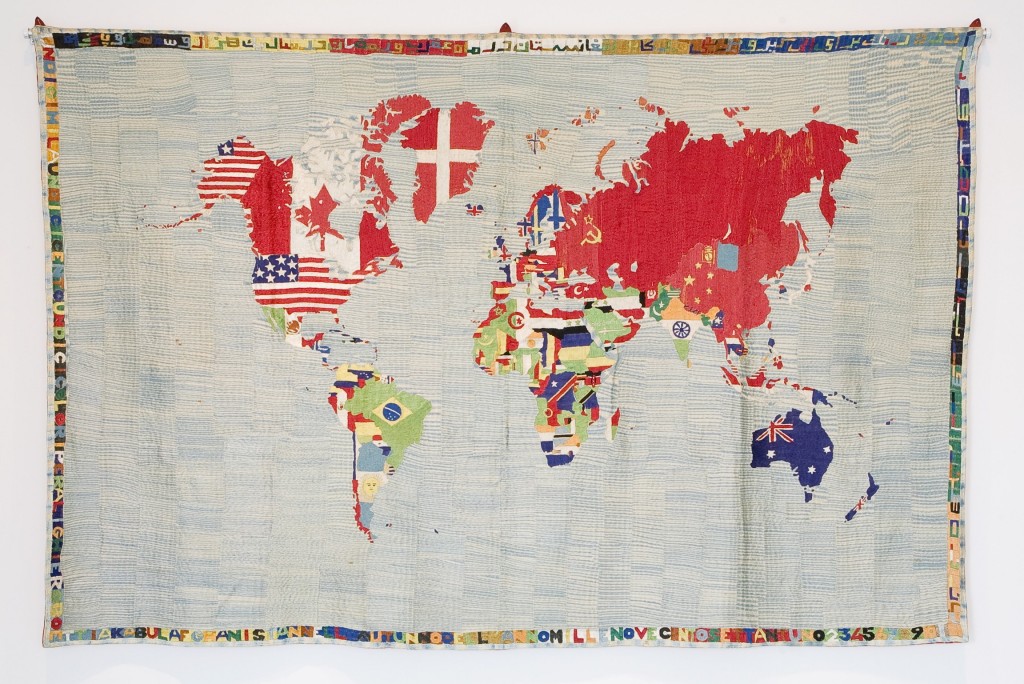 Upstairs, a different kind of loop. One room was devoted to Mario Garcia Torres's search for Alighiero Boetti's One Hotel, an informal artist residency and lodge that the Italian Arte Povera artist ran in Kabul in the 1970s before the Soviet occupation. Boetti, whose motto was "Bring the world to the world," is perhaps most known for Mappa, a series of embroidered tapestries of the world map, one of which was on display. Boetti died of a brain tumor in 1994, and Torres's quest—part pilgrimage, part excavation—is documented in a video and a series of fictional faxes he wrote to the dead artist that date from the fall of 2001, when the United States started bombing Afghanistan, continuing the cycle of invasion, occupation, and so-called recovery. "It seems," Torres writes to the man who would never read his words, "almost as if I were looking for something I have lived myself."
In the next room, some nine hundred postcard-size drawings of apples and pears covered two walls. These had been made over a fifty-year period by Korbinian Aigner, an anti-Nazi pastor and pomologist, who had been imprisoned in Dachau where he was forced to work in agriculture and where he developed four new strains of apples. KZ-3 (KZ being the German abbreviation for "concentration camp") is still grown today. On another wall was one of Mark Lombardi's Narrative Structures, a delicate and sprawling panorama of collusion and conspiracy. The neo-conceptualist artist's minutely detailed flowcharts—or elegant circle-and-line compositions—trace global money-laundering networks and scandals, including BCCI, Savings & Loan, and the Iran-Contra affair. Lombardi died, in an apparent suicide, in 2000, just as his work was coming to greater prominence.
I kept having this feeling on the second floor that the artists were slipping through my fingers and I was left grasping at their traces. It wasn't like mourning the Buddhas of Bamiyan. The work hadn't disappeared. It was right there on the wall: the made-up faxes, the apples and pears, and the perfectly penciled circles. But it felt like the curators had managed to outline each artist's absence and that we were moving through their negative space.
It was remarkable, too, how distinct Boetti, Aigner, and Lombardi and their work remained, and yet a larger, unsettlingly universal story about art in the face of state violence was unfolding in the Fridericianum. It was an unsentimental but uncynical narrative, not exactly uplifting or completely despairing, and it continued in the next room with Charlotte Salomon, the German Jewish artist who, while in hiding from the Nazis, created an extraordinary series of gouache panels called Life? Or Theater? that combine image and text as well as cinematic and musical references to explore personal history, meditations on voice, and life under fascism. Salomon died in Auschwitz in 1943. Like the others, she didn't live to see how the world has changed or how it has not.
The rest of the day had a diffuse, thwarted quality. We stopped next at the Orangerie. Once a palace, today it houses the city's Cabinet of Astronomy and Physics. In a room full of ancient telescopes, we listened to Paul Chan and Carolyn Christov-Bakargiev argue about animism. We ventured into the Karlsaue Park. The extensive grounds were originally designed with an elaborate baroque geometry—symmetrical lawns, canals, pathways—and then later remodeled in the late eighteenth century in a "naturalistic," rambling English-garden fashion. But we didn't even make it into the woods that day. We were barely past the sloshing wave of water that Massimo Bartolini had embedded in a pool table–size section of the grass when we realized it was time for the Walid Raad performance-lecture. It was in one of the side streets above the park. We'd been advised to arrive early and we did, but we'd not been told about the mysterious ticketing system, and, along with many other tired and irritable Documenta-goers, we were turned away.
All day, the helicopter had been grinding up in the air, hovering, then grinding its way back down. At an outdoor café, I overheard a New York gallerist explain to her parents that it wasn't part of Documenta, it was just for sightseeing. According to the catalogue, though, it was part of a piece by Critical Art Ensemble, "a temporary monument to global inequality." You could either pay $150 dollars or sign up in an online lottery and hope to be chosen to take a ride. "And then when it crashes, everyone dies," I said to Liza. The helicopter sawing at the sky was getting on my nerves.
A group of us sat outside at the Orangerie for the dinner, but it started to rain, so we went inside, but then it was too crowded and the rain really didn't seem that bad, so we went back outside. It was like that all night. First there weren't enough tartes flambées, then there were extra. Then one wasn't paid for, and then too many people paid for it. Eventually we made our way to the preview party at the Hauptbahnhof, which used to be Kassel's main train station and was now for local commuting. Inside, a disco ball splayed light across the partygoers. They filled the hallway and spilled out onto the railway platforms. Different local foods had been set out on waist-high stacks of wooden pallets: apples, pickles, rolls, and cheese. Strangest, though, was the pile of thinly sliced ham. In the disco glimmer and dance music, people clustered around, grabbing at the edges of the meat, peeling back the slices with their fingers, feeding themselves, then leaning in again to peel another slice from the mound of meat.
On Saturday I figured out that the best approach was to choose a couple scheduled events, and then stay open to randomness. Too much planning and you got rushed and cranky. Too open to anything and you missed everything. Liza was attending a conference that morning, so I started on my own at the Ottoneum; once a theater, now it's a museum of natural history. Materiality is one of those words that comes up all the time in contemporary art, and at the Ottoneum it really was everywhere: seeds, water, bark, dirt, fossil fuel. Toril Johannessen's looming magic lantern ran on petroleum. Claire Pentecost had created "soil-erg," an alternative currency, out of compost. The stacked ingots of dried mud didn't seem that crazy considering that only that afternoon Spain's government had requested a hundred billion euros from the EU to stay solvent.
I spent the most time with one of the books in Amar Kanwar's The Sovereign Forest, an installation about conflicts in eastern India over land rights. In the dark room, a film projector beamed down on the page. We stare at screens in our hands all the time now, but this was something else. The pages were large and rough, made from banana fiber, and I suppose I didn't have to turn them to follow the boy in the canoe. He would've kept rowing through the purple mist without me, but his movements were slow enough, the camera still enough, that as I turned the stiff pages, I fell under the delusion that I was moving the images, that I was moving the boy, left to right, through the water. You couldn't touch the books upstairs in Mark Dion's hexagonal oak cabinet, but they had a different kind of mystique. There were 530, and Carl Schildbach had made them in the late eighteenth century from then-local trees and shrubs, each with a bark spine. The catalogue explained that inside each "book," Schildbach had created "a three-dimensional representation of the tree's life cycle composed of dried plant parts and delicate wax replicas." Cornell boxes avant la lettre.
At some point, I realized the helicopter had been silent all day. I didn't miss it, but I thought about the gallerist, her certainty that it had not been art but tourism. I liked these moments when the line started to blur between what was Documenta and was "real." Was the organ grinder part of Documenta? What about the guy making balloon animals? Or the one who'd made a chalk painting of Albrecht Dürer on the sidewalk? Occasionally you'd see people walking around wearing sandwich-board placards that said things like I WASN'T BORN YESTERDAY, COCKSUCKER, HOW BIG IS A NORMAL PENIS, and YOU ARE THE PATIENT I AM THE REAL PERSON. Were they Documenta? What about the four men with ropes over their shoulders, pulling a black box the size a grand piano through the streets? The sound of someone grunting and panting kept coming from the box. People stopped and stared. What about the guy sprinting through the crowd with another tearing after him yelling, "Thief!" We looked at each other over our grosse biers and asked, "Was that real?"
As far as I've been able to tell, only the placard-wearers—who are part of a piece by Ida Appelbroog—are listed in the Documenta catalogue. The rest appeared to be rogue, even the grunting black box, but then, as Christov-Bakargiev writes in her director's essay, "Documenta is a state of mind." Later, when the rope pullers came to a stop in the main square, I discovered the source of the gasping: recessed in the box, a large monitor showed a figure, who evoked both Augustus Gloop and Divine—with New Wave flair, dining on a huge mound of sausages with a mixture of wanton arousal and disgust, while moaning, "Deutsches Schwein!" between bites. A curious, affable crowd gathered, including a family with two young girls each licking an ice cream cone. One of the Ida Appelbroog placard-wearers stopped, too. His sign read YES THIS IS ART.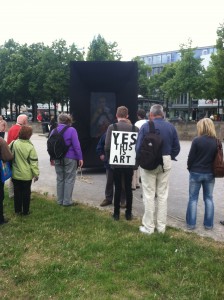 So petulance pays off. The young woman working the door that afternoon at Walid Raad's "Scratching on Things I Could Disavow" remembered us and our dismay from the day before, and, along with thirty or forty other people, we were ushered into a dark room and invited to take our seats in front of a wall covered with snaking diagrams and film clips of men pulling luggage carts through revolving doors. The lights went down and without much ceremony, Walid Raad began talking about the names and images on the wall, explaining that they were connected to an organization he'd been invited to join—a pension plan for Arab artists. Or was it? As he went on the whole thing sounded increasingly shadowy, like a global pyramid scheme.
Raad, a Lebanese artist based in New York, is a thin bald man with round glasses and intense charisma. In dark jeans and a black T-shirt, he paced in front of the pulsing, twisting diagrams, speaking to us with warmth, humor, and urgency about market algorithms for art writers, curators, and even colors. I'd been thinking about TED talks and Steve Jobs rolling out Apple products when Raad suddenly went silent, looked at his own iPhone, and then, somewhat subdued, he asked us to take our chairs and come with him. He turned and behind the wall new lights were coming on, revealing a whole warren of rooms. We picked up our chairs and followed Raad deeper into the space, listening avidly as he talked about Abu Dhabi's "Island of Happiness," where the Guggenheim is building a new museum. On the wall behind him, a projection of empty gallery rooms kept melting into each other. Now we were leaving our chairs altogether, as Raad gathered us around a small-scale model of an art gallery with miniaturized versions of his own photographs. The lecture continued, lights brightening, then dimming, and Raad explained how during war the basic elements of art, color, and line can go into hiding. He pointed to a spreadsheet: "Those aren't numbers. Those are lines masquerading as numbers." Then it was over and we were back out on the street in a daze, unsure whether we had just experienced an elegant allegory about collective forgetting and the trauma of war, a seductive critique of the market-driven art world, a mystical exercise, or simply a fever dream.
We had dinner that evening at a Turkish restaurant near the university where no one talked about Documenta at all. They were watching the Euro 2012 game between Germany and Portugal. Mario Gomez scored the only goal, and all night afterward the streets were full of drivers honking and waving the German flag from their car windows. By Sunday we had perfected the balance of design and drift, and we started purposefully at the Hauptbahnhof. The crates of ham and cheese and the disco ball were all gone and the train station seemed back to its usual state, with commuters moving briskly past the ticket kiosks. At the beginning of the Alter Bahnhof Video Walk by Janet Cardiff and George Bures Miller, we handed over our passports and were each given an iPhone with headphones. We took our seats on an unremarkable bench in the main hallway, and then, holding the screens up like we were going to take a picture, we pressed Play. The image on the iPhone was the essentially same as the real life in front of us—the marble floor, the pillars, even the sound of luggage wheels—except there was a ballerina, and a band with a tuba started to play, and then Janet Cardiff was telling you to stand and move to your left. I had the knee-jerk desire for parody—imagining a woman's slow, overly solemn, sonorous voice telling you to put your left foot in and shake it all around, but my impulse for mockery quickly disappeared and I gave into the bizarre zipline between dreaming and waking life. Janet Cardiff led me past the photo booth and I saw a pair of legs below the curtain both on the screen and right before me in the actual moment, and later, when it was all over, the movement of strangers felt cadenced and spooky, and the whole question of what was real and what was Documenta seemed beside the point.
Every day I had tried to sign up for hypnosis sessions with Marcos Lutyens, and every day I had been too late to get on the list. I also missed Jérôme Bel's Disabled Theatre, the event that everyone had an opinion about. The Documenta Web site describes it as "a series of solo performances of up to three minutes by the members of Theater Hora, a Zurich-based professional theater company of people with learning disabilities." An American artist I met said she found the whole thing exploitative and repellent and walked out in the middle. Simon from Sweden shrugged, explaining that in his country there are several theater companies like this. The idea of people with disabilities performing was nothing new. A grad student from London thought it was brilliant the way the people in the audience were forced to question whether they were applauding the performers or applauding themselves for applauding the performers.
We did finally make our way into the woods of Karlsaue Park. We passed a flock of white-coated "therapists" smoking on the grass outside Pedro Reyes's SANITORIUM, where you could sign up for fifteen-minute sessions that might involve treatments from Gestalt, folk rituals, Fluxus Happenings, primal scream, and other therapies. Sam Durant's Scaffold appeared to be a kind of wooden Winchester House jungle gym—at least that's how most people were treating it, with kids dangling from the beams beneath the floor—but it was, in fact, a series of entangled gallows. In a clearing of trees, we came upon a massive white statue of a hooded phantom that looked like it had been carved out of Ivory soap, kind of like finding yourself in a movie by Apichatpong Weerasethakul. The sculpture was part of the Thai filmmaker's The Importance of Telepathy. I learned later that there were hammocks and bells hanging from the trees, an invitation for people to experience "environmental cinema," but we didn't know that at the time, and we rested instead in lounge chairs by the lake and watched the ducks and geese. The next morning we caught an early train to the Frankfurt airport. In the waiting area, a group of travelers loudly debated the correct pronunciation of chamois. On the plane, I slept, watched Moneyball, slept some more, watched an episode of The Killing, and eventually we were touching down at JFK.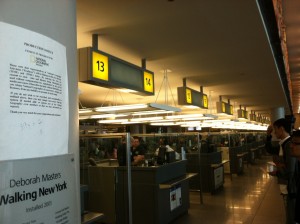 We made our way to the line in the beige customs hall. Suspended above the booths is Deborah Masters's twenty-eight-panel frieze of scenes from New York City life—people riding the subway, men playing basketball, bathers at Coney Island. The line for American citizens moved steadily, and then we were at the front, waiting to be beckoned to one of the processing stations. And that was when I saw a seemingly unremarkable piece of paper and discovered we had walked into a whole new kind of environmental cinema. I would like to think this was some rogue strain of Documenta, but I know better. On a pillar someone had taped a production notice from National Geographic Television that stated, "By entering this area, you consent to your voice and likeness being videotaped and used without compensation for exploitation in any and all media." It felt like a kind of entrapment, or at least a foregone conclusion, because, really, if you didn't want to appear unpaid on a National Geographic special, where were you going to go? Back to the plane? The notice went on to answer—without translation for non-English speakers—that "if you do not wish to be recorded and recognizable, as outlined above, then you may simply turn away from the camera." There was no sign of a television crew in the customs hall. I never saw the camera, so perhaps it wasn't there. Then the customs official motioned for me to step forward, and I did.
Liz Brown is a writer living in Brooklyn.