In Valerie Stivers's Eat Your Words series, she cooks up recipes drawn from the works of various writers.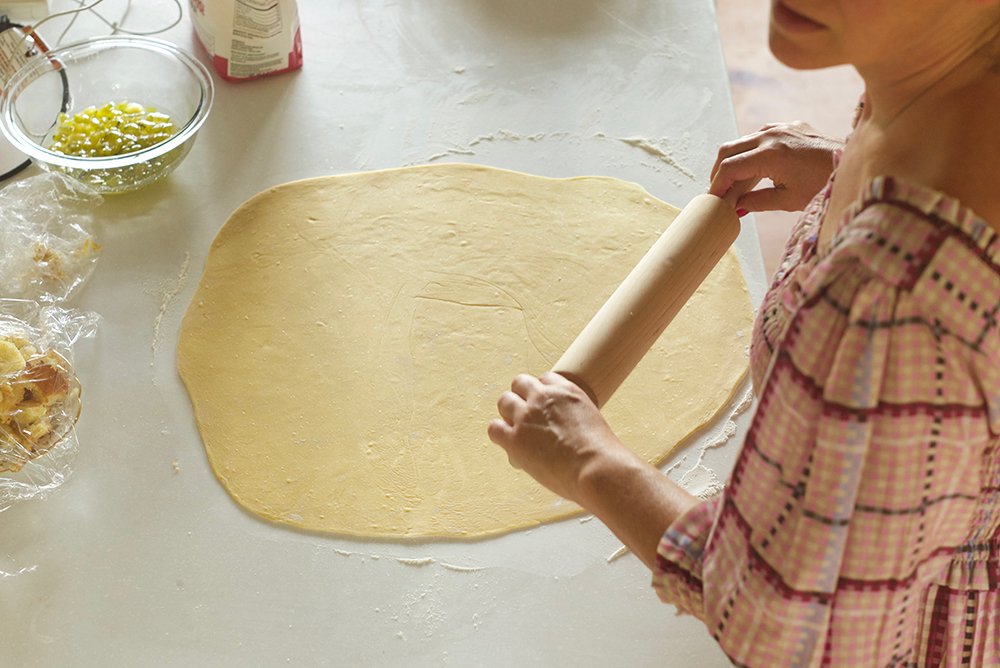 It has long been a dream of mine to steal or reprise the premise of a column called War Nerd, which ran in the English-language Moscow newspaper the eXile in the nineties. As I recall, the column examined contemporary conflicts and current events with an awareness of the region's history of war. Since war and war history are among my reading preoccupations, or were before I became a cooking-from-literature columnist and my reading list skewed almost entirely to "books with food in them" or "books that might have food in them," I imagined myself qualified. The modern Italian classic The Leopard, by Giuseppe Tomasi di Lampedusa (1896–1957), has both food and war, but alas it showed up that dream as a delusion—a brief Google search determined that the original War Nerd, Gary Brecher, is still at it for a relaunched online version of the eXile.
The Leopard's setting is Sicily in 1860, the year Garibaldi returned from exile and the Risorgimento, the unification of Italy, began. Prior to that, as many of us remember vaguely from high school history, modern Italy was a cluster of nation-states, often ruled by foreign powers. Sicily, united with Naples as the Kingdom of the Two Sicilies, was ruled by a French Bourbon king. Lampedusa was a descendent of Sicilian aristocracy, and the book is loosely based on the experiences of his great-grandfather, who appears as the character Don Fabrizio Corbera, prince of Salina.
I have long wondered why, exactly, The Leopard is so popular in America—more than one well-meaning literary friend has tried to force it upon me, and until a recent decluttering, I had two copies of it, without having read it once. The book is beautifully written and has a sexy subplot about chaste young lovers feverishly fondling each other in the abandoned rooms of the baroque family castle, but don't many deserving yet obscure works-in-translation fit those categories? Moreover, the Italy it presents is not the one we think we know.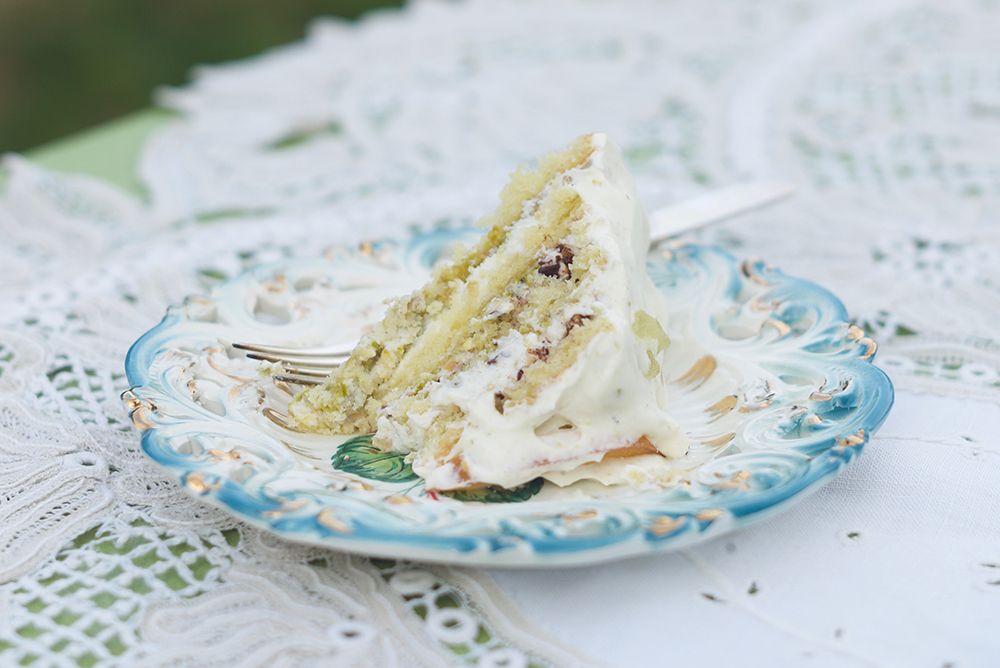 The book begins with the "corpse of a young soldier of the Fifth Regiment of Sharpshooters" rotting in Don Fabrizio's garden. "They had found him lying face downward in the thick clover, his face covered in blood and vomit, his nails dug into the soil, crawling with ants; a pile of purplish intestines had formed a puddle under his bandoleer." It's not immediately clear to the reader what side the soldier was on or what the household's response to him means. And this, it turns out, is the point. What the man died for, and if it was worth it, is "where the haze began," Fabrizio muses.
Fabrizio, known as the Leopard, is a Sicilian aristocrat with a vast but carelessly run-down territorial wealth and half-German parentage. He is handsome, sensual, charming, and so brilliant that he does astronomy in his spare time, but he bears some essential flaw. We're told that, at his dinner table, decorated "with the slightly shabby grandeur then customary in the Kingdom of the Two Sicilies," he accidentally bends the silver spoons when angered. When he ladles out the minestra (from "the silver flanks of the enormous soup tureen"), "the threatening tinkle of the ladle against a side of the tureen" tips his family off to a "great though still controlled anger, one of the most terrifying sounds in the world." The family is "numbed with fear," but Fabrizio is already thinking about something else. He is a patriarch, but like the ruling class he metaphorically represents, he is exhausted and hardly seems to believe in his own power. The solider who appeared in his garden died defending the Bourbon government and thus Fabrizio, allegedly, but Fabrizio knows better than anyone that the sacrifice was meaningless.
History is against the Italian aristocrats and for Garibaldi and unification, but the slippery brilliance of The Leopard—the real reason, I'd imagine, that it continues to startle and enthrall audiences—is that Lampedusa believed in the victors no more than he did in the vanquished. The various skirmishes, marches, and revolts that made the Risorgimento a sputtering kind of war were performed in the name of populism, but the book (written with the benefit of hindsight) predicts that old wealth will still dominate, inequality will persist, and that the democratization of Italian society was done not for the good of the people but to keep them down in a more sophisticated way. "Unless we ourselves take a hand now, they'll foist a republic on us," Fabrizio's nephew Tancredi explains. "If we want things to stay as they are, things will have to change. D'you understand?" I don't know enough about present-day Italy to draw conclusions on how those failures continue to resound, but I would imagine that they do and that the seeds of the current crisis are contained in The Leopard.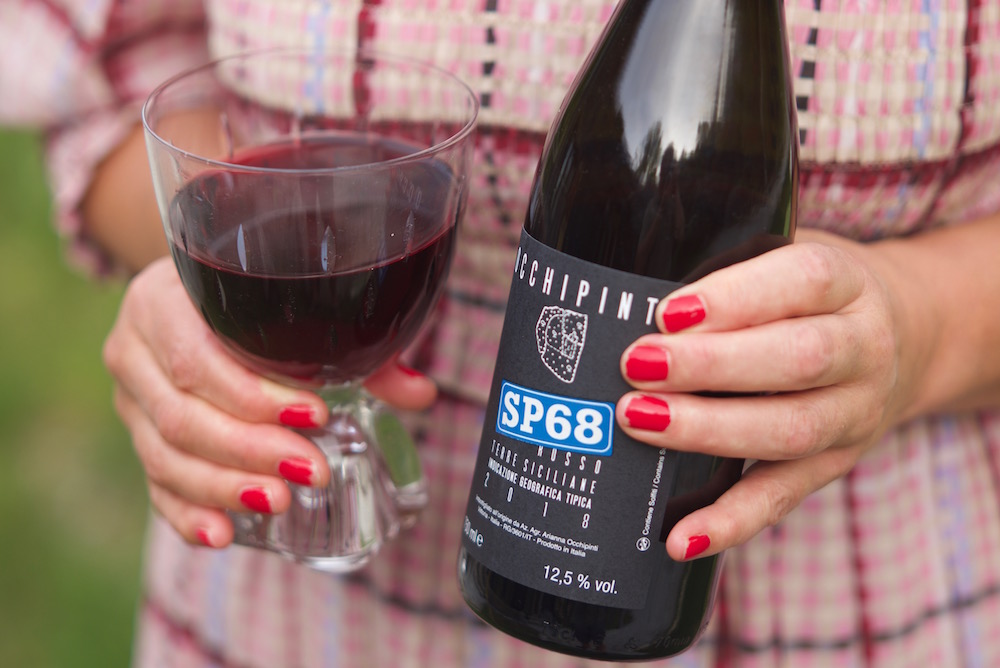 I do know quite a bit about cooking Italian food, though, and I set out with excitement and some confidence to cook several of the classic dishes served at the Leopard's table. I consulted two experts: Fabrizia Lanza, the owner of the Anna Tasca Lanza Cooking School in Sicily, on how to make my menu authentically Sicilian, and Hank Zona, my wines-and-spirits collaborator, on what wines to pair with the meal. Immediately, I learned that, in a manner of speaking, I knew everything about pizza and nothing about Italy (and maybe not even that much about pizza, either). "Until fifty years ago, 'cooking' in Sicily was only for rich people," Lanza told me. "Everyone else ate to survive, to work, and mostly they did not eat and starved." Of the food in the book, she said, "You wouldn't find this food; these were recipes coming from high cuisine, for aristocrats, people who had people cooking for them." She noted that the dishes were French-influenced.
My assumption that they could be paired with Italian wine with historical accuracy was also mistaken. Zona said that the wine at the time "pretty much sucked" because the weather was too hot and Sicilians didn't have access to technology that could help make better wines in such a high-temperature climate. The ruling classes would have drunk only gold marsala (a traditional Sicilian fortified wine, branded as such by a British exporter in 1773) or a French wine such as champagne or Chablis.
Happily for my dinner, much aristocrat food has now entered the mainstream, and Sicilian wine, Zona says, "has had a renaissance." It's even possible to drink well from vineyards with very specific ties to The Leopard. Zona found me a bottle of white from Cantine Colosi, a vineyard in Salina, and one from the Donnafugata vineyard, named after the town in the southern interior where much of the book's action takes place. The folks at Smith & Vine, my local wine shop, added a red blend from the cult Sicilian winemaker Arianna Occhipinti. For the food, I made the minestrone mentioned above, using a Marcella Hazan recipe, since no particularly Sicilian variation jumped to mind for Lanza (her instinct was confirmed by the text, which mentions that locals found soup to be a creepy foreign innovation). Hazan's recipe produced an ideal minestrone that was a great way to use up summer vegetables. I served it in a whopping tureen borrowed for the occasion from my mother.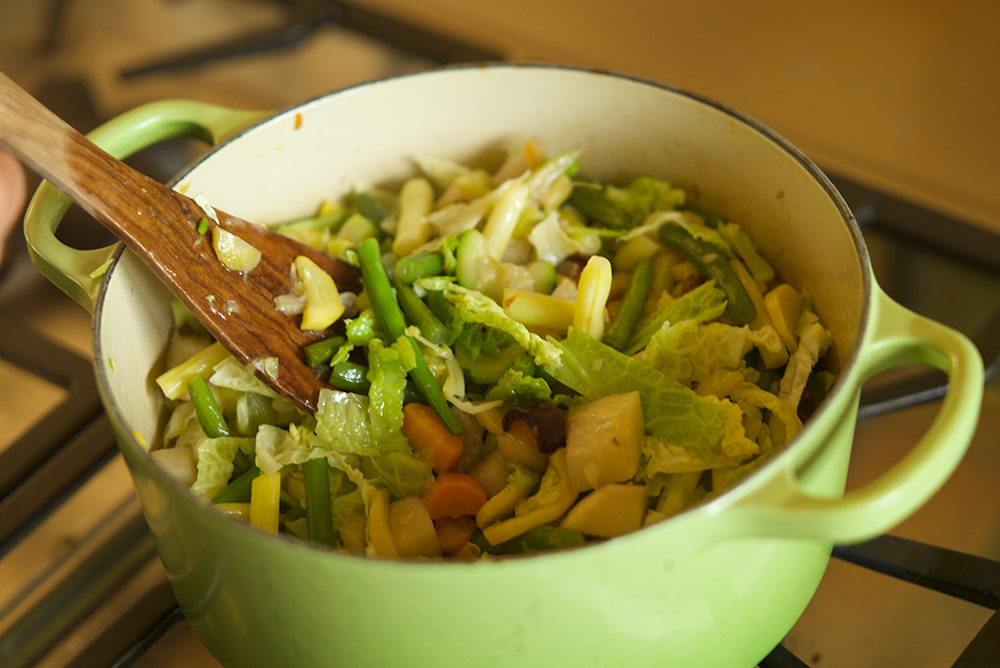 Speaking of soup, of a second feast, Lampedusa writes: "The Prince was too experienced to offer Sicilian guests, in a town of the interior, a dinner beginning with soup, and he infringed the rules of haute cuisine all the more readily as he disliked it himself. But rumors of the barbaric foreign usage of serving insipid liquid as a first course had reached the major citizens of Donnafugata too insistently for them not to quiver with a slight residue of alarm at the start of a solemn dinner like this."
The guests at this meal show "pleased surprise" when lackeys "in green, gold and powder" reveal "a towering mound of macaroni" later described as having a "burnished gold" crust, a "fragrance of sugar and cinnamon," and, when the knife breaks the crust, "a mist laden with aromas, then chicken livers, hard boiled eggs, sliced ham, chicken, and truffles in masses of piping hot, glistening macaroni, to which the meat juice gave the exquisite hue of suede." "Macaroni" is a generic usage, Lanza told me; the dish is a timpano, a spectacular layered pasta creation wrapped in dough and then baked, which has a cameo in the film Big Night and can have any number of fillings. (Melissa Clark even makes a healthy option with butternut squash and broccoli rabe for the New York Times.) I filled my timpano with "sliced ham" (or, as Lanza said, "pancetta"), hardboiled eggs, cheeses, and rigatoni in red sauce. It was delicious, not really much more laborious than lasagna and massively more showstopping.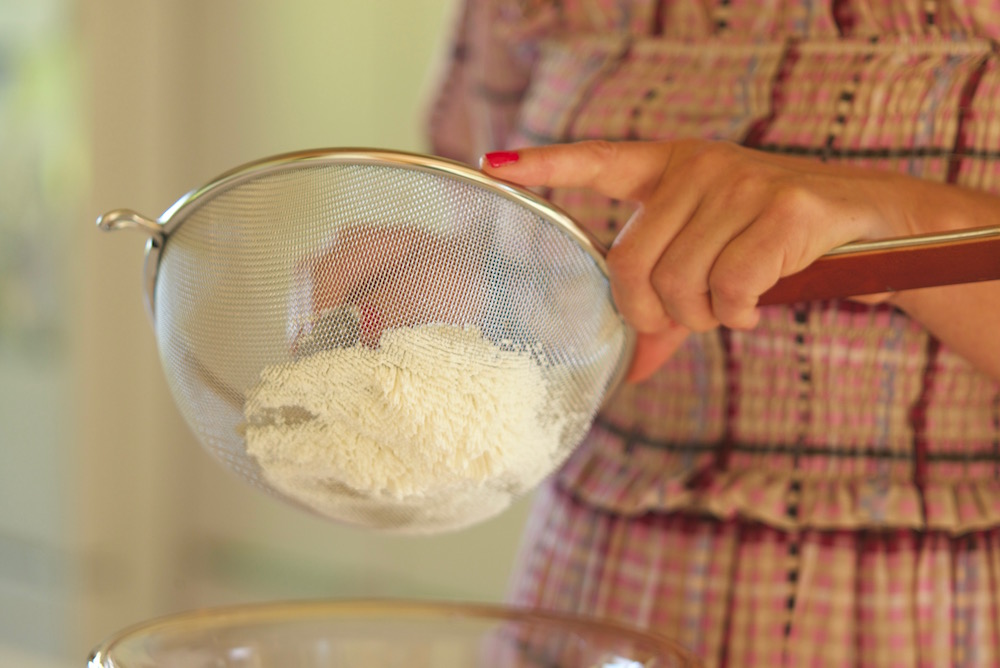 My sweets are inspired by a ball that takes place in The Leopard's final chapters, dishes whose savory offerings were described as having an unappetizing "monotonous opulence"—all for the best, since I did not want to cook "coralline lobsters boiled alive," "waxy chaud-froids of veal," or "steely tinted fish immersed in sauce." The desserts are "huge blond babas, Mont Blancs snowy with whipped cream, cakes speckled with white almonds and green pistachio nuts, hillocks of chocolate-covered pastry … pink ices, champagne ices, coffee ices, all parfaits which fell apart with a squelch as the knife cleft them, melody in major of crystallized cherries, acid notes of yellow pineapple, and those cakes called 'triumphs of gluttony' filled with green pistachio paste, and shameless 'virgin's cakes,' shaped like breasts."
I would love someday to re-create an entire decadent buffet along these lines, but even Lampedusa admits that the servants had been cooking for days to produce this one. I made two desserts from this list: the triumph of gluttony (a sponge layer cake; mine uses ricotta cream and pistachio paste between the layers) and the virgin's breasts (glazed, cherry-topped cookies stuffed with blancmange, chocolate, cinnamon, and candied zucchini). These dishes had so many steps and pastes and creams and custards and sponge layers and pastry bases and decorations and candied fruits and dustings and shavings that they did not seem like items that should be attempted by a home cook.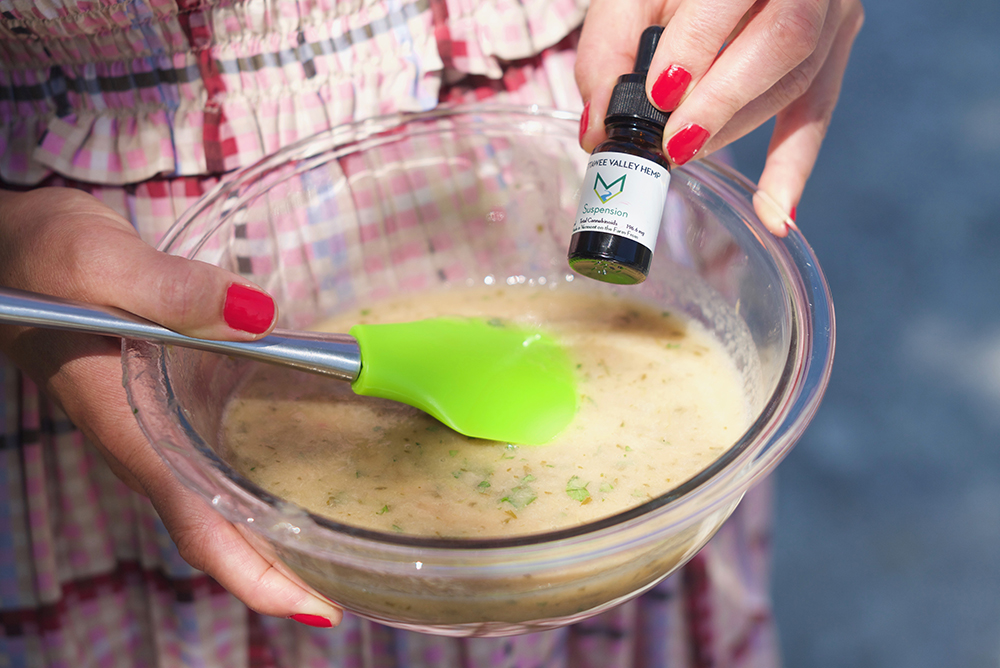 Lastly, I tried to track down a "spiced and drugged sherbet" mentioned in one of the book's most famous quotes. What could "drugged" have meant in the context of 1860s Sicily? Lanza told me that the spice mentioned in the Italian original was cinnamon and that "drugged" was an incorrect translation of the word scorzonera—salsify! I thought a cinnamon-and-salsify dessert sounded intriguing, but since salsify is out of season, I went with my original misunderstanding and made a seasonal granita of rhubarb, spiked it with CBD oil for the "drugged" part, and added some parsley to give it some of the savory profile of the original.
The meal was beautiful and delicious but decadent and exhausting, too, and not the Italian food we imagine in America, which is so strongly associated with the ease and simplicity of peasant cuisine. I left it wanting to know much more about the wars of Italian unification, but sore in the fingers and shoulder, and pleased to be done cooking.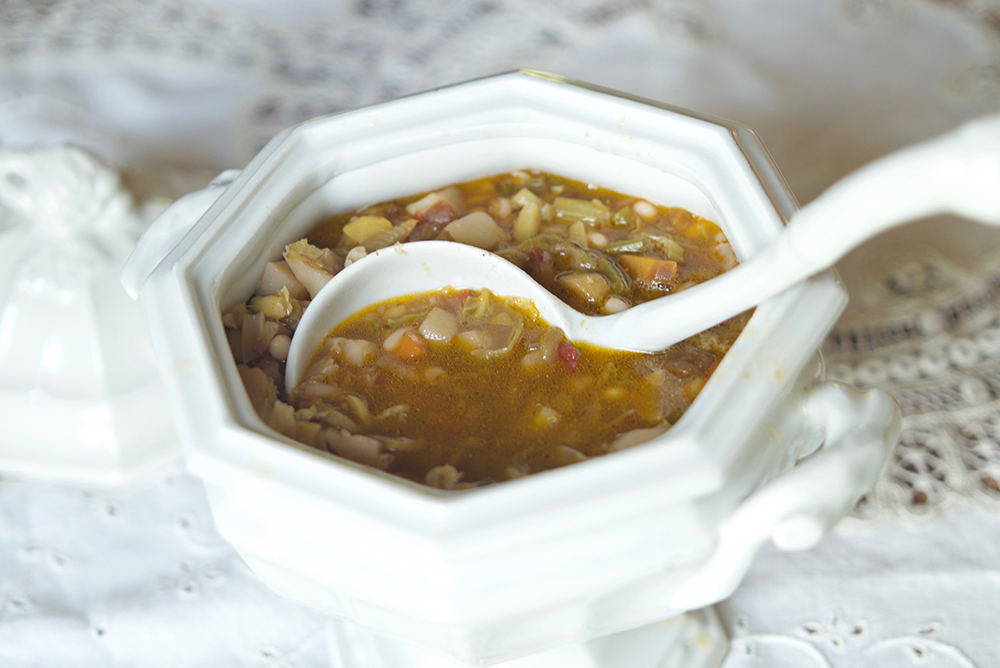 Minestrone di Romagna
(This recipe is adapted from The Classic Italian Cook Book, by Marcella Hazan.)
8 tbs olive oil
3 tbs butter
3 large onions, thinly sliced
4 carrots, diced
2 sticks celery, diced
1/2 lb potatoes, peeled and diced
200 g (7 oz) fresh white beans, if available, or 400 g (14oz) tinned cannellini beans or 120 g (4 1/2 oz) dried white beans
2 medium zucchini, diced
1 handful French beans, diced
2 cups shredded cabbage (preferably savoy cabbage)
5 cups beef broth
Parmesan cheese rind
175 g (6 oz) tinned Italian tomatoes, with their juice
1/3 cup freshly grated Parmesan cheese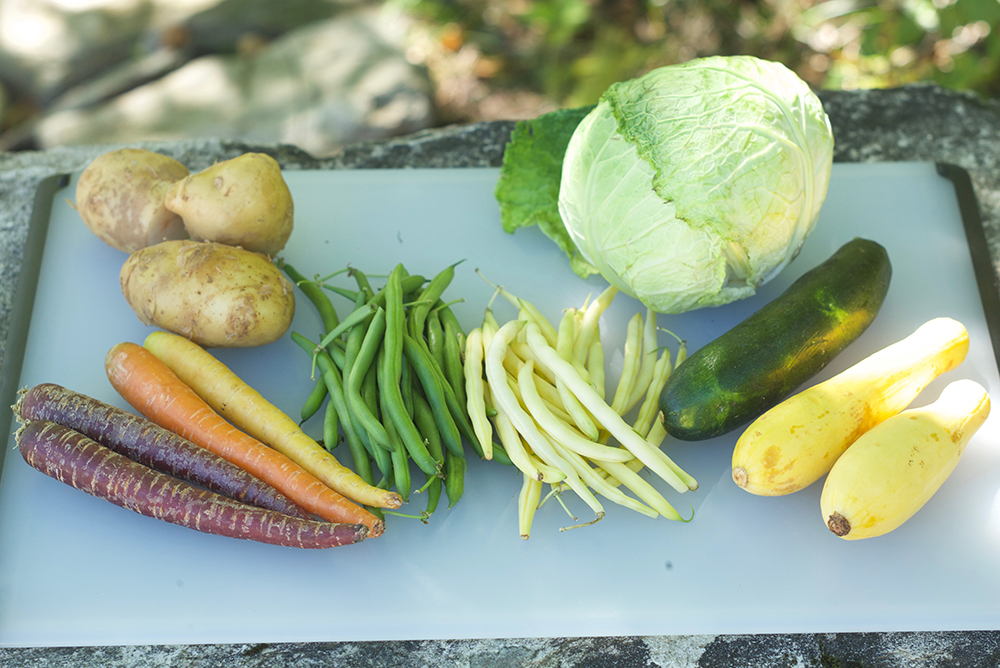 Choose a stockpot large enough for all the ingredients. Put in the oil, butter, and sliced onion, and cook over medium-low heat until the onion softens and is pale gold but not browned. Add the diced carrots, and cook for two to three minutes, stirring once or twice. Repeat this procedure with the celery, potatoes, white beans (if you're using fresh beans), zucchini, and French beans, cooking each for a few minutes and stirring. Then add the shredded cabbage, and cook for about six minutes, giving the pot an occasional stir.
Add the broth, the cheese rind, salt, and the tomatoes and their juice (be sparing with the salt, especially if you are using tinned broth; you can correct the seasoning later). Cover and simmer for at least three hours. If necessary, you can stop the cooking at any time and resume it later. Minestrone must never be thin and watery, so cook until it is thick. (If you find the soup is becoming too thick, you can add another cup of broth, if it's homemade, or water; do not add more tinned broth.)
Fifteen minutes before the soup is done, add the tinned or cooked beans (if you are not using fresh ones). Just before turning off the heat, remove the rind, stir in the grated cheese, then taste and check salt.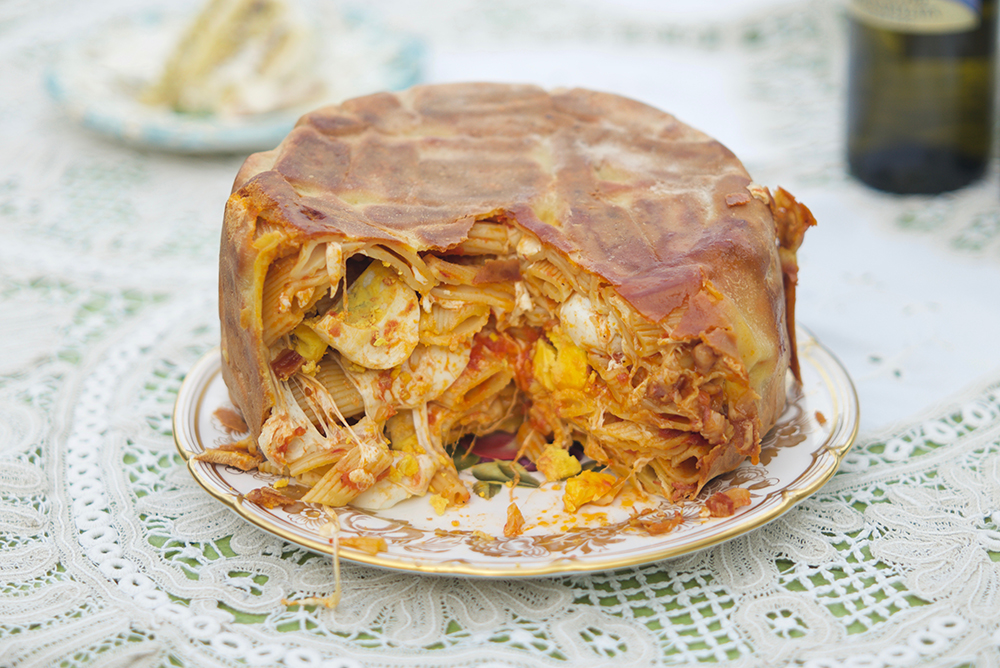 Timpano
(This recipe is adapted from a video on Tastemade.)
2 cups 00 flour
2 whole eggs plus 6 egg yolks, beaten
1/4 cup olive oil, divided
kosher salt, to taste
1 lb rigatoni pasta, cooked al dente
2 cups marinara sauce
12 hard-boiled eggs, sliced in half
1 lb pancetta, cubed and cooked
1 lb low-moisture mozzarella, cubed
1/2 lb grated aged provolone
1 lb sausage, cooked and sliced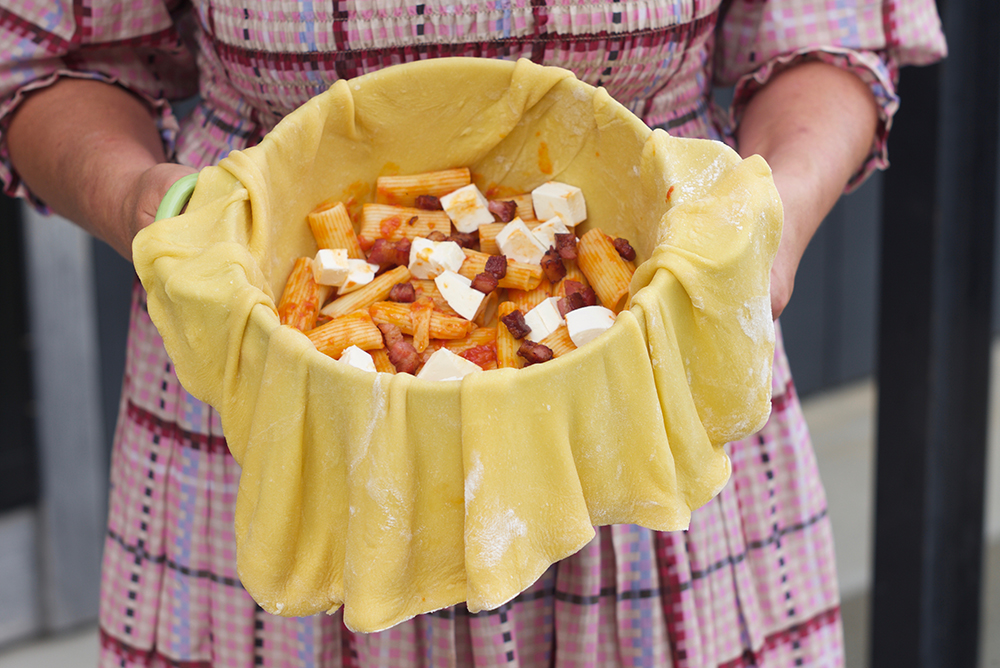 Preheat the oven to 375 degrees.
In the bowl of a stand mixer fitted with a dough hook, add the flour, eggs, two tablespoons of the olive oil, and salt, to taste. Mix on low speed until dough begins to form. Increase the speed to high, and knead for five minutes. Remove from the mixer, and form the dough into a ball, dusting your hands and the work surface with flour if the dough is too sticky to handle. Cover and let rest for thirty minutes.
Coat the interior of a Dutch oven with the remaining two tablespoons of olive oil. Roll the pasta dough out into a large sheet, about an eighth of an inch thick. Lift the dough and carefully press it into the Dutch oven, making sure that around six inches hangs down outside the vessel.
Toss the cooked pasta in the sauce. Start filling your timpano with a layer of pasta, followed by half of each one of the fillings in layers: eggs, pancetta, mozzarella, sausage, provolone. Repeat, starting with the pasta, until the timpano is filled to the brim, ending with a layer of provolone. Carefully fold the excess dough over the top, and press to seal.
Cover the Dutch oven, and bake for an hour and a half. For a crispier crust, bake uncovered. (I baked covered and then removed the lid of the Dutch oven for the last thirty minutes.) Let rest for an hour before slicing.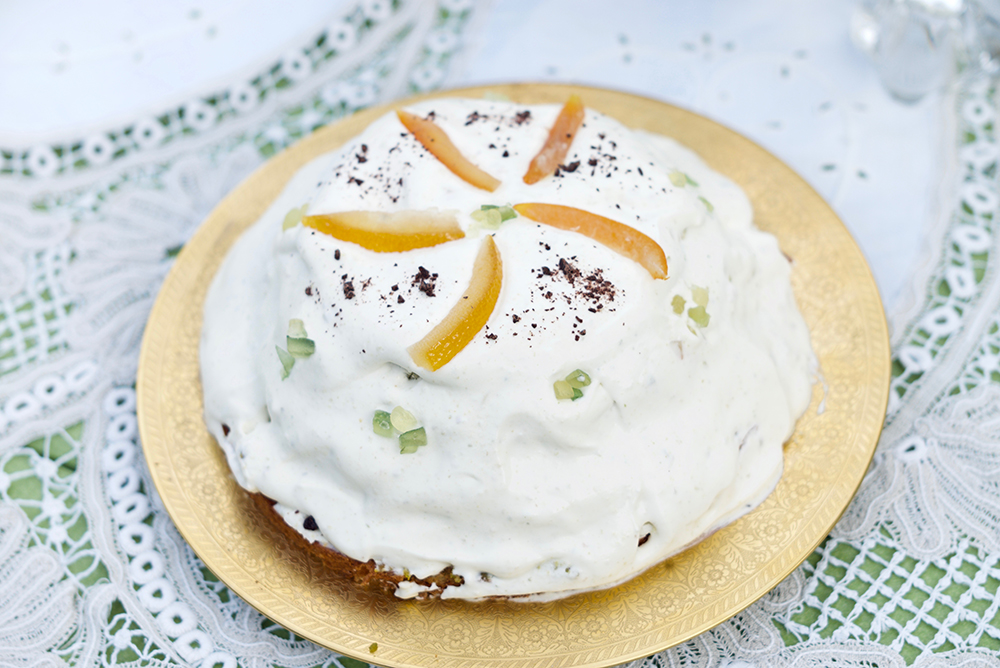 Triumph of Gluttony
1 recipe of sponge cake, baked and cooled—see ingredients and technique here
an 11 oz tin of pistachio paste (or 1 cup pistachios, blanched and peeled, and finely blended in a food processor)
2 cups ricotta cheese, pressed through a sieve
1/2 cup powdered sugar
1 tsp rose water
1 tsp marsala wine
2 pinches of salt
1 tbs candied citron
1 tbs candied orange, finely chopped
3 tbs pistachios, finely chopped
45 g 70-percent-cacao chocolate, finely chopped
cinnamon, to taste
1 cup heavy cream, whipped with 1 tbs sugar and swirled with 2 tbs pistachio paste or ground pistachios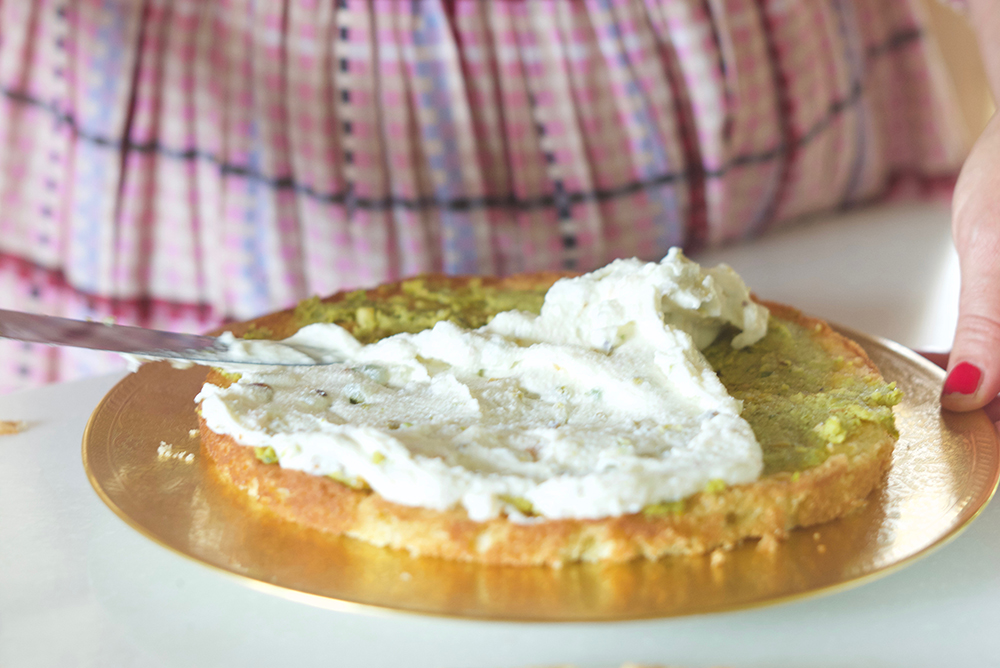 First, prepare all the elements for assembly.
To make the ricotta cream, combine ricotta cheese with powdered sugar, rose water, marsala wine, salt, candied citron, and finely chopped pistachios. Set aside.
Cut each layer of sponge cake in half so you have four eight-inch layers. To create the triumph of gluttony's domelike shape, you'll want the layers to gradually decrease in size, from eight inches at the bottom to five inches at the top. Cut out one seven-inch, one six-inch, and one five-inch round, using a sharp knife and plates of the correct diameter to be your guide. (Reserve the scraps and eat them later!).
Assemble the cake starting with a layer of sponge, followed by a layer of pistachio paste, a layer of ricotta cream, a liberal sprinkling of chocolate, and a dusting of cinnamon. Repeat with the seven-inch and six-inch layers, and top with the five-inch round. Cover with the whipped cream, and decorate with slices of candied orange and citron, whole pistachios, and a sprinkling of chocolate or cinnamon, as desired.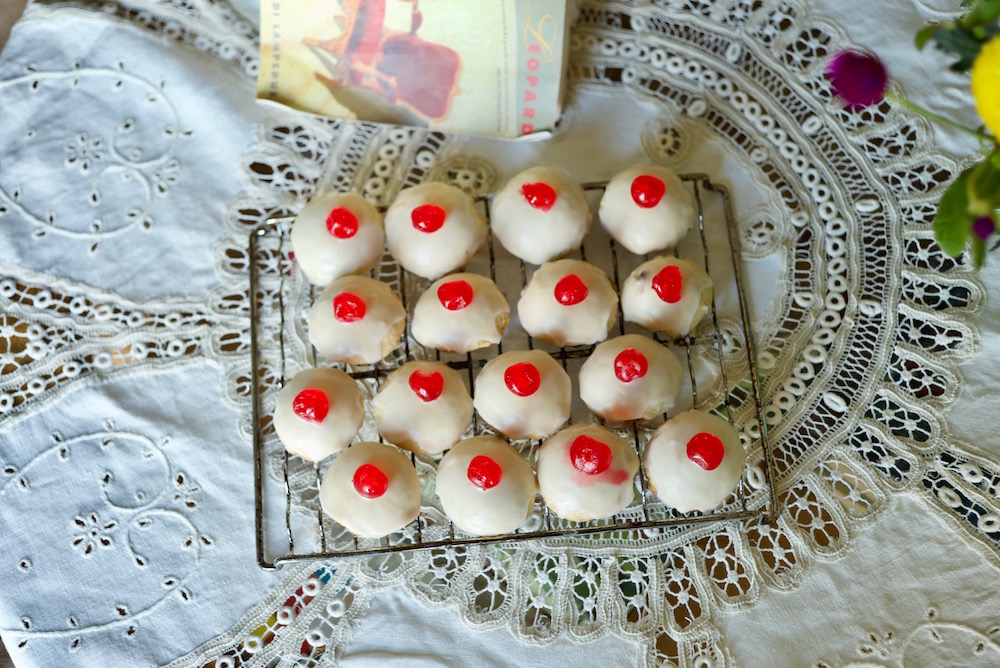 Virgin's Breasts
(Adapted from Sweet Sicily, by Victoria Granof.)
1 recipe blancmange, chilled overnight in the refrigerator.
1 tsp cinnamon
2 oz 70-percent-cacao chocolate, finely chopped
1/4 cup candied zucchini
1 recipe cookie dough, chilled
1 recipe sugar icing
16 candied cherries
For the blancmange:
3 cups milk
1/2 cup sugar
6 tbs cornstarch
1 tsp vanilla
1 strip lemon zest
In a medium saucepan, off the heat, whisk together milk, sugar, cornstarch, and vanilla until the cornstarch is fully dissolved and no lumps remain. Add the lemon zest. Bring to a boil over medium heat, whisking constantly until thickened. Turn the heat down, and simmer for another minute to be sure the cornstarch is cooked. Remove from the heat. Cool completely before using.
For the candied zucchini:
1 lb large, past-its-prime zucchini, peeled and chopped in half-inch cubes
1 tbs salt
1 1/2 cups sugar
1 tbs rose water
1/2 cup water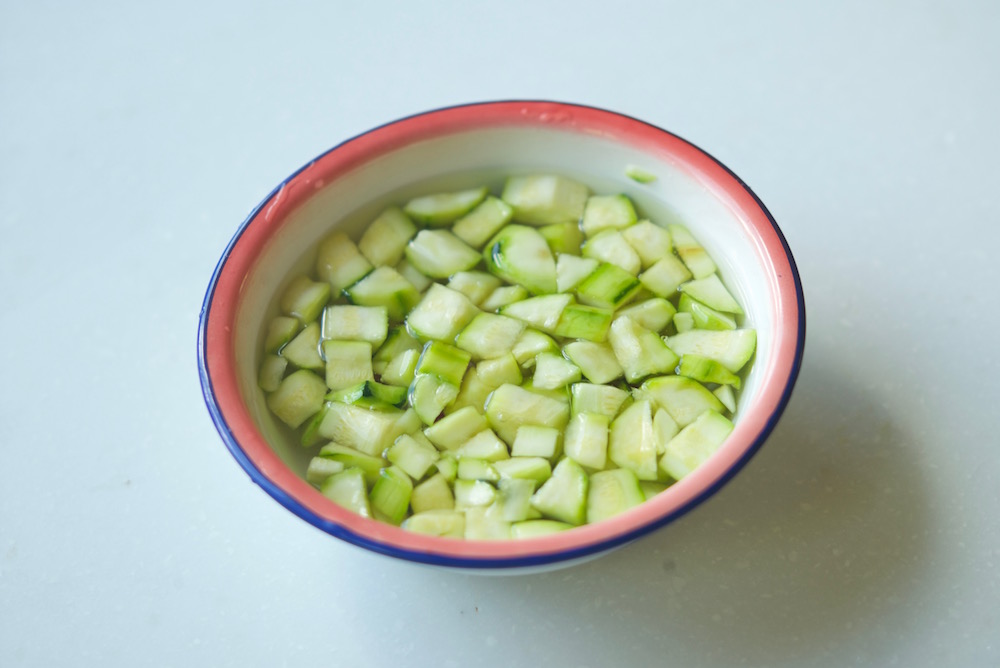 Sprinkle the zucchini with salt, and let drain in a colander for an hour.
Rinse off the salt, and squeeze gently to extract excess salty liquid. Soak in water for twelve hours, changing water three or four times.
Drain the zucchini and squeeze again. Transfer to a small saucepan, and add sugar, rose water, and water. Simmer, stirring occasionally, for forty to fifty minutes until the syrup is thickened and the zucchini is translucent. Candied zucchini can be tightly covered and stored in the refrigerator for up to three months.
For the cookie dough:
1/2 lb unsalted butter, softened
3/4 cup sugar
2 egg yolks
1 tsp grated lemon zest
1/4 tsp salt
4 cups flour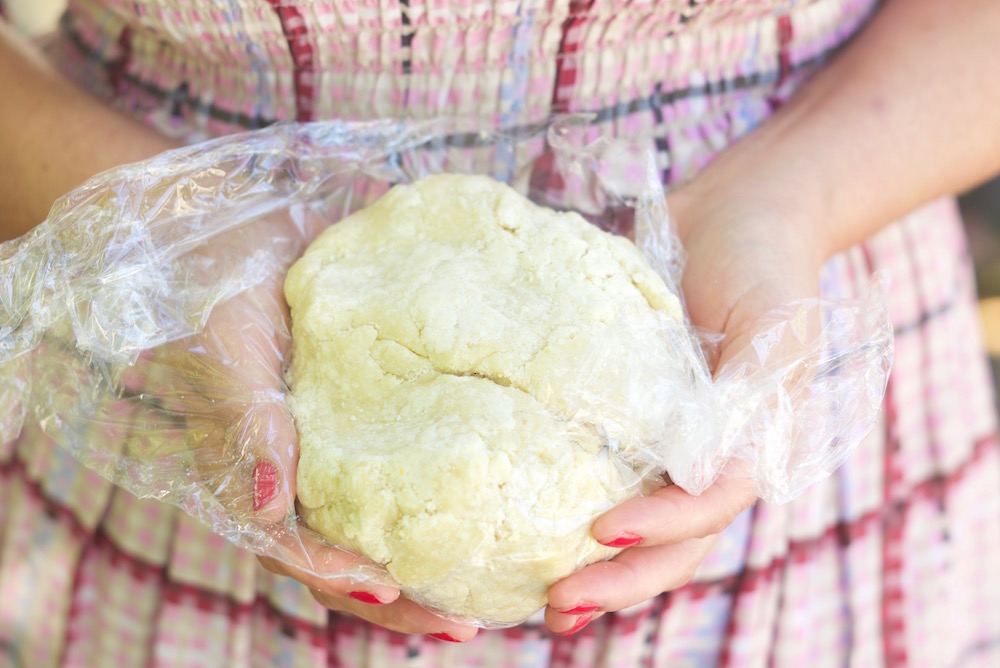 In a large mixing bowl, cream the butter and sugar. Beat in the egg yolks one at a time, mixing well after each addition. Add the lemon zest, salt, and flour, stirring until a soft dough forms. Wrap tightly in plastic wrap, and refrigerate for at least two hours before using.
For the sugar icing:
3 cups powdered sugar
1/4 cup water
1/4 tsp vanilla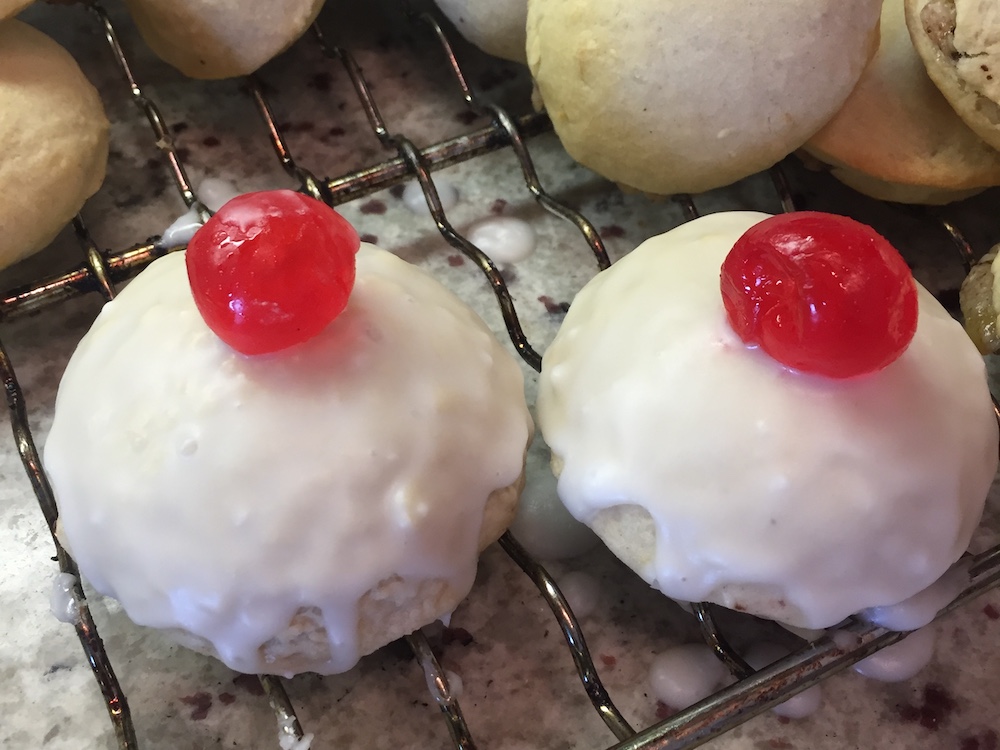 In a small bowl, whisk together sugar, water, and vanilla until lump-free. Cover and chill.
To assemble:
Preheat the oven to 375.
Mix the blancmange with cinnamon, chocolate, and a quarter cup of squash preserves. Set aside.
On a lightly floured work surface, roll out the cookie dough an eighth of an inch thick. Cut out sixteen circles using two-and-a-half-inch cookie cutter (or other cutting implement, like the mouth of a small glass), and sixteen more circles using a three-inch or four-inch cutter. (To make more than sixteen cookies, continue rerolling and cutting as desired.)
For each cookie, place a good mound of filling on top of the smaller circle so that it resembles a breast. Moisten the edges of the dough with a little water or egg white. Place one of the larger pieces of dough on top to fully enclose the filling, and press the edges to seal.
Place the cookies two inches apart on an ungreased baking sheet, and bake for fifteen to twenty minutes, or until golden-brown. Cool on a rack.
When the pastries are cool, dip each one in sugar icing, and top with a cherry.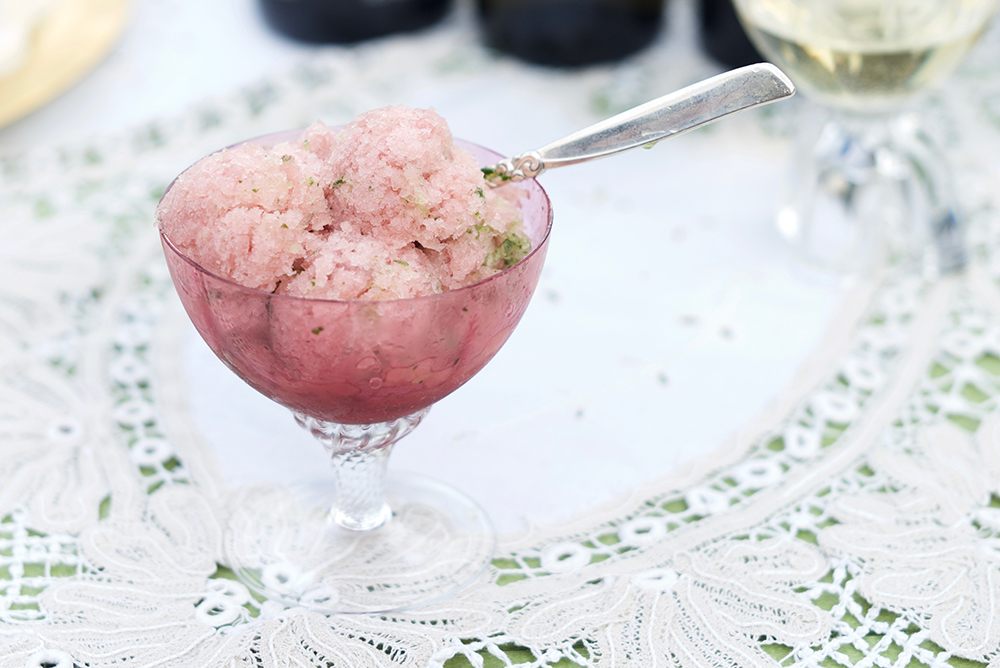 "Spiced and Drugged" Granita
3 stalks rhubarb, chopped
4 tbs sugar
1/2 cup water
2 tbs parsley
CBD oil, dosage according to taste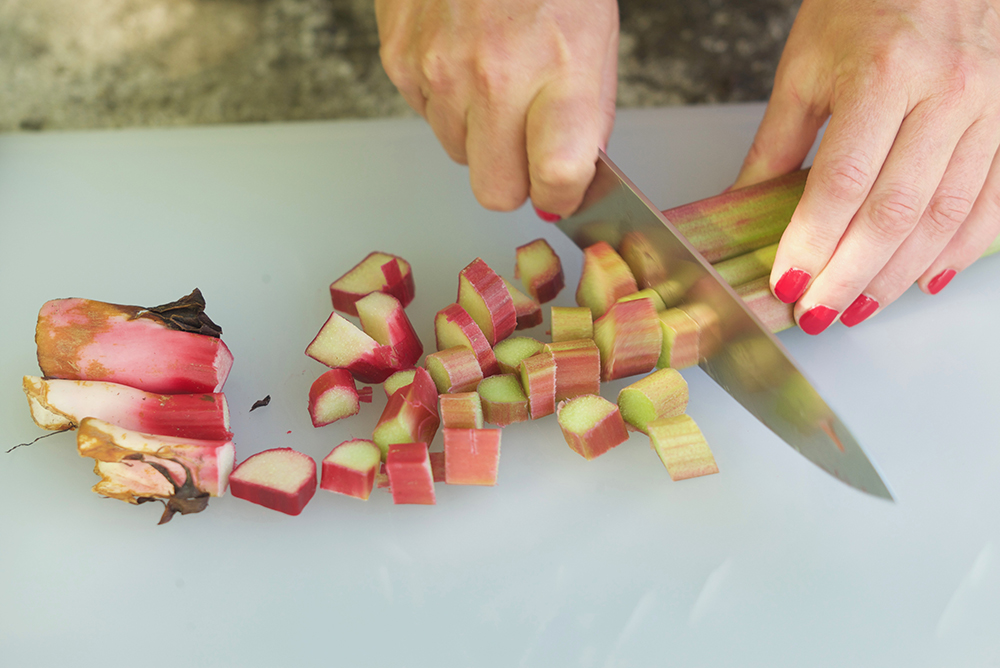 Simmer the rhubarb with sugar and water until softened. Add parsley and CBD oil, and whizz in the blender until pureed.
Place the puree in a large shallow dish, and freeze, stirring every thirty minutes with a fork until frozen and slushy. Serve immediately.
Valerie Stivers is a writer based in New York. Read earlier installments of Eat Your Words.