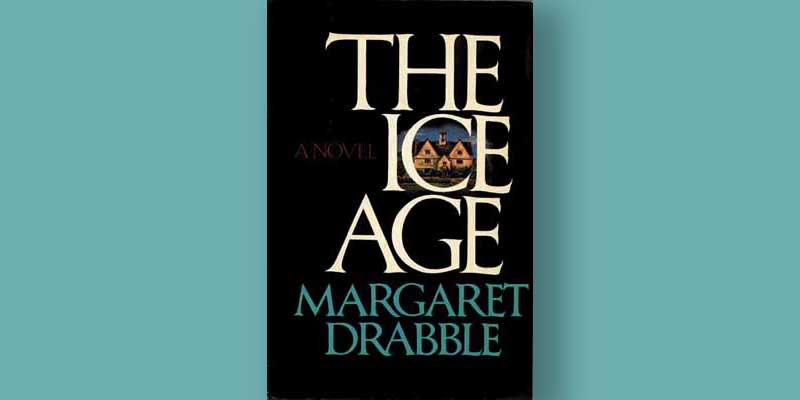 Margaret Drabble is so well known that seeing her included in this column might confuse some readers. Writing in the New York Times only two years ago, when Drabble's most recent novel, The Dark Flood Rises, was published, Cynthia Ozick described the then seventy-eight-year-old as "one of Britain's most dazzling writers," and the work in question—Drabble's nineteenth novel—as "humane and masterly." In her sort-of memoir, The Pattern in the Carpet, Drabble describes writing as a "chronic, incurable illness," one she caught "by default when I was twenty-one"; her first novel, A Summer Bird-Cage, was published three years later when she was only twenty-four. And yet, though she herself is not forgotten, certain of her works have fallen out of print. Perhaps it's inevitable that in a career as long as hers, some of what she's written would, despite its brilliance, have slipped through the cracks.
The Ice Age—Drabble's eighth novel, originally published in 1977—is one such example. Having spent much of this summer reading Drabble's perceptive, elegantly written work, I can say with confidence that this one stands out from the rest. First, it marked the moment when Drabble turned her attention from the small-scale worlds of a protagonist's individual struggle to what Patrick Parrinder described as her later, "settled, capacious, Condition-of-England chronicles, prolonged ruminations on the way we live now." Her earliest protagonists were young women, often of the same age and background as Drabble herself—she grew up in Sheffield, was educated at a Quaker school in York, took a double first at Cambridge, tried her hand at acting with the Royal Shakespeare Company, then moved to London and began writing while also looking after her young family (she had three children with her first husband, Clive Swift)—who find the values of their youth challenged when they come up against a more metropolitan world. In The Ice Age, however, there's a shift in focus from the individual to the collective, and Drabble's fiction takes on a strong sociological angle. Interviewed for this magazine in the fall of 1978, only a year after The Ice Age was published, she admits that "the whole idea" for it "came from reading newspapers."
Secondly, and more pertinently, the state of the nation described in The Ice Age—England in the mid-'70s, a country "sliding, sinking, shabby, dirty, lazy, inefficient, dangerous, in its death throes, worn out, clapped out, occasionally lashing out"—feels like an almost prophetic depiction of my own experience of England today. I'm not denying that the novel is very much a portrait of its era, of IRA bombs and miners' strikes and electricity cuts, but I found the broader malaise that underlies these specifics uncannily familiar. As such, to discover that it numbers among the small handful of Drabble's novels that are currently out of print, in both the UK and America, seems little short of criminal.
*
The Ice Age is perhaps best described as an ensemble piece—Drabble had already experimented with this technique of flitting between perspectives and characters in her two preceding novels, The Needle's Eye and The Realms of Gold, and she would return to it with vigor in her later works. Her central protagonist, around whom the others pivot, is Anthony Keating, thirty-eight years old and living a newly abstemious existence after an unexpected heart attack. He is "forbidden sex as well as butter, nicotine and alcohol." Anthony used to work as a TV producer, and has more recently been dabbling in property development, but following both the breakdown of his marriage and his recent brush with mortality, he's swapped city living in London—"Anthony, like many others, had decided to leave the sinking ship"—for life at a supposedly calmer pace in the rural north of England, along with his partner, Alison Murray. She's an ex-actress and divorcée, also in her thirties, and the mother of two daughters: Molly, who has cerebral palsy and lives during the academic year at a "special school," and sullen, jealous eighteen-year-old Jane. Anthony and Alison are described as people who have "much in common, as well as feckless spouses":
Both were tired of being good, or of pretending to be good. Both felt that they had encountered low standards of behaviour in the outside world: both had tried, in their own ways, to behave better, and both felt defeated.
Herein lies the heart of the novel: Anthony and Alison's attempt to build a good, simple, and straightforward life together, despite living in a society that thwarts them at every turn. Not only are they contending with misfortune and adversity in their personal lives—the legacies of their broken marriages, ill health, the demands of their children, and money worries—but the broader ground on which they're trying to find purchase is crumbling beneath their feet.
"These are terrible times," writes another character, Kitty Friedmann, from her sickbed to Anthony at the very beginning of the novel. Kitty recently lost her foot and her husband when an IRA bomb exploded outside the Mayfair restaurant where the couple was celebrating their wedding anniversary. It's a "ghastly, arbitrary accident," but just one of many in the book. "This past year had been so full of accidents that they had begun to seem almost normal," thinks Anthony. His good friend Len Wincobank is serving four years in prison for fraud, while Anthony himself is in significant debt as a result of the recent property market crash, and, to top it all off, Jane has just been arrested and incarcerated in Walachia (a region in Eastern Europe behind the Iron Curtain, a quagmire of Communist bureaucracy and political instability).
The Ice Age's plot is a string of private tragedies, disquieting incidents, and crushed dreams that assault each of the characters in turn. Holding these singular events together is the collective state of decay and anxiety in which the entire nation is enveloped: prices are rising but the value of the pound is sinking; manufacturing firms are going into liquidation while other workers are striking; a terrible storm assails the country causing millions of pounds of damage; teenagers are suffering from "VD or schizophrenia or drug addiction or anorexia"; a hairdresser-turned-secretary in Sheffield complains that "[t]oo many Indians and blacks" are moving into her neighborhood, while down south a young businessman complains that "Arabs are buying up all the London property market"; an old man is "kicked to death and robbed of forty pence" on Wimbledon Common, while over in Notting Hill a young woman dies delivering her heroin-addicted baby; the death toll mounts in Northern Ireland while back on the mainland people traverse public spaces "look[ing] around themselves shiftily, uneasily, eyeing abandoned packages, kicking dirty blowing plastic bags from their ankles, expecting explosions." "This," Drabble writes, her sociological intentions crystal clear, "is the state of the nation." The profundity and potency of the novel is the seamless way in which she entwines the private, personal suffering of her various individual characters with the broader social malaise:
All over the nation, families who had listened to the news looked at one another and said 'Goodness me' or 'Whatever next' or 'I give up' or 'Well, fuck that', before embarking on an evening's viewing of colour television, or a large hot meal, or a trip to the pub, or a choral society evening. All over the country, people blamed other people for all the things that were going wrong—the trade unions, the present government, the miners, the car workers, the seamen, the Arabs, the Irish, their own husbands, their own wives, their own idle good-for-nothing offspring, comprehensive education. Nobody knew whose fault it really was, but most people managed to complain fairly forcefully about somebody: only a few were stunned into honourable silence.
This paragraph sent a shiver down my spine. Change a few of the details—swap the trade unions, miners, mechanics, and seamen for any manner of contemporary evils, from the BBC through tax-dodging corporations, to millennials and austerity, and comprehensive education for private schools—and this could have been lifted from a novel written yesterday. Today's Britain reverberates with eerily similar-sounding grievances, echoes of an all too recent past many have apparently already forgotten. "The old headline phrases of freeze and squeeze had for the first time become for everyone—not merely for the old and the unemployed—a living image, a reality: millions who had groaned over them in steadily increasing prosperity were now obliged to think again," Drabble forcefully continues:
A huge icy fist, with large cold fingers, was squeezing and chilling the people of Britain, that great and puissant nation, slowing down their blood, locking them in immobility, fixing them in a solid stasis, like fish in a frozen river: there they all were in their large houses and their small houses, with their first mortgages and second mortgages, in their rented flats and council flats and basement bedsits and their caravans: stuck, congealed, amongst possessions, in attitudes, in achievements they had hoped next month to shed, and with which they were now condemned to live. The flow had ceased to flow: the ball had stopped rolling: the game of musical chairs was over. Rien ne va plus, the croupier had shouted.
*
Drabble's protagonists are grappling with the question of how to live in a world in free fall—politically, economically, and culturally. This new reality is particularly hard-felt in the aftermath of the "gay and prosperous party-giving sixties," an era of "liberation," "easy money," and "spectacular profits." "It had all looked so different, four years ago, three years ago," thinks Anthony toward the beginning of the novel. "So hopeful, so prosperous, so safe, so expansive."
Just as Molly's dose of the fictional tranquilizer Oblivine is upped to keep her calm while her mother Alison travels to Walachia to try and procure Jane's release from jail, so, too, do the other characters sleepwalk through their lives, frozen, unable to see the way forward through the murk. "He could rationalize his own misfortunes," thinks Anthony, "but there was no rational explanation for the sense of alarm, panic and despondency which seemed to flow loose in the atmosphere of England." Set against this broader backdrop, Drabble's characters' private trials are all the harder to endure, let alone comprehend. This is a welfare state that's continually failing its citizens, a world in which individuals feel no sense of connection with their communities. Returning to the UK, Alison is presented with a London that seems "very large, very frightening, very noisy, very dirty." Shortly afterward, in one of the most haunting scenes in the novel, arriving in the city of Northam on her journey home and needing to buy some Tampax, she finds herself trapped in a concrete dystopia, traffic-packed roads and railings separating her from the shops in the town center. Evocatively, the only other creature in sight is a dying dog, one side of its body flayed—its fur "scooped back like an old jumble-sale coat. Ruched and rumpled, from the living side"—both of them "displaced," "forced … to pursue [their] own ends in a hostile environment." Not only does society no longer offer its citizens any help, there's also a chilling absence of hope. The glimmer that is hinted at on the novel's final page is immediately undercut by what has to be one of the darkest endings to any of Drabble's works.
With her subsequent decade-defining trilogy—The Radiant Way, A Natural Curiosity, and The Gates of Ivory—Drabble made the break with her early work complete. These three novels covered her broadest canvas yet, and featured a significantly larger cast than anything she'd written previously. (Anthony, along with other characters from her early novels, turns up with a walk-on role.) Those volumes also provide sharp commentary on and critique of the eighties; "a world of loose ends," as Lorna Sage described it writing in Women in the House of Fiction: Post-War Women Novelists. It was a much-admired project, and the Sunday Times declared it "a bold imaginative bid to capture our contemporary world in fiction of sufficient capaciousness and contrariness." Yet one can't fully appreciate the scope and skill of the trilogy without acknowledging the groundwork Drabble laid for it in The Ice Age. When, in her Paris Review interview, Drabble acknowledged newspapers as her "primary source" while writing the novel, she elaborates thus: "There was an enormous amount of economic analysis in the papers, but nothing on the subject of declining Britain in fiction at all." Drabble didn't invent the "Condition-of-England" novel, but she did identify a gap in the market during the seventies, capturing the miasma of the age like a plume of smog under a bell jar. Reading The Ice Age now, I find myself marveling at the scope and depth of the world Drabble creates in a novel that comes in at under three hundred pages. More than any of the contemporary so-called Brexit novels—from Ali Smith's ongoing seasonal quartet to Jonathan Coe's Middle England and Perfidious Albion by Sam Byers—it's The Ice Age, a book written more than forty years ago, that offers the most haunting portrait of how it feels to live in our current era of unrest and disquiet.
Lucy Scholes is a critic who lives in London. She writes for the NYR Daily, the Financial Times, The New York Times Book Review, and Literary Hub, among other publications.