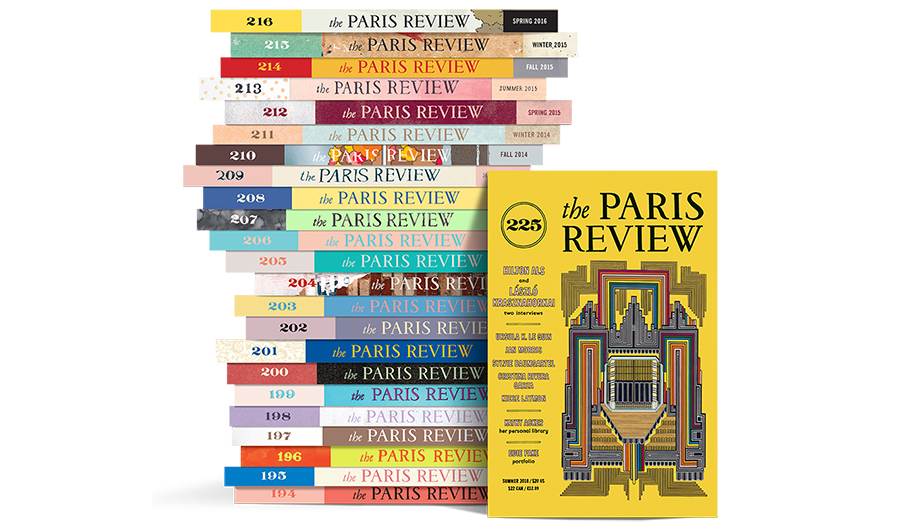 Our Summer issue opens with a selection from Jan Morris's diary, begun in 2016, and each time I read it, I am struck anew by the capaciousness of her thoughts. In seventeen entries, she revisits ancient history and wonders about the near future; pulls in a constellation of people (Browning, Eliot, Wordsworth, Pepys) and places (Romania, India, Egypt); muses on her late cat, her cherished car, her beloved Elizabeth, and her advancing age. In the first entry, she dilates on the miracle of her garden: tucked away in a quiet corner of Llanystumdwy, Wales, and yet teeming with a rich assortment of life.
My hope is that this issue is a version of Morris's garden: a microcosm of the larger literary ecology, gathered (perhaps not too unassumingly) between two covers. We owe our sunny front cover to Edie Fake, the Review's first trans cover artist. His paintings in the issue's portfolio imagine queer spaces and invent "impossible" architectures as a metaphor for trans bodies. In the portfolio's essay, Renee Gladman optimistically envisions in these spaces a speculative future—cities occupied by people "like new shapes arriving to some Euclidean page, wanting opposites and sames and inverses and transverses."
There are a number of firsts in this issue, not least a story by Ursula K. Le Guin. And not just any story, but a final Earthsea tale, written a year before her death. We also have work by two newcomers: Shruti Swamy's atmospheric story in which a woman, distracted by her young daughter's illness and another, vague distress, prepares to flee a wildfire; and Wayétu Moore's portrait of a Vai girl cursed by village superstition and made to hide herself away. This issue's fiction also includes stories by Ben Marcus, Cristina Rivera Garza, and Benjamin Nugent as well as the finale of Katharine Kilalea's serialized novel OK, Mr. Field.
Our interviews are with the Hungarian novelist László Krasznahorkai, known for his epically long sentences and narrative intensity, and the American essayist and Pulitzer Prize–winning critic Hilton Als, whose omnivorous writing merges and dissolves categories (he is only our third entry in the Art of the Essay; the second is Jan Morris, in issue no. 143).
Rebelliousness and experimentation make their way into Kiese Laymon's essay on the difficulty of pledging allegiance to self, family, and country, and into our glimpse into the personal library of the late feminist punk writer Kathy Acker.
The issue's selection of poetry is a spectrum of time and place: Iman Mersal (Egypt), Szilárd Borbély (Hungary), and Hilda Hilst (Brazil), plus the pre-Islamic warrior-poet 'Antarah ibn Shaddad, whose five declarative poems describe the arc of war. Sylvie Baumgartel composes a song of intense female desire, and Rowan Ricardo Phillips thinks of a world "on fire," in which "A man hauls crate after crate of rifles / Into a hotel. A child is shot dead / On the spot … And where did / It all go so, so wrong?" We also have poems by Maureen N. McLane, Michael Robbins, and Jana Prikryl.
After her peripatetic earlier life, Jan Morris finds in her garden a kind of exile she doesn't mind living out. Whether you are wandering or anchored this summer, I hope this issue takes you places.
—Nicole Rudick