Photography is the most modern of the arts … It is more suited to the art requirements of this age of scientific achievement than any other … Photography born of this age of steel seems to have naturally adapted itself to the necessarily unusual requirements of an art that must live in skyscrapers. —Alvin Langdon Coburn

I like this picture so well because it re-creates for me some of the feeling I got from the original scene—and that is the real test of any picture. —Berenice Abbott, 1953
It's twilight in late December 1932. Thousands of streetlights and office windows blaze in electrified concert for a scant half hour between the winter-solstice sunset and the lights-out, five o'clock end of the office workers' day. Just weeks earlier, after three crushing years of the Great Depression, fear-defying FDR had won the presidency by a landslide. Optimism was in the air.
High up in the northwest corner of the new Empire State Building, thirty-four-year-old Berenice Abbott aims her bulky wooden view camera at the exuberance below—the glittering, boundless cityscape of Midtown Manhattan, diffused just slightly by a sheltering glass window. She opens the shutter and begins a fifteen-minute exposure. Her triumphant photograph, Nightview, New York, will forever signal "modern metropolis"—as futuristic to us in the twenty-first century as it was to Berenice's Depression-weary contemporaries. 
*
Shortly before she took Nightview, Berenice vowed to "rip to pieces" any picture she caught herself making "arty." She held that "subject matter creates form" but scorned random, meaningless photographs—of "some spit on the sidewalk"—just to "make a big design." Her Nightview is utterly realistic in the documentary sense: its streets are mappable, its buildings anchored in time. Yet it remains her most sublimely expressive arty image, its luminous beauty offering a fairylike ethereality. She bristled at the notion of emotional photographs, but Nightview makes us feel what she saw.
Teaching this artistic paradox, the style now called documentary Modernism, Berenice required her technically capable students to summon "a creative emotion. Unless you see the subject first, you won't be able to force the camera … to see the picture for you," she wrote in 1941. "But if you have seen the picture with your flexible human vision, then you will be on the road to creating with the camera a vision equivalent to your own."
Introspective all her life, Berenice was never so forthcoming as when she mused, in 1922, "Just as a city weaves unceremoniously its design, as one form spins out of another, so a small life is governed by impressions of environments according to the degree of sensitive receptiveness." In Nightview she has handed us the key to her self-image and inner life. The creative contradictions she harbored so productively—between classicism and romanticism, science and intuition, description and essence—are evident in that single enduring work. "The photographer cannot miss that picture of himself," she wrote in 1964. "It is his stamp and map, his footprint and his cry."
*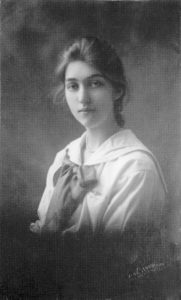 Berenice Abbott was raised without direction in a troubled family and fled her native Ohio at age nineteen for Greenwich Village, fixing her sights first on journalism and then sculpture. She fell in with older Modernists including the American Djuna Barnes and the Europeans Baroness Elsa von Freytag-Loringhoven and Marcel Duchamp, among others, who inspired her to head for Paris in spring 1921. Two years on, she abandoned sculpture and became a darkroom assistant to her New York Dadaist friend Man Ray. In photography, she discovered her true artistic calling and began with portraiture.
Fashionable and successful, she returned to New York in 1929 with the archive of the photographer Eugène Atget, comprising thousands of glass plates and original prints, which she had rescued. She segued to urban photography only to find her prospects dashed by the Great Depression. When the Federal Art Project, a government work-relief program, provided support in 1935 for her classic documentation Changing New York, she began by photographing scenes on the Bowery, then Manhattan's Skid Row. An older male supervisor warned her that "nice girls" didn't go there. Berenice, unaccustomed to solicitude or restriction, shot back, "I'm not a nice girl. I'm a photographer. I go anywhere."
As the Federal Art Project wound down in 1938, she turned to visualizing the twentieth century's salient modern subject: science. She photographed industrial subjects and devised imaging techniques before joining the Physical Science Study Committee (PSSC), based at the Massachusetts Institute of Technology, from 1958 to 1960. She also taught hundreds of students at the New School for Social Research, authored nearly a dozen books, and received four patents for photographic inventions.
The art critic Elizabeth McCausland sought out Berenice in 1934 and transformed her life. For thirty years, until McCausland's death, the two women were devoted companions and professional soul mates. In 1939, Time magazine described Berenice as "a direct girl who still talks harsh Ohio, still wears a Left Bank haircut and beret," a photographer "scared of heights and crowds until she gets her head under the black cloth." To Hank O'Neal, her biographer in the eighties, she was a "barrelhouse girl" who put on no airs.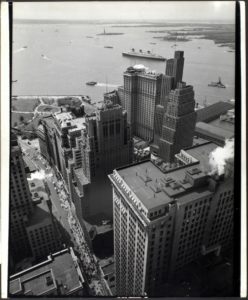 Berenice's creative ambition and profession took her into the ranks of upper-class life in Europe and the United States, but she was an outsider and had a feast-or-famine existence. One icy sixties New Year's in remote central Maine, in a rundown stagecoach inn patronized by Thoreau a century before, she came close to burning furniture to keep from freezing. For a 1979 party celebrating a book of Atget's garden photographs that Jacqueline Kennedy Onassis edited, she splurged on a sable fur jacket to have something suitable to wear. All her life, Berenice clashed stylistically and temperamentally with the sophistication and privilege of the women she met and photographed. Emotionally aloof and distractible, naturally compelled to root for the underdog, she was marginalized her entire life for her lower-class origins and family disarray, her personal style and indiscretions, her inability and unwillingness to play by art-world rules, and her seemingly impersonal but hardly egoless style of realism.
She detested being corralled into the subclass of "woman" anything, yet her youthful androgynous energy still earned her the epithet girl photographer when she was past forty. She was also a sentimental friend of the helpless, both human and four-legged. Throughout her life, she was attracted to down-and-out father figures. A communist sympathizer long after the Stalin-Hitler pact, she was surprised and saddened by the collapse of the Soviet Union in 1991, the last year of her life.
She was stubborn with colleagues and impulsive with her own desires, methodical behind the camera, and demanding in the darkroom. Her closest friends called her Berry. She kept them and other acquaintances in nonintersecting circles; out of touch for years, she would write or phone effusively as if no time had elapsed. For a self-employed person, she was stubbornly and dangerously lawless about the practicalities of budgets, taxes, and copyrights. Independent, direct, intelligent, and hardworking, she was not intimidated by authority or convention and sometimes paid dearly for that, though rarely with her freedom.
*
Berenice was almost ninety when I met her in New York, on the occasion of her July 1988 induction into the Légion d'Honneur as Officier de l'Ordre des Arts et des Lettres. She was being honored not only for her work but also for rescuing Eugène Atget's archive six decades earlier. I was a lifelong admirer, beginning with Berenice's wave images in my high-school physics class, and had recently written about her for Aperture's Masters of Photography series.
Many fans filled the reception room of the French embassy on Fifth Avenue, where I was the guest of the photographer and filmmaker Morris Engel, our mutual friend. He introduced me to Berenice. I was then the first curator of photographs at the New York Public Library, and I leaned in to mention Romana Javitz, the late curator of the library's long-established Picture Collection and Berenice's old friend and supporter. Berenice invited me to visit her in Maine, sit by the lake, and really talk. (I learned later that several of her friends had been named Julia or Julie, a not inauspicious coincidence.)
Berenice had the habit of freely extending invitations, but this one was real. In late August 1988, I took a three-leg flight to Bangor, Maine, juggling a package of pickled tongue and sauerkraut juice, the New York delicacies Berenice had requested, and drove an hour or so north to Monson. When I wasn't enjoying secluded Lake Hebron and the guest cabin, which flew a Jolly Roger a hundred yards from the main house, I perched on a little wrought-iron stool next to Berenice's black leather Eames chair listening to her talk and taking notes while Susan Brown Blatchford, her heir and companion since 1985, tended the wood stove's constant low fire.
The collector Ronald A. Kurtz and I had envisioned an Abbott retrospective at the library; he owned Abbott's archive. I visited again in summer 1989, and Berenice herself climbed the ladder to the guest cabin's sleeping loft to approve the arrangements. My husband and our two school-age daughters had joined me for the last of our exhibition-planning visits.
Berenice had a grand celebration at the NYPL opening, and the exhibition went on tour into late 1991, ending at the Portland Museum of Art, in Maine. By then, Berenice was too frail to travel, so following a talk I gave there, I drove north to visit with her and Susan at home. Berenice died on December 9, 1991, and I organized her memorial service, broadcast by the Voice of America, at the library the following February.
I last visited in August 2002, for Susan's interment next to Berenice. Throughout, I have been grateful for the opportunity to tell the story of a remarkable artist—"a self-taught risk taker," she told me during our last visit—whose brief friendship I treasure.
Julia Van Haaften was the founding curator of the New York Public Library's photography collection in 1980 and was instrumental in furthering digital initiatives at the library and the Museum of the City of New York. She lives in New York.
Excerpted from Berenice Abbott: A Life In Photography, by Julia Van Haaften. Copyright © 2018 by Julia Van Haaften. With permission of the publisher, W. W. Norton & Company, Inc. All rights reserved.