In the spring of 1923, the young married artists Jean and Valentine Hugo began inviting people to séances at their Paris apartment. A new mood of occultism, influenced by Freud and the early Surrealists, was in the air. And raising the dead was in Jean's blood: while his great-grandfather, Victor Hugo, was in exile in the 1850s, he presided over frequent "table-rapping" sessions on the Channel Islands. As Victor Hugo recorded in four red notebooks, his "talking table" conducted conversations with such eager spirits as Jesus, Moses, Dante, and Shakespeare—the last of whom, obligingly, concurred with Hugo's assessment of himself as the greatest writer of all time. Jean and Valentine's gatherings, however, elicited messages so chilling that the group, spooked, abandoned the practice after only a few tries. It wasn't an overreaction; before the year's end, the omens they'd received in their séances were borne out.
In a pink velvet-lined anteroom, the Hugos and their friends, including the artistic polymath Jean Cocteau and the avant-garde composer Georges Auric, encircled a wooden pedestal with a tripod base and tilting round top, a type of table reputed to encourage spiritual communion. Placing their hands on its surface, which was lacquered black and painted with flowers, they asked questions. The table tapped out answers on the floor (one tap meaning the letter a, and so on), which Jean Hugo wrote down. Over the course of these sittings, the clearest messages were intended for the youngest guest: the nineteen-year-old Raymond Radiguet, Cocteau's protégé and lover, who had just published his scandalous debut novel, Le Diable au corps (The Devil in the Flesh). "Uneasiness will grow with genius," claimed the "spirit." Radiguet, the spirit said, "should love me for he loves nothing." It warned: "Fame does not replace love even in death and I am death." The following week came death's final declaration: "I want his youth."
Radiguet's publisher, Bernard Grasset, had also wanted the writer's youth. Eighteen months earlier, Cocteau had taken his young friend to Grasset's office in the rue des Saints-Pères. (Éditions Grasset still occupies the same building, number 61.) Radiguet sat silently as Cocteau read aloud from the manuscript of his novel. Grasset, then a forty-year-old seasoned editor, thought Radiguet looked "like a schoolboy at his first interview with the headmaster." Among other career triumphs, Grasset had published the first volume of Proust's À la recherche du temps perdu after a competitor rejected it. He genuinely admired Le Diable au corps, but he prized the boy's precociousness as much as his talent, at least when it came to publicity. While Radiguet revised his novel and rewrote the ending, Grasset paid him a monthly salary of fifteen hundred francs (the equivalent of over three thousand dollars today) and planned the most aggressive book-marketing campaign France had ever seen.
Posters, flyers, and bookstore displays—even cinema newsreels of Radiguet signing his contract and accepting an advance check for a hundred thousand francs—all emphasized the astounding youth of this new literary sensation. The media responded with exasperation at such blatant and unseemly hype. "I don't care whether the author is seventeen or a hundred and seven," wrote one reviewer. "It is the book we have to judge, not the birth certificate." But the tactics worked. In its first month, Le Diable au corps sold forty-six thousand copies, ushering in a new era where the "no such thing as bad publicity" axiom applied even to the rarefied endeavour of literature. In the words of Cocteau:
Before Radiguet, publicity was a very discreet affair, with the author pretending to be totally unaware of it. Radiguet was the first author courageous enough to take a long chance by launching a campaign that might have alienated immediate buyers, but thanks to which, within two weeks his book was in the hands of buyers who formerly might not have known about it for years.
Judged on merit rather than manufactured hoopla, Radiguet's daring plot and spare, controlled prose only served to magnify the shock value of his age. He had written, argued an impressed critic, the most immoral novel since Les Liaisons dangereuses. The gay poet and painter Max Jacob, one of Radiguet's friends, told him he hoped his second novel would be "less cruel and more chaste." But the novelist François Mauriac, who reviewed Le Diable au corps on the front page of Les Nouvelles littéraires, saw no point in "fulminating" against the tale's transgressive nature. Instead he praised Radiguet's restrained and original technique, which seemed to him, remarkably, to betray no literary influences whatsoever.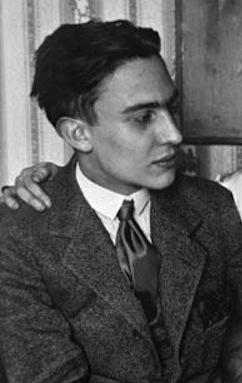 "I am sure to incur a good deal of reproach," goes the dynamite first line of the book. "But what I am to do?" The unnamed narrator, looking back on his years as a clever, stealthily rebellious adolescent, recounts an illicit wartime romance with Marthe, a local girl a few years his senior. With Marthe's soldier husband off fighting in the trenches, she succumbs to a passionate affair with the boy, who is only sixteen but, in Radiguet's finely shaded and convincing portrayal, years ahead of her in guile. After their first kiss, Marthe weeps and tries to send him away, saying she is too old for him. For our fledgling sadist hero, this marks a pinnacle of joy. Nothing, he reflects, "could be quite like the delightful feeling at seeing a nineteen-year-old girl cry because she thinks she's too old."
When Marthe gets pregnant, the narrator's childish amazement that his actions might have consequences mingle with pride, horror, and resentment at the prospect of pleasure curtailed. "I wanted to have as much as I could of Marthe before motherhood spoiled her." Later, he berates himself for sullying a cherished possession. "When I thought how I had spoiled Marthe's graceful beauty and how her belly was swelling, I regarded myself as nothing better than a vandal." Worse is yet to come. Caught in the freezing rain one night in Paris, after her nervous lover balked at getting them the hotel he'd promised, Marthe catches a bad cold. She dies soon after giving birth. The narrator's reaction epitomizes the novel's singular style: aphoristic and brazen, at once astute and artless.
My jealousy pursued her to the grave and I hoped that there was nothing after death. In the same way we cannot bear the person we love to go without us to some gathering where there will be a lot of people. My heart was at an age where one does not yet think of the future. Yes, what I wished for Marthe was oblivion, rather than a new world where one day I might join her.
Marthe's premature death, the predictable fate for a fictional scarlet woman, was a literary flourish introduced after Grasset requested a less open-ended denouement. Otherwise, the story is drawn from Radiguet's own teenage affair with a married woman, a teacher named Alice. (Decades later, Alice's husband claimed that the book had ruined his life and accused Radiguet of plundering Alice's diary. A string of salacious headlines ensued.) Radiguet, by nature elusive and inscrutable, publicly stated that he hadn't written a confessional, but a "false autobiography." Nevertheless, many readers conflated him with his protagonist, castigating the author as a petit voyou—a little thug—for seducing a woman whose husband was off risking his life for France. When Radiguet won the Prix du Nouveau Monde, a short-lived but lucrative literary award (with Cocteau on the jury), the Association of War Veteran Writers protested, saying that the work had "deeply wounded the feelings of all war veterans."
None of this mattered in the slightest to Radiguet. "He was hard; it took a diamond to scratch his heart," Cocteau would later reminisce. At just nineteen, Monsieur Bébé, as people called him, was rich, famous, and feted by the Parisian avant-garde. Picasso and Coco Chanel were among his doting friends. He moved into the upscale Hôtel Foyot by the Luxembourg Gardens, spent freely on expensive clothes and lavish meals, drank heavily, and smoked opium. He also dallied with various women; his conquests included Picasso's on-off mistress, Irène Lagut, and the eccentric poet and one-time Modigliani muse Beatrice Hastings. "Bébé est vicieuse," a jealous Cocteau supposedly remarked to Hemingway. "Il aime les femmes." (In French, "vicieuse"—Cocteau employed the feminine form for added bitchiness—carries more of the original meaning of vicious in English: depraved, perverted.)
For his part, Radiguet chafed at Cocteau's possessiveness. Eleven years his senior, Cocteau was both ardent paramour and godfather-mentor. To avoid ending up, as Radiguet put it, as "a forty-year-old man called Madame Cocteau," he contemplated marriage to seventeen-year-old Bronia Perlmutter, a strikingly beautiful Eastern European model who lived with him at the Hôtel Foyot. According to Radiguet's biographer, Monique Nemer, Cocteau threatened to have Bronia deported along with her sister, Tylia, whom Radiguet had also bedded.
Yet Cocteau and his young tormenter, whose creative genius he nurtured and revered maybe even more than his own, had an emotional and intellectual codependency that withstood all the rancor. They wore matching rings, a triple band of white, yellow, and rose gold that Cocteau commissioned from Louis Cartier to represent the three rings of Saturn. (The trinity ring, one of Cartier's most successful creations ever, is to this day a traditional wedding ring in France.) And they spent the summer of 1923—Radiguet's last—together at the unspoiled coastal village of Piquëy, their regular retreat from the hectic pressures of Paris. In the company of the Hugos and other visiting friends, Radiguet worked on his eagerly awaited second novel, Le Bal du Compte d'Orgel (Count D'Orgel's Ball), and, to some degree, put aside his habitual debauchery. He slept more, drank less, swam in the sea, and sat in the sun. Sometimes, in the evenings, he and Cocteau had story-writing competitions.
Mortal danger intruded into this calm in the unlikely form of a batch of oysters, which, as far as anyone could tell, infected Radiguet and Valentine Hugo with typhoid. Though at first their symptoms were fairly mild, in December Valentine developed severe abdominal pain and was rushed to the hospital for peritonitis surgery. Luckily, she made a full recovery. At around the same time, Radiguet became wracked with chills. Initially, he was misdiagnosed as suffering from pneumonia, then another doctor recognized the symptoms of typhoid fever and he was taken to a clinic.
As Cocteau mentioned in his 1964 Art of Fiction interview with The Paris Review, he sat at Radiguet's sickbed while the delirious patient forecast his own demise. "Listen," he implored, "listen to a terrible thing. In three days I shall be shot by the soldiers of God."
Cocteau, fighting back tears, protested that the doctors were optimistic.
"Your information is not so good as mine," Radiguet replied. "The order has been given. I heard the order."
Three days later, in the early hours of December 12, 1923, Radiguet had a heart attack and died. He was twenty years old. The voice of death, as channeled by the Hugos' talking table barely eight months earlier, had made good on its claim. Cocteau took to his bed with an incapacitating grief, leaving Chanel to take care of the funeral arrangements and medical expenses. All of artistic and literary France turned out for the funeral: Picasso and his wife, Olga; the pioneering sculptor Constantin Brâncuşi, who was once Radiguet's lover; and "so many celebrated people," the painter Nina Hamnett later recalled. "Radiguet's death was a terrible shock to everyone." Since he had died so young, the coffin, flowers, hearse, and parade horses were all white, as for a child's funeral. On a wet and foggy morning, a procession of mourners followed the wreath-laden carriage from the church of Saint Honoré d'Eylau to Père-Lachaise Cemetery, where Radiguet was laid to rest alongside Molière, Balzac, Oscar Wilde, and Proust.
Shortly before he got sick, Radiguet had, with the help of one of his brothers, organized his messy papers and manuscripts. This decision, in conjunction with his relative virtuousness that final summer, casts an eerie slant on a passage toward the end of Le Diable au corps:
A disorderly man who is about to die, and does not know it, suddenly begins to put everything around him in order. His life changes. He files his papers. He rises early and retires early to bed. He gives up his vices. His friends are pleased with the change that has come over him. As a result, his sudden death seems all the more unjust. He was going to have a happy life.
In lieu of a happy life, Radiguet's fate was the fixed-in-amber glamour and notoriety of the young dead celebrity. A permanent wunderkind who never had the chance to fall out of literary vogue, Radiguet is still published, read, studied, and gossiped about. He looked forward to being old, apparently, so writerly immortality may have struck him as a dubious exchange. But he'd surely be thrilled that his trademark hard-edged amorality—the "fiendish precision" of his observations, as André Aciman once put it—has lost little of its power to shock in a world grown, over the course of a century, all but unshockable.
Emma Garman has written about books and culture for Lapham's Quarterly Roundtable, Longreads, Newsweek, the Daily Beast, Salon, The Awl, Words Without Borders, and other publications.