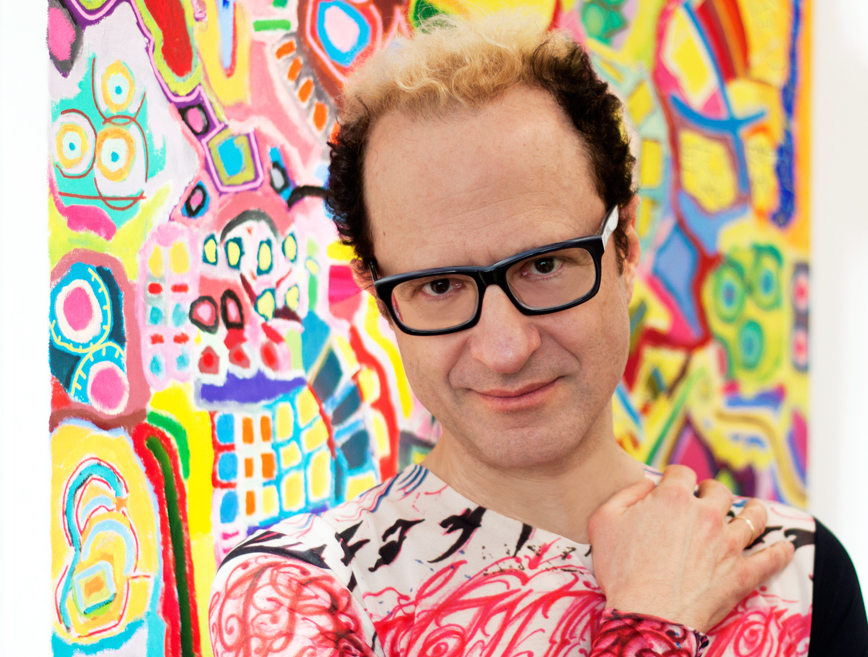 In the fall of last year, I found myself in Tenth Avenue's 192 Books, chatting with a stranger. The man (whose enviable green coat had temporarily distracted me from his visage) was thumbing through a copy of Gertrude Stein's Stanzas in Meditation. This volume was, we quickly learned, a shared obsession. I was about to ask the man's name when I suddenly realized there was no need: it was the critic, poet, novelist, performer, and academic Wayne Koestenbaum.
A few weeks later, I traveled to Koestenbaum's nearby apartment to sort through manuscripts, long-forgotten first drafts, personal notebooks, and correspondence as far back as his undergraduate years at Harvard. I had begun cataloguing a daunting portion of his collected works—from academic journal articles to Vogue magazine columns—into a comprehensive bibliography. (The bibliography was the distillation of Koestenbaum's literary archive, purchased last year by Yale University.)  
To handle a writer's work in this way puts one in the privileged position of speaking with the writer about it. The release of Koestenbaum's new poetry collection, Camp Marmalade, which was published last week, provided another occasion for us to talk of his work. This excellent book is the second volume in a trilogy of what the author calls "trance writing"; the first is The Pink Trance Notebooks. Put simply, the approach allows language to move freely through Koestenbaum as he improvisationally explores subjects dear to his heart and intellect, including stars, sex, and Susan Sontag. The language that appears does not often adhere to expected thematic, syntactic, or logical patterns.
Throughout our conversation, we discussed the book's eccentric aesthetic, as well as subjects ranging from Agnes Moorehead to the theories of Donald Winnicott. Though the interview took place virtually (Koestenbaum in New York, me in Tel Aviv), our sensibilities jibed the same as ever.
INTERVIEWER
The recording is on, so now we have to behave. The very first stanza of Camp Marmalade is a guy whispering "fag" as he walks by you. Why inaugurate a stay at Camp Marmalade this way?
KOESTENBAUM
Tonally, it felt right. Faggotry is what I investigate. Then I move to Sontag, a fellow investigator of faggotry, who in her journals is noting gay bar slang—that the word jam should mean gay but it means straight. At the beginning, I'm kind of wanting to say that the strange framing of sexual experience and of scapegoated experience through coded language is what constitutes the curriculum of Camp Marmalade. Figuring out the origins and phenomenology of this possibly punitive lexicon. And where's the me in the jam of it.
INTERVIEWER
About halfway through, I thought of Pauline Kael's negative review of Antonioni's Blow-Up. She couldn't stand it. She felt like she could detect, behind the stream of consciousness, a desire to make it all add up to something. That's so not what's going on in Camp Marmalade, and that's what's so divine about it.
KOESTENBAUM
At the end, I do admit that the particles pass through the membrane of my perceiving self, without my knowing which are the worthwhile and which are the worthless particles. And maybe there's no difference, but in that case, I'm not trying to assemble them. I'm letting the universe top me, spoon me onto its cracker. I'm the marmalade. I had this phrase written down, "Sifting equals halo," and I thought, That's probably Benjamin's hashish notebooks, but then I couldn't find it. Then I thought, It's probably from Thoreau's journals, and I couldn't find it there either. I think I was saying that Benjamin, on hashish, was sifting through the particles of workaday consciousness trying to find the revolutionary sparks. Or that Thoreau in the forest, or in Walden, was sifting through the natural phenomena around him in weather and birdcall and temperature fluctuation, trying to find if not the truth then at least the touchstone.
INTERVIEWER
I was thinking about Gertrude Stein a lot when I was reading these, and the affinity between her writing and the trance stanzas. They rarely connect thematically in an obvious way, sort of like Stanzas in Meditation or A Novel of Thank You. How much were you thinking of Gertrude while you were writing the trance stanzas?
KOESTENBAUM
I'm always thinking about Gertrude Stein. The point of Stanzas in Meditation is that she is allowing language at its most elemental and unspecific to fall through her as she sits in the room of the stanza. In A Novel of Thank You, she's saying that the posture of gratitude is all that you need to write a novel. It's a feedback loop of praise to the universe as a cosmophagic, autophagic twin. Stein grounds writing in physical sapience and physical stasis. Simply that you are there in your pulchritude, you're sitting there in your flesh, letting time fall through you. It doesn't mean that one is some awakened Buddha. Writing is simply a tool for making a gift for others of one's experience of time falling through one.
INTERVIEWER
In your essay "Stein Is Nice," you call her style "baby talk." Your trance stanzas are like that, too—there's a refusal to grow up. Assemblage versus intellection, its aesthetic MO, is a refusal to stop playing.
KOESTENBAUM
I believe in the persistence of play. All my writing is grounded in the practice of reckless verbal improvisation. I think it's Winnicott who says somewhere that health is the ability to play.
INTERVIEW
Norman O. Brown too.
KOESTENBAUM
Yeah, and so I believe that the ability to play is the ability to create. I say that Stein is talking baby talk because she called herself Baby within the familial erotic bond with Alice. She was also the emperor, so for her, literary authority at its most sublime and terrifying involved the keeping of babyishness as a permanent adult possession. I certainly have a Gertrude-Alice feeling with my boyfriend where I am totally Baby. I love that, and I understand how Baby is power or Baby is literary creativity and permission.
INTERVIEWER
But there are a lot of little warning signs that the play and babyishness might be about to stop. You're doing the Marmalade thing for stanza after stanza, and then we're bombing Iraq. There are these little moments of "this might not last." And of course, it doesn't last because you can never actually return to that infantile state of play. Perhaps you're admitting it at the end with what you said about sifting, that it was all artifice all along, in a way, even though there's so much of you in Camp Marmalade. I don't mean it's insincere. Artifice doesn't mean insincere.
KOESTENBAUM
When history interrupts the jouissance of play—I'm aware of that happening largely through death in this book. Call them indexically historical punctuation points. The effect, for me, is that I read Camp Marmalade as more of an audible oscillation between the puncturing effect of history and death on the one hand and on the other hand this playful assemblage.
INTERVIEWER
There's a lot in both trance volumes that many people wouldn't even put in their private diaries.
KOESTENBAUM
Things that other people might consider TMI that I consider part of my subject matter include any discussion of anatomy. I consider myself an explorer of the spectral sexual body of all genders. So anything having to do with the body, I always keep it. Anything having to do with sex within the family, I keep. Anything having to do with the sexualization of daily life, I keep. And anything having to do with culture—Elaine Stritch, Agnes Moorehead. If I can get an intersection of my sexual imagination and the culture, I keep and consider it my subject matter. My critical books from Double Talk onward have been about fringe sexuality. The incest taboo and the construction of heterosexuality are the bread and butter of this civilization and its literature.
INTERVIEWER
But sometimes the incest feels like a threat to the play, which is an old psychoanalytical idea. There's this: "Mother's finger in heated milk saucepan to test temperature." But then there's: "Why always is my suicide fantasy poised on mother of baby I adore more than dignity allows." You are the baby. It's the baby in you. The innuendo is literally dripping in the saucepan, but the narrator hasn't had time to feel conflicted about that one. It's all love there, Baby. But then in this "House of Usher"–like image, it's very dissociative.
KOESTENBAUM
The reading that you're giving me, which I'm congratulating you on the brilliance of, had never occurred to me. My strategy is to keep mother and father and baby very floating and nonspecific so it can be those positions rather than specific proprietors and occupants of those positions. I'm really thrilled that you're not thinking of the specific person I was thinking of. You're just thinking of the baby in me or the baby in you.
INTERVIEWER
Even more frightening than that one is when you peek in and your mother is sleeping, but there's blood encrusted around her lips.
KOESTENBAUM
You have a different sense of TMI than I do. For me, part of the pleasure and catharsis of writing is putting down all this stuff, often with a sense of glee, not of being traumatized. It feels like pointing to a meteorological phenomenon and getting it just right, scientifically.
INTERVIEWER
I understand. But that doesn't mean that I didn't pick up on when you were describing disturbing things with a gleeful naïveté.
KOESTENBAUM
The thing I thought you were going to say is, I do reenact a primal scene, and I visualize the mother and father having sex in a kind of—
INTERVIEWER
"Frozen moment of mother lifting nightgown to admit father."
KOESTENBAUM
I can't help it. There it was. I consider these little visitations, and if you see something, say something. But I remember when I wrote that, and I thought, For a lot of people, that's something they don't want to picture. But I'm a reader of Dennis Cooper and Elfriede Jelinek, so I do want to picture those things.
INTERVIEWER
About halfway through Camp Marmalade, something gets darker, by my lights. As opposed to just a threat of a fall from baby-talk paradise, it was like it was almost happening. You even mention the expulsion from Eden. I think that you, or the narrator, is more capable of malice all of a sudden. It appears in this stanza—"Dead pet turtles starve, dry, aswim in fecal pond of my cruel making." That's the strangest line in the whole book, in my opinion, because it's the only time that the speaker acknowledges any capability of cruelty.
KOESTENBAUM
Totalitarianism is one of the secret subjects of this book. I think that what you're noticing about the turn toward darkness there is that the very strategy of anarchic, improvisatory, jouissance-oriented playfulness does bump into history. What do you hear that's more disturbing?
INTERVIEWER
Not only that you killed the turtle but that it's play with fecal matter and knowing that it's fecal matter. Like, I'm not just throwing shit around without any self-consciousness. I know it's waste. I know it's disgusting, and I'm using it for evil.
KOESTENBAUM
I note here, rather than issues of culpability or intent, an imagistic timelessness that enwraps the inextricability of my cruelty and the turtle's fecal-surrounded death. Is anything I make cruel? Or is it just the fecal pond in the past that I made cruel? We're delving—that's a very close reading.
INTERVIEWER
I'll have to think about it some more. It's just a little more ominous than the rest of the book.
KOESTENBAUM
I'm grateful to be thought ominous. I'm a serious eschatological guy. I'm scatological, but I'm also eschatological.
INTERVIEWER
I've always been struck by your Virgoan, Flaubert-like discipline. The book is about play and refusing to grow up, but you are a grown-up. That was very Lana Turner of me. You are a cripple! You are a grown-up!
KOESTENBAUM
I make lentil soup.
INTERVIEWER
You know how to placate the pleasure principle. You do Brahms's piano exercises, maybe even at the same time every day. Is it possible to do trance writing in a structured way?
KOESTENBAUM
I'm now trying to figure out how to do things like the trance writing in a more scheduled way. Since January, I sleep in a little later, which is the pleasure principle. Then I get up, and I sit with my laptop, and I type up my dreams, but I let myself go a little more trancey.
INTERVIEWER
You told me one time that the "heretical" influence on The Queen's Throat was Manuel Puig. You like to have writers whom you're imitating but who have nothing to do with the subject at hand. I don't know if it applies to the trance notebooks or to Camp Marmalade, but did you have a heretical prophet in your midst while you were putting them together?
KOESTENBAUM
For The Pink Trance Notebooks, one of the prophets was the Austrian poet Friederike Mayröcker, particularly her book Brütt, or The Sighing Gardens. It's a series of rants and arias, and it's such a torrent of language. I found it incredibly inspiring. Another really inspiring book was Hervé Guibert's The Mausoleum of Lovers. I don't think there's any source as far from the scene of the crime as Puig was from the composition of the somewhat academic treatise on opera.
INTERVIEWER
Let's end with what you've been reading lately.
KOESTENBAUM
Michel Leiris's Rules of the Game, called Fibrils in French. I'm a total fan of Leiris, but this book is crazy. It is such a labor of genius love for Lydia Davis to have translated it. The thing I want to read next, Ben—I just got sent this by Semiotext(e), and it's called Now the Night Begins, by Alain Guiraudie. Bruce Hainley just finished reading it, and he said to me, "I'll just tell you one word—grandpa." So there must be something really sick about a grandpa. I think I'm going to like it.
Ben Shields is a writer, journalist, and teacher. He lives in Brooklyn and Tel Aviv.