Interviewed by Ira Silverberg
Issue 198, Fall 2011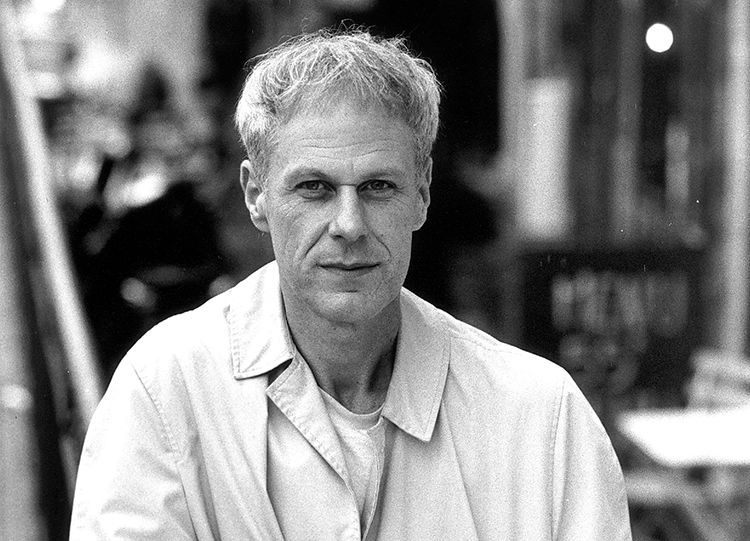 Dennis Cooper in Paris in 2005.
Brest sits at the westernmost point of France, and the TGV train from Paris makes the trip in just over four hours. I joined Dennis Cooper there last February. He was in Brest to oversee the premiere of his performance work, Last Spring: A Prequel—one of his collaborations with French director and puppeteer Gisèle Vienne. During Last Spring, Cooper watched quietly as a life-size boy robot named Charles ­pleaded for its life with the glove puppet he wore on his hand. "I don't know how I'm here with you," Charles says to the audience, "but I swear to fucking God, I am real. And scared shitless. Can't you see that?! Can't you tell?!"
Although he has lived in Paris for the past six years, Cooper was born in Pasadena, in 1953, and has spent most of his life in Los Angeles. In the mid-seventies, he made his way from the San Gabriel Valley to West Los Angeles. He became involved with the Beyond Baroque Literary/Arts Center in Venice Beach, and served as director of programming from 1979 to 1983, hosting readings and performances by Amy Gerstler, Mike Kelley, Jessica Hagedorn, Eric Bogosian, and others. He founded the literary journal Little Caesar Magazine in 1976 and, two years later, Little Caesar Press.
Cooper's first collections of poetry, published in the seventies and early eighties by small California presses, were inspired by young male celebrities like David Cassidy and the young John Kennedy, Jr., and by high-school classmates, who loomed godlike as characters in this early work. His first book of fiction, the novella Safe, was published in 1984. That same year, he began work on the five novels that make up the George Miles Cycle. The first book of the cycle, Closer, published in 1989, earned Cooper a reputation as an important yet challenging new writer. Thomas Edwards, in The New York Review of Books, called it "a work of considerable courage." Writing in The Washington Post Book World, the poet John Ash deemed it "a minor classic."
Since then, Cooper's fiction has often been associated with a generation of underground writers and artists, including Mary Gaitskill, Kathy Acker, Gary Indiana, Karen Finley, and David Wojnarowicz, known both for formal experimentation and frank treatments of sex. Although Cooper's subject matter—in particular his interest in pornography, violent sex, and boys—has dominated American discussions of his work, the cycle, which he completed in 2000, reflects a fastidious formalism. He has found a more sympathetic reception in France, from both readers and critics, ever since his work was first translated in 1995. He is one of very few Americans published by P.O.L., a house that occupies a deeply respected place in French letters. In 2007, he became the first American to win the Prix Sade.
In the twenty-five years Cooper and I have known each other (I have been, at various times, his editor, publisher, and publicist and, since 1990, his literary agent), we have never discussed his work or life so deeply as in these conversations. We were both very nervous. We began our interview at the Hotel Vauban in Brest. We continued in Paris, in the lobby of the Relais Hotel Du Vieux Paris, once known as the Beat Hotel, haunt of Kerouac and Burroughs and Ginsberg. When we talked about his friend George Miles, Cooper broke into tears; it was the first time I had ever seen him cry.
—Ira Silverberg
INTERVIEWER
What did you read when you were a kid?
COOPER
I was into artful, challenging music and movies from a young age, but with books, I mostly read junk. I loved novelizations of TV shows. They used to put out really crappy novels, usually in series, that milked the characters and story lines of popular TV shows of that era, like Batman and The Man from U.N.C.L.E. and Get Smart. I was obsessed with those books. In school, I almost never read the literature we were assigned. I'd usually skip or skim the books and stories, then fake it in discussions and written reports. But then, when I was fifteen, I read an interview with Bob Dylan, and he mentioned Rimbaud. So I bought one of Rimbaud's books, and I was staggered. Everything changed. His poetry, his biography, the fact that he wrote such incredible things and was so ambitious when he was my age were hugely inspiring, and I just dove into French literature after that, looking for other writers like him.
INTERVIEWER
What did you find?
COOPER
I started with the poets—Baudelaire, Lautréamont, Apollinaire, Reverdy. Then I found my way into the French novelists who had been translated into English, and I started reading Genet, Céline, Gide, Roussel, and on and on. The giant discovery was Sade. I found The 120 Days of Sodom at fifteen, too, and suddenly my secret investigation of disturbing, sexually charged things and my confusing fantasies were legitimized.
INTERVIEWER
What fantasies?
COOPER
For reasons I don't understand, I had been fascinated by the axis of sex and violence for as far back as my memories went. When I was a child, I had nightmares in which that combination of impulses was paramount, and when I hit puberty, those kinds of scenarios entered my fantasy life. I found them both extremely terrifying and very exciting in equal measure.
I was riveted by real-life crimes of that nature, both in history and in the world around me, and I would obsess over them in secret, recounting them in detail as well as trying to analyze my interest in them in diaries. My very rare attempts to talk about those things with my friends were met with disgusted reactions and accusations that I was weird and sick, so I basically hid that part of myself from everyone. When I found Sade, I realized that fiction was a place I could release and formulate and try to represent that part of me, that what I had thought was some horrible aspect of me that would isolate me from the world was in fact legitimate and even an important subject matter for literature. The Grove Press editions of Sade's books that I read had super-heady essays on and in defense of Sade's work by Beauvoir and Blanchot, so I knew what he was doing was serious literature. Between the double mindblows of Rimbaud and Sade, I found what I wanted to do with my life. I kept reading all the avant-garde fiction I could find.
INTERVIEWER
American avant-garde as well as French?
COOPER
The American stuff came later. In my high school years, experimental American fiction was considered very cool and fashionable, and my friends and I were reading Pynchon, Burroughs, Barth, Brautigan, Terry Southern, Ishmael Reed, Vonnegut, and others. Those books excited me, but they didn't have the heavy impact the French writers had, because, with notable exceptions, avant-garde American fiction was very linear and reliant on standard narrative devices—playing with fiction's conventions rather than trying to transcend them—whereas French writers like Genet and Céline and Bataille and Blanchot and so many others were working in a kind of visionary, p­oetic mode, and that approach appealed to me much more, probably in part because I was as enthralled by poetry as I was by fiction.
The next thing that really changed my world and thoroughly influenced my writing were the films of Robert Bresson. When I discovered them in the late seventies, I felt I had found the final ingredient I needed to write the fiction I wanted to write.
INTERVIEWER
What was the final ingredient?
COOPER
Recognizing that the films were entirely about emotion and, to me, ­ profoundly moving while, at the same time, stylistically inexpressive and monotonic. On the surface, they were nothing but style, and the style was extremely rigorous to boot, but they seemed almost transparent and purely content driven. Bresson's use of untrained nonactors influenced my concentration on characters who are amateurs or noncharacters or characters who are ill equipped to handle the job of manning a story line or holding the reader's attention in a conventional way.
Altogether, I think Bresson's films had the greatest influence on my work of any art I've ever encountered. In fact, the first fiction of mine that was ever published was a chapbook called Antoine Monnier, which was a god-awful, incompetent attempt to rewrite Bresson's film Le diable ­probablement as a pornographic novella. So I came to writing novels through a channel that included experimental fiction, poetry, and nonliterary influences pretty much exclusively. I never read normal novels with any real interest or close attention.
INTERVIEWER
What are normal novels?
COOPER
Too much story, too much realism, too much overfamiliarity in general. They bought into the traditional, majority approach and opinion among American writers and arbiters of literature that life is most effectively depicted in fiction via one streamlined, time-proven method—the narrative arc, the sympathetic character, the snowballing plot, et cetera—and when I read work like that, all I saw were the writers' slight variations on a central formula that seemed reductive and arbitrary and bogus.
INTERVIEWER
What about Hubert Selby, Jr.?
COOPER
I appreciate him a little bit more now, but at the time, his work was too narrative and plotty for me. The same goes for John Rechy, who is another writer people often mistakenly assume was a forebear of what I do.
INTERVIEWER
Bukowski?
COOPER
I used to go to his readings occasionally because he was very entertaining, but otherwise, no. As far as American poetry went, it was the New York School. I found the so-called second-generation New York School poets first. In the early seventies, there was a bookstore in Pasadena not far from where I lived called Vroman's that carried a pretty comprehensive selection of books by Berrigan, Padgett, Brainard, Coolidge, Tom Clark, Elmslie, and all those guys, and the playfulness and deceptive lightness of their poetry was hugely helpful in steering me away from the heaviness that my subject matter had been imposing on my use of language. I found my way backward to Ashbery, Schuyler, O'Hara, Koch, and Barbara Guest. Ashbery and Schuyler were the most important for me—Ashbery because his radicality set a kind of high watermark, and Schuyler because he was working with content that I was also involved with but with a grace and simplicity I hadn't felt courageous enough to attempt.
INTERVIEWER
Did you ever make a transition into the Beat poets?
COOPER
The Beats never interested me, other than Burroughs and Paul Bowles. They were too extroverted and sloppy and too into the American Dream stuff.
INTERVIEWER
You called your first novella "pornographic." Is porn something that influenced you artistically?
COOPER
I think pornography is a very rich medium, and I've studied it closely and learned quite a lot as a writer from it. Porn charges and narrows the reader's attention in a swift, no-nonsense way, and it creates an anxious, intimate, and secretive atmosphere that I find very helpful as a way to erase the context around my characters and foreground their feelings, their psychological depths, their tastes. But I'm also always interested in subverting and counteracting porn's effect, and the sex in my books is never merely hot. It challenges the objectification that is porn's stock-in-trade by removing the central conceit that people having sex are in a state of supreme relaxation and self-confidence, wherein their worries and individuality are muted and beside the point. It uses hotness as a kind of decoy.
My novel The Sluts, for instance, which has a lot of sex in it, brought a mainstream gay audience back to my work that had largely abandoned it in the early nineties, but there was a lot of complaining that the boner the novel's premise seemed to offer wasn't delivered. I think when many gay guys seek out things that have sex in them, they want to get off, period. When they see an attractive guy, they want to fuck him. When they watch porn, they imagine teleporting themselves onto the set, into the action. To me, desire and sex are much more complex than that. I'm as interested by what sex can't give you as by what it can. I don't see lust as a dumbing-down process. Most people fear confusion, but I think confusion is the truth and I seek it out. Sex is such a confusing situation that your ability to communicate what you're thinking and feeling in the moment is severely hampered. If you try to articulate your thoughts and feelings in words, you're reduced to saying the quickest and easiest epithets you can come up with—porn language, ­essentially, or the same CliffsNotes expressions of affection that have rushed from a million other enraptured people's mouths—because objectivity and rational thought are the enemies of lust. That's why, when writers attempt to describe sex accurately, the scenes all tend to sound the same, no matter what the writers' individual styles may be. I think most writers just want their sex scenes to be realistically sexy. My goal is to try to articulate what my characters wish to express during sex but can't and to depict the way language is compromised by sex, as realistically as I can.
INTERVIEWER
Is confusion also truth outside of sex?
COOPER
The truth I'm talking about is the stuff that gets distorted and compromised every time you write something down or open your mouth to speak, ­because your priority when communicating isn't to represent your thoughts or feelings exactly but to make sense, to appear sane and comprehensible and ­appealing. I like working within that impossibility.
INTERVIEWER
Perhaps more than other writers, you have a self-selecting audience.
COOPER
You almost never see my name in print without the phrase cult writer glued to it. When I see that word, cult, attached to an artist, it always seems to be a begrudging way to acknowledge that the artist is talented and valuable to a moderate number of people whose passion for that artist's work is understandable, to some degree, but nonetheless foreign. It's a weird term because it's complimentary but condescending and hierarchical at the same time. My work just seems to be a really odd duck. I feel like I'm on my own. I don't mind that, but it's a strange place to be sometimes.
INTERVIEWER
There's a suspension of, let's call it modesty, that you ask of your readers.
COOPER
When I read Sade or Genet or Burroughs or Bataille, I viewed them as important writers who were taken very seriously. I didn't realize there was a mainstream literary world that marginalized them based on the content of their work. So at first I was surprised by how roundly the content in my fiction blinded critics and other readers when the art of my work seemed to be so present and obvious. I knew it was challenging and I expected there to be a struggle in its reception, but being constantly written off as a shockmeister and a sicko and a Burroughs knockoff, as I was for years and still am in some quarters, really threw me.
Now I understand that there's a widespread belief that the material my work explores is suitable only for a discrete, heavy-handed, moral kind of fiction or for low-brow horror. At the time, I thought that prejudice could be circumvented if my writing and aesthetic strategies were inventive and of sufficient quality to prove that my concentration on outré subject matter was deeply and carefully considered. Instead, the art of my work was rendered invisible by people's knee-jerk reactions to the sex and violence I was trying so hard to study and sort out and control—especially in the case of my first two novels, Closer and Frisk. They were seen not only as attacks on common decency but as crude, sadistic attacks. There were certain readers and critics who understood what I was doing right away, but they were few and far between.
INTERVIEWER
You've been denounced as propagating negative stereotypes of gays.
COOPER
The most violent reactions to my work have always come from gay readers and critics, particularly at the beginning, because my novels started appearing at the time of the gay-fiction boom, and writers who happened to be gay were expected to present gay identity as a thoroughly positive and classical literary subject. That wasn't a goal of mine. My own gayness has never really interested me or seemed like an especially important aspect of my identity.
I worked with mostly gay characters because I understood and felt that kind of desire and emotional gravity. Because I was gay and my books were considered to have gay content by people who insist on categorizing things in that identity politics–based way, and because I wasn't using my work to promote the many wonderful aspects of being gay, I was treated as a turncoat.
Luckily, in the mid-nineties, more mainstream gay men stopped reading novels or thinking that books mattered, and that noise started moving into the background.
INTERVIEWER
Labels like predatory and pedophile have flown around.
COOPER
It's strange to me that some people assume the older characters in my books represent my viewpoint and that the younger characters are objects to me in the same way they are to the fictional adults. There's a reason the readers who most love my work and say they relate to it tend to be young. I think that unless you come to my work with hard preconceptions and prejudices, it's obvious where my sympathies lie. The reason the objectifiers and predators and excessive aesthetes in my books don't come with judgments ­attached is because I want people to get as involved in the novels as possible and to make their own decisions about the content based on what happens in the novels.
I think the reason I take so much interest in young boys and why it manifests in my fiction the way it does is that I was fifteen when I began to develop as a writer. My concerns then were the concerns of a teenager, and my work and experiments involved figuring out how to perfectly represent what interested me and how I felt, what fascinated and scared me about the world and about myself. The fact that teenagers were routinely disrespected, objectified, exploited, and disempowered was a huge issue to me then and one that has remained very important to me as I've become an adult.
Now I can inhabit the thoughts and emotions and motivations of adults who see teenagers as problems, as reminders of their own youth, as sex ­objects or triggers of sentimentality, as a dismissible, transitional, short-lived species that occupies some sort of dark age between childhood and adulthood, both of which are seen as more legitimate stages of life. But my concentration is on resisting that supposed wisdom. I don't see it as wisdom but as a standard rationale employed by people who hate and fear the fact that they're getting older against their will. That rationale makes adulthood into a more important period of life than adolescence and the teen years, and that just makes no sense at all to me. Adulthood merely lasts longer. The empowerment of adults at the expense of the young is just an ugly offshoot of the family structure and of capitalism, which disenfranchises people who don't have money or the same rights that are accorded to adults by the rule of law. In fiction, those rules don't have to apply, and in my work they're mostly an unspoken and kind of sinister problem.
INTERVIEWER
I believe one critic called you the poet of the asshole.
COOPER
If so, I've blocked it out. But one of the highlights of my life is that the great Avital Ronell wrote an essay on the theme of rimming in my work.
INTERVIEWER
What is the significance for you of the anus, in relation to the penis, the hand, the face?
COOPER
There are a lot of ways I could talk about that—too many. The penis I try to erase from my work as completely as I can without that strategy becoming too apparent or distracting. I do that because I'm interested in removing as many external, real-world associations as possible, so that the sex in my fiction will have only the attributes and motivations brought to it by the characters I'm creating.
Ignoring the penis makes the characters more androgynous. It pushes sex into their heads. The body becomes an instrument for realizing a fantasy. The sex scene concerns two bodies that are physically similar and differ­entiated only by the fact that one is more beautiful and usually younger, more passive and important, while the other is more aggressive, less attractive, and less valuable to both characters. That particular combination, with its imbalances and symmetries and complicated power structure, is what ­ interests me.
As for why I concentrate on the ass and asshole and the act of rimming in particular, there are many reasons for that, too. I'm very interested in charisma, in trying to simulate the unknowable quality that will make a certain person especially attractive and compelling, and I try to think of my novels as bodies. I want my readers to want to understand the nature of the novel's appeal more than, say, find out what happens to its characters. I think of a novel's style and structure and content as interdependent, ideally indistinguishable in the same way that the innate appeal of a charismatic person can't be reduced to looks or wit or biography or knowledge. In fiction, charisma offers a writer a far more flexible and voluminous device for drawing and holding people's attention than just relying on plot manipulations or on the appeal of the characters themselves or by causing the real-worldliness of the novel's context to seem like a beautiful vacation spot. And a charismatic novel gives readers' imaginations more area and freedom.
To me, rimming is the most charismatic sex act. Something about combining the face, which is the body's most telling and detailed part, with the ass, which is a similarly compelling body part but for opposite reasons—given its plainness and inexpressiveness, its lowly status as a seat cushion and waste-disposal machine, contrasted with its high status as a sex object and aesthetic high point on the body—fascinates me. The way the face and ass affect each other physically and technically during the act of rimming has an emotional charge and is choreographically interesting. In the moment of exploring someone's ass, you know things that the recipient can't know because, due to the way the body is constructed, the ass and asshole are hardly available to their owner. You can handle and finger them, but even to see them properly requires the use of mirrors and awkward poses. When you rim someone, you're getting to know him intimately in a way he can't know himself. You can be entirely alone with him, unwatched, his judgment unknown and abstract. You have power over him and, at the same time, the act has subservient associations—"you can kiss my ass," et cetera—so you're worshipping him as well.
Also, for all the charisma that rimming has, as an idea and from a third-party perspective, it's quite a simple act in practice. There's only so much a face can do to an ass and asshole, so it's an act that happens largely in both parties' imaginations, and that makes it very interesting and challenging to write about.
INTERVIEWER
Some of your young male characters seem so deeply masochistic that they want to die.
COOPER
No, I don't think that's true. If that sentiment is expressed by a character in my work, it's almost always either a projection or a fantasy of the "killer," or it's a young character expressing his emotions so inarticulately that the predator character mistakenly hears what he wants to hear. I think it's important to reiterate that my novels aren't realist. They're not selective transcriptions of the real world. They're highly organized missives from my imagination. When there's a real-world resemblance, it's there to create an atmosphere of familiarity that's helpful as a comfort zone in which I can introduce things that are difficult and unsuspected. The characters are the main entrance into the work because they're shaped like humans and they're lit more brightly than their surroundings. But they're not real—they don't feel or think or want anything. Everything in the books is half mine and half the reader's, and the characters are just enunciations of my ideas. All of that is in the work, and I realize it's very difficult to get people not to think of characters in novels as their text-based friends, but a lot of misunderstanding is eliminated if they don't.
That said, when you're having sex, there's a compulsion and degree of irrationality, a lack of self-consciousness that takes over, and your thinking and ability to analyze are essentially edited from your facial expressions and body language. You censor yourself for the sake of your own pleasure and for the common good of the situation. When you commit a violent act, the same things happen, albeit for a briefer time and more intensely.
They're both difficult acts to imagine clearly when you're not involved in them, and they're difficult to represent in writing without falling back on proven tricks and devices, high drama and shock tactics, that inherently depersonalize and eliminate the individuality each character brings to them. Combining acts of sex and acts of violence into one act exacerbates the problem of representation, but something very important is happening in that supercharged act, something that's very complex. I think most people either don't want to think about it, or they want it to be represented in a moralistic, condemning way or as a thrill ride à la horror movies. I don't want to do either, and that's the problem. I've always felt that I could use language and structure and style in a surgical way to get to the bottom of what's happening there. I don't know why I want to do that, but as soon as I realized my talent lay in writing, I started trying.
INTERVIEWER
When did you start writing?
COOPER
I was writing and putting together books of poetry when I was a little kid. In early high school, I let people see what I was doing for the first time. I started writing these parodic short stories where I would cast teachers and students at my school as characters in TV shows like The Monkees and Batman, and I would read them at school assemblies. They were a big hit, which was really encouraging. After high school, I went to Pasadena City College for a couple years, and I took two poetry-writing classes, one with the poet Ron Koertge, who really influenced me. In 1973, when I was twenty, I self-published my first book, The Terror of Earrings, which I distributed in a very limited way and gave to people I knew.
After that, I attended Pitzer College for a year, where I took a writing class with the poet Bert Myers. I was always rattling on to him about poetry as a visionary practice and carrying a Rimbaud book everywhere I went. One day I was walking down the hall pontificating to him and he grabbed me, threw me against a wall, and told me that if I really believed what I was saying, I should quit school and live my life and see the world at large and be a writer and not just some student speculating wildly about the practice. And I did—I quit school at the end of the semester, and I owe him, because he was absolutely right.
INTERVIEWER
Five of your novels are directly or spectrally about a figure named George Miles. Who was he?
COOPER
George Miles was a kid I met when I was in ninth grade. He was the younger brother of a friend of mine. He was twelve when we became friends, and I was fifteen. The school we both attended went from fourth grade to twelfth, so we were fellow students. One night, I was at a school dance when my friend, his brother Jay, came to me and said, "My little brother took acid, and he's freaking out, and he's twelve years old." I had taken a lot of acid and everybody knew it. He said, "Maybe you can help him. Maybe you can talk him down." Jay led me to George and, yeah, he was tripping pretty heavily. I took him out to the football field and just sat with him for about four hours and tried to talk him through it. We really bonded that night, and from then on, we were really close. His parents were suspicious of our friendship, seemingly because of our age difference, so when we weren't at school, we had to hang out secretly. It was not in any way a sexual thing. It was just a very, very deep bond. He was an amazing, brilliant, crazy, sweet, beautiful kid. He ­really loved me. I don't think I'd ever felt that before, and it was intense.
When I was about seventeen and he was fourteen, he developed a pretty heavy bipolar situation or schizophrenia or something. I don't think it was ever properly diagnosed. At that point, his parents, who had always hated me, began to ask me to take care of him, out of desperation I guess. They would call me and say, "George can't get out of bed. There's something wrong with him. Would you please come over and talk to him?" So I'd go over and sit with him for hours. Sometimes I could bring him out of his depression, and sometimes he would just lie there and stare, but it seemed important to him that I was there. A year or so later, the question of whether we were in love and whether we were going to have sex arose, but we never did. It was very complicated. I was kind of in love with him, and he believed and said he was in love with me, but he was so fucked up—I knew it would be a huge mistake. Sometimes he was his old self, but a lot of the time he was either very manic or almost catatonic. He tried all kinds of medications and therapists. He tried joining cults and adopting all sorts of religious beliefs. He tried to kill himself once, and he was hospitalized at times. But he was an incredibly brilliant person and musician, charismatic and clever and just the loveliest guy ever.
There was a certain point in the early eighties, when he was away at university, and I had been out of touch with him for a year, and I got back in contact with him and we met up. He was on some new medication, and it caused him to seem distant and cold. But there was a lot of underlying sexual tension between us, and I didn't really understand what was going on. The visit was very awkward. I had a girlfriend—I had decided I was straight for a year for some reason. George was at university in Northern California. By coincidence, so was a friend of my girlfriend, and I found out through that connection that George had gone to bed with some girl and it hadn't gone well and that he'd told her he was gay and in love with this guy in Los Angeles named Dennis Cooper. That got back to me, and I called him and we talked about it, and he came down to see me, and we started having a physical relationship.
I had been planning to write what became the George Miles Cycle since I was fifteen. I was in my late twenties when George and I got involved. I had been writing and experimenting for years, but I hadn't really found the key. I realized that George was very important to me and that if I put George in it, if I made the project a tribute to him, it would have its heart. I wanted to do something for him, because even at that point it was very clear that although he was on medication and fairly okay, his emotions and psychology and energies were engaged in such a battle within him. Even then, he had influenced me so heavily—my poetry, my characters, the physical look and qualities of the people I was most attracted to. I felt that he would get lost in life, and I wanted his name to mean something. I wanted him to be somebody, to be known, to be thought about, to be remembered. I thought that if I wrote the books for George, and if they were good enough, and if I called them the George Miles Cycle, then George would be somebody. Other people had written books about their beloved, their muse, and used the muse's name, and the muse became a source of great interest and fascination, like Robbe-Grillet's Angélique or Dante's Beatrice. So I asked George if I could do that for him, and I told him what I thought I was going to do artistically, and he said, "Sure, you can do that. That's nice." So we had this intense, partly long-distance relationship for a while that we had always talked about having but had been afraid to initiate. He wanted it kept secret because he was eternally confused about his sexuality and he had a girlfriend, so I kept it secret because he wanted me to.
I think George was bisexual, but his gay side was very troubling for him sometimes. He would embrace it and be content, but then it would begin to frighten him. One night we had a big fight and he left, and the next day my sister called me and said that George had phoned her and asked her on a date. At the time it really made me angry. It took me a long while to figure out that he did that because he thought if he dated my sister, it would be a safe way to be close to me. That was hard. I didn't talk to him for months. We got back in touch and everything was fine, but then I moved to Amsterdam, where I didn't even have a phone, and I fell out of touch with every person I knew in the States. I wrote George a bunch of letters and he never wrote back, but people do that. I wrote Closer in Amsterdam. When I moved back to the States in late 1987, I tried to get in touch with George. The number I'd had for him wasn't working. I called his parents' house and asked to speak with him, and a voice I didn't recognize said, "He's not here anymore."
I tried very hard to find him a few times a year from then on, but I had no success. I thought he was alive and just off somewhere, that he'd probably found the right medication and maybe had gotten married and had kids. I thought he knew the cycle books were coming out and that maybe he was reading them in his new life. Right after Guide was published, a friend told me that somebody at one of his AA meetings had testified that he was dealing with the fact that a friend of his, whose name was George Miles, had killed himself years before. My friend put me in touch with the guy, whereupon I realized it was my George Miles and that he had killed himself in 1987, not long before I had moved back to the States from Amsterdam. I spent about eight months trying to find out what had ­happened, checking microfilm of newspapers from that time, searching ­cemeteries for his grave, trying to locate mutual friends, anything I could think of. I eventually found his mother, and she told me he had killed himself, blown his head off with a shotgun in his childhood bedroom on his thirtieth birthday.
George was the most important person I've ever known. I always write about him. In some ways, he's in all of my characters.
INTERVIEWER
How did you develop the structure of the George Miles Cycle?
COOPER
I developed the form and structure and style and strategies very gradually. I had decided that I wanted to write some kind of big literary work of fiction when I was fifteen, but I didn't actually start writing the cycle until I was in my early thirties. I experimented constantly along the way, both to find an overall architecture for the sequence, which involved trying to translate the principles of everything from labyrinths to magic tricks to structural experiments undertaken by artists in non-text-based art into a page- and language-based form, and to devise a unique voice for my writing via all kinds of tests, from imitating writing I admired and then trying to erode the qualities that felt unnatural in my own voice or weren't useful, to cut-ups to writing in all kinds of preexisting forms or as incomprehensibly as I could. And while none of the experiments ended up leading me directly into the cycle, some of them worked on their own, and my book Wrong contains most of the surviving ones.
I was also writing poetry, and my poetry improved more quickly than my fiction, so in the seventies and very early eighties, much of my energy was spent on writing and publishing my poetry, and developing the cycle became a kind of serious side project. The cycle's development was so gradual that it's very hard for me to take the process apart and explain how it happened. It was a combination of my ideas being affected by certain books and music and films and visual art that I found and studied along the way.
INTERVIEWER
What were some of these outside works?
COOPER
I wouldn't know where to start in terms of trying to list them, apart from the examples I've already mentioned. I also embarked on experiments in my life and sex life in order to have experiences that would help me understand things that didn't come naturally to me.
INTERVIEWER
What kinds of experiments did you engage in?
COOPER
There were a lot of experiments with drugs and with using drug states to think about what writing couldn't or could or shouldn't or should do and as opportunities to write in newer or freer ways, using the drugs' reordering of my priorities as guides. I rented prostitutes off and on for years when I was younger, and I would try out approaches to sex with them that were more objectifying or fetishistic than I would dare try with the people I was sleeping with, or I would have sex with the prostitutes while adopting a particular persona that was foreign to me, basically playing a preconceived role to see how that felt and how they would respond to the character I was playing.
For whatever reason, in the mid-eighties, everything finally coalesced. The final ingredients seem to have been my isolated living situation in Amsterdam, a serious bout of German measles that kept me bedridden for months, my reading of every novel in English by the writers associated with the nouveau roman, and the music I was listening to intently at the time, the advance-guard rock of that period—the Jesus and Mary Chain, Sonic Youth, Swans, Butthole Surfers, and lots of others.
INTERVIEWER
Kathy Acker once did an experiment where she wrote with a vibrator because she felt that if she could be in a state of arousal, if not climax, it would bring her closer being able to write about sex.
COOPER
I did the opposite. When I wrote Frisk, for instance, one of my rules was that I could never get an erection when I was writing about sex—it was ­absolutely not allowed. If I started writing something and it got me hot, I'd stop, edit, and switch gears. The letter in Frisk, which deliberately mimics the way pornography works, was written without arousal so that it would have a hollow quality and transmit its status as a calculated manipulation to readers who could circumvent its erotic and disturbing surface. Frisk was written very, very carefully because I was pretty sure that novel would end up stigmatizing me as a writer. I wanted to be absolutely certain that when people said, This is just sick, jack-off material, I could say, You're not paying attention.
INTERVIEWER
What is the structure of the cycle?
COOPER
It's difficult to explain concisely. I made two dozen or so graphs and equations and formulas. The most general one shows an overall formal structure, and each of the five novels has the same structure as the cycle itself. Closer and Period, which are the first and last books, have a strong correspondence to each other, as do Frisk and Guide, the second and fourth novels. The ­middle novel, Try, is built in such a way as to unify the group by whatever means necessary, but it doesn't have a strict formal relationship to the others, and it functions as a kind of oasis. Each of the five novels shares or replicates the cycle's physique, with the chapters or sections within the novels strictly corresponding. Structurally, each of the novels and the cycle itself are identical. That's the skeleton. Working in tandem with that system and competing with it is a second and more metaphoric outline. I thought of Closer as the cycle's body, and I tried to fill it with everything that body would need to survive as it ventured through the cycle.
There was also a subdivision within that system such that each of the body's three main faculties—the libido or lust, the heart or emotion, and the mind—would be given its own novel to control. Lust was the overlord in Frisk, emotion in Try, and the mind in Guide. The rule was that I couldn't use anything as material in the rest of the cycle's novels that wasn't either used and referenced or hinted at in Closer.
The way the body-oriented system worked is that the violence occurring in the story line of Closer had to be reflected in the form of Frisk, and that principle continued throughout the subsequent novels such that, as the cycle progressed, the body would become increasingly damaged, and I would have less and less material to work with as I wrote the remaining novels.
The exception was Try, the central novel—the oasis, the heart—where the body was allowed to heal before evolving onward, although the violence in the narrative was nonetheless reflected in Guide's form. So that's why the cycle evolves as it does and why Period seems so frail and ghostlike, like a dead man walking.
Those systems, and a lot of other, more intricate schematics, were ­already in place before I wrote the cycle, and my goal was to work within those rules and to enliven, disguise, or reveal the blueprint using the novels' content.
INTERVIEWER
Taken as a whole, does the cycle reflect a complete picture of the real George Miles?
COOPER
The real George Miles wasn't the character in those novels. They share his physical appearance and emotional makeup and social difficulties and particular intelligence, but George never did anything like what that character did. He wasn't a magnet for other boys' and men's obsessions. He wasn't used and exploited and physically harmed by other people. And our actual relationship isn't represented in the novels. There are only vague traces here and there.
Part of me thinks that since our relationship was so important to who I am and what I write, I should try to write about him clearly and precisely. And I'm torn between wanting people to know George Miles as that iconic but inaccurate character in my work and wanting people to know the George I knew. If I follow through on that idea, a novel about George, the real George, would make sense.
INTERVIEWER
How have the years in France had an impact on your fiction?
COOPER
Being here while not being able to speak French well certainly had a big ­effect. I hear French spoken all the time, everywhere I go, and I mostly have to imagine what people are saying. That inspired me to build an imaginary language that sounded a certain way. The sound of French really influenced The Marbled Swarm, and there's a simulacrum of my experience of living in a country where I don't understand what's going on around me very well.
INTERVIEWER
The Marbled Swarm reads differently than your other novels. It's not written in the spare style you've used elsewhere. The writing here is lush.
COOPER
My very first novella, Safe, was a failed attempt to do something close to what I'm doing in The Marbled Swarm. I just didn't have the abilities or ­experience to figure it out at that time. With earlier novels, the way I was able to get the effect I wanted was to thin my voice out and break the ­novels up into interlocking fragments and segments. I found that I could get the effect by making the experience of reading my novels a bumpy, highly structured ride that exposed the fiction's layers and substructures in a kind of peekaboo way.
With The Marbled Swarm, I was trying to write a novel the way a sound technician mixes a song or piece of music into its final form. I've been studying recorded music and trying to transpose its principles into my fiction ­going all the way back to my first novel, Closer, where one thing I did was try to simulate the sonic effect of the Jesus and Mary Chain's Psychocandy album with my prose. In The Marbled Swarm I found a voice that let me do that. I thought about each element of the novel, whether it was a narrative thread or character or reference point or an ongoing motif or tone or rhythm. The idea was that they would all always be there, but they would be emphasized or de-emphasized at different points, mixed into the foreground, middle ground, or background, being moved around constantly so the reader's attention would be directed all over the place. My idea was that it would give the writing a three-dimensional quality, as the reader is carried along by the musical surface of the novel, but he or she would also be chasing different story lines and recurring ideas as they waver and scamper about and hide inside the prose.
INTERVIEWER
What's next for you?
COOPER
At the moment, I have a plan, or at least a wish, to write one more novel, then stop being a novelist. I would like it to be a very emotional novel, like the work I was doing in the eighties, before I started the cycle. And I like the idea of writing ten novels—the five interconnected novels in the cycle and five independent novels. Ten novels is a lot by one writer. Writers are extremely lucky if even one of their novels survives into the future.
INTERVIEWER
Are you moving away from the novel as such?
COOPER
I don't feel dedicated to the form or reverent about it. Sometimes I think that writing what I want to write in novel form is an arbitrary and conformist decision. If you're interested in writing in chunks or paragraphs, and if you want your work to be published in a way that as many people as possible will have the opportunity to find it, you write novels. I'm not interested in the stuff of conventional novels. I'm dedicated to writing about pretty specific things, in the hope of coming to a point where I feel no desire to address them anymore. I think there will come a time when I'll have no more fresh, useful approaches left and when my talent, which for better or worse is fairly limited, runs out of resources and value. Then I'll know I have nowhere left to go that won't just involve rehashing or refining something I've already done. It's very important to me that I know when I've reached that point and that I stop there.