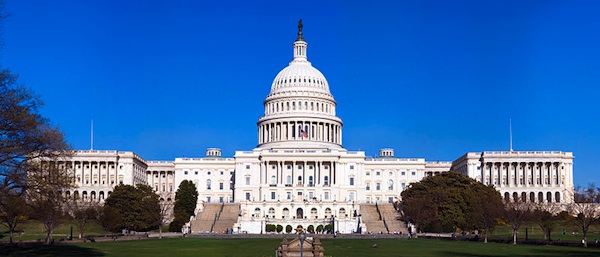 In 1972, Ralph Nader published the book Who Runs Congress? The paperback retailed for $1.95, and was to be the first of several publications by Nader's Congress Project, a rag-tag group of students, volunteers, and writers. A better title for the book might have been Who Ruins Congress: its pages overflowed with acts of bribery, corruption, and incompetence allegedly committed by members.
The Congress Project attempted to investigate every member of Congress, eventually producing extended profiles of every senator and member of the House of Representatives. Many of the profiles ran in local newspapers before the 1972 elections; many of their authors, including James Fallows, Michael Kinsley, and David Ignatius, went on to meaningful careers in political journalism. Along with its publications, the Congress Project lobbied for transparency in the legislative branch. It fought to open Congressional committee meetings to the public and published the committee votes of members.
The Congress Project also inspired one of Ralph Nader's major talking points on the need for citizen activism: Congress, Nader argued, needs to be watched. Millions of Americans pass their time watching birds when they should be watching Congress. Nader hoped to make Congress-watching as popular a pastime as bird-watching.
I thought of Nader's aspirations two weeks ago as I sat in the gallery of the House of Representatives. The House was marching through the final amendments of the Farm Bill, one of the country's most sweeping pieces of legislation. It regulates everything from farm subsidies and agricultural research to the Supplemental Nutrition Assistance Program (SNAP). The Farm Bill comes before Congress every five years, and I wanted to watch the final hours of debate.
There's been a lot of interest in the nitty-gritty details of democracy these days. Millions held their breath as the Supreme Court announced its rulings, glued to CNN and refreshing SCOTUSblog. Thousands watched the Texas Tribune's live-stream of the epic filibuster by Wendy Davis on the floor of the Texas Senate. While the numbers haven't quite risen high enough to match the hoards of birders in this country, there's an increasing desire to witness political history as it happens.
Capitol Hill is a hotbed for historical witnessing. You can wait in line on First Street for a chance to be in the courtroom during oral arguments at the Supreme Court. The High Court is especially accommodating of observers, offering a three-minute line if you only want a quick peek. The best attraction on the Hill, though, is Congress. You can arrange for a gallery pass in advance, then enjoy the company of the red-jacketed Capitol tour guides or an intern whose suit looks fresh off the rack as you make your way from the visitor's center into the gallery.
There are only four "Rules for the Gallery," conveniently printed on the reverse side of your admission ticket. "Nothing," the first rule begins, "may be taken into the Galleries other than articles of clothing and handbags." This, I suppose, prevents eager advocates from trying to cart in signs, display boards, pompoms, or foam fingers.
The second rule stipulates that "Guests must remain seated and refrain from reading, writing, smoking, eating, drinking, applauding or picture taking." This sounds like simple courtesy, until you are seated in the gallery and realize all you want to do is read, write, eat, or drink.
Occasionally something happens for which you wish you could applaud, but they ought to prohibit jeering more than cheering because that seems to be the desire of most visitors. Picture-taking is another curious prohibition. You surrender your phone long before you arrive in the gallery, but everyone there wishes she could snap a selfie in the halls of power or document that Congressman checking Twitter or capture that hapless staffer struggling to fix a chart on an easel, only to abandon the effort and make himself into an easel instead.
The effects of rule three are not clear until you are actually seated in the galleries, when you realize that you have only a bird's-eye view of the proceedings. "Front railing must be kept clear of all objects and guests must not lean on railings" doesn't seem like much of a barrier until you are sitting a story above the ant-size legislators, wondering if your eyes might ever focus enough for you to identify them.
Finally, the last rule stipulates that "Appropriate hats may be worn for religious purposes only." The nation's capitol can be sweltering in the summer, but you'll have to leave your baseball cap or sun hat at home. Those are the rules of the game for Congress-watching: no gear and no leaning, only listening and watching and making mental notes.
Those are the rules, and I prepared to obey them as I walked from the Rayburn House Office Building to the Capitol. Weaving between elementary-school children, FFA members in their blue corduroy jackets, and neon-fanny-packed tourists, I entered the queue for entry into the gallery.
A line of visitors snaked its way from the two elevators that reach the gallery level, and I listened eagerly to all within earshot while waiting for the line to move. The British couple behind me discussed the differences between Congress and Parliament. I remembered a few years ago when I visited Parliament on International Women's Day, and the sharp, lively debate over which party had done more for women seemed at one point to hinge on whether or not Prime Minister Margaret Thatcher was a woman. I agreed with the couple that Congressional debate left a lot to be desired: the House of Representatives, after all, was no House of Commons.
The interns ahead of me in line fidgeted and fussed until finally one of them said she simply needed to check her phone and did they really have to wait? Her companion explained that the Farm Bill was the whole reason he'd taken a Congressional internship, but two minutes later they both got tired of waiting and decided to go look for the nearest television with sound.
Fifteen minutes passed and we finally moved toward the elevators. You know you're nearing the gallery when the carpeting gets a lot nicer, and then you meet a second set of metal detectors. You'd be forgiven for thinking it's a busy day in the gallery until you finally enter and realize there are only a few sections with onlookers, a sparsely populated section for the press, and mostly empty chairs.
I had lost my British friends in the shuffle through security, but found myself seated next to a lovely couple from Missouri. Less than a minute after we were seated, Mrs. Missouri exclaimed, It's like being at the racetrack! Mr. Missouri looked as confused as I was, but she continued, Look at them, all checking their sheets!
A two-minute vote on an amendment was called, and Mrs. Missouri was right: dozens of members raced from their seats, checking their notes, and dropped their voting cards into the electronic voting machines. Thomas Edison first proposed automated voting in 1869, and even demonstrated his vote recording system to Congress, but electronic voting was first used in 1973. You can not only watch as members scramble to cast their votes, but you can also see the running tally of votes on digital displays at either end of the chamber and a scoreboard with every member's name and vote projected above the speaker's desk.
It's just such chaos! Mrs. Missouri was making the whole business seem a lot more exciting than I remember. Look at them go! I was watching, so was everyone else in the gallery. Every so often you heard someone ask, Who's that? or, What's so-and-so look like? or, So that's what Paul Ryan looks like. Congress-watching, it turns out, is as difficult as bird-watching if you haven't done your homework. Even if you can find a copy of the field guide, you aren't allowed to reference it in the gallery.
Those who weren't puzzling over the identities of individual members were puzzling over the rules of parliamentary procedure. One man pointed at the digital displays with confidence, telling his two young children, Yea means yes, nay means no, Pres means … well, that's when the President votes. I had thought that the brouhaha over President Obama's present votes all those years ago had clarified this nonvote vote, but apparently not.
On the same digital display, there was confusion, too, over the labeling of amendments. Mrs. Missouri had thought each amendment had an honorary name or that cities within each state had been honored with naming rights until Mr. Missouri clarified, No, that's the name of the Congressman who introduced it.
One by one the amendments were voted up or down, and at last we neared the final vote. Mrs. Missouri was apoplectic by this point about the lack of decorum on the floor. Small groups of members were talking loudly and various calls for order were shouted. If America could see this, Mrs. Missouri said angrily, if Americans could see this mess.
I didn't wait for her to finish her conditional phrase. There is an entire cable network devoted to this mess, I said, and you can even watch it online. Mrs. Missouri looked chastened, so I confessed, I've never really watched either—gavel-to-gavel is actually pretty uneventful.
My confession reminded me of the first time I ever went Congress-watching. It was a field trip and we looked down from the gallery as a lonely speaker read a prepared statement for the record. No colleagues were watching; only a silent stenographer looked on, and a few staff members came and went between the House floor and the cloakroom.
That was the Congress of C-SPAN, but this was the Congress of Hollywood. Quorum met, whips whipping, members scuttling about, the floor full of energy and activity. I waited for Jimmy Stewart to start filibustering for freedom or Tommy Lee Jones to burst into the chamber. This was one of those days when reading the final vote in the newspaper just isn't enough; you have to be there to see it or watch instantly as it happens. Democracy in action is a spectacle. It's better than live sports or dramatic reenactments. It is, as Mrs. Missouri said, a mess, but a beautiful mess you can't look away from.  
Casey N. Cep is a writer from the Eastern Shore of Maryland.