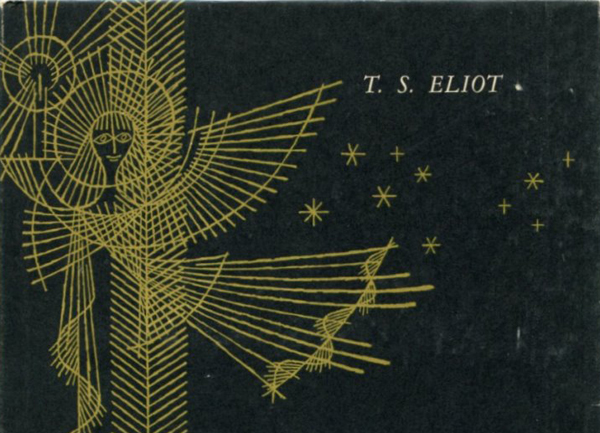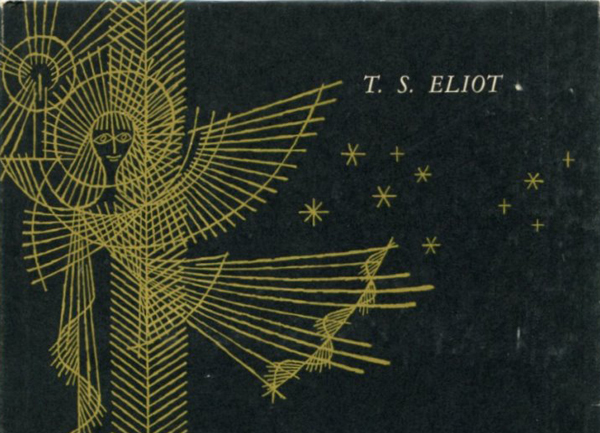 In 1927, Richard de la Mare had an idea for some Christmas cards. Because he was a production director at London's Faber & Gwyer, his cards were festive poetry pamphlets that could be sent to clients and sold to customers for one shilling a piece. Because two years earlier Geoffrey Faber had lured a banker from Lloyd's Bank to work as an editor at his publishing house, Faber & Gwyer had T. S. Eliot to contribute to the series.
Named for Shakespeare's sprite, the Ariel poems each addressed the Christmas holiday or a seasonal theme. G. K. Chesterton, Thomas Hardy, D. H. Lawrence, Siegfried Sassoon, Vita Sackville-West, Edith Sitwell, and W. B. Yeats all contributed. The Ariel series followed a strict formula: identical cardboard bindings; title, illustrator, author, and occasionally an illustration on the cover; and two interior sheets folded to make four pages. The first page repeated the title information; the following three featured the poem and an original illustration.
T. S. Eliot wrote six poems for the series: "The Journey of the Magi" (1927), "A Song for Simeon" (1928), "Animula" (1929), "Marina" (1930), "Triumphal March" (1931), and, later when the series was revived, "The Cultivation of Christmas Trees" (1954). Only thirty-four lines long, that final poem is like a whisper in the whirlwind of dramatic plays and long poems that characterize most of Eliot's later work. "The Cultivation of Christmas Trees" came decades after "The Love Song of J. Alfred Prufrock" (1917) and The Waste Land (1922), years after Old Possum's Book of Practical Cats (1939) and The Four Quartets (1943).
I think of Eliot's Christmas trees every year around this time: when firs, pines, and spruces appear in living rooms, storefronts, and town squares around the country. Eliot wrote the poem when he was sixty-six years old. His voice is wizened, yet wistful as he reaches through all the years of his life to recover "the spirit of wonder" from his earliest Christmases. Though formal and serious, the poem seems almost saccharine when compared to his earlier work. It will surprise many that the poet of fragments and ruins eventually turned his attention to the pretty packages and bright lights of Christmas. Read More