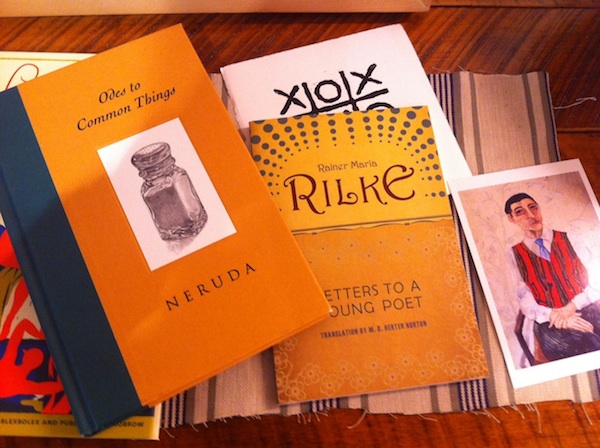 Nothing is ever over in a place

like this, which is one

Of the reasons why people come

to look at it. As an

Exhibit the waterfall is naturally

unsurpassed: part of

Its fascination must be in the way

it demonstrates how

an event can still be permanent when it depends for its

Definition on continually going over the edge

—Douglas Crase, The Revisionist
One of my favorite parts of working in Moody Road Studios is figuring out someone's next favorite book. I enjoy sussing people out, reading their personalities, their quirks, feeling around for clues as to what they might like. Do they want romance or darkness? Are they in it for the sentences or the story? Do they want their world to disappear or to learn something or both? Do they (*gasp*) read the last page first?
Years ago, I bartended in a little dive at the end of Atlantic Avenue in Brooklyn and, especially during slow Sunday afternoon shifts, I liked to guess in my head what drink each new customer would order. I was reminded of these days recently when reading the lovely new memoir, Drinking With Men, by Rosie Schaap, who will read at the next Moody Road Reading Series on June 29. The martini men were easy to spot. So were the bridge-and-tunnel kids coming in for a Long Island Iced Tea (mostly because they reminded me of myself at that age). The whiskey neats were the musicians or artists or writers. Ginger ale and bitters meant you'd spent some time behind the bar or waiting tables.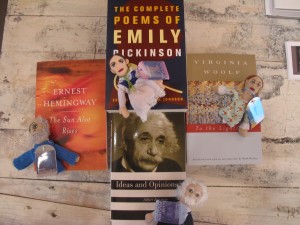 I've always loved putting the pieces of people together. For a long time, my secret dream job was delivering mail. I imagined the ability to construct a person's entire life to be tantalizingly possible if it were your job to collect and hand off their bills and catalogs and brown paper-wrapped packages and cards (or lack thereof) every day. Once, after moving into an apartment off the Gowanus Canal, I kept getting the former tenant's mail for nearly half a year. I stacked it neatly by the front door, pretending he might one day come to claim it, but really I just liked looking through it. I knew that opening the envelopes was illegal, but sometimes I couldn't help myself. I'd see the name of a hospital and my curiosity about what kind of procedure he might have had would be too much and I'd tear into the bill, stuffing the evidence deep into the garbage can afterwards so as not to get caught by my husband, who is ridiculously puritanical on this point.
People's relationships with their books are similarly telling. I remember the first time I saw my husband's bookshelf in his painting studio and spotted the mottled tangerine cover of the KGB Bar Reader fiction anthology in the midst of some other familiar spines. This was years before I became the co-curator of the Nonfiction Reading Series at the KGB Bar in the East Village. Now our copies sit side by side on a shelf in our Pennsylvania farmhouse.
I recently launched a new reading series up here in the hills and earlier this month, in an interview preceding his visit for the inaugural reading of our monthly series, Owen King, author of Double Feature, talked about his favorite book-related memory:
In graduate school I was selected to attend a faculty interview. A beautiful young woman sat beside me. She had a copy of John D. McDonald's A Purple Place For Dying. I had a copy of Malcolm Bradbury's Eating People is Wrong. Long story short: we fell in love and got married.
I love that Owen remembers this, of course, and that somehow it was the destiny of these books to be mates. Who would suspect the mix of a Booker-shortlisted British novel and hard-boiled gumshoe story could inspire marriage-worthy love?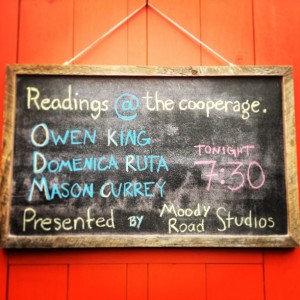 I asked the same set of questions to Mason Currey, author of the fantastic Daily Rituals, a bible of creative inspiration if there ever was one. He is a hometown boy, having grown up in Honesdale, though now he lives in New York. In his interview, Mason revealed that he was "ruthless" about his personal library since, like so many New Yorkers, his space is limited. Of course, his definition of ruthlessness is having only 350 books, likely more than some entire American towns can claim.
People often suspect that I would be fusty or precious about my books, but in truth I am shamelessly casual with them. I write in them, dog-ear the pages, hand them out to friends (knowing I may never see them again, of course—I learned my lesson early with my Nancy Drew collection). Our third writer joining us for the reading this May was Domenica Ruta, author of the searing memoir With or Without You, and it turns out she treats her books in a similar fashion.
I can't really concentrate on reading unless I have a pen in my hand. I love marginalia. I love used books and getting a glimpse of some stranger's relationship to a book that is now in my life. I underline, star, box, vent, exclaim. I like rereading my books and seeing coffee stains or chocolaty fingerprints I left behind the last time I read them.
The Maude Alley shops hosted a meet-the-writers reception before the reading, with people milling in the garden that's just starting to bloom and chatting in the gallery transformed by the Milkweed boys who hung black glass chandeliers dripping with acrylic beads above stone vases spilling over with new-green leaves from maple saplings. Visitors munched on local cheeses from the shop next door and delectable bite-sized raspberry-lemon tarts complements of the Bodhi Tree's amazing baker/artist Heather Hogan-Spencer. Domenica had gamely shot up to us from New York on the bus, and when she finally arrived she tootled around Moody Road Studios in her blue cowgirl boots and shuffled up to me with a load of books in her arms. "I will pretend that I'm going to give these to people as gifts," she said. "But I realize I will probably just keep them."
I haven't a clue how many books I own, but I have ten bookshelves in my house, varying from two feet by two feet in my son's room to four feet by eight feet in the guest room. I still have piles of books everywhere: on my bedside table, on the floor next to my bed, under my bed, next to both of my children's beds (I'll accept responsibility for these), next to my front door, and usually a little pile next to each bookshelf for the books that I feel like need to be there but can't fit. The years I was in graduate school my husband hated that when he went to sleep I'd be reading one book quietly next to him, only for him to wake up in the morning with six or more books spread on top of my sleeping body, another wedged under his arm, a hardcover spine sticking him in the ribs, as if I'd had some dramatic reading seizure in the night.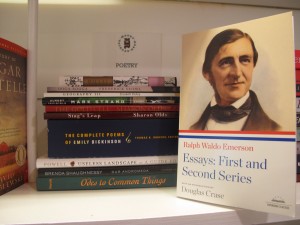 Right now the book that's next to my bed is Essays: First and Second Series by Ralph Waldo Emerson. The introduction is by a new friend from the shop, Douglas Crase. My husband was sitting the shop one day when Douglas came in, a striking presence, tall and spindly like a hemlock tree, all soft hooded eyes under a sultry swoop of gray speckled hair. He went straight to the poetry section and pulled out a favorite of mine, Cloud Corporation by Timothy Donnelly. Douglas said he'd wanted very badly to read it and was so happy to find it at the shop. Mark couldn't remember his name when he came home and told me this story, but I knew that someone who knew enough about Cloud Corporation to be so excited about it was certainly one of our tribe. You never know who is hidden in these hills.
Fast-forward a few weeks and we now know Douglas to be a poet and critic, as well as the recipient of a Guggenheim, a Whiting Writers' Award and a MacArthur. When I mentioned his name to some poet friends it was as if I'd yelled "Fire!" in a small space. Stuttering and hand waving and occurred, fists were brought to foreheads. When I read the title poem of his one and only book of poetry, The Revisionist, I understood why. I wanted to cry and cliff dive and stand at the edge of the ocean all at once. My senses went screwy with a muffled, underwater feeling. When I came back up for air after a second read, I realized I'd been curling my nails deep into my palms, leaving little lines behind like highway markers on a map.
I had a similar experience a few years ago when sitting in 192 Books, one of my favorites in Manhattan, listening to Siri Husvedt read. I'd recently been turned on to her brilliant essays after a friend loaned me Mysteries of the Rectangle, which remains one of my favorite books. I felt lucky to be in such an intimate space with her, hear her voice, the way she read her own words. I was in the second or third row, wishing I'd sat behind someone other than the very tall man with such fluffy hair, when he turned his face to the side and I saw his unmistakable eyes, realizing it was Paul Auster. I hadn't known at the time they were married. In my head, the power and beauty of their brains buzzed with such intensity I could barely hear what Siri was saying anymore.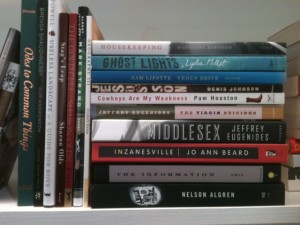 This is also how I feel when I look at certain sections of my shelves in Moody Road Studios. I'll go to simply tidy the books, pulling them to the edge of the shelf as I learned working in the public library as a teenager, and suddenly I get that cotton-in-my-ears feeling again and have to stop for a moment. I'm overwhelmed by Jo Ann Beard and Jeffrey Eugenides and Marilynne Robinson and Sam Lipsyte and Pam Houston and Lydia Millet all in such close proximity. Imagine if they were all in a room together at the same time for real?
Anything is possible in a bookshop.
* * *
As I'm writing this, two young girls walk into the shop, check out the books, weighing whether the movie or book versions of The Great Gatsby and Water for Elephants were better.
"I hated Great Gatsby. My teacher ruined it with all the symbolism," the one with the giant plugs and baseball cap says. We talk together about how often school reading can dull a good book, the tragedy of it. Her friend trails her fingers along a shelf, finds The Tempest.
"I actually liked Macbeth," she says, wistfully. "Everyone died, but it was good."
* * *
Douglas the poet came over to our farmhouse the other day. Mark is working on a portrait of him in his studio in the barn and the second sitting happened to be on our wedding anniversary, which Mark forgot. When he came in from painting that evening he handed me the copy of Essays: First and Second Series, a beautiful inscription inside by Douglas. Our son's name is Emerson, so that and the anniversary inscription now make this book another part of our story together, like our twin KGB Bar Reader anthologies.
"Would you believe me if I told you I planned this?" Mark asked hopefully. I was thrilled with the book, but still cross with him.
I stayed silent.
"Doug warned me not to try that."
That night, reading in bed with Mark asleep next to me, I starred a section of Doug's introduction discussing the modernity of Emerson, the way his words remain relevant and register deeply even today:
The famous epigrams all but connect you physically to the page, though when I first saw them the effect was conveniently heightened; it was a secondhand copy and they were already marked.

I still have that book. Its initial owner is identified on the flyleaf as a senior in the class of 1902 at Galesburg High School, in Illinois, and to judge from the pages she has marked, seniors in those days must have read nearly every one of the twenty essays, plus "New England Reformers." There, located by her pencil, is the Emerson in our bones, the one who warned that imitation is suicide—

But do your thing, and I shall know you.
I fall asleep with the book folded over my heart.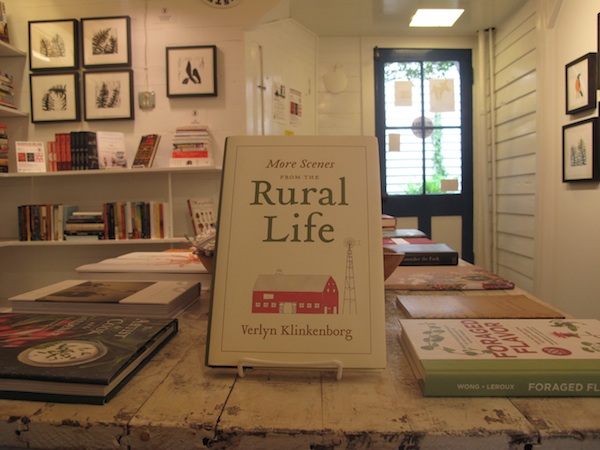 Kelly McMasters is a writer living in northeast Pennsylvania. Her book, Welcome to Shirley: A Memoir from an Atomic Town, inspired the documentary The Atomic States of America, a Sundance 2012 selection. Her essays, reviews and articles have appeared in the New York Times, the Washington Post Magazine, The American Scholar, Newsday, River Teeth and Tin House, among others. She recently opened Moody Road Studios with her husband, artist Mark Milroy, in Honesdale, PA. They hope you come and visit!