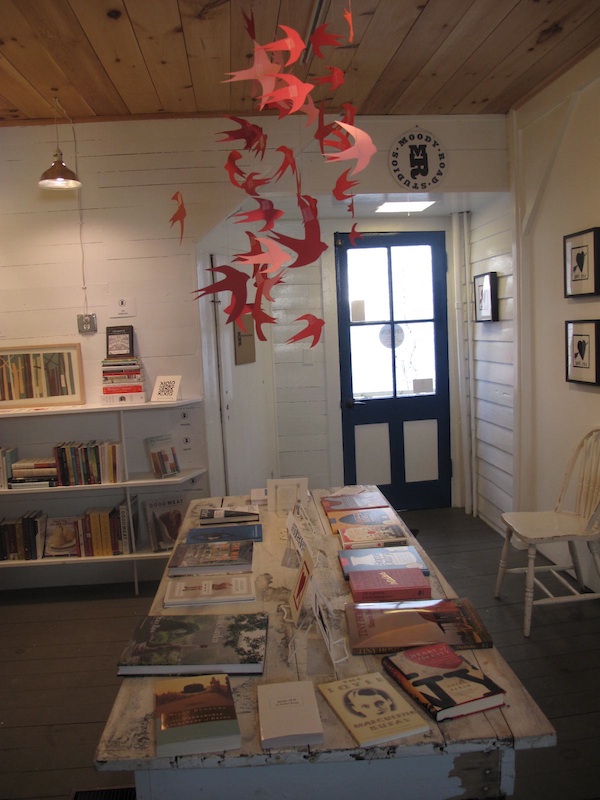 Sitting alone in my tiny bookshop on a cold February morning, I have the sensation that I've conjured a dream into reality. The light is crisp and blue through the door. A flight of red paper swallows—a Valentine homage to Chaucer's poem "The Parliament of Fowls"—hangs from the ceiling, fluttering quietly from the heat whooshing out of the floor grate. The room is small, just shy of two hundred fifty square feet, and an old pickled farm table sits squarely in the middle. The top of the table is covered with books, and the shelves lining two of the room's walls also contain a patchwork of brightly colored spines.
Valentine-themed woodblock prints handmade by my husband line the farm table and a grid of nature-inspired prints hold a wall. We live on an old dairy farm up in northeast Pennsylvania, and instead of cows in our three-bay English barn, we have two etching presses. Mark carves the images into blocks of clear pine, inks them up, and sends them through the press, cranking the smooth silver wheel like a captain on a ship. This is our store together, a kind of celebration of works on paper. We live on Moody Road, and so we call the shop Moody Road Studios.
An artist and a writer, respectively, my husband and I had both been teaching and working in the city for more than a decade, until a little over a year ago. The idea of running a bookshop never entered our consciousness while in New York, mostly because it never could have happened. Space and funding were impossibilities—as one might guess, a writer and an artist in business together don't quite make for a crack commerce force. But here, on Main Street in the small town of Honesdale, everything clicked into place. The financial risk is minimal and the landlords close friends. We're tucked back off the street in Maude Alley, a hidden passage that opens to a garden, like a small secret, perfect for readings and book groups and writing classes. We felt like the spot had been waiting for us.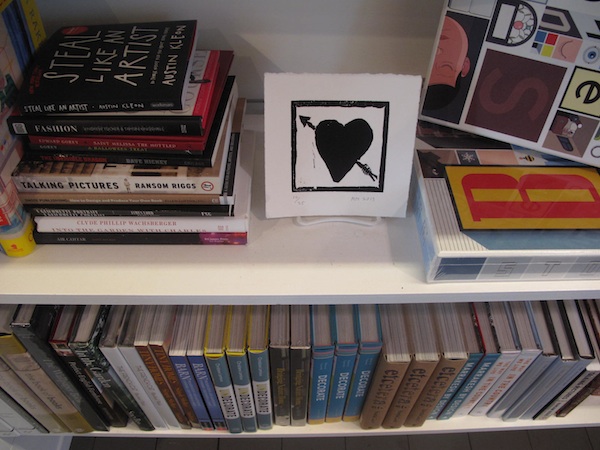 So we moved to the country and opened a bookshop. What I hadn't anticipated was the mix of envy, horror, and sympathy that crossed people's faces when hearing this news. Fellow writers and artists would get all moony on us, share their own personal bookstore fantasy, or ask to come work for us. We were so lucky! We were heroes! But we also got the same incredulous question over and over: Why would you open a bookstore now?! I try to explain that it is a little like falling in love, that we really didn't have a choice. The space was open, the price was right, and one morning over coffee my husband and I looked at one another and said at the same time: We're opening a bookshop! Four weeks later, we did.
A room full of books was probably one of my first, and most enduring, dreams. When I was about six or seven, I awoke with a desperate plea. "I need my book iron," I told my mother, uncharacteristically serious. She, of course, had no idea what I meant by a book iron. Together we deduced that I meant a tiny toy iron I hadn't played with in quite a while and that, in my dream-mind, had acquired a hinge and opened, revealing a secret storybook inside. My mother warned me that it was just a dream, but I insisted. She opened the door to the upstairs storage space and left me alone, knowing what would happen next. I tried prying the iron open for more than hour. I said incantations, pleaded, smacked it against the toy box. I desperately needed to get inside, to read the book I'd seen in my dream. I tried again the next day, and the next, but the iron never opened.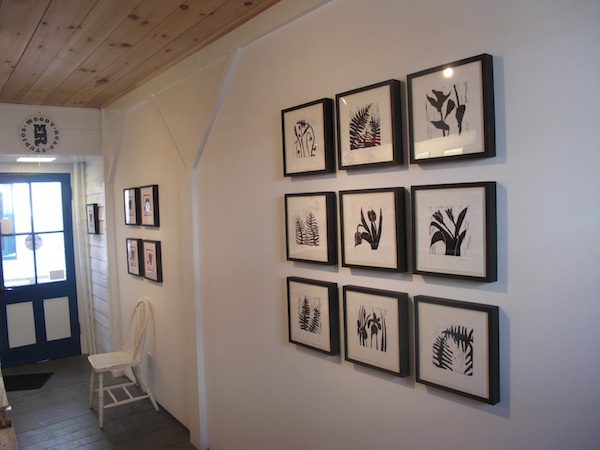 Books were always a source of pleasure and pain for me. My first foray into ownership was the Nancy Drew series, only to loan a half dozen of the books to a friend who moved away and took them with her. Staring at the hole on my bookshelf physically pained me. Replacing the books was out of the question—those were the ones I'd read, and it didn't make sense to fill their spots with copies with which I had no relationship. The library was my favorite place as a child, and I can remember painstakingly weighing the worth of one book against another to make the take-home limit of ten books per visit. As soon as I met the age requirements I got a job at the library, shelving books after school and on weekends, hiding behind the circulation carts to read. When I visited prospective college campuses, I knew I'd found the right one when I walked into Vassar's stunning gothic library, the green glow from the small lamps dotting the long hushed tables offering me a warmth I'd never before fathomed. The crinkle of the cellophane book covers; the inky, chemical smell of the pages; the satisfying crack of spine when opening a new book—these are the stuff of my dreams.
I never could get close enough to my books, even as an adult. Grad school for writing; co-directing the KGB nonfiction reading series in the East Village; teaching writing at a university; writing a book of my own—looking back, these stack neatly together like a row of paperbacks. But nothing has given me the same shiver of satisfaction as opening my first shipment of books for Moody Road Studios: carving a line carefully through the packing tape with a knife, terrified to nick a cover, pulling back the flaps and letting the heady puff of pulp escape and scent the room, plucking the books out one by one to reveal the next find underneath, familiar and exotic at the same time.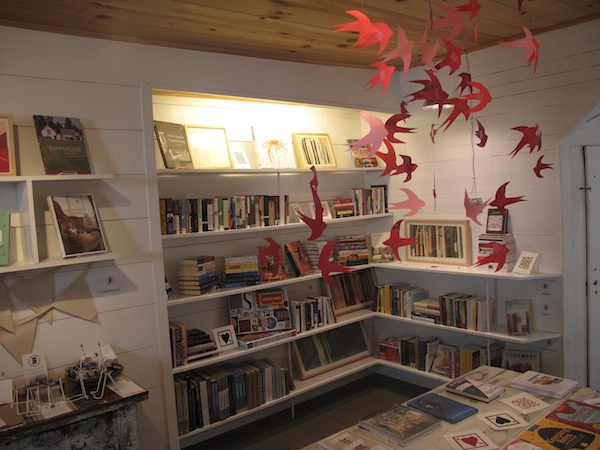 Choosing the books was almost as troublesome as curating the guest list for our wedding eight years ago. My idea was to create a kind of Moody Road Canon—the top one hundred books I think everyone should own. But every time I thought I'd completed the list, another name or book jacket would bubble up in my brain. How could I forget May Sarton? Where is Denis Johnson?  I emailed a small group of my most well-read friends, asking for their own ten favorite books—their desert island favorites—and also for the name of a living person whose list they would want to see (Hillary Clinton was the clear winner). With each return e-mail I smacked my forehead: Of course I need some Eugenides, some Chatwin, some Cather! The voyeurism was addictive, and seeing into each friend's personal canon was thrilling.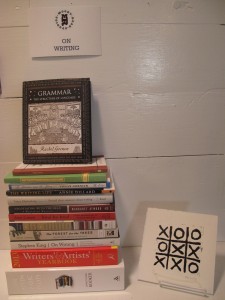 With my literary lists in place, I set to work ordering a collection of coffee table books, not confident that my customers would want to buy the literature. I pulled in some design books, cookbooks, farmhouse and barn books, even one called Beautiful Chickens, hoping to appeal to the rustic crowd. But over and over, in the weeks after opening, patrons walked in, scanned the shelves of essays and short stories and modern poetry, of Nabokov and Proust and Robinson and Borges and Ellison and Strand and Bishop and Boo, and there was a sharp intake of breath or a quick clasp of hands to the breast. "Thank you!" they said. "Thank you for doing this!" An old weathered cow farmer came in requesting David Foster Wallace and I'd just sold my one copy of Considering the Lobster the day before. A young man, home on winter break from college, sputtered when he saw my essays section. "I can't believe you have Joseph Mitchell and E. B. White! This is exactly what I wanted!" People held books to their chests and shared with me their memories of discovering different titles—reading Confederacy of Dunces fifteen years ago on a train, or Flame Trees of Thika on a dearly missed friend's recommendation, or White Noise during a break-up, or Housekeeping while their mother was dying in the next room. These books were as alive for them as they were for me.
 This month, I made up a sign for our table: "Sex and romance for your valentine (forget Fifty Shades!)." I surrounded it with copies of The Lover, Story of O, and The Unbearable Lightness of Being. I've never read Fifty Shades of Gray, but a recent brilliant essay in The New York Review of Books confirmed my initial impression—one for the e-reader. I love that this series has people reading, but it doesn't fit my criteria for books that I feel strongly everyone should have on their shelves.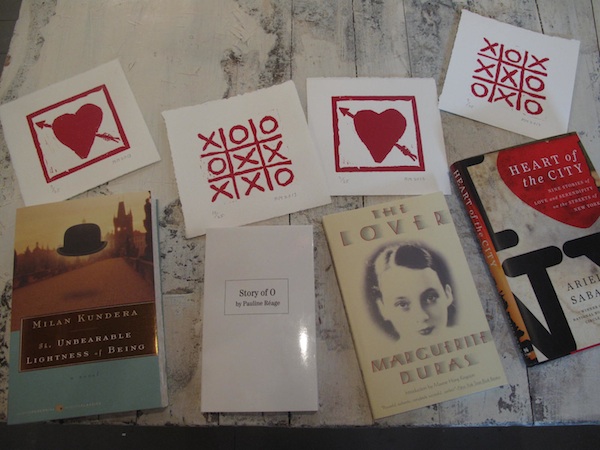 I pulled in some new releases—The Tenth of December by George Saunders, of course, and Andrew Solomon's Far From the Tree, for which a local writer did much of the research. But in our first month, our bestseller lists look markedly different from that of The New York Times. Shipping News and Wolf Hall dominated our fiction list, while Tiny Homes, Simple Structures easily won the nonfiction category. Frederick Seidel's Ooga-Booga, my personal favorite, was the poetry winner. I suddenly understood the power of "hand-selling."
Meanwhile, the coffee table books barely moved.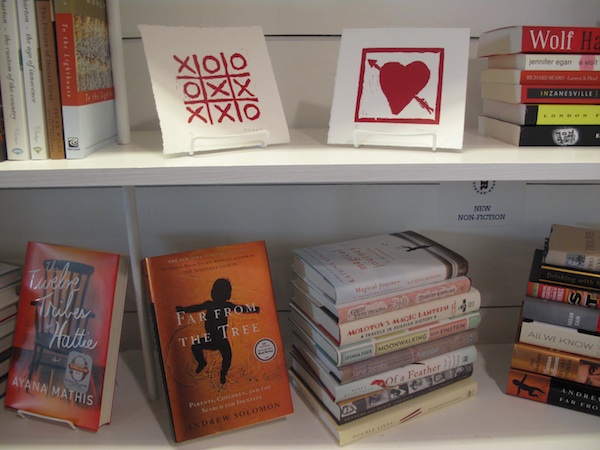 I wasn't the only one starving, it appeared. Now that we've decided to raise our two sons out here, I am comforted by the idea that they won't grow up without a bookstore in their hometown. I didn't have that luxury, and until recently—the next bookstore being more than eighty miles away—neither did the other folks in town. With luck, we'll last. Between Amazon and iPads and a generally dwindling interest in literature, our venture certainly seems like folly on paper. But love often does.
And so, on this February morning, surrounded by beautiful handmade valentines and Chaucer's lovebirds, I sit at my husband's old wooden desk that functions as our check-out table. The edge is smooth like a spoon from years of forearms rubbing against it, as mine are now. The heater snaps and pings. Water swooshes through pipes in the wall—someone must be getting a shampoo at the salon upstairs. There's snow coming and only a few people are out in the cold. For most of the day, it's just me and my books. The shelves of my dreams.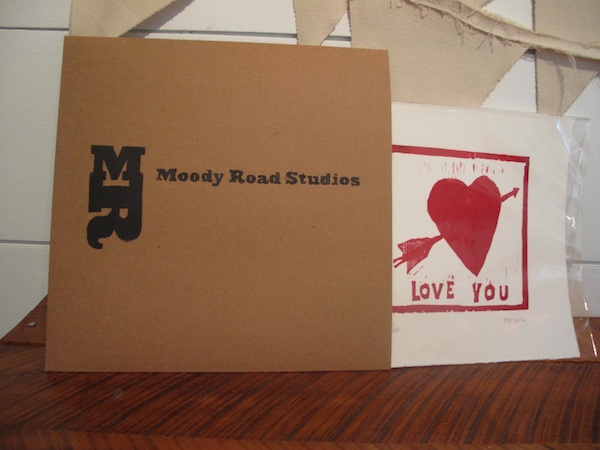 Kelly McMasters is a writer living in northeast Pennsylvania. Her book, Welcome to Shirley: A Memoir from an Atomic Town, inspired the documentary The Atomic States of America, a Sundance 2012 selection. Her essays, reviews and articles have appeared in The New York Times, The Washington Post Magazine, Newsday, River Teeth and Tin House, among others, and her next essay is forthcoming in the March issue of The American Scholar. She recently opened Moody Road Studios with her husband, artist Mark Milroy, in Honesdale, PA. They hope you come and visit!