Peg Boyers
Issue 193, Summer 2010
I am straddling Marini's horse
using the horseman's cock as my handle
galloping in place until it comes off in my hand.
It is a dry stone thing—nothing obscene—
just portable.
Across the canal my husband…
Want to keep reading?
Sign in—or sign up for a free trial…
Free Trial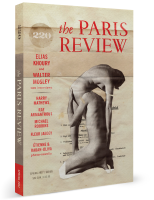 …or get your subscription now!
Subscribe