Diane di Prima
Issue 44, Fall 1968
It is the first day of spring, the children are singing
(they are supposed to be sleeping) the clock is ticking
the cats are waiting for supper, one of them pregnant
kittens to herald the spring, nothing is blooming
nothing seems to bloom much around farms, just hayfields and corn
farms are too pragmatic, I look at ads
for hydrangea bushes, which I hate they remind me of brooklyn
for chinese wisteria vines, which I can't picture
but they sound exotic and mysterious
a kind of blue purple, I decide I'll get some
will I be disappointed, will they be yellow?
will I hate the Shetland pony we are buying
will we run out of wholewheat flour this week
before a new supply drives up from the city?
Want to keep reading?
Sign in—or sign up for a free trial…
Free Trial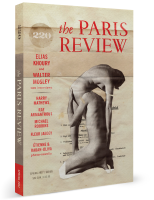 …or get your subscription now!
Subscribe