Jim Carroll
Issue 50, Fall 1970
Day changes from cannon to morning glory
her body dances death dances in the prell light

beads strung out all through Japan's public parks, my head,
light green eyes of the birds that break branches to build homes there.
Want to keep reading?
Sign in—or sign up for a free trial…
Free Trial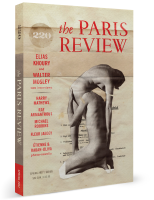 …or get your subscription now!
Subscribe