John Ashbery
Issue 50, Fall 1970
I thought that if I could put it all down, that would be one way. And next the thought came to me that to leave all out, would be another, and truer, way.
clean-washed sea
Want to keep reading?
Sign in—or sign up for a free trial…
Free Trial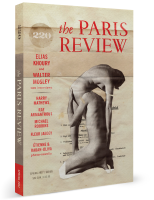 …or get your subscription now!
Subscribe