Ira Sadoff
Issue 63, Fall 1975
My thesis concerns the quantification of desire: what constitutes a unit of passion, what represents a significant change in body heat? Think of all the love given out without counting: to the mistress of a man who sleeps in a bed separate from his wife, whose business interests weigh heavily upon him.
Want to keep reading?
Sign in—or sign up for a free trial…
Free Trial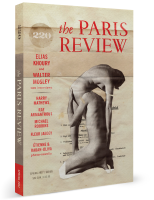 …or get your subscription now!
Subscribe