John McKernan
Issue 63, Fall 1975
Dear Y.
What are you doing? Everyone I know is drunk. Everyone Iknow died. Everyone I know told me it would be all right but he had to write his mother-in-law for the go-ahead on a meal ticket. He drives it to school everyday.
Want to keep reading?
Sign in—or sign up for a free trial…
Free Trial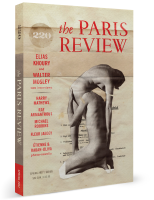 …or get your subscription now!
Subscribe