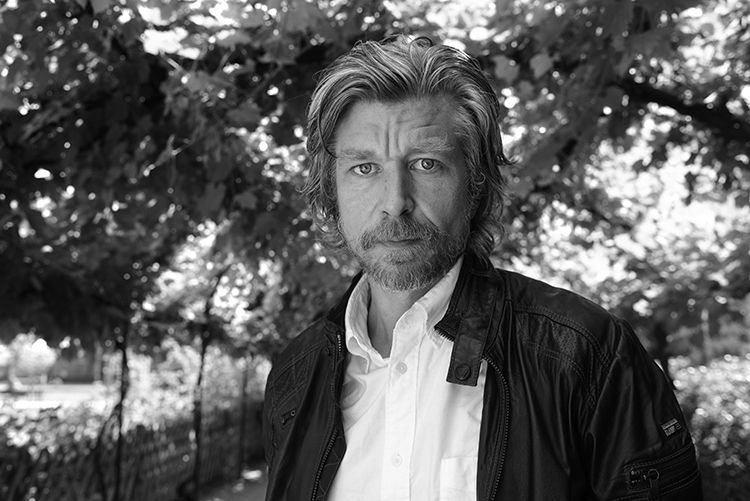 Last September in Oslo, the New Yorker critic James Wood conducted a public interview with the ­novelist Karl Ove Knausgaard as part of the third annual Norwegian-American Literary Festival. Their audience filled the main auditorium of Litteraturhuset—the writers' center across the street from the royal ­palace—beyond capacity, with disappointed latecomers crowding the café next door.
An estimated one in ten Norwegians owns a copy of Knausgaard's six-volume autobiographical novel, My Struggle. Extreme in its candor, by turns earnest and satiric, attentive to the minutiae of postmodern family life, My Struggle marks a revolution in Scandinavian fiction and, in the United States, has sparked more critical discussion than any translated work since Roberto Bolaño's 2666. To date, only the first three volumes of My Struggle have been published in English; an excerpt from Book Four follows on page 87. We are grateful to Wood and Knausgaard, and to the organizer of the festival, Frode Saugestad, for allowing us to publish this exchange.
WOOD
Your six volumes have been received as an extraordinary example of literary courage—the courage to confess and the courage to take risks with form. Sometimes you take the stakes so low that fiction or drama, conflict, plot might disappear altogether. You're also, of course, willing to look at things. In Book Three, you've got a bit about you and a friend shitting in a forest. Like everyone here tonight, I read it thinking, He's going to describe the shit. Not just the act. I think, knowing Knausgaard, he's actually going to describe what the piece of crap looks like. And you did. Then there is small stuff, like your willingness to use exclamations like "yuck," "phew," "oh oh oh," "ha ha ha"—the kind of exclamation that one sees in children's fiction or genre fiction but which is snobbishly disdained in contemporary high fiction, so to speak. Were you aware at the time that these were risks, that they were acts of daring?
KNAUSGAARD
That was the torture of writing this thing, especially Book Three, because it's seen from the perspective of a kid between seven and ten years old, and that is the perspective of an idiot. The whole time I was writing these six books I felt, This is not good writing. What's good, I think, is the opening five pages of Book One, the reflection on death. When we were publishing that first book, my editor asked me to remove those pages because they are so different from the rest, and he was right—he is right—it would have been better, but I needed one place in the book where the writing was good. I spent weeks and weeks on that passage, and I think it's modernist, high-quality prose. The rest of the book is not to my standard. [Laughter from audience] I'm not saying this as a joke. This is true.
WOOD
But to know that, at the time of writing, is to be making an experiment, no?
KNAUSGAARD
Yes, it is.
WOOD
It's to be courageous in some way, wouldn't you say?
KNAUSGAARD
No, it hasn't anything to do with courage. It's more that I was so desperate and so frustrated. The only way I could trick myself into writing was by ­doing it like this. By setting myself the premise that I would write very quickly and not edit, that everything should be in it. Without that, I wouldn't have been able to do it. I'm too self-critical to be a writer, really, and I was very critical of this project. It was torture. I had a friend, I read everything to him on the phone, all thirty-six hundred pages as I wrote them, and he had to say, This is good, you must go on.
The part you describe about shitting in the wood, though—that was a joy to write. That's the other side of it, you know, because it's unheard of to go into such detail, but for a kid it's very important how the shit looks, how it smells, all the differences between one shit and another. That's a child's world, and I felt connected to it through the character of the child. I ­remembered, all of a sudden, how it was. The small things mattered, like shitting. It's easy to understand why. You don't yet have many experiences, and it's your body, and here is the world going into it and then leaving it, 
and although it's not the first time that this has happened, still it is kind of a new thing.
WOOD
And of course that's the great theme of your work—meaning and the loss of meaning. It's obvious enough that in your work the insane attention 
to objects is an attempt to rescue them from loss, from the loss of meaning. It's a tragedy of getting older. We can't ever recover that extraordinary novelty, that newness, that we experienced as children, and so you try to bring those meanings and memories back. There's a lovely thing in 
Adorno's Negative Dialectics that reminds me of your work. Adorno writes, "If the thought really yielded to the object, if its attention were on the ­object, not on its ­category, the very objects would start talking under the lingering eye." Does that sound like a reasonable description of what you are trying to do?
KNAUSGAARD
Very much so. Before I wrote My Struggle, I had a feeling that novels tend 
to obscure the world instead of showing it, because their form is so much alike from novel to novel. It's the same with films, with their attention to narrative structure. Most films, anyway. One thing I did while I was at work on the project was to watch the film Shoah, about the Holocaust. In the 
end, after you've seen these nine and a half hours, there is no form. Or it's a kind of extreme form, which brings it closer to a real experience. I'd 
been thinking about that and about the world as it ordinarily comes to us filtered through news, through media. The same form, the same language, makes everything the same. That was a problem I had before I started 
My Struggle. The traditional form of the novel wasn't eloquent. I didn't 
believe in it, for the reasons I've said. Now, I don't really pay much attention to the world. I'm not very present. I'm detached from almost everything. 
I'm very occupied with myself and my own mind. I'm not in connection with the world—but in writing, I can be. That's a way for me to open a world up.
But this is a personal problem, not a general problem.
WOOD
I think it is a general problem. One of the interesting things that's been happening—in Norwegian literature certainly, but also in British and American fiction—has been an insistence on breaking the forms, not because there's a postmodern rule that one has to break the forms, but for almost the ­opposite reason, out of a desire to achieve greater verisimilitude, and a belief that the only way to get there is to break the grammar of realism precisely as you're describing. In Book Two you say that you're sick of fiction, you're sick of the mass production of fictions that all look like the same. You write that the problem was "verisimilitude and the distance it held to reality was constant." I think this is well put, because it doesn't rule out fiction-making. It just makes fiction-making harder.
KNAUSGAARD
Something like this is happening in art and literature all the time. That's why our art doesn't look like it did in the Middle Ages, because we need a new way to see the world. As the Russian formalists showed, the reason Tolstoy is so good is that he makes the world strange, so you can see it. That's the obligation of literature, I think.
WOOD
In your work there is the struggle to restore meaning—the meaning that 
is always slipping out of our hands as we get older—and there's also a ­struggle, isn't there, with language. In Book Two, for example, you mention an Anselm Kiefer painting and say—perhaps at the cost of exaggeration—that the great thing about it is that "it's not about ideas." It's as if you want to be done with language in some way, and yet obviously you return to it, you have to return to it. It's the only way you can express your desire to get beyond it.
KNAUSGAARD
Yes, although this gets very difficult to talk about. In Book Six I discuss a poem by Paul Celan for, I think, thirty pages. Celan is the one who got closest to that kind of wordlessness. His language has been destroyed by what happened in Germany, by the Holocaust. It is Hitler's language. You can't use it, can't use the words earth or blood. The poem is a meditation on the Holocaust and upon death. The thing is, if you mention the word death, it exists, but death doesn't exist—it's nothingness. Celan is on that border, between nothingness and meaning. All I can do is point at him. He went there. And I really want to go there myself, but I can't. It's impossible. I try to imagine a world without words, a world without language, and the world collapses. It's nothing. It's chaos. Language is the thing that makes the world, and it's the thing that makes the world disappear. Writing is a kind of ­ongoing struggle to renew the world.
Poetry is the best medium, but if you can't write poetry, you do the second best. You try to break out of the form. That is what I tried to do. Then in five years, that effect of newness disappears. So you have to move on.
WOOD
One difficulty I have with a certain kind of Anglophone fiction is precisely that there are too many words easily at hand, that language isn't put ­under enough pressure. It seems to me you come from a long Romantic tradition of wanting to get beyond language, to be at one with nature, but also from a twentieth-century tradition of secular disenchantment. In your work there is a feeling that the magic of the world, which was once religious, once ­coherent, is gone, and that we live in an aftertime.
KNAUSGAARD
I am very interested in religious language, religious art, and what happens when religion disappears, when we lose any way to formulate the presence of the divine or the experience of religious ecstasy. Is it still here, just under another name, or has it totally disappeared? Is it possible that humans have changed? Was it the same to live, let's say, eight hundred years after Christ, in Viking times, and to live now—or is there some major difference? Those are some of the things I'm writing about.
WOOD
Have you felt a kind of religious ecstasy in your life?
KNAUSGAARD
No, but they say one of the main things about religious ecstasy is a feeling of selflessness—that you yourself disappear. I feel that when I read Dostoyevsky. I can have that feeling. I can just disappear. I don't know why, and I don't know what it means. It's the same thing looking at art. I feel so moved by it, but I don't know why. And what is that? Is it just emotions? And why should emotions be important, a little movement in your soul? For me, I think I've just substituted literature and art for religion. Yes, that is a very conservative, Romantic part of this project. Most contemporary art is completely without that dimension. Anselm Kiefer has it very much. Some do, but I think most art is just playing with words and concepts.
WOOD
One reading of your work would be that you have a religious sensibility, but you can't find any refuge in God because God has disappeared. In that sense you are a typical Western secularist, and this creates in you a tremendous sadness, but also a kind of anger. In Book Two you say Dostoyevsky used to mean so much, and now who is Dostoyevsky taken seriously by? By adolescents, by students. You go on to say that all those massive questions—of theodicy, of the eternal salvation of one's soul—have been displaced in contemporary culture by political questions, questions of fairness and justice. I suppose this would be the point where a reader who didn't like you would say, Here he goes on his conservative rant, attacking the welfare state.
KNAUSGAARD
It's worse than that, I think. In Sweden, for instance, the Realpolitik—I mean the real power politics about money and class—has just disappeared, having been replaced by feminism and multiculturalism. Which is to say, by things you can have opinions about without facing any consequences.
WOOD
Because everyone agrees about them?
KNAUSGAARD
Yes, and because they're largely a matter of language—you can't say this, and you can't say that—while the real problems are finding a place somewhere else, so you don't have to take them into consideration. There is a new kind of moralism evolving, where the obligation is to the language—there are some words you can no longer say and some opinions you no longer can express. This is a kind of make-believe. It makes everybody comfortable, they feel good about themselves, because they mean well—while at the same time there is a whole generation of immigrants locked out from education, work, and privileges and there is anger growing in the part of the population that doesn't have its voices heard, or whose opinions are considered evil and kept out. So the anti-immigration party here keeps growing and growing. In My Struggle, this is reflected in the gap between what I should think and what I actually think, how I should feel and how I really feel, how the world should look and how it really looks. This is the difference between ideology and reality, politics and literature.
WOOD
Certainly there are passages in your work that are reactionary or conservative—or would be if you pinned them to a T-shirt and said, That's what Knausgaard thinks. But one advantage of having such a large form is that you're able to not always agree with yourself. At times, in My Struggle, there is a sense of contradiction, or even performance in the manner of Thomas Bernhard, as if to say, I'm going to have my rant now, and I may not believe it one hundred percent—I might only believe it ninety percent—but I'm going to make it sound like one hundred percent. And then you contradict yourself. Nothing could be more contradictory in your work, it seems to me, than the question of masculinity. Sometimes you sound as if your masculinity is under threat, as if pushing a stroller around is somehow a diminishment of what it means to be a man—and then you turn back on yourself and write more lovingly about children and raising children than most men have ever done. The reader has to be able to take those contradictions and live with them.
KNAUSGAARD
And there's one more thing you haven't mentioned. Book Three is the portrait of a very feminine young boy. Here is a young man trying to transform himself into a real man—so he ends up being angry at having to do all these things. That's what I was thinking. I'm looking for complexity.
WOOD
Yes, when I first read the part about masculinity and pushing the stroller, I remember it wasn't something I'd felt at all. I simply didn't agree with you, having pushed plenty of strollers and done the BabyBjörn thing ­myself. But now, having read Book Three, I understand that this was a kind of preparation. ­Besides, when you go on so much about masculinity and "the ­masculine ­principle," the reader inevitably thinks, What could his idea of masculinity be if he had to take it from his father? That's no kind of masculinity. Or maybe it is, but not a pleasant one. In Book Three, it's your father who's ­closing everything down and your mother who's opening everything up, who's opening up the world.
KNAUSGAARD
It's hard to discuss these things as categories—this is masculine, this is feminine. Maybe somebody will be offended because I say complexity is ­feminine. But if I should talk about it, then yes, I think everything in the book is seeking complexity, and that classic masculinity is the opposite. The masculine role is supposed to be simple. I have a great desire for that in myself.
WOOD
You do?
KNAUSGAARD
Yes, and the act of writing is the complete opposite of that. When I grew up, it was the same. Reading was considered feminine—Why are you reading? Boys don't read. It's passive, you don't move, and it has to do with feelings. And feelings are something you don't want as a boy, you shouldn't have feelings. That is less true now, but it was true in the seventies, that was the role of being a boy, and that is one of the most important problems in the book—the desire for simplicity, which also is the desire for religion, as against the act of writing.
WOOD
This desire for simple masculinity—what is that? What would be "masculine" activities or states of mind? And don't say shitting in forests.
KNAUSGAARD
It would be doing something very concrete. I don't do anything. I don't use my hands . . .
WOOD
You mean physical labor?
KNAUSGAARD
Physical labor, yes. And then—this is very childish—but I have a desire to do something heroic, for instance, to do something in which I completely disappear, which isn't possible anymore. It doesn't exist. But as a child, I was crying a lot, and I was troubled by very small things. The feelings would overcome me and take me over, and I always wanted that to stop. I always wanted to be cold and effective, in a way, and I felt that someone who was cold and effective would have a much easier relationship to the world and to other people. My feelings made me very passive. I almost couldn't do anything because I was so concerned by what everybody would think. I had a desire just to act and not care about the consequences, but I never could. I think that's part of this wanting things to be simpler.
For life, it's very, very bad to be sensitive, but for a writer, it's very good.
WOOD
There's a sentence where you refer to "the weak, trammeled man I was, who lived his life in the world of words." We've been talking over the last ­couple of days about some mid-twentieth-century American novelists—male ­novelists—who felt an intense anxiety like the one you describe and produced ­distorted parodies of maleness in their own activity—heavy drinking, brutishness, anti-­intellectualism. It's awful to see, when you look at how those lives were ­destroyed by some quite acute inability to put maleness and writing together. Even in the seventies, you felt that was still a kind of burden?
KNAUSGAARD
Very much so. I just wrote two essays, one about growing up in southern Norway in the seventies and one about the Icelandic sagas. I find the same values in both. There were rules you had to follow. If you didn't follow them, then either you were bullied or else you were not allowed to be a part of the gang. They were simple things, too—you should not cry, you should not be interested in colors or clothes or anything like that, and you should be brave. A coward was the worst thing you could be.
WOOD
There's that horrible moment in the novel when the narrator picks some flowers and brings them to his father, who says, Boys don't do that, that's what girls do, and throws them away.
KNAUSGAARD
And it's true. It was like that. I went out picking flowers—I wanted to please him. But it wasn't only my father. It was the time.
WOOD
Do you remember a moment when you felt some liberation from that? You write about it enough that you may not have felt a liberation, that it's still there.
KNAUSGAARD
It is still there. But if I want to do something with my hands, my only alternative is gardening, and you know, that's not very masculine either. That's flowers.
WOOD
There's a moving moment in Book Three, when you say, essentially, I may do nothing as a father, but I'll be happy if I just accomplish one thing—that my children aren't afraid of me. And actually, you bring it back to the flowers. You say, If they get to the age of forty and all they remember is that they weren't afraid of me and that I provided for them as a mother, I will bow and take their bouquets.
KNAUSGAARD
I hadn't thought of that.
WOOD
You don't have to think about it. There are lovely patterns in the work that are there for other people to enjoy. While we're on masculinity, I'd like to ask, do you think there is something possibly pornographic about attending so closely to objects? The way you describe, say, looking at photographs of girls, or even looking at girls, when you were a teenager, can be hard to distinguish from the way you describe other aesthetic experiences. Often you use the same word—fantastic. It got me thinking about whether there's some slightly unpleasant connection between attending to the object and voyeurism or pornography.
KNAUSGAARD
I must say, I haven't thought about that, at all. One of the dangers of writing like this, blindly, is that things like this became visible for others to see. The books say a lot about me that I don't know . . . but really, I'm not sure I understand what you are saying.
WOOD
Well, you describe looking at pornographic photographs, and you say it was extraordinary to look at these bodies that were so near and yet so far away. Trying to grab that object, a girl's body, isn't so dissimilar from trying to grab other objects. It's objectifying.
KNAUSGAARD
This is something that comes up often in My Struggle, objectifying women. Maybe it has to do with masculinity, or maybe it's just to do with me, but I think we live in a visual culture, with more and more images, and we grew up in a time when that started to be more common. My first sexual experience was finding porno magazines in the woods. Looking. And yes, I think sexuality has to do with that kind of cultural change, but I don't know, I haven't analyzed it. I just write about how it is for me.
There is a certain irony in this book. Not many people have paid attention to it—but there is a difference between the self who writes and the self who is written about. I'm very well aware of the fact that women are objects in the book, because that's how it is for me, and I wanted to show that. I'm aware of me doing it. Every time I see a woman, I think, How would it be to have sex with her? I think that's the first thought for every man. Don't you think that? I mean, if you are absolutely honest?
WOOD
I didn't write the book. I don't have to answer the questions.
KNAUSGAARD
But that's the thing. These are things you are not supposed to say. We are told, This is wrong, that is wrong, you shouldn't think this way. But the difference interests me a lot—the difference between what you should do and what you really do. Of course that is easily taken as a provocation, and people think you are sexist, but it's not like that. I am just describing life. I may live that life wrong, but it certainly makes it more interesting to write about than if I lived it right.
WOOD
It's one strength of your writing that you risk that kind of statement—or really, that kind of enactment or confession. It is a risk—the risk of people thinking all sorts of things about you, including maybe wanting to have sex with you [laughter] . . . But I think there might be time for a last question from the audience.
AUDIENCE MEMBER
In writing My Struggle, do you think you found any answers about your life? Or is it all still a big question?
KNAUSGAARD
When you write you have maybe two or three or four things that really interest you, that you want to write about. At least that's how it is for me. Even after writing thirty-six hundred pages, I'm still interested in the same kind of issues. In My Struggle I have included a lot of essays. I wanted to write about Celan and I wanted, on the next page, to go and buy bacon in the supermarket because both are a part of my life. But my experience of writing essays and fiction is that, with essays, there's a reflection and then the text stops there, you can only go up to there, but in fiction, you can go up to there, and there, and there. So what James proposed about pornography, for example—it did not occur to me, but there it is in the fiction, and maybe it belongs to our time, or maybe just to me, or maybe just to this book. Or take Cain and Abel, from the Bible. This is a huge story—but it isn't. If you read it, it's only twenty-six verses long. Practically nothing, and yet you can interpret it for two thousand years, and you can read it now and find different things in it. You can't read a five-hundred-year-old essay and find something new in it. I'm not saying that my book reaches far, only that compared to reflections in essays, fiction keeps being open and complex. Even when it's about your own life.