Interviewed by Barbara Thompson Davis
Issue 154, Spring 2000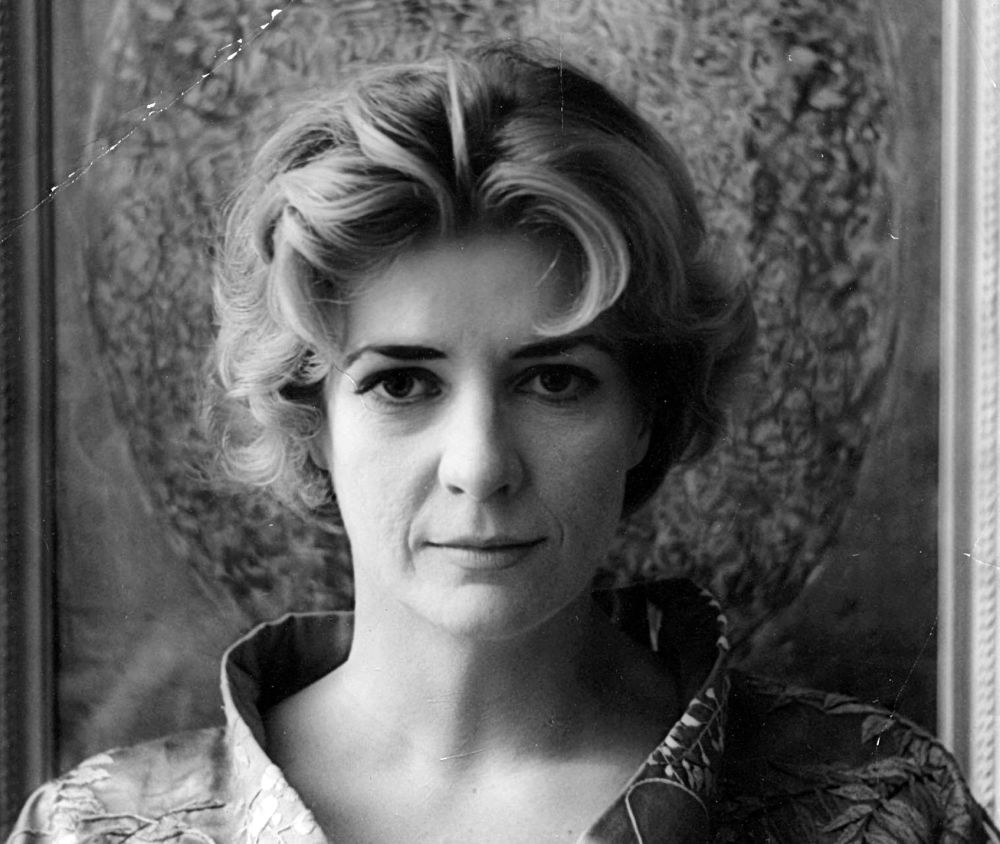 Carolyn Kizer was born in Spokane, Washington on December 10, 1925, a birth date shared with Emily Dickinson. She graduated from Sarah Lawrence College, studied at Columbia University as a fellow of the Chinese government and, in 1946, became a graduate fellow at the University of Washington, Seattle. In 1948 she married Stimson Bullitt, by whom she had three children; they divorced in 1954, and that same year she began studying poetry with Theodore Roethke and, later, Stanley Kunitz. In 1959, with two colleagues, she founded the quarterly Poetry Northwest. Her first collection of poems, The Grateful Garden, appeared in 1961. She received the Pulitzer Prize in 1985 for Yin: New Poems. Her most recent collection is Harping On (1996). In addition she has published a book of translations, Carrying Over (1989), and a collection of essays on poets and poetry, Proses (1994). She recently was appointed a chancellor of the Academy of American Poets.
Thirty years of conversation—a good deal of it about writers and writing—preceded this interview. I first learned of Carolyn Kizer in 1965 in Rawalpindi, Pakistan, where she was a specialist in literature, from a Punjabi poet who had heard her give a reading and hastened to a telephone to reproach me for missing it. "She is a goddess!" he said. "She is mighty!"
We met the next night at a dinner party in the tiny, embroidery-crammed living room of a Bengali painter. Statuesque, honey-blond, with a rich and powerful contralto, she was an ideal standard-bearer for the English language in those competitive poetry recitals (mushairahs) beloved in the Indian subcontinent. She seemed to have read and remembered everything, not just reams of William Carlos Williams and Theodore Roethke and Stanley Kunitz, but also wonderful poems no one else had ever heard of: I wonder how many poets in Pakistan still hear in her voice Ruth Pitter's "But for lust, we could be friends . . ." and Bernard Spencer's "Yachts on the Nile."
In 1966 she came back to Washington to the National Endowment for the Arts (she had been appointed the first director of literary programs), sharing with her daughters and a large Persian cat named Myshkin a townhouse whose wall to the garden was a pane of glass against which willow trees inclined. She has always been, as she says, "house lucky."
For the last seven years she has lived with her second husband, architect John Woodbridge, in a white Victorian farmhouse surrounded by huge acacia trees, just outside the city limits of Sonoma, California, with a mature rose garden, tennis courts and a swimming pool; inside, tall rooms are filled with books and works of art. Kizer writes in a handsome study, painted a pale mauve "to go with the muted colors of Northwest paintings"—in her twenties she began buying the work of Mark Tobey, Morris Graves, and other Northwest painters.
We began our taping in dressing gowns on a sunny morning in the library. Music played in the background, Vivaldi maybe. We settled into deep leather armchairs overseen by Mark Tobey's portrait of Kizer's father. His gaze is both stern and benign. As she says, "It could be a painting of an Adams or a Jefferson rather than a man who started life on a bankrupt farm in central Ohio."
INTERVIEWER
I know you've written about this, but could we begin with the beginning, how you became a poet?
CAROLYN KIZER
I began writing poems when I was about eight, with a heavy assist from my mother. She read me Arthur Waley's translations, and Whitman, and Robinson Jeffers, who have been lifelong influences on me. My father read Keats to me, and then he read more Keats while I was lying on the sofa struggling with asthma. A sort of intellectual seduction: there I am, lying on the sofa breathing with difficulty, while Father pours Keats into the porches of my ear. If Daddy had only read Keats's letters! They're so wonderful, but Keats is someone you can't let yourself be influenced by. There's that interesting group of poets who are fatal to your style: I'd say Keats, Gerard Manley Hopkins and Dylan Thomas. The Waley led me to my own interest in Chinese and Chinese translations, which has been a major theme in my life. And Whitman, of course, I idolize, though I'm more attracted to metrical verse. Meter is as natural as breathing or the heartbeat. I think my childhood asthma had a lot to do with my consciousness of the breath unit—in a sense I've never really taken breathing for granted.
I wrote poetry off and on in high school, when I could manage to get out of gym classes and sports—using my allergies as an excuse—and climb the hill behind school till I found a nice place to settle down with a notebook and look at Spokane spread out below. As I remember, the first real poem I wrote was about the wheat fields between Spokane and Pullman, to the south. Mother used to say that Spokane was "a walled town," quoting Ralph Adams Cram; these walls, to her, were the wheat fields to the south, the forests to the east and north, and the desert of the Grand Coulee to the west. I forget what were supposed to be the virtues of a walled town, but it was a metaphor for my mother's claustrophobia—trapped in this extremely provincial town after living all her adult life in New York and San Francisco (until she met and married my father in her forties). I know that I, too, felt that isolation, with radical parents in an archconservative city—and I also felt trapped, but by the excessive concern of elderly parents with one lone child. Poetry, then, was chiefly a means of escape from a huge, rah-rah high school, from Spokane and from them.
INTERVIEWER
But you don't think of poetry as escape now, do you?
KIZER
No, I think what I really want to escape from now is what is happening to my country—the anger, the fear, the knee-jerk conservatism. Which is probably why we bought an apartment in Paris a few years ago. As a child of the New Deal, politically active since I was twelve or so, I never thought I would feel this way! Now poems seem to be social commentary as much as anything; principally, they are focused on human interaction, which one would think is more of a novelist's concern.
INTERVIEWER
Influenced by . . .
KIZER
I would put Flaubert first, not only the novels, but the incomparable letters that he wrote to George Sand. And Henry James.
INTERVIEWER
How do you see these influences emerging in your own work?
KIZER
Well, I think if there's a major theme in my work, once we get past the love and loss of the early days, it is the impact of character upon character, how people rub against one another and alter one another. A poem of mine called "Twelve O'Clock," which was published in The Paris Review, was based on that principle of Heisenberg's that you can't look at a subatomic particle without altering it. Equally, you cannot meet someone for a moment, or even cast eyes on someone in the street, without changing. That is my subject.
As for James, he is the master of timing. If I may go from the sublime to the ridiculous, so was Jack Benny. And Arturo Toscanini, with whom I was saturated as a young girl. It's that significant pause, that caesura, the time-out to breathe, which is why we need to hear poetry as well as see it on the page. Because we don't get the full sense of its music if we just look at it. It's always a revelation to hear a poet read his or her work.
INTERVIEWER
What was the importance of your time at Sarah Lawrence?
KIZER
I didn't learn much about writing at Sarah Lawrence, but I learned a lot about the sources of poems—dreams, myth, history—from the really great teachers, Joseph Campbell, Charles Trinkhaus, Bert Loewenberg, and a young Australian anthropologist named Harry Hawthorne. In class he would fix us with his beautiful blue eyes, and begin, Now, gulls . . . And for a moment all of us would preen our feathers and flutter our wings. Later he went off to Canada to study the Doukhobors, a strange religious cult of Russian descent whose form of protest was to take to the streets stark naked. I've always wondered what happened to Harry, and to them.
INTERVIEWER
And during your fellowship at Columbia?
KIZER
I concentrated almost exclusively on Chinese studies and, as I remember, didn't write poetry at all, except to attempt some Chinese translations. But nobody taught me how to make a good poem out of a bad poem until I encountered Theodore Roethke ten years later. During my first marriage I wrote one poem, which was published in The Atlantic—and which I hope no one will look up—and I had three children in three years. When that marriage broke up, I went to study with Roethke at the University of Washington. I was then in my late twenties, living in Seattle. I had never taken myself seriously as a poet, and at that point the poetry didn't deserve it. But then, most women poets of my generation didn't dare take themselves seriously, because the men didn't take us seriously—I was almost middle-aged before the idea penetrated. But Ted took poetry seriously, and taught me to do so eventually.
It was an extraordinary class, with James Wright and Jack Gilbert, among others, and the poets David Wagoner and Richard Hugo—Ted's former students—were around too. There was a shortage of gifted women, although we received a heavy dose of women poets in class, especially Louise Bogan, Leonie Adams, and Ruth Pitter (the neglected English poet who died recently, at ninety-five). But you can see by the names I've mentioned that I was in a nest of singing chauvinists. Ted and Stanley Kunitz, who took his place a couple of years later, were always willing to talk shop, but my peers were different. The men would be having conversations about craft, and if I said something they would go on as if I hadn't spoken, as if I were wallpaper. It was upsetting. But they were very much worth listening to, particularly Jim Wright, who could recite reams of poetry from memory, and several acres of the prose of Samuel Johnson, getting every word right so that those Johnsonian cadences were preserved. Then when he was really drunk he went into the German and recited Hölderlin! But we all went in for memorization, to one degree or another. I wish that more students did it today.
INTERVIEWER
How did the guys react to your poems, then?
KIZER
Often with great generosity. Dave Wagoner, that splendid poet, was a fine and helpful critic. But a few years later when I wrote "Pro Femina," the poem for which I may be best known, the reaction was extremely negative. The poem is in hexameters, not a common English meter; it was used by the great Roman satirists and social critics like Juvenal. I wanted a classic meter in which to write a feminist poem, having been turned on by reading Simone de Beauvoir's The Second Sex. I hunted for examples in English poetry and all I could turn up at that point were a couple of Swinburnes, Arthur Hugh Clough, and one by Edmund Wilson. What a trio! So I was virtually on my own. But the negative reaction of my men friends was such that I nearly threw the poem away. It was my good fortune to be saved by two classical scholars who turned up then: Rolfe Humphries and Robert Fitzgerald. They loved it—not the subject, perhaps, but the meter! I fear my peers were jolted by the subject matter—but the irony is that within a couple of years one of them was teaching it at Reed College.
But it's with a sharp pang that I recall those days. Ted is dead, Jim is dead, Dick is dead. Stanley, bless him, is still with us. I remember the first day of Stanley's class I went to pick him up at ten a.m. (he was fifty then) and he greeted me at the door with a martini in his hand. I thought, He won't last long. And here he is, celebrating his ninetieth birthday! He still makes a wicked martini. Perhaps that's preserved him.
INTERVIEWER
He and Roethke were close, were they not?
KIZER
Absolutely. Ted revered him, quoted him and stole from him. Stanley always has been too tactful and modest to mention how much influence he had on Roethke, and Lowell as well. I remember Bill Matthews quoting from Ted's essay "How to Write Like Someone Else," where the subtext is that everybody borrows from everybody, and anyone who pretends he hasn't—consciously or unconsciously—is lying. Ted pretends he is addressing beginning writers, but he is really admonishing his colleagues for acting like romantic poets (to quote Matthews) "who pretend they made everything up out of the winey air."
Over twenty-five years ago there was an anthology called Five Poets of the Pacific Northwest—Wagoner, Hugo, Kenneth Hanson, William Stafford, and me. The book was dedicated to Roethke, who had died recently, and there was a memorial reading in Portland in which we all took part. Each of us got up in turn and tried to say what Ted had meant to us, until it was Bill Stafford's turn. Bill said, in effect, that he hadn't been influenced by Roethke, that Roethke didn't teach him anything, that he didn't know him very well and didn't really care for his poetry. So Dick Hugo got up and said, Thank you, Martin Bormann.
INTERVIEWER
Egotism, claiming he never learned anything from anyone.
KIZER
That's the "warbling woodnotes wild" school. And of course, most male poets are very competitive. They have sharp elbows. I remember that when Ted died Robert Lowell and James Dickey did a memorial to him on TV. When they read from his poems it seemed to me that they picked the weakest poems they could find. Lowell read a very minor poem, "The Geranium." To quote Bill Matthews again, he says it's a poem about Roethke firing his cleaning lady. Ted admits to being foolish, and I felt that Lowell was trying to make a fool of him when he read this poem. It was difficult for men of that generation to be generous with each other. It's easier for us women to be generous—with the exception of Sylvia Plath, who was so competitive—because we are still giving each other a helping hand. Also, in the West generally we tend to be friendlier and more generous with each other, men and women. I remember Jim Wright, who had just come from Kenyon College, being amazed at how easily we shared new work with one another. He said that people at Kenyon were much more anal, and clutched their work to their bosom as if they feared someone was going to pinch their deathless phrases. Kunitz, fresh from New York, said much the same thing.
I remember the day that Ted got the Pulitzer. He'd started class, and someone came in, whispered something to him, and he left the room. He came back looking stunned and tried to pick up where he'd left off; and then he stopped dead and said, I've just won the Pulitzer. We all stood up and screamed with joy. In an odd way we all seemed to feel that we shared in the work of the rest, that success for any of us belonged to all of us. I still feel much that way. When Louise Glück won the Pulitzer I was elated for her, and with her, and hastened to fire off a note of praise and joy.
INTERVIEWER
It's interesting that you remember so many details of those years with Roethke. We're talking about things that took place thirty to forty years ago.
KIZER
Yes, it seems as if in some ways those were the defining events of my life. Of course, some of them were terribly painful. Roethke was ill, off and on, during those years. I could always tell when he was going mad because I would get a couple of dozen long-stemmed American Beauty roses. Lillian Hellman would receive a Chinook salmon sent air express. When the women he was fond of received these presents, instead of being pleased, we would burst into tears, knowing too well what was to come.
INTERVIEWER
The onset of mania?
KIZER
By then it would be much more than an onset. The most dramatic time—in the late fifties—I came to the campus to learn that Ted had just arrived at Parrington Hall. He'd run all the way from his home, which was several miles away on a hill overlooking Lake Washington. He had perspired so heavily that his clothes were soaked. I remember he took a pack of cigarettes from his breast pocket and it dripped with sweat. We were all terribly upset. He had one of those heavy railroad flashlights in one hand and in the other a mammoth bottle-opener, both of which could have been formidible weapons. I was never afraid of him, but the students were paralyzed. So we called on the late Daniel Weiss, the brilliant Jungian scholar, who was also a black belt in judo, to stand by. In the classroom Ted did what he always did when he was going mad: he wrote his name on the blackboard, Theodore Heubner Roethke. He pronounced his name with a German accent. Then he went outside to a little raised platform in the middle of the quad where the flagpole was. He made an incoherent speech to the passing students, who either ignored him or laughed. Meanwhile someone had called the police. When they came, Dave Wagoner and Dan Weiss and I led Ted to the police car. I know we all felt like Judas. Ted had been belligerent and noisy, but when the police were about to put the handcuffs on him he held out his wrists like a little child. As they drove off, Dave and I collapsed against the wall of Parrington Hall, weeping. Ted wasn't a violent man; he was a gentle person, but big people—as I know to my cost—are often seen as threatening.
INTERVIEWER
Could you speak a little about Roethke's methods as a teacher? I know you have adopted them as your own.
KIZER
He taught us close analysis, to spot the soft underbelly of the poem and to trim it ruthlessly, including the author's favorite passages. He pointed out that the poems of tyros often don't start at the start, but spend a stanza or two cranking up before beginning. He taught us what we disliked at first but what for me became joy in later life—rigorous revision. In his magisterial biography, Maynard Mack points out that Alexander Pope was quite aware, as most working poets are, that "the lines which seem to the reader or critic the most spontaneous, graceful, and natural are often the ones laboriously revised, far into the night, with an obligato of curses and an outpouring of sweat." Pope once called the process of revision "the greatest proof of judgment of anything I ever did." With practice, revision itself becomes a creative act. "One learns dispassion, judgment, and a certain limited faith in one's powers of discrimination." I believe that with my whole soul, and Roethke did too.
INTERVIEWER
Not to equate spontaneity with poetic genius?
KIZER
Ah yes, those who think that their first impulse is so wonderful that they cannot alter it—in the words of a student I had at Stanford, to revise "would be to violate the integrity of the poem." But what you do through revision is to find the integrity of the poem. I've always believed that the poem inside is perfect; I have a very clumsy retrieval process for getting it out. It's like trying to remove a baby from its mother with a faulty pair of forceps, getting it out without bashing its head or knocking off one of its ears.
INTERVIEWER
Do you still revise a lot?
KIZER
Yes. Pope also said you should keep a poem for two years before trying to publish it—which I do. I also have long poems hanging around in notebooks that are unfinished and that I drag out and work on from time to time. It keeps me from worrying about writer's block. And of course my Chinese translations are another way of doing that. I just say to myself, I'm going into my translating mode.
INTERVIEWER
Let's talk about translation. What's its chief value, aside from keeping your hand in?
KIZER
It allows you to explore the possibilities of your own language. I remember in Pakistan once some intellectual said to me, Ah, but our language is so much richer than yours. You have only one word for love while we have dozens. And I said, Oh, yeah? and I began to rip off similes, much to his amazement. I think I got off at least two dozen without pausing for a breath. And that is the fascinating thing about translating. That there is a word, if you can just find it, for everything. I've got two poems of Ingeborg Bachmann that I've been working on. They are impossibly difficult. If you want to figure out what a poet is telling you, trying to translate her is the best way to find out. I sent my versions to an eminent German scholar at Reed College who's a good friend of mine, and he pointed out all the things I hadn't seen and didn't know; so now I'm going to go at it again. I've got the rhymes, and the basic plan for the poem. Now all I have to do is get the nuances and subtleties, the subtext.
INTERVIEWER
What do you do with an element like sound patterning?
KIZER
In German I damn well abandon it! I think of poor Heine saying, My God, to think I was cursed with this vile language! Perhaps with German even Hopkins might be a help: you could be freed up to invent compound words.
The problem that most translators have, especially professionals translating the whole body of somebody's work, is that they fall into "translatese": the linguistic pattern of the language that they're translating from, sometimes to the extent of putting verbs at the end of the sentence. It's very seductive. The better you know the language, the more seductive it is. I don't have a general theory of translation; I think I have a theory of translation for each poet that I translate, because each language requires such different things. Each poetic voice is so different from every other poetic voice. The thing you have to do is become that person for a time.
INTERVIEWER
Are there dangers in falling in love with another poet's voice?
KIZER
It's like an actor trying on a new role, finding another voice that's within you to express something. I have a poem called "In the First Stanza," where I got the idea and, I think, the voice, from a twelfth-century Chinese woman poet. She did exactly what I had been told in workshops not to do, which is telegraph your punches. She tells you in one stanza what she is going to do in the next. I fell madly in love with this idea and tried it, and it worked out very well. Of course I have done many imitations of classic Chinese poems, particularly by Tu Fu, and I've also translated Tu Fu. In the noble Tu Fu poem "The Testament," Roethke's influence was a great help; there are lines that are very Roethkean, like "I find the grasses dying with the year." That sounds like Roethke to me, both the rhythms and the way the language goes. Ted gave me a voice that I heard as the voice of Tu Fu, but I also think the reason I'm good at Tu Fu is that I feel a real affinity for him. You have to fall in love with that other poet, really.
INTERVIEWER
You've had a wide range of poetic influences—Eastern European, Oriental, as well as the whole line of poets in English. But weren't painters important to you, as well?
KIZER
In some ways painters have been more important in my life than writers. Painters teach you how to see—a faculty that usually isn't highly developed in poets. Whether you take a walk in the woods with a painter, or go to a museum with one, through them you notice shapes, colors, harmonies, relationships that enhance your own seeing. Also, male artists always have had the qualities that modern women find lacking in most men; these guys know how to cook, change a diaper, take responsibility for entertaining and educating their children. Of course part of this is due to economics: most good painters are poor. But mainly it's because they are tactile, earthy; like Antaeus, they have their feet firmly in the dirt.
INTERVIEWER
You met Mark Tobey and Morris Graves while you were still in your twenties.
KIZER
One morning the doorbell rang. I was clutching a very young baby to my breast who was dribbling on a totally impractical trousseau dressing gown. When I opened the door, there was this towering person. He looked like Jehovah, or Jesus, or St. Jerome. It was Morris Graves. I literally reeled backward as he strode into the living room. I can't remember how I met Tobey. It seems as if he was always there, like a father. I saw him at least once a week for years. Mark was also a very articulate person, unlike many good painters. He would say things like, Cubism is the great unfinished business of painting. Once he was describing the renovation of a fine old theater: Then the orchestra rose out of the pit like the devil's liver! Mark used to give free lectures at the Seattle public library. Smart young lawyers and businessmen would bring their brown-bag lunches and listen enthralled. Mark, with a blackboard, would sketch in the lines of a great classical painting, Rubens or Tiepolo, say, and show how it could be broken down into a composition by Picasso.
INTERVIEWER
I love your Tobey World Egg.
KIZER
I bought that when I was pregnant, because it was just the way I felt at the time—as if I contained multitudes! I was married to a very rich man at the time, but like many people who inherit wealth, he was frugal to a fault. But my dear mother gave me a tiny allowance—twenty-five dollars a month—to hire a cleaning lady. Instead I bought paintings from Mark, on time. Whenever I looked at my paintings, I thought, I scrubbed bathrooms for these! Of course, when I was divorced it was handy, because all the paintings were ones I had paid for, so I got to keep them.
One reason I have some astonishing little paintings by Tobey is that I became a sort of repository of paintings for him, of things he wanted to keep around to look at. Painters will tell you how painful it is to give up their work, particularly if a given piece contains the seeds of work as yet unpainted. Mark always felt free to hang around my house and look at his own work. My Tobeys are superb, my Graveses less so, because Morris was much more expensive, even then. Mark was dreadfully hard up. I remember carting around major paintings of his, endeavoring to sell them to wealthy Seattleites. I remember one woman, whose husband was the manager of I. Magnin, who came to look at the paintings wearing a Chanel suit, who said, They're beautiful. I wish I could afford them. She could have bought one for four hundred dollars, less than the price of her suit. Those paintings are now in the Museum of Modern Art, the Phillips collection, and in every European museum of note.
INTERVIEWER
This portrait of your father by Tobey is extraordinary.
KIZER
I remember reading aloud to them the letters of Lady Mary Wortley Montagu as Daddy posed. Daddy, in a characteristic way, has one hand supporting his chin. Mark was delighted: That gets rid of the terrible problem of modern portraits—the collar and tie! There is a timelessness about it. Once someone inquired, "Is that an ancestor?" And my husband, poker-faced, said yes. I will always miss Mark dreadfully, but I have his wonderful work to look at, every day.
INTERVIEWER
Let's talk about process, how a poem grows. I've seen different versions of some poems, like "Twelve O'Clock," over a period of five or six years.
KIZER
I have one poem, "Halation," which took approximately nine years! But "Twelve O'Clock" started with a photograph from the newspaper of Mrs. E. O. Lawrence—a beautiful old woman who was trying to get her husband's name taken off the Lawrence Livermore Lab because it was producing horrible atomic devices of one kind or another, and she said her husband would hate it. I knew I wanted to write about physicists and physics, but I didn't know anything about it because all I'd had was general science in high school, nothing since then. So I began reading books on physics for about two years. More or less popular books, but I was pleased that the little gray cells in the unused portion of my brain were still active enough to take this in.
INTERVIEWER
So the poem began with an idea?
KIZER
No, it began with Mrs. Lawrence because she became my muse, because of the statement she made and, of course, because she was beautiful. I think muses have to be beautiful. And then in the conception of the poem, as I worked on it—a lot of it, of course, in my head—was the dialectic between my mother's and Einstein's sense that the universe was orderly, and Heisenberg's and my sense that it was chaos. There were two other things that I wanted to do in the poem. One was to get Einstein's idea of the simultaneity of time. I wanted everything in the poem to seem to be happening at once. In organizing the poem I would cut the stanzas up and put them on the floor and walk around in my bare feet rearranging them.
INTERVIEWER
So it wasn't that the poem came into your mind as a logical argument, but rather as if it were chunks of mosaic or themes in music, to be arranged so that they interact with each other.
KIZER
Poems, to me, do not come from ideas, they come from a series of images that you tuck away in the back of your brain. Little photographic snapshots. Then you get the major vision of the poem, which is like a giant magnet to which all these disparate little impressions fly and adhere, and there is the poem!
It resembles the sequences of memory. One thing I should make clear is that although I have a very spotty memory in many respects, I have a nearly perfect memory for dialogue, for conversations. The funny thing is that I believe in invention and I believe in lies, but in this poem the dialogue is an absolute recapitulation of everything I've heard. So that when I was four years old, Mother said, "Listen, darling and remember always; / It's Dr. Einstein broadcasting from Switzerland"—that's exactly what she said, and my response, "So what?" is just what I responded. I get indignant when people ask, Did you really say that? Did these people really say that?
INTERVIEWER
But why do you think you so perfectly remember such a thing, a little girl not at that time the least concerned with politics or physics. What seals the memory?
KIZER
The pressure of my mother's speech in iambic pentameter of course, "Listen darling and remember always; / It's Dr. Einstein broadcasting from Switzerland." When someone speaks in that impassioned way, when they speak in perfect iambic pentameter, as most people do under pressure, it's something you remember.
INTERVIEWER
So meter is more than a convention or a straitjacket imposed on the spontaneous freedom of our words, but something towards which passion automatically tends. An internal force.
KIZER
And it is as natural to me as breathing.
INTERVIEWER
The urgency in this poem was . . .
KIZER
The imperative in this particular poem is to tell the truth. I think underlying everything I've written is the great saying of the Society of Friends, "speak truth to power." That is central to my work going way back to my early poem about the suicide of the Canadian diplomat Herbert Norman, who was accused of being communist. When I say, "A poet, to whom no one cruel and imposing listens, / Disdained by senates, whispers to your dust," I am doing my best to speak truth to power.
INTERVIEWER
Could we talk about the line breaks in "Twelve O'Clock"?
KIZER
Shall I go into my whole riff about line breaks, and about how angry I get with young poets who break lines like sawing kindling, so that it looks nice on the page and violates the integrity of phrase? Line breaks are one of our major forms of punctuation—compared to music, for example, which has infinite numbers of ways of telling you how fast, how slow, when to breathe, when to stop, when to pause; we've got the standard punctuation marks and we've got the line break, and you've got to use the line break to work for you. Also, the line break can provide a kind of emphasis, to indicate shock, taking a deep breath, crisis. In the middle of the poem: "Hiroshima. Heisenberg at first refused / To believe it, till the evening news confirmed / That their work had led Hiroshima's 100,000 dead." Now when you refuse to believe something you take a deep breath before it really hits you. In "the evening news confirmed," again, there is this moment of shock, disbelief that the line break emphasizes.
I've learned from Robert Creeley about line breaks, too, which in Bob's case are always very, very considered. He's a poet as different from me as anyone could be—a poet who characteristically works in short lines, where I tend to work in long ones. But Bob makes full use of the break between one line and the next to make you think, to make you pause, to make you reflect and, most important, to hear Bob thinking, halting, reflecting. So that you get three times the charge out of a few lines of his than you get out of an enormous range of words by other people who don't have this kind of understanding of what a line break means.
You can also use line breaks as a means of reinforcing irony. Near the end of the poem, for example, when I run into Dr. Lawrence on the train, and he tells us not to worry about the atom because it's nothing to concern us, and I say, "So, reassured we said goodbyes, / And spoke of him in coming years, that lovely man." I'm always interested in the fact that audiences get that. In fact they get even more out of it than I've put into it, in a curious way. They get the ambiguity of this very nice person who created this horrible monster that created our overwhelming dread of the future.
INTERVIEWER
Judith Johnson said once that you're really an Augustan poet disguised as a sort of postromantic.
KIZER
I think Hayden Carruth said something too that was very close to that. I think I am, actually. I remember after a reading somebody came up to me and said, I love that political poem of yours, and my husband, who was standing next to me, said, Which one? They're all political, and I was pleased by that. I would feel the same if she had said, "I love that feminist poem of yours." It's a point of view, it's a stance, it's an attitude towards life that affects, and afflicts, everything I do. But one thing that I want to emphasize about my feminism, something that's only become a canon of official feminism in fairly recent times, is this concern with ecology, with saving what's left of the world. My father was an early city planner and a historic preservationist. The thing that underpins "A Muse of Water" is my incorporation of my father's concern with the environment long before the word ecology became fashionable. And I've assimilated man's degradation of the environment as a basic feminist concern. Rape is rape, whether it is a human being or a landscape.
INTERVIEWER
How did you come to write "A Muse of Water"?
KIZER
The genesis of that is very simple: Robert Lowell, in Stanley Kunitz's house, saying that women ought not to try to be artists, they should stick to the kitchen. It was right after he'd made a pass at me. He'd been drinking, naturally. It must have been about 1957, he was married to Elizabeth Hardwick, the brightest woman in America. I was so outraged that I went home and wrote "A Muse of Water." It began as a letter to Lowell actually, and then when I'd written a draft of it, I thought, He doesn't deserve it! So I took out all the references to Cal, except for a mention of the Charles River in the fourth stanza, which remains like the vermiform appendix.
INTERVIEWER
How about "Semele Recycled"—another feminist poem?
KIZER
That was a freebie. One of the things that happens if you revise interminably, as I do, is that occasionally the muse says to you, Well, you've been a good girl, have one on the house. I was driving back from Charlotte, North Carolina to Chapel Hill, having had minor female surgery—very minor, but still I reflected on the fact that as women go through life they keep losing portions of themselves. Bit by bit they're being taken away, and it occurred to me at that very moment that the story of Dionysus had to be about a woman, not a man at all. The whole dismemberment number is obviously a female myth that got distorted and transformed in the course of the ages. Then I woke up the next morning and wrote the poem. It's the least revised of any poem I ever wrote and perhaps the best.
INTERVIEWER
It seems to me it's also about another kind of fragmentation, the way in which we're real to others only in one aspect, most of the time. A teacher at one time for one bunch of people, a daughter or lover or . . .
KIZER
You could make even more of a synecdoche than that. To your lover you're a vagina, to your baby you're a nipple, and so on. But, of course, the other thing is that this is a love poem. I'd had the breakup of probably the great love of my life not too long before; I hadn't seen him for two years. The reconciliation in the poem was just wishful thinking on my part, but it works in the poem.
INTERVIEWER
You can read that reconciliation as fate's magnanimity, but it has also been read as a succumbing to an endless cycle of betrayals! Either way, irony!
KIZER
The irony is certainly there. Irony is my big number. You know I used to get so many letters from students about the ending of "Pro Femina," when I speak of "the luck of our husbands and lovers, who keep free women." So I had a stamp made that said irony irony irony to put on a postcard and mail it back.
INTERVIEWER
Speaking of "Pro Femina," what about the long sections of that poem that are, however wittily, highly critical of women?
KIZER
I'm addressing women, saying we've got to pull up our socks and do better. I'm dealing with our frailties and our flaws, which men have encouraged. If you read the biographies of women poets of the twenties, you discover that they were manipulated into writing poems about loss and love. A coerced sentimentality. You see how they were taken up by second-rate men, second-rate critics, second-rate English professors, and often those were the kinds of men that they married. I was interested in exploring the induced vulnerabilities of women.
INTERVIEWER
Your feminism seems very much of a piece with the rest of you.
KIZER
I think I've really thoroughly internalized my feminism, partly because I got it from my mother and my father; it's something that occurs on a certain level of my work all the time. My mother was a very curious combination—not uncommon in women of her generation—of someone who believed implicitly in feminist principles, who was enormously gifted, who married for the first time at forty, after putting all her little brothers through college and having the great luck to meet my father, but who then never worked again in her life. Never had a job again. She worked very hard at keeping the home, and focused on me to an unhealthy degree. She was offered a job by Eleanor Roosevelt to be on some labor commission, a very hotshot thing, and I remember her saying to me, But who would get your father's breakfast? and I was shocked to the soles of my feet! I had been radicalized, and she had done it—that was why that question was so shocking. When my mother died in 1955, my father got his own breakfast for nearly thirty years. He would have been perfectly willing to do it. He felt that my mother was so gifted, and so neurotic, that she needed work. I once remarked jokingly that all my role models were women much younger than I, which is true.
INTERVIEWER
What about the current state of feminist writing? Are there things women still don't say? Matters still suppressed?
KIZER
No, I think the problem is that people are saying things that I wish they weren't saying. I'm not interested in poems about soiled menstrual pads, etcetera. But there are many aspects of women's lives that have been dealt with inadequately—maternity, for one thing. Giving birth. Of course we block a lot of it out, but what we don't remember we can invent. The mother-daughter subject, from both directions, as the mother and as the daughter, how little that's been dealt with.
INTERVIEWER
Before we end. What is your overview? You're in your seventies, you've won the Pulitzer, you're a chancellor of the Academy; you've had a rich life as an artist, as well as the secular life of family, a long late marriage. How does the poet's life look, from here?
KIZER
Well, in many ways it began as a kind of accident. It could have gone so many ways—either music or theater or, I suppose, if I'd been twenty years younger, film, film scripts. And I sometimes feel nostalgic about that because I think I would have enjoyed it. But I guess it was inevitable that I would settle for poetry. My joke always was that when I was at Sarah Lawrence, my music teacher told me that if I wanted to keep at the same level of skill at playing the piano I'd have to practice four or five hours a day just to stay where I was. And that did not appeal. And also I thought it would be easier to go through life with a pencil rather than a Steinway. It is very good for a peripatetic person like me, who writes poetry wherever I am. I guess the thing that really clinched it for me was the notion that I wanted to stay as far away from capitalism—buying and selling, the material world—as I possibly could, and poetry was clearly the solution to that!
I've been enormously fortunate. People say, How do you feel about your reputation? My real belief is that I have exactly the reputation I deserve. It's not fame, so fortunately I will probably be able to avoid the kind of biographies that have been written about my friends, which are exploitative and unnecessarily detailed about aspects of their life, which I don't think are anybody's business. And as far as honors are concerned, I didn't really receive any until I was sixty and I was over the age of having to worry about being spoiled. So on the whole I feel comfortable with myself. You know I've always always loved that line from Chaucer's Criseyde, "I am meyne own woman wel at ease." That's the way I feel. Of course, there are always disasters looming, both cosmic and domestic. But even if it should all end tomorrow I would just hope I've burned enough bad drafts and old love letters!

Author photograph by Nancy Crampton.