Interviewed by Carl Phillips
Issue 154, Spring 2000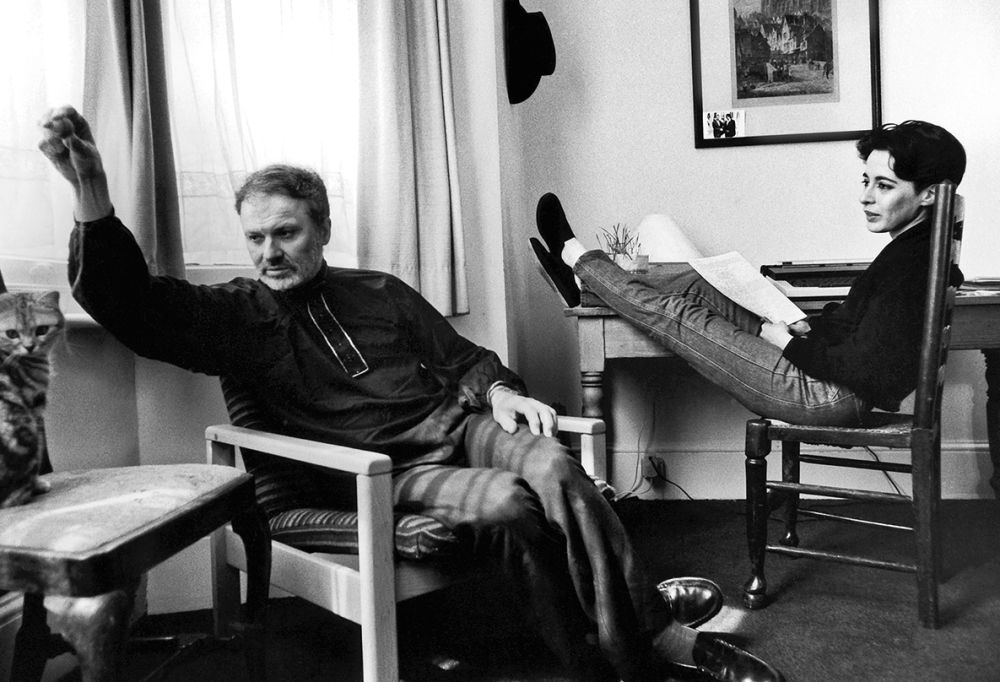 Geoffrey Hill & Alice Goodman, Cambridge, England, 1984, by Judith Aronson. ©Judith Aronson, 2016.
Geoffrey Hill was born in Worcestershire, England in 1932, where he grew up in constant view of the landscape that is Housman's Shropshire. After earning a degree in English at Oxford, he taught for many years, first at the University of Leeds, then at Cambridge, before leaving for Boston University in 1988, where he remains on the faculty of the University Professors Program. Since 1998, he has also served as codirector of that university's recently founded Editorial Institute. He makes his home in nearby Brookline, returning each summer to England, where he keeps a cottage in Lancashire.
Hill is the author of seven books of poems: For the Unfallen (1959), King Log (1968), Mercian Hymns (1971), Tenebrae (1978), The Mystery of the Charity of Charles Peguy (1983), Canaan (1997), and The Triumph of Love (1998). A new collection, Speech! Speech!, will be published this fall. He has also written two collections of essays, The Enemy's Country: Words, Contexture, and Other Circumstances of Language (1984) and The Lords of Limit: Essays on Literature and Ideas (1991) and a version of Ibsen's Brand, which was produced at the National Theatre in 1978. He is the recipient of awards that include the Hawthornden and Whitbread Prizes, as well as the Loines Award and a special citation for poetry from the American Academy and Institute of Arts and Letters.
The interview was conducted at Hill's home in Brookline over the course of two days in February of 1999, during and in the immediate wake of a blizzard that had hit Boston. During my drive up through the storm, I wondered what it would be like to interview my former teacher (I was a student of his at Boston University), and an initially rather formidable one at that? As it turns out, nothing would be as expected, starting with the house itself: from the outside, unassuming enough. To step into it, though, was to enter a number of seemingly disparate worlds: one part literal menagerie (two dogs, along with seven cats of varying degrees of forwardness); one part a kind of gallery—in the form of photographs on sideboards, walls, and mantles—of what is clearly central to Hill: family, ancestry, the need for the relationship between the living and the dead to be an active and ongoing one. Hill gave me a tour through them, now pointing out an infant cousin circa 1917, now his own parents, now his wife Alice Goodman, and their daughter Alberta, and now a friend riding her tractor through the Lancashire village streets.
When I first arrived, I was greeted by Alice (herself an intriguing mixture: the librettist for Nixon in China and The Death of Klinghoffer, a translator of The Magic Flute for the Glyndebourne Opera, and a soon-to-be ordained Anglican priest). She led me into the living room where Hill arrived shortly, seating himself beside a life-sized dollhouse. We met in front of the fireplace, over whose mantle hung an amusing wedding gift: a copy of Hogarth's The Distressed Poet. No way to explain it, exactly: I knew all would go well.
INTERVIEWER
The last time I saw you, you were admiring two very different types of art in the St. Louis Art Museum. One of them was Giovanni di Paulo's St. Thomas Aquinas Confounding Averroes, and then there was the work of Anselm Kiefer. Ever since then I've been wondering whether you'd just discovered Kiefer that day, or not. And what was the attraction to two such very different types of art.
GEOFFREY HILL
I hadn't heard of Kiefer until that day, and I was impressed by the physical presence, which was the same as a kind of spiritual aura, of his work. I bought the big book on Kiefer—lots of photographs—in the museum bookshop, and I have to say that I'm less gripped by them in this reduced form than I was with their actual presence. This may well be attributed to the judgment of the artist. There's no reason why a work should accommodate itself to the kind of reproduction and reduction that our methods of communication and circulation require.
INTERVIEWER
And the di Paulo?
HILL
I was delighted by the difference between the little painting as the synopsis described it and what seemed to be the actual situation depicted. If I remember rightly, the synopsis said that St. Thomas is refuting Averroës, and that Averroës is writhing in pain and distress on the floor. Well, to me, he looked very peacefully asleep.
INTERVIEWER
I know you once found Averroës sympathetic, and then changed your mind—the notion of a single ruling intellect . . .
HILL
From which we emerge at birth, and into which we all become reabsorbed.
INTERVIEWER
Yes. And which also manages to absolve us in some way.
HILL
From our original sin, yes. And individual culpability. Yes, that was immediately attractive. Then as I thought more about it, it seemed scary as much as attractive.
INTERVIEWER
What comes up often in reviews of your work is the idea of an overly intellectual bent; in recent reviews of The Triumph of Love, often the word difficult comes up. People mention that it's worth going through or it isn't worth going through.
HILL
Like a Victorian wedding night, yes. Let's take difficulty first. We are difficult. Human beings are difficult. We're difficult to ourselves, we're difficult to each other. And we are mysteries to ourselves, we are mysteries to each other. One encounters in any ordinary day far more real difficulty than one confronts in the most "intellectual" piece of work. Why is it believed that poetry, prose, painting, music should be less than we are? Why does music, why does poetry have to address us in simplified terms, when if such simplification were applied to a description of our own inner selves we would find it demeaning? I think art has a right—not an obligation—to be difficult if it wishes. And, since people generally go on from this to talk about elitism versus democracy, I would add that genuinely difficult art is truly democratic. And that tyranny requires simplification. This thought does not originate with me, it's been far better expressed by others. I think immediately of the German classicist and Kierkegaardian scholar Theodor Haecker, who went into what was called "inner exile" in the Nazi period, and kept a very fine notebook throughout that period, which miraculously survived, though his house was destroyed by Allied bombing. Haecker argues, with specific reference to the Nazis, that one of the things the tyrant most cunningly engineers is the gross oversimplification of language, because propaganda requires that the minds of the collective respond primitively to slogans of incitement. And any complexity of language, any ambiguity, any ambivalence implies intelligence. Maybe an intelligence under threat, maybe an intelligence that is afraid of consequences, but nonetheless an intelligence working in qualifications and revelations . . . resisting, therefore, tyrannical simplification.
So much for difficulty. Now let's take the other aspect—overintellectuality. I have said, almost to the point of boring myself and others, that I am as a poet simple, sensuous, and passionate. I'm quoting words of Milton, which were rediscovered and developed by Coleridge. Now, of course, in naming Milton and Coleridge, we were naming two interested parties, poets, thinkers, polemicists who are equally strong on sense and intellect. I would say confidently of Milton, slightly less confidently of Coleridge, that they recreate the sensuous intellect. The idea that the intellect is somehow alien to sensuousness, or vice versa, is one that I have never been able to connect with. I can accept that it is a prevalent belief, but it seems to me, nonetheless, a false notion. Ezra Pound defines logopaeia as "the dance of the intellect among words." But elsewhere he changes intellect to intelligence. Logopaeia is the dance of the intelligence among words. I prefer intelligence to intellect here. I think we're dealing with a phantom, or as Blake would say, a specter. The intellect—as the word is used generally—is a kind of specter, a false imagination, and it binds the majority with exactly the kind of mind-forged manacles that Blake so eloquently described. The intelligence is, I think, much more true, a true relation, a true accounting of what this elusive quality is. I think intelligence has a kind of range of sense and allows us to contemplate the coexistence of the conceptual aspect of thought and the emotional aspect of thought as ideally wedded, troth-plight, and the circumstances in which this troth-plight can be effected are to be found in the medium of language itself. I could speak about the thing more autobiographically; it's the emphasis where one is most likely to be questioned, n'est-ce pas?
INTERVIEWER
Well, yes—go ahead.
HILL
Where my own poetry is concerned, I am to some extent an autodidact. And people say, Well, how can you possibly call yourself an autodidact? You went to Oxford, didn't you? The syllabus I took for my B.A. in English at Oxford finished at 1832. It began with Anglo-Saxon—or Old English—moved through Middle English and finished with the second Reform Bill. Virtually all that has gone into my poetry, with the arguable exception of Mercian Hymns, has been the product of my own further reading and the kind of process of self-education, of fraternal and sororal education that one gets from one's contemporaries: a decent enough form of education. The idea that you have here a scholar with superb, unarguable credentials, who as a kind of hobby enjoys turning his scholarship into rhyme and meter, is again I think totally alien to my own understanding of how the thing is done. All I can say is that it isn't like that.
I'll go further and say that I think men and women who write poetry or write music or paint are finally responsible for what they do. They are entitled to praise for any success they achieve and they should not complain of just criticism. I do stress that, just criticism. I do not think that poems and paintings and string quartets are created by currents of history. At the same time I think these individual men and women who are ultimately solely responsible for what they write and what they do as artists are very powerfully affected by contingent circumstance.
INTERVIEWER
Could you also call it autobiography in the end?
HILL
Not necessarily, no, because autobiography is always apologetic—apologetic from apologia. I mean that we are affected every moment of our lives by pressures for which a not wholly satisfactory analogy is the pressure of the air around us. I can't conceive of the discovery and development of a personal voice that is totally or even largely unaware that its existence is threatened the whole time by those things in discourse or communication that are alien to its own being. One shapes the personal voice in some way. One either does or one doesn't. And I would distinguish the first-rate artist from the others by precisely this ability. He or she is first-rate to the extent of having realized, often with very great difficulty, the personal note amid the acoustical din that surrounds us all. And the lesser artist is so because he is less able to hear and to elicit the voice of the authentic self from the many voices of the not-self and, indeed, from the many voices of our time, which are themselves drastically inauthentic.
Obviously in having this sense of things I show myself to be not entirely in sympathy with the thought of John Locke, where (in the Essay Concerning Human Understanding) you do get a sense that the function of language is to be an unembarrassing ancillary a, to the concept and b, to the conduct of business. The tamer and more restrained language is, the better it is for the purpose and function of civil society. I think that the field of modern communications would like to think that it is neo-Lockean, but in fact, at its worst it has none of the limited but definite virtues that Locke had. It is reductive, and yet chaotic. Or, let us say, reductive, oversimplified, and yet violently confrontational. Such simplification of language—what one might call a kind of mass-demotic—is gripped by its own oxymoron; purporting to be accessible, it is in fact haughty and condescending, because it will not respect the intelligence of those from whom it demands a response.
INTERVIEWER
I suppose you could say that that, then, is one of the problems of those critics who have a problem with what they call the difficulty of your work: they're assuming a readership that is having the same difficulty that they themselves are having.
HILL
The first obligation for any real critic is to be self-critical rather than self-satisfied. But reviewers will say things that are equivalent to either "this man is completely out of touch with his time," or "we have grown cloth ears," which seems to be a question of real significance; but having made the point, only one side of the issue is taken up, which is that the poet clearly has lost touch with his time. And the promise held out for further investigation of the alternative—"or we have grown cloth ears"—is not taken up at all. That seems to me to indicate a considerable degree of self-satisfaction and humorlessness.
[Sudden interruption by large dog.]
INTERVIEWER
Why, oh why do you keep fierce guard dogs on the premises?
I'm interested in what seems to be your concern with martyrs and martyrdom. In the past you've mentioned—speaking in particular of the Catholic martyrs of the age of Elizabeth I—that part of the appeal lies in what you call "the pedagogy of martyrdom, a scholastic process of training towards that deliberate goal." I'm also thinking of the reading we did for your class on aspects of poetry and religion—Ignatius Loyola, Southwell, Hopkins—not all of them martyrs exactly, but certainly witnesses . . .
HILL
Yes, exactly, martyr means witness.
INTERVIEWER
Do you see yourself as a kind of martyr figure, in terms of your being a poet, and in the context of what we've said about people not understanding issues of difficulty or possibilities for intelligence?
HILL
No, absolutely not. My interest in the Elizabethan Jesuits, and in particular Robert Southwell and Edmund Campion, is that they seem to me to be transcendently fine human beings whom one would have loved to have known. The knowledge that they could so sublimate or transcend their ordinary mortal feelings as to willingly undertake the course they took, knowing what the almost inevitable end would be, moves me to reverence for them as human beings and to a kind of absolute astonishment. The very fact that they lived ennobles the human race, which is so often ignoble. I also have to admit that I contemplate them to in some way exorcize my own terror of terminal agony. I can go with them to the point where my own emotional endurance can go no further.
INTERVIEWER
Can we say that poetry is often enough the place where something like terminal agony, in getting witnessed, also gets exorcized, however briefly?
HILL
Forty or fifty years ago, nothing would have induced me to say that there is anything resembling self-therapy or exorcism in the art of poetry or the art of writing. I had been trained, by the Eliot essay "Tradition and the Individual Talent," to deny this. And because I was not quick enough to understand the qualifications that Eliot himself would have entered, I acquired a far too extremist view of what seemed then a total incompatibility of the objective and the subjective, and I would have said the poem is achieved by the fullest possible objectification of individual subjectivity. Obviously I no longer think so.
INTERVIEWER
What has caused you not to?
HILL
Time, passage of time. Nearly fifty years spent in actually living and writing. The kind of discoveries one makes about one's self as someone caught up in this strange convention or practice of putting words onto the page in certain shapes. I can't recall, though my memory may be at fault here, any particular point at which I moved from one belief into the other. I gradually came to see that the theory of total objectification, attractive as it might appear, was in the end not unlike Averroism. Again, taking a long, historical view, I can understand why I was impressed by Eliot's contempt for the "inner voice." I would still maintain that a considerable amount of the very unsatisfactory stuff that is being written now is unwitting travesty of the "authentic self." The particular tone of the unsatisfactory changes from period to period, the unsatisfactory poetry of the age of Pope is not quite the same sort of creature as bad poetry in the age of Tennyson, and bad poetry in the age of Tennyson differs from the bad poetry of the present time. A great deal of the work of the last forty years seems to me to spring from inadequate knowledge and self-knowledge, a naive trust in the unchallengeable authority of the authentic self. But I no longer think that the answer to this lies in the suppression of self; it requires a degree of self-knowledge and self-criticism, which is finally semantic rather than philosophical. The instrument of expression and the instrument of self-knowledge and self-correction is the same. There is a kind of poetry—I think that the seventeenth-century English metaphysicals are the greatest example of this, Donne, Herbert, Vaughan—in which the language seems able to hover above itself in a kind of brooding, contemplative, self-rectifying way. It's probably true of the very greatest writers. I think it's true of Dante and Milton, and I think it is true of Wordsworth. It's a quality that these poets possess supremely. The rest of us, even the very best of us, possess it to a lesser and differing degree, but I cannot conceive poetry of any enduring significance being brought into being without some sense of this double quality that language has when it is taken into the sensuous intelligence, and brought into formal life.
INTERVIEWER
I'm thinking of inner vision in poetry in the last thirty years, and how some of the difficulty seems to be that inner vision, or inner voice rather, and personality have somehow come to be thought of as purely emotional. Because it seems, with the so-called confessional writers, to have led to a kind of poetry that uses self as a sort of podium from which to lay down seemingly vatic judgments that are really more about the poet's individual therapy needs.
HILL
You're absolutely right. As I say, I've come round to being able to accept the extent to which poetry can be self-healing. I would rephrase it slightly: I think one is right to distrust the opinion that associates self and self-expression, as if the self-expression were ectoplasm emanating in a tenuous stream from the allegedly authentic self. One's idea of the authentic self may be quite different from the authentic self as it really is. The dividing line between innocent stupidity and fakery is very unclear; and I think that innocent stupidity and deliberate fakery can coexist in the one writer.
INTERVIEWER
In The Triumph of Love, there are references to two individuals—N and N—who would seem to be the sorts of writers who fall into the general category of the inauthentic, even if they believe that they're writing from their authentic selves, and who find themselves—as you put it—"Swedish millionaires." It's hard for me not to read a little bit of autobiography into some of this, knowing your views on the authentic, and knowing that Boston, where you live, has its share of Nobel laureates in poetry. The speaker of the poems, meanwhile, seems to be both witness to the celebrity of such poets, and to be comically bitter about that celebrity which seems to elude the speaker himself. How autobiographical is this? And doesn't the speaker view himself as a kind of martyr?
HILL
The autobiographical element here would be totally undeserving of the word martyr. I think martyrdom can come in many forms, but I can't think of a clownish martyr. I have come to see that the closest approximation of truth requires that the shortcomings of the self shall be admitted into the most intimate textures of the work. You can at one and the same time firmly believe that your position on certain issues is right, and acknowledge that one's feelings are far from pure—vanity and resentment at what one believes to be slights and oversight, and general indifference.
I've noticed that two or three of the harshest critics of The Triumph of Love seem not to notice what I might call a very strong element of autobiographical comedy, or even clownishness; they say that Hill claims for himself the status of a prophet, and nobody has a right to make such a claim in the late twentieth century, and that there is something disgusting in seeing a writer describe on the same level the Shoah, the First and Second World Wars, and his petty resentments. And all I can say is that no such claim is made by the author. The author is perfectly aware of the grotesque difference between his own resentments and the plight of millions, between the claims that he makes for himself and the several holocausts of his age. The whole structure of the sequence, particularly the way phrases are shaped, the way certain allusions are made to Laurel and Hardy, and comic papers is an acknowledgement of this monstrous inequality; and to read it in any other way seems to me to reveal humorlessness, and an inability to listen.
INTERVIEWER
It's been surprising to me how anyone could fail to see quite a bit of humor in it. I wonder how much it has to do with the ways in which, once reviewers determine how they're going to read a poet from the beginning, it gets fixed.
HILL
Well, there is this tendency to typecast—in people, in life, in the employment of actors. I think reviewers do prefer cameo parts and strong but limited supporting roles. And this, I suppose, shows the kind of world culture we're now moving into, that one thing contaminates another. The opposite to contamination would be a kind of beneficial influence of one group upon another. I see no sign of that, merely the contamination of prose and poetry by the sound bites of journalism, sales-promotion, and the political lobby.
In my own case, although I very rarely go to the cinema now (I'm not quite sure why this is so), I saw a great deal of cinema as a child, and also I was a very regular filmgoer during my student days at Oxford. It was my wife Alice who first pointed out to me, quite some time ago, that the way I write has been very much influenced by techniques of film-cutting.
INTERVIEWER
Really?
HILL
Yes. There are three or four instances in The Mystery of the Charity of Charles Péguy where I was intentionally using my memory of film scenes. The lines "English Gordon stepping down sedately into the spears"—that is Charlton Heston walking to his death with a curious kind of fastidiousness. The other example is Saul groping in the dust for his broken glasses. This is, again, a translation of that scene toward the end of John Huston's The Red Badge of Courage in which the Federal troops are charging. A young soldier with wire-rimmed glasses, rather as in portraits of Schubert, is hit. He falls, gropes around for his glasses, puts them on, and immediately falls dead. In The Triumph of Love, there is one entire section based on the curious twitchy movement of the early films.
Similarly, the first section of The Mystery of the Charity of Charles Péguy alludes to that rather primitive photography of the First World War. Cocteau's film Orphée, which I went to see in a little cinema specializing in foreign films in Oxford, is also recalled in The Triumph of Love. I saw it every afternoon for a whole week; and although I would have many reservations about it now, I would still go see it if it came around. I can't think of any film that has more powerfully influenced the visual side of my imagination.
I also should say that I think I was very strongly affected by what, over here, you call vaudeville, but what in England we call music hall, the comic patter sketch. I trace this back, as I trace so much back, to my being a child in Britain during the Second World War, when the radio was the focus, the sound-hearth, of the house. When I look back, the radio programs seem to have been equally divided between regular news reports, comedies and light music, which was deliberately designed to be relayed to workers in munitions factories and other industries—I think the program was called something like "Music While You Work."
INTERVIEWER
Rather like whistling while one works?
HILL
Yes. Snow White and the Seven Dwarfs was state-of-the-art. Another was called "Worker's Playtime." But the third very powerful set of programs was music-hall comedy. And it was a form of comedy that I think probably had roots going far back into the vaudeville tradition—a kind of comedy that alternated quick verbal exchange with pie-in-the-face obviousness. And I love it. I would say that both my visual dramatic sense and my inner ear for colloquy owe a great deal both to wartime cinema and wartime radio.
INTERVIEWER
When you first mentioned the idea of your work being influenced by the cinema, as well as when you mentioned the cutting process, I wondered about the shift in the role of form in your work over time. One of the most immediate things I notice in The Triumph of Love is a certain associative quality . . . one section can seem so different from another. Yet, over the course of the book, a collage effect comes into being. Can this also be seen as an influence of cinema, of cinema's leaping from scene to scene?
HILL
I think there's a little more to it than that, but basically, yes. I was a child and an adolescent in the period of cinema's greatest power—in wartime and immediately postwar Britain. My father was a village policeman, on call any hour of day or night, except on his day off. We vanished from the village for a few hours each rest day, and simply saw what was on in town. I saw all kinds of films, some of them entirely inappropriate for a child of eight or nine, some of which terrified me in ways that I still remember. I spent many hours in the cinema with my eyes shut. And my parents were particularly keen on those lavish American musicals, which bored me. Over the years I must have spent several hundred hours just taking in films, consciously and subconsciously.
INTERVIEWER
I am not the first to notice an increase in prolificity. There are much longer periods of time between the earlier books, compared to the time between Canaan and The Triumph of Love. And I understand you've now got a new volume.
HILL
Yes. It's called Speech! Speech! One hundred and twenty twelve-line sections. Sixty pages. Shock. Horror. This evil man must be stopped.
INTERVIEWER
Is there anything to which this—in your case unprecedented—spate of writing can be attributed?
HILL
There are several causes. I allude pretty clearly to one of them in section 109 of The Triumph of Love.
INTERVIEWER
You mean "the taking up of serotonin"?
HILL
Yes. I'm quite sure that this unlooked for creative release has a great deal to do with that. There are certain kinds of chronic depression that have been traced to chemical imbalance in the brain. In retrospect, I don't know how I survived almost sixty years without the medication I now have. From late childhood, I suffered from chronic depression, which was accompanied by various exhausting obsessive-compulsive phobias. Totally undiagnosed, of course. I now see that the kind of perfectionism at which I was aiming in the earlier books was, so to speak, the acceptable fact of this obsessive-compulsive disorder. And it wasn't until I came over here that this began to be treated. After the usual trial-and-error period that one always has with these chemical therapies, we got on to the right kind of dosage. It's completely transformed my life. The irony is that people say of my recent work: what a grim vision, what hatred and self-hatred. These last six, seven years, I've been happier than I've ever been before in my life. In The Triumph of Love, it might be perfectly accurate to describe the rhetorical tone as one of tragic farce—but if it is, then the tragic farce has been written by someone who feels more at home in the world than he felt for the first sixty years of his existence.
INTERVIEWER
How are you now?
HILL
I am now, so to speak, positioned squarely inside myself. This has freed me in some way as a functioning human being. I do not say that it has in any significant way altered my sense of what life does to people. I now have a degree of emotional freedom that allows me to push on, hard and fast, with my work in good faith and with a sort of quiet confidence in myself.
INTERVIEWER
The vision appears the same, but the way in which it's delivered seems, especially in the last books, to allow for a more ragged edge or less perfected form on the page.
HILL
Yes, I mean the uneloquent is a form of eloquence. Incoherence, like spontaneity itself, may very well be effect, rather than cause. The self that shows itself in its encounters with the various forms of contingency and circumstance in my most recent work is still identifiable as the self that put together For the Unfallen between 1952 and 1959. The respect in which I remain consistent is that the only answer is the poem itself, the made thing. And the correlative urgency, which again I think has remained fairly constant, is the establishing of my own voice.
I've never begun a poem actually knowing, really, where it was going to end. I can't honestly say that I've ever written anything that has, from my point of view, ever reached a preconceived discursive conclusion. One might collide with ideas, from time to time, and I guess I think of my poems as sort of collisions, collisions between my sense, a sense of myself, and the self-imposed task in hand. The world is full of noise, the noise of opinion. Are you going to be able to master some small aspect of it, and use it in the making of your own voice? Or is it stronger than you are? Do I mean stronger or just louder? These particular difficulties, and other vaguer apprehensions seem to me to be the force field of making and, in a way, self-making.
Even now when the things are coming fairly quickly, I do feel that everything that I write is a kind of battle won—or lost—against silence and incoherence. And I think there is something naturally incoherent in me, just as I think there is probably something, at some level, anarchic, because the kind of obsessive concern I have with order in the early work is one that somebody has who feels all the time how endangered order is, and what a potential threat to order he is. And maybe now that I feel much more secure in myself, I can afford to write much more, as you say, ragged edged. I don't have a plan, I have a kind of hovering feeling. I see, speaking by analogy, an aura, and I can hear certain phrases just beginning to emerge, phrases of considerable latent possibility. And the difficulty for me is to discover where they might be leading or going. Again, the astonishing difference between the period that began with For the Unfallen (one that actually ended about halfway through Canaan—nearly forty years), the difference between that period and the few years since I finished Canaan is that the phrases are coming faster, and my discovery of where they seem to be leading takes place much more speedily. Up until Canaan, which is a kind of borderline book, a sort of boundary book, I would sometimes take ten or fifteen years to discover where a phrase was going. And I can't quite understand now how that is possible. I seemed able to wait that long. That's the difference between being twenty-seven or thirty-seven and sixty-seven. If I don't do it now, I never will: there is that sense of urgency. But the fact that people do find overarching philosophical or polemical shapes in the work doesn't absolutely mean that they are wrong. Those shapes may indeed be there. But . . .
INTERVIEWER
But you didn't plan them.
HILL
I didn't plan them.
INTERVIEWER
On another subject: what do you think about friendships with other poets? I've read in other interviews that when you started writing you didn't have a particular group of people, you worked pretty much in isolation. I know also of your friendship with Donald Hall. How important to you are such friendships, in terms of your own writing?
INTERVIEWER
I've had a very long friendship with Donald Hall, which began in Oxford in 1952 and, in due time, included Jane Kenyon. I had almost as long a friendship with that very fine poet David Wright, which began around 1953 and ended with his death, two or three years ago. David and I exchanged many letters, for the first ten years or so of our friendship, and exchanged poems by letter and commented on each other's work. He always talked sense. My friendship with Don has never involved that amount of exchange, at least not after the first Oxford year. He has always had a group of friends with whom he has kept up a regular correspondence and an exchange of poems and ideas, but I certainly haven't been a part of that particular group of fellow writers.
INTERVIEWER
Have you deliberately not been a part?
HILL
Yes. Even in my friendship with David Wright, while keeping up the friendship, I withdrew from the plan, so to speak. In the end he was sending things to me, but I was not sending stuff back. During the Oxford years, of course, there was an informal group of undergraduates and postgraduates who would, as it were, take it for granted that one would show stuff to them . . . but in any case, this was one of the ways of making one's first step toward publication, the first magazines obviously being the little, short-lived student magazines. So, even there, even then, one was negotiating for attention. I'm still on amicable terms with some of the people I met then, but the terms of friendship do not on my side involve seeking their approval. In any case, the grim reaper is already thinning us out.
INTERVIEWER
Is it simply that over time you have come into confidence about your work, or don't you trust the opinion of others?
HILL
Whenever Alice makes a technical comment, I listen closely: ninety-nine percent of the time, she's right. I've changed a fair amount because she's said I should. She's also given me beautiful things, words, phrases. Her libretti for Nixon in China and Klinghoffer inspire me to emulation, and she taught me to read Frank O'Hara. There's a slight fear of jinxing work in progress; I've always hated talking about stuff I've not actually completed. Even when I was showing a few things to people like David Wright, and in the very early days to Donald Hall, I would finish the thing before I showed it. I wouldn't take a half-finished piece of work and say, you know, Where do you think that should go now?
INTERVIEWER
That is, I would presume, the difficulty with writing workshops, because either one has to bring in work that's unfinished, or to bring in work that's finished, at which point why seek advice?
HILL
Exactly. I couldn't bear to take part in a poetry workshop, either as a student or as an instructor. And I have a very deep philosophical disagreement with the whole concept of formal creative-writing courses leading to "professional" qualification.
INTERVIEWER
Do you have any opinion about what seems lately a vogue for the poet-translator? I'm sure you've noticed that poets now often seem to add translations to their resumes; often these translations are done by people who have no acquaintance with the original language—various terms for translation arise: version, variation. You yourself have had some experience with translation, not just in the translation of Ibsen's Brand, but also in the translation of the Spanish folksong that occurs in "Pentecost Castle."
HILL
This is something you can't make a broad, general rule about. I think you just have to treat each case as it comes. I can work quite easily directly from the French, I have some knowledge of one or two of the other European languages, though I'm not a good linguist—now is a very good opportunity to make this public. I find a particular kind of value in thinking about the nature of language. I always insist that Brand is not a translation. I'm pleased with what I did with it, I think I made it stand on its own feet in terms of English dramatic speech. But I would never wish to work in that way again. If I can't work directly from the original language, I'd rather not do it.
INTERVIEWER
While we're on the subject of various hats, as it were—poet, translator—you also have a great devotion to scholarship, to the pursuit of certain questions, yes?
HILL
I find that certain works from a very wide range of periods seem to exert an almost magnetic hold on my mind, and I want to get close to them and also to sound them out. I want to be able to describe their bone structure, their complexion, their texture, and to achieve occasionally the kind of definition that seems to tell me that I and that work exist in a kind of amiable and mutually respecting, equitable relationship. I'm currently trying to write a number of essays on value. Simply to ask whether there is such a thing, whether you can actually isolate, define in some way, the nature of intrinsic value. And that involves going back into a vast hinterland. Dismayingly so. It's too vast for me to hope to master the material. But also, over the last seven or eight years, I've done occasional large essay reviews for the TLS. And I'm also very gradually writing pieces on poets of the First World War. Eventually I'd like to put together a small volume of essays devoted to the First World War, the politics, the propaganda, and poetry and prose.
INTERVIEWER
I guess it shouldn't surprise me that the prolificity extends to prose as well as to poetry.
HILL
Even now, I hesitate to use the word prolific of my work as a scholar-critic. I think since I came to the States I've produced critical pieces more frequently than I did previously. But compared to other people I know, I'm not a prolific author of learned papers.
INTERVIEWER
Do you have a writing routine? A particular place it must be done? Do you only write in the summer, or every day?
HILL
Again, there's been a radical change. I'm writing so much now that yes, I suppose I do write every day. I just have to to keep up with myself. This isn't quite the same thing as having a routine. I work at it as I must.
INTERVIEWER
So the routine announces itself, more or less?
HILL
Yes. In my early days, I would often go for weeks, and sometimes months, without being able to set pencil to paper. And in the very early days, I finished things in my head before I set them down. I could do that because my short-term memory was much better than it is now. And because I was writing so sparsely, so infrequently, one poem wasn't crowding out another, I had time to concentrate on the things that came. So very few drafts have survived of early stuff. Now it's all immediate, scribbling phrases down, crossing them out, changing them. They go straight down onto paper.
INTERVIEWER
It seems to me that in The Triumph of Love there are many sections that seem as if they had just been written down—which is not to say that they were . . .
HILL
One or two bits wrote themselves down while I watched.
INTERVIEWER
The effect is one almost of a journal.
HILL
Yes, that's part of the effect. I'm not sure that it was the intention.
INTERVIEWER
It's fascinating to me, where the patterns emerge in that book—sometimes more overtly, in what seems for a while a sequence or miniature suite of sorts. I'm thinking, for example, of the four sections [CXXIX–CXXXII] that all end with the line "ta-Rah ta-Rah ta-rarara Rah," each a section of seven lines . . .
HILL
Yes, yes. Obviously I knew what I was going for at those points. I couldn't have told you at the beginning how many of them there were going to be, but I knew that I needed to write a set of little vaudeville dances. Over the past twelve years or so, the choreography of Mark Morris, in the numerous performances by his dancers that I have attended, has shaped my ideas about how to put words together in new ways. Mark has worked closely with my wife on several big projects—Nixon in China, Klinghoffer, The Magic Flute—and she has helped me to see connections I might otherwise have missed. Morris is like Dryden in the way he can move rapidly from broad satire to pointed farce to tragic resonance and back.
INTERVIEWER
Do you see the erotic as having a place in your work?
HILL
Oh yes. The erotic is very important to me. What a silly thing to say! What I might call one's apprehension, one's awareness of the erotic life going on around, not just one's own sexual interests, but the fact that, you know—Eros is in the air, very much so. And it has always seemed to me a great force to be reckoned with. I've experienced the power of Eros in some of its most joyous and in some of its most destructive and humiliating forms; and I remain as fascinated by and involved in the erotic as I was at fifteen, perhaps even more so now, because I know more. I mean, I was very inexperienced in the erotic for far too long. I know it took up a great deal of my time, in the form of fantasy. As I look back, I have feelings of immense gratitude and feelings of unappeasable loss and feelings of remorse.
INTERVIEWER
It isn't an aspect that is often taken up by reviewers of your work.
HILL
Oh, because they think of me as a cerebral poet. And cerebral people don't have feelings.
INTERVIEWER
Right. It's as if the intellectual were necessarily divorced from the emotional, or from the corporeal.
HILL
I think this is exactly what Milton challenged. You see why I insist that I am above all a simple, sensuous, and passionate poet?
INTERVIEWER
One of the things that you seem most concerned that we attend to is our use of language. Even the title of your first book, For the Unfallen, reminds me of your belief that language as we have it is fallen.
HILL
But also splendid. Fallen and noble. Sinewy and funny.
INTERVIEWER
Do you see this as your role as a poet—to attend to language even in its fallen state?
HILL
Oh, absolutely.
INTERVIEWER
Is that the responsibility, then, of the poet? What is the responsibility of the poet?
HILL
To write the poems.
INTERVIEWER
It ends there?
HILL
Well, once you've said that, you've dragged so much else along with it. And why should a poet bother to write poems? Why should it matter that a poet has to be responsible? Everybody has to find his or her own way of witnessing, and the only way I can effectively witness is by writing and by trying to write as well as I can. There are things one has to witness to. I return constantly to what I think is one of the major outrages of modern life: the neglect of the dead, and a refusal to acknowledge what we owe to them, and a refusal to submit ourselves to the wisdom of the dead and, indeed, to the folly of the dead and the criminality of the dead—simply a refusal to accept that the dead are as real as we are, probably more so. Not a day passes without my thinking of the dead of my own family, and my pride in them, and my gratitude to them, which alas I did not think to express as I should have done while they were alive. I'm glad to have been born when I was, and in the social stratum that I was. I'm glad and proud of being born into the English working class. And the older I get, the more grateful I am for chances to pick up on old friendships. Quite unexpectedly, in 1993, I received an invitation to the fiftieth reunion of my high-school class. Over here, you go by the graduation year, but over there it's your date of entry, so I was invited to the fiftieth reunion of the class of 1943. And it was marvelous. I took up friendships again with two boys from my own village whom I hadn't seen for something like fifty years, and we have kept in close touch since then: one is a successful farmer, now retired, a breeder of prize Friesians; the other is a retired professor of chemical engineering at Zurich, who's returned to live in Worcestershire. And when we make our annual visit to Britain, we break our journey up to the north and make a point not only of seeing my eighty-two-year-old cousin, but of getting together with these two village friends of mine—and I think we all get a great deal from the renewal of that friendship. So, as I say, one's sense of roots is not an affectation; it's very real. It has a reality for you when you're getting near the end of your life. It's perfectly right and natural, when you're young, to want to break away from the roots; but it's very good, I think, to rediscover them.

Author photograph by Nancy Crampton.