Interviewed by Francis Quinn
Issue 154, Spring 2000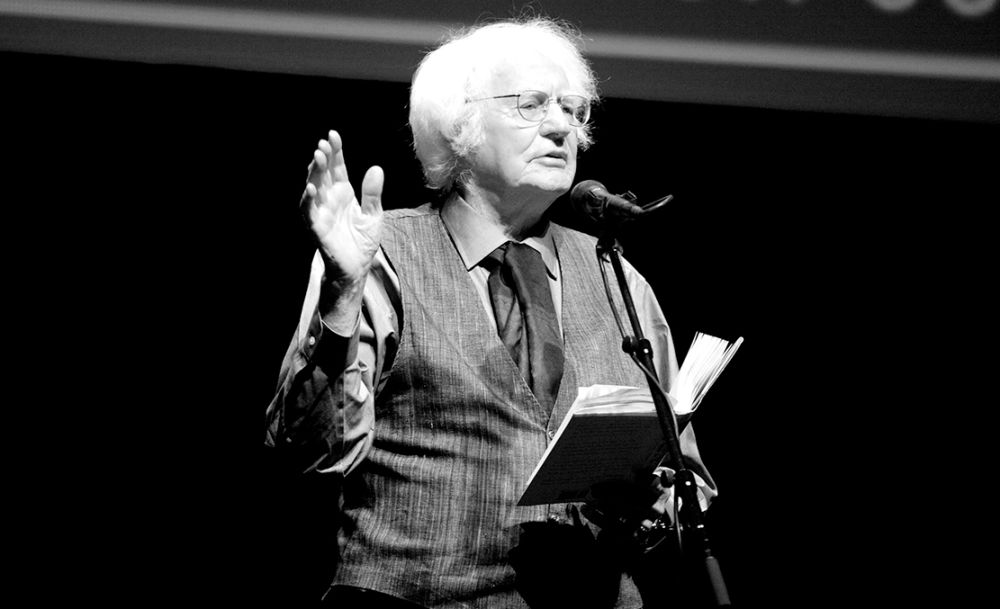 Robert Bly, ca. 2009. Photograph by Nic McPhee
Since Robert Bly's first book, Silence in the Snowy Fields, appeared in 1962, he has published twelve more books of poetry including The Light around the Body, which won the National Book Award in 1968, and recently, Morning Poems (1998) and his selected poems Eating the Honey of Words (1999). His translations have brought Neruda, Vallejo, Tranströmer and Ghalib, among others, to the attention of American readers. Through his literary magazine and his small press, in operation since the fifties, Bly has challenged the larger publishing houses to promote writers and issues outside the mainstream. Through his protest against the Vietnam War, as well as the Gulf War, through his prose books Iron John (1990), The Sibling Society (1996), and The Maiden Kind (1999), written with Marian Woodman, he has become a significant voice addressing social and political problems of our times.
Robert Bly was born on the family farm on December 23, 1926, into a Norwegian American community in western Minnesota. He graduated from the local high school and enlisted in the navy where he was put into a special group for developing radar and sonar. Upon his discharge in 1946, he spent a year at St. Olaf College and then transferred to Harvard.
I first met Robert in November of 1968, when he visited a high-school class I was teaching near Worcester, Massachusetts. I helped arrange readings for him in the Boston-Worcester area for the next fifteen years. When he and his wife, Ruth, opened their Minneapolis home to me for this three-day interview, I was most appreciative but not surprised by their characteristic generosity.
Robert works in a four-room apartment over the garage. The central room, the largest, is where Robert and his assistant, the fellow poet Thomas Smith, work on manuscripts and answer correspondence, as many as forty letters a day. During my stay, two poetry collections were being typed, along with an essay for a local bookstore's newsletter; there were also stacks of books ready to be read or reviewed and manuscripts awaiting blurbs.
A doorway covered by an Indian print cloth leads to the front room. This room is sparse and orderly. An Arabian rug covers the floor; bookcases filled with journals, notebooks, and a collection of Robert's books and chapbooks line the left wall. There is a desk free except for a lamp and a pen, and a rocking chair where his recent poems have originated or developed. A large picture window looks down the tree-lined driveway. On the wall are small pictures of literary heroes and friends.
The main house, an eight-room old farmhouse, is now surrounded by other resident buildings. The house was filled with winter light. There is a spare bedroom upstairs. It was there that I conducted most of the interview. The room contains a large bed and two bed stands, a loveseat and a small table. Along the left wall is a built-in bookcase containing some of Robert's own books, but mostly books that Robert loves and refers to regularly; Eliot's Four Quartets, the collected works of Stevens, Yeats, and Frost, a scattering of European and South American writers, and many Islamic and Sufi poets.
We worked steadily each day from roughly nine to noon and then from two to six. Throughout Bly remained relaxed and warmly open, but determined to be accurate in his answers to questions that roughly followed the chronology of his life. We let the issues arise from the books. This interview distills three days of talk.
I. TIME AT HARVARD
INTERVIEWER
Could you talk about your earliest connections to poetry?
ROBERT BLY
A beautiful high-school teacher interested me in poetry. I think I wrote a poem for her saying that Tojo was a bad person. In the navy I met the first person I'd known who actually wrote poetry, a man named Eisy Eisenstein. We conspired to flunk out of the radar program on the grounds that we were poets who couldn't be bothered with science. We didn't succeed. Once out of the navy, I entered St. Olaf College, which is an old Norwegian Lutheran hangout—a Bly was a dean there. My freshman English teacher, to my amazement, excused me from freshman English when I turned in my first piece. That was a generous move; I joined an upperclassmen creative-writing group. A woman my age wrote poetry; I fell in love with her, and I wrote a poem to her. I had the strangest sensation. I felt something in the poem I hadn't intended to put there. It was as if "someone else was with me."
INTERVIEWER
Could we talk a little about your beginning poems at Harvard?
BLY
I came to Harvard in the fall of 1947, after having been in the navy for two years. Robert Creeley, who was there the year before, remarked later that there is something heroic in every writer of our generation, perhaps from the awareness that we had won the war. He mentions somewhere that the standards of American literature were very high at the time—Eudora Welty, Hemingway, Eliot, Stevens, Cummings, Charles Olson. He felt it was our job to keep those standards up.
INTERVIEWER
He also said that your generation felt it was their job to put the culture back together again. Everything was in tatters.
BLY
Yes, there was that mood. The Harvard Advocate had just started up again with its memories and mementos of Eliot and Stevens, who had written for it. Bob Crichton and Bill Emerson took me in, and I took in Donald Hall, and we both took in John Ashbery, against much pressure from the trustees of the Advocate, I might add. The night Bill Emerson and Bob Crichton interviewed me for the board, I answered one of their questions with a critical overview of American poetry since 1910. When I finished, one of them said, It was good of you to tell us these things. But they took me. We published Adrienne Rich, who was at Radcliffe, and that early poem of John Ashbery's, "Some Trees." We stayed up late at night arguing over the next issue. By the way, Adrienne was not allowed to enter the Poetry Room at the new Lamont Library because the founders said it was for men! That's wild! No one seriously questioned that.
An amazing group of writers were at Harvard at that time. Because of the war, the classes of 1949, 1948, and 1947 were bunched up along with the class of 1950. Archibald MacLeish had been hired away from being director of the Library of Congress. The young writers gathered around him and Albert Guerard, a fine teacher of essay and fiction writing, an American version of a European intellectual. The group I remember included John Hawkes, Bob Crichton, Kenneth Koch, Donald Hall, Frank O'Hara, L. E. Sissman, John Ashbery, a fine fiction writer named Milton Hughes, whom I've never heard of again, Adrienne Rich, George Plimpton and many others. Richard Wilbur, a bit older, was in town, and Robert Frost stayed in Boston during spring and fall.
Archibald MacLeish had a little trouble with us. He was a generous man, but was not prepared to be in the midst of a group of veterans. We were a little older than the normal students, and even though many, like myself, had never been in combat, we were still not about to take orders from someone simply because he was well-known. In class MacLeish might remark, My friend, Ezra Pound, wrote this poem: "See, they return; ah, see the tentative / Movements, and the slow feet, / The trouble in the pace and the uncertain / Wavering!" Someone would say, That's awful. It's crap. Do you have any friends who are better poets? And so on. We liked him, but we held his feet to the fire. The classes, unlike the scenes at the Library of Congress, were confrontational.
INTERVIEWER
Were you one of the irascible ones?
BLY
Oh, of course. I puffed up my throat like an iguana. MacLeish felt too calm to us, not intense enough. I wasn't the worst one, but I was one of them. One day after three classes or so, he called me into the office and said, Robert, you know, this thing can't continue in the way it's going. Either you change your behavior in class, or I'll have to jump out the window. And I said, Well, jump. I was young; wanted to show off. He had similar conversations with others, and the upshot was that he didn't meet the class anymore that year; we saw him only one by one. I think he didn't meet any classes for the next three years, until the veterans had all graduated. But it heartened us that MacLeish knew Hemingway and even Pound. We felt we had some contact with writers who really mattered. We weren't touching them, of course, but we weren't that far away either.
INTERVIEWER
You became the literary editor of the Advocate?
BLY
I did. We had a lot to choose from, and we learned a lot arguing over poems and stories. We published our own work as well. I recall reviewing a new book of poems by William Carlos Williams.
INTERVIEWER
Wasn't that a little unusual? He was much out of fashion then. Certainly your teachers didn't mention him; they were in Robert Penn Warren and Eliot's camp, or MacLeish's.
BLY
I guess that's true. Williams did feel ignored and hated. I suppose I found his poems in the Grolier Book Shop. Gordon Cairnie ran it. Eliot had met Conrad Aiken in that bookstore; there was a sort of poets' sofa. Poets sat on it. Gordon might say to some freshman who had just wandered in, Would you take care of the shop for ten minutes? Then he might not come back for twenty-four hours! To the poets, that store was a home.
William Carlos Williams was the one who meant the most to me, so I hitchhiked to see him, from Cambridge to Paterson, wearing my chino pants, and I called him from a bar nearby: Could I come to see you?—Sure, come on, kid. So he let me in and said, Sit down over there. Do you write poetry?—Well, yeah, I guess so . . . I suppose. He went about his business, planning his deliveries and typing something. He glanced at me from time to time. After fifteen minutes or so, he said, OK, kid, you can go now. He understood that I just wanted to look at him. I drifted out, floating along the street. It was heavenly.
But we also admired Eliot and felt close to him because he'd published his earliest poems in the Advocate. When the Advocate nearly went broke in my senior year, I suggested we put out a surefire issue, reprinting Eliot's poems. The excuse was that the issue was "In Honor of His Sixtieth Birthday." But I proofread the cover badly, and it said "Sixteenth Birthday." That was bizarre. A couple of weeks later I got a letter from him that said something like: "Dear Mr. Bly, I was very surprised upon opening a copy of The Harvard Advocate recently to find my early poems published there. If I had wanted to reprint these poems, I should have done so myself. Yours sincerely, T. S. Eliot." Well, it was disgraceful. But even receiving a scolding letter from T. S. Eliot made us feel a part of a community of serious writers. When Don Hall went to Oxford a year or so later, he took the opportunity to apologize to Eliot, and had a good conversation with him in his long, skinny office!
II. TIME IN NEW YORK
INTERVIEWER
Did you go to Oxford or some such place as well?
BLY
No. I think I had spent up my available capital for extroversion in college, and I had to be by myself. I intended to take one year, but ended up taking four. At the start I lived in a small cabin in northern Minnesota through fall and winter. I lived by shooting partridge illegally; I wanted to write like Milton. The next year, the summer of 1951, I moved to New York, where I lived for three more years, excessively alone. "Altarwise by owl light in the halfway house," as Dylan Thomas put it.
I lived in tiny rooms—the better ones had a hot plate—and was determined to write twelve hours a day at least six days a week. And did. To support myself I worked one day a week, as a file clerk or a typist and, for a while, a painter, carrying around my painter's bag with the coveralls. When one is living what the French call the garret life, it's surprising how often one meets someone with the odd instinct to help. I'd go to a certain employment agency for painting jobs, and would usually get fired by noon. Jack, at the agency, was never upset. He'd send me back out: Getting fired is nothing. He guessed I wanted solitude. Finally he assigned me as the only painter of the inside of a huge warehouse in Brooklyn. Every Thursday I'd get one patch of some enormous wall painted blue, and then I'd come back next Thursday and so on. I don't know what he told the owners: Why isn't that job done?—I don't know, some of the guys have been sick. It's hard to get good help. A doctor even tried to help me during a VA checkup for a heart murmur I'd taken on after rheumatic fever in the navy. As a disability, it provided a small check. He said, Well, I don't hear a thing. But the murmur might come back, and I'll say you still have one so your check will keep coming. You look as if you need one.
INTERVIEWER
Did you try to make money through your writing?
BLY
The only money I earned by writing during those years was from two poems printed in the very first issue of The Paris Review. The other day I found a letter to my mother from that time that shows I kept close track of how many copies sold in New York.
INTERVIEWER
Did you try fiction?
BLY
I wanted to be a playwright, and wrote a play called "Martin Luther." The trouble was that no one in my family talked. Eugene O'Neill's family suffered, but they talked. That effort was hopeless from the start.
If you work only one day a week, you can't afford a good room. At one point I sublet a studio in a building on the east side of Washington Square from a woman who taught art at Brooklyn College; she used the studio on the weekends. She rented her studio to me for day use, not realizing I slept there and had no other home. I had to evade the guards at night when I went to the bathroom, which was on the floor below, and I slept Saturday nights in Grand Central Station. I spent most of my days writing ten-line iambic poems.
INTERVIEWER
Were they nature poems, of the sort Richard Wilbur, whom you admired, wrote?
BLY
No. And I didn't want to write private poems. Because of Yeats, I wanted to bring history in. So I would choose some incident from Greek or Roman history, say the murder of Archimedes by an inattentive soldier, and try to make it stand for something much bigger. My work couldn't be accused of being timely. I also worked on translating Pindar, another hopeless cause.
INTERVIEWER
Did you meet any other poets during this time?
BLY
New York was lonely then. Poets were reading only at the Y. I had one or two friends from college but met no new poets. For a while I lived in a room I rented from an old portrait painter from the South on West Sixty-seventh Street. He painted faithfully there everyday and was disappointed because they wouldn't hang his paintings anymore in the front room of the Salmagundi Club. He was sixty-five or seventy years old; I was twenty-six. And together we'd walk five or six blocks west and buy three-day-old bread from the bakery and then walk home again. We were on both sides of success—too young and too old.
INTERVIEWER
How long did you live this way?
BLY
In New York?
INTERVIEWER
Yes.
BLY
Three years. I can't tell you how odd it was. I sometimes didn't talk for a month. I was a homemade monk, but with no one to serve me food. No, I wasn't a monk. I was stuck.
The solitude was a big pause after years of activity. But I lost something too. The poems I wrote at Harvard were not great, but they enjoyed some language that we inhabit together surreptitiously; people could hear what I was saying. Last month I read some of the journals I kept during those three years. I grew alarmed because I could see myself losing the common language that we, as humans, have. Word after word had disappeared into some huge hole. Later, a dear friend, a Korean writer, Kim Yong Ik, said, You use tears several times in this poem, but you don't mean by that word what the rest of us mean, so the poem doesn't work. He was right. I have spent many years since trying to recover a common language, one that can cross the distance between people.
So those solitary years had a dark side. Yet there was something deliberate in it. After all, why shouldn't we lose that common language with which we often say so little? Sometimes it offers only social chatter. Balzac in Louis Lambert mentions certain ideas that are "antagonistic to the social stream." When his character meets Louis Lambert, he feels "a desire to plunge into the infinite." So those three years of solitude didn't offer much living, but it was an experience of the vertical, contrasted to the horizontal, mode of everyday social life.
INTERVIEWER
How did this time in New York end?
BLY
It ended when MacLeish, whom I visited in Cambridge, sent me on a wild-goose chase to Iowa to pick up some money the Rockefeller Foundation had put up for writers. He noticed that I was a little gaunt, and he said, I'll put you up for this grant. Just find another older writer to recommend you, and it's done. I bought a car for sixty-five dollars and drove west, stopping in Bloomington to hear John Crowe Ransom lecture. He was fantastic. I sent him some poems, and he said something like: "Dear Mr. Bly, Thank you for sending these poems to me. Some of them I like very much. I think you could publish them almost anywhere. Many of them are fine. Yours sincerely, John Crowe Ransom." It's remarkable that he would write to me at all.
Meanwhile, the other writer had forgotten to send his recommendation; and so, when I got to Iowa City, the grant was gone. I remember driving into Iowa City for the first time, seeing those low, nondescript buildings and saying, What kind of country is this when a great poet like Robert Lowell has to teach in a place that looks like this? I must have expected buildings like the British Parliament houses or the Louvre.
I asked for a job teaching, and they said if I joined the Writer's Workshop I could have a job, though I had no qualifications. I taught one course of freshman English and one called Greeks and the Bible. Teaching was a sudden immersion in the hot water of sociability! I was so afraid, it took me two weeks to be able to stand up behind my desk. I loved teaching but got too involved in the student's lives. I wrote very few poems that year. I was able to recover enough received language to teach, but the language for poetry was still gone.
INTERVIEWER
Wasn't John Berryman teaching there that year?
BLY
Yes, he was. There was always a little drinking trouble around him. I was buying toothpaste one morning, and the drugstore radio said that the police had picked up John trying to break into his own apartment the night before. This was a wholesome state university. I said, There goes John. He remarked that there was only one man in the country who would understand what had happened without asking a single question; he called Allen Tate in Minneapolis. Allen said, Come to Minneapolis, John. So John taught for years in the humanities department at the University of Minnesota and was marvelous. Philip Levine wrote an essay called "Mine Own John Berryman" in his book The Bread of Time about Berryman's teaching at Iowa, making clear the high voltage of his seminars. It's the best essay ever written on a teacher-poet.
INTERVIEWER
How long were you at Iowa?
BLY
I was there a year. In 1955 I married Carol Bly, whom I had known at Harvard and in New York. We moved to an old farm my father had saved for me. We stayed there twenty-five years. It was a half-mile from the one I grew up on. I still hadn't shed my isolation; the nearness to my parents was difficult, as was the lack of work. I spent whole days sitting out in the fields. But there was peace. I had still had a great love of silence. I collected the poems I wrote there in Silence in the Snowy Fields, which came out in 1962. I like that book, and I never would have written a book that interesting if I had not moved back to the country where I was a child.
III. SNOWY FIELDS
INTERVIEWER
What was the mood of poetry in the late fifties?
BLY
I started a poem the other day that goes this way: "There was a moment in '58 / In which we thought— / And we were right—that poetry / Our poetry—would bless everyone." It's hard to explain. Something fresh could be felt all over the country. Don't believe it when you read that the fifties was a dull time; it wasn't, certainly not in literature. Robert Creeley was publishing the poems later collected in For Love, amazing things! Theodore Roethke was laying out his high-spirited poems, and Gary Snyder was publishing the poems later collected in Rip Rap. Robert Payne had brought out his great anthology, The White Pony. Li Po said: "If you ask me why I dwell among green mountains, / I should laugh silently; my soul is serene. / The peach blossom follows the moving water. / There is another heaven and earth beyond the world of men." Hong's book of Tu Fu poems was out—that beautiful green book I still have with me. Some kind of longing was in the air. James Wright felt it: Suddenly I realize / That if I stepped out of my body / I would break Into blossom."
The Chinese poems and James Wright's lines are linguistic expressions of the longing that there be "another heaven and earth beyond the world of men." All over the country young poets went expectantly to the mailbox to find some wild thing like Kayak or some little essay by a Buddhist meditator. There wasn't a flood of mail—just one or two delicious pieces, or nothing.
I don't know why that mood of longing appeared in the late fifties. Perhaps it came because we had won the war. Thousands and thousands of men my age had died. There was a lot of gratitude for that enormous sacrifice. Awe and gratitude were in the air. Maybe we felt—as Creeley suggested—that despite the disintegration, it would be possible for us to put culture back together again. During the war, for example, Poetry had had about six subscribers. Everything was starting over again.
Or perhaps that wasn't it at all. Maybe the simple delight people felt in air, wind, and poems when there was no war was normal. Perhaps everyone felt that way before television held people indoors and fed them bad psychic food. For a few years, we felt, like Yeats in his poem, that "For twenty minutes, more or less, / It seemed so great my happiness / That I was blessed and could bless."
In 1956, I had received a Fulbright Fellowship to do the job of translating some old and new Norwegian poetry into English. Writers my age were aware of good poetry in English, but not the powerful poetry of Chile, Peru, Sweden, Germany, Italy. In the Oslo library I found Pablo Neruda. The moment is still clear to me. The lines were: "girls / sleeping with hands over their hearts, / dreaming of pirates."
It has an exaggeration there that's so beautiful. It's alive in the heart and flamboyant—so different from T. S. Eliot. I had spent three years at Harvard without ever hearing the name Neruda. One problem with the New Critics—whom I otherwise admire greatly—is that they were blind to material outside the English language.
A new kind of image had appeared, which was the engine, or the angel or the body of a wholly fresh poetry. César Vallejo said: I will die in Paris, on a rainy day, / It will be a Thursday, because today, Thursday, setting down these lines, / I have put my upper armbones on wrong." He didn't say, I have put my suit on wrong. No, "I have put my upper armbones on wrong"! "And never so much as today have I found myself / With all the road ahead of me, alone."
And there was Neruda's great poem on death:
There are cemeteries that are lonely,
graves full of bones that do not make a sound . . .
And there are corpses,
feet made of cold and sticky clay,
death is inside the bones
like a barking where there are no dogs . . .
Astounding! "A barking where there are no dogs."
I had a relatively good literary education, and I felt astonished by these poems, so I thought that other poets my age would be moved also. In 1958, when I got back, Bill Duffy and I started a magazine called The Fifties. On the inside front cover, we announced that "most of the poetry published in America today is too old-fashioned." We developed various ways to infuriate people who had submitted old-fashioned poems. One was a card that read: "This entitles you to buy the new book of Alfred, Lord Tennyson, / as soon as it is published."
In each issue we awarded the Order of the Blue Toad to an obnoxious literary personage of the day; and we made up a "Madame Tussaud's Wax Museum." In it were lines of John Crowe Ransom or Allen Ginsberg and Longfellow and so on. The whole thing was a little adolescent, but it had some spirit.
Each copy of the beginning issue cost us a dollar, and we sold it for fifty cents, so we weren't doing so well on money. But we sent a copy to everyone who had been included in New Poets of England and America, relatively traditional poets—I was one—edited by Donald Hall, Louis Simpson, and Robert Pack. We also listed on the back cover the Europeans we intended to translate and publish.
INTERVIEWER
What responses did you get from the "establishment"?
BLY
One man wrote me, saying, You know who you are? You're nothing but a Captain Bly pissing up a drainpipe! That was a strange metaphor. Allen Tate said something like: So people can write poems that are not in iambic? A cat can walk on its front legs too. So what? That was another strange metaphor.
James Wright, then at the University of Minnesota, also got a copy of that issue. He noticed Georg Trakl listed among the Europeans to be translated, and he replied with a long letter describing his despair at attempting to interest English department members in Georg Trakl, whose work he happened upon during a Fulbright to Austria. He came out to the farm for a visit the next week; we embarked then on a translation of Trakl and on a close friendship that continued for twenty-two years until he died in 1980. If I had gotten only one gift from the whole labor of the magazine, that would have been enough.
INTERVIEWER
How did you get submissions for The Fifties?
BLY
We put a tiny ad in Poetry magazine, for twenty-five dollars or so, and received poems of Gary Snyder and David Ignatow immediately, which we printed.
We found ourselves to be as well part of the small community of writers outside the United States. One day we got a letter from Boris Pasternak written in purple ink. He thanked us for mentioning him among the poets we wished to translate, praised my translations of Gottfried Benn, and then said something like: But I must tell you, don't save any space for me. Don't bother yourself with that. I have deviated from my former path and become out of date. Yours sincerely, Boris Pasternak.
INTERVIEWER
What did he mean by "deviated from my former path"?
BLY
He intuited, and rightly so, that we were interested in the same sort of poetry he was devoted to when he was our age, namely the allusive, elegant, inward poetry associated with the French symbolists, whose language longed to intermingle with the spiritual. He and Anna Akhmatova and Marina Tsvetaeva wanted to join Russian poetry to that international stream. However, the suffering of Russia pulled him later to issues more particular to Russia, as one can see in Dr. Zhivago. That was a more nationalistic, prosaic world. He thought his poems would no longer be interesting to us. Very humbly, he was warning us of that turn.
INTERVIEWER
Who else was on the staff?
BLY
Well, Carol Bly always took a strong part in the magazine and made up ads saying, "Strontium 90 Builds Bones." We were all figuring out various ways to try to bother the political and nuclear establishment. James Wright did much editing. We published The Lion's Tail and Eyes in 1962, with ten poems each of Bill Duffy's and Jim Wright's and mine, and the year before we published Twenty Poems of Georg Trakl.
We had a lot of fun editing. Sometimes Bill and I would get a bottle of Jim Beam, go up north to a cabin and send back all the poems we'd received in one night. He was a genius at rejection slips: Dear Mr. Smith, These poems remind me of false teeth. Yours sincerely, William Duffy. Or, These poems are like ice cream that has melted when the refrigerator got turned off. These poems are like three-day-old lettuce. Then they would write insulting letters back and we'd print the letters.
We published many wonderful poems of Paul Celan and Juan Ramón Jiménez. After a few years, we were ready with Twenty Poems of Pablo Neruda, which James and I had translated, and I wrote to him for permission to print the Spanish and the translations. We had paid the Trakl estate seventy-five dollars. I said to Carol, What do you think? Neruda's so great, let's offer him a hundred and fifty dollars. She said, Good idea. So I mentioned to him that we didn't have much money, but we could promise that many of the young poets in the U.S. would read the book. He wrote back something like: I know your press very well. You were the first ones who printed my brother, César Vallejo. Certainly you may publish my poems. I only have one request: that you send the one hundred and fifty dollars directly to a certain bookseller in Barcelona. I owe him a lot of money. Yours, Pablo Neruda.
INTERVIEWER
That's a good story. The poems collected in Snowy Fields . . . how did they come about?
BLY
I often walked out somewhere and sat down. Usually a poem didn't begin until something happened: "I rise and walk out in the summery night. / A dark thing hopped near me in the grass." The poems didn't move according to something I wanted to say. Usually the second stanza didn't begin until something else had happened. Maybe a leaf fell or the sunset darkened the tree.
The gratitude we've spoken of was present at the start of the sixties and at Woodstock. People began to feel that there was something that could satisfy the longing, maybe music or drugs. But it's the nature of longing that it cannot be satisfied. That, however, is when that longing got attached to pop culture.
INTERVIEWER
I remember Joe Langland saying about Silence in the Snowy Fields that he felt that both you and Jim Wright had done for American poetry what the Impressionists did for painting, which was to bring the poet outside and allow her or him to record what was going on exactly at the moment the person was out there—so that the poems say, That is going on right in front of me right now. And in that sense, it felt as if some sort of canvas were outside and you were painting exactly what was happening.
BLY
Well, that's a very great compliment that Joe Langland said. I don't know if we lived up to that. We did what we could. When I wrote poems in those years, I was not someone like Neruda, trying to feel my way back through centuries of human suffering and human grief. I'm sitting beneath a tree and realizing that I'm happy doing that: "I am happy in this ancient place, / A spot easily caught sight of above the corn, / If I were a young animal ready to turn home at dusk." That sense of gratitude and longing only lasted four or five years. I don't feel much gratitude in the country now.
Occasionally during those years we'd go to New York and stay a couple of months in the Village, on West Eleventh Street. I remember a funny afternoon from that time. Don Hall had come back from England to conduct the Paris Review interview with T. S. Eliot. Louis Simpson and I wanted him to take us along to the interview. He wouldn't agree: Come on, Don, we'll die! This is our only chance to meet him!—No. Robert won't behave himself. So that was that. But on the morning of the interview, Don came over and said, The tape recorder hasn't worked out. Could I borrow yours? Aha! So we had him. Louis and I went up to Mrs. Cohn's apartment, where Eliot and his wife were staying. She asked us inside to wait a bit, and I realized that in a few minutes T. S. Eliot would walk through the door. What an incredible thing. He did! Don greeted him, and we were introduced, without names, as two tape-recorder technicians. Eliot was kind to us: Would you like scotch or bourbon?—Bourbon.—With ice or without?—With.—I never have ice with bourbon myself. Don then put the recorder down. Eliot sat on the sofa, his wife was off to the right nearby. He threw warm glances toward her whenever a joke came up. So Don and Eliot went through their interview. Eliot answered questions he had previously avoided, such as, Is The Waste Land a Christian poem?—Not at all. He said that no American poet had ever interviewed him before. Louis and I stayed over at the far end of the room near the ice, getting drunk on the bourbon. When the interview was over, I went up to Eliot and said, You are a wonderful man! I remember handing him his hat—I think he was going out. I resisted putting it on his head. I knew he would say, If I had wanted the hat on, I would have put it on myself. But it was a grand day.
IV. TRANSLATION
INTERVIEWER
May I ask you about translation? You've done a lot. Why?
BLY
Take Tomas Transtömer. Translation of him was an amazing experience for me because there was a kind of image appearing in him that I'd never seen before. It's interesting that the Europeans recognized this; within a few years he was being honored all over Europe. How can you describe the strange images that he produces? "We got ready, and showed our house. / The visitors said, 'You live well. / The slum must be inside you.' " One time he was taken into the Swedish army to do his duty for a few weeks. "Sentry Duty": "Task: to be where I am. / Even when I'm in this solemn and absurd / role: I am still the place / where creation does some work on itself." This is a far reach from French surrealism, whose images don't have a center. They're like a wheel without any spokes.
INTERVIEWER
Can you give us some idea what that center might be?
BLY
"Dawn comes, the sparse tree trunks / take on color now, the frostbitten / forest flowers form a silent search party / after something that has disappeared in the dark." He's so unbelievably fast! He's like some runner, you know, he enters the forest and suddenly he's way gone, he's ahead of you, I don't know where he is. "Forest flowers form a silent search party / after something that has disappeared in the night." And it's not a teasing thing, exactly, but there's a feeling that Tranströmer is closer to some silent energy in the middle of the universe than the rest of us are. "Things not yet happened are already here! / I feel that. They're just out there: // A murmuring mass outside the barrier. / They can only slip in one by one." That's incredible. "They want to slip in. Why? They do, one by one. I am the turnstile." That's an amazing thing; he is saying that he is the center of these objects and creatures and images that want to come into the world. But he doesn't say he is a very important center. He's only the turnstile. And that's so beautiful and it's so different from Michelangelo, who says, I made all this. I am God.
I think I've made my point here, that by trying to translate something like that, the poems come deep inside you, the images come deep inside you, and you no longer say, Well, Tranströmer is a wonderful poet, or, This is very fresh. You don't say that. You feel yourself, because of the work you've done on the image, invaded by the image. You feel that it has become a part of your house like someone who's moved into your house, and your house is changed then. Your house has changed because these images have come in. So that's the way I feel about translation. It's a blessing.
V. VIETNAM POEMS
INTERVIEWER
You wrote your first poem against the Vietnam War in 1965. It seems strange that these poems come so soon after the Snowy Fields poems in 1962.
BLY
It felt that way to me too. Suddenly everything changed. It was a hard time. No one knew what to do. Some of the older poets—Berryman was one—thought it was bad taste for a poet to participate in a public meeting. (I didn't think so.) At the start none of us had written any protest poems ourselves, so we recited e. e. cummings, William Stafford, I. F. Stone, Robinson Jeffers, etcetera. The Swedish poet Göran Sonnevi wrote the first good poem about the war, and we read that poem in English. After a few months, a number of poets of all stripes joined an umbrella organization that David Ray and I set up called American Writers Against the Vietnam War. The first read-in we did was at Reed College—I think Ferlinghetti was there. Louis Simpson helped a lot. The veterans of World War II, like Louis, whose company was wiped out at Bastogne, were effective when right-wingers shouted at us from the balcony: You're all cowards! Go back to Russia!
Galway Kinnell and I sometimes joined to do a series of readings. Once in upstate New York we gave three readings in one day, flying from Albany to Syracuse to Buffalo. That night we ended up at a diner. Suddenly a drunk in the diner, not knowing anything about us at all, said, You want to know what I did during the Korean War?—Well, what did you do?—I was a rear gunner. We were coming back from a bombing raid, and the pilot for some reason flew right down the main street of this little Korean town. I had some ammunition left. You know what I did? I lowered my guns and shot every Korean I could see walking on either side of the street. What do you think about that? Why did I do that? That's what that time was like. Old stuff came up.
Most of the English teachers in the universities hated our doing "political poems," as they were called. That still happens. When I'm at a reception at a university these days, an English professor may come up to me and ask, How do you feel now about those poems you wrote during the war? They want me to disown the poems. I say, I'm sorry I didn't write more of them.
INTERVIEWER
Were you thinking of Whitman when you wrote "The Teeth Mother Naked at Last"?
BLY
Well, the long Whitman line seemed proper. "Wings appear over the trees, wings with eight hundred rivets."
Robert Duncan wrote the lines: "the hell of / America's unacknowledged, unrepented crimes that I saw in Goldwater's eyes / now shines from the eyes of the President / in the swollen head of the nation." So Whitman's work was the model. The longer lines demand to be lifted, as Whitman's are, by an increasing or persisting energy. Long lines are flung out. It was as if they were held up by the same sort of energy that holds up the plane's wings—the same sort of energy that supported the protestors during that long war.
Actually, I had been working on political poetry for several years before the war started. I was looking at American history from the point of view of Jacob Boehme, who insisted on distinguishing the outward man from the inward man. These poems were printed in a book called The Light Around the Body, along with some of the poems about Vietnam.
INTERVIEWER
That book received the National Book Award in 1968, which resulted in the famous speech you gave at the night of the National Book Awards.
BLY
That speech did cause some controversy. I said that there is something wrong in complimenting ourselves on our literary grandness when we are destroying a culture that probably has a longer literary tradition than we have.
INTERVIEWER
You gave the thousand-dollar check to a Resistance member, as I recall, during the speech.
BLY
I went down to the Resistance office in lower Manhattan, and said, I know how you guys can get a thousand dollars. They said, That's great! How do we do it?—Just have someone come to the Book Awards ceremony tomorrow night, and I'll pass the check to him. They said, It should be someone with a suit. I know someone who has a suit! That was charming.
INTERVIEWER
If the Vietnam War happened again, or now, would you spend all that energy and time protesting it?
BLY
Certainly.
VI. SOUND IN POETRY
INTERVIEWER
Can I ask you something about the element of sound, what it means in poems? You've been giving talks on that lately.
BLY
Wallace Stevens says something like, A poem should almost successfully escape the intellect. Only music can do that. So that if the poem has no genius in sound, the practical intellect will imprison it, so to speak, in a box and show it to visitors.
INTERVIEWER
You are thinking of a poem as a musical event, as well as a carrier of thoughts or emotions?
BLY
Exactly. Poems can become musical events in a number of ways. Two I've been brooding on are these: First, the seven holy vowels, as they were understood in ancient times, can come in. (Joscelyn Godwin has a charming book about the mystery of the seven vowels.) The great vowels bring radiance and add energy when they enter; they even encourage the arms and legs to move in a certain way. The seven vowels, one could say, penetrate through the intellect to the body. Then there is such a thing as chiming. Chiming means that tiny sounds chime with each other inside the line. It's a sort of interior rhyming that the writer does without alerting, or even telling, the reader.
Suppose you decide, like Stevens, to chime with the syllable in. Then you could say: "The trade wind jingles the rings in the nets around the rocks / by the docks on Indian River." It is the choice of in that determines the name of the river at the end.
One little chiming poem of mine begins: "How sweet to weight the line with all these vowels: / Body, Thomas, the codfish's psalm. The gaiety / Of form lies in the labor of its playfulness." Later it goes: "The chosen sound reappears like the evening star / In the solemn return the astronomers love." Most good poems have repeating sounds. But one can make chiming into a sort of principle. If the chiming sound returns three times, it becomes a tune. Then the whole stanza turns to music.
VII. CAMPHOR AND GOPHERWOOD
INTERVIEWER
When the war was over, were you finally able to spend more time with your writing, with your wife and your children? What did you write then?
BLY
I tried to do a long initiatory or autobiographical poem called "Sleepers Joining Hands." I worked on it a long time, but it never really cohered, probably because I didn't have enough solitude during those years. The protests took a lot of time, and I needed to earn money as well for the children, who were going to college eventually.
INTERVIEWER
Wasn't that the time you also began the prose poems collected in This Body Is Made of Camphor and Gopherwood?
BLY
Oh, those were better! Those were sweet! I owe those to Kabir and Rumi. Camphor and Gopherwood were my first "Beloved" poems. I wrote them while sitting on the floor of my meditation corner, struggling with Tagore's English for Kabir and Arbery's English for Rumi. For about four years there was the absolute delight of writing these Camphor and Gopherwood poems, and writing also a number of poems in lines which were gathered in a book called Loving a Woman in Two Worlds.
Ruth Counsell entered my life in 1972. Carol Bly and I agreed to divorce in 1979, and Ruth Counsell and I were married the next year.
INTERVIEWER
It seems odd to me that these love poems—so passionate—should come relatively late in your life—you must have been forty-six or so in 1972. Why weren't they written in your twenties?
BLY
There's something backward about my life . . . so many things happen out of time. I suppose I spent—or wasted—much of my twenties alone in a New York room, during the years I've described. At that time I couldn't be both a lover and an artist, so I decided to be an artist only. But these late-arriving things cause a lot of suffering and grief for others.
INTERVIEWER
How was Loving a Woman in Two Worlds received?
BLY
With alert indifference. Fred Chappell reviewed the book in The New York Times Book Review and said it wasn't a real book of love poems because there wasn't enough hatred and anger in it. In a way, he's right, but only in a thoroughly modern way. That book has links to the thirteenth-century French and German troubadours. It's about seven centuries out of date.
INTERVIEWER
Why are so few love poems written today?
BLY
A lot of angry love poems are written. Is that an answer?
INTERVIEWER
Not to me.
BLY
Yeats broods about that in his poem "The Two Trees." He says one tree, a holy tree, grows in the heart. The other tree is full of the "ravens of unresting thought." It's hard to get out of the raven tree, whether you are a man or a woman. It was Kabir and Rumi who helped me get away from the ravens of unresting thought. One of the poems in Loving a Woman in Two Worlds goes this way: "Every breath taken in by the man / who loves, and the woman who loves, / goes to fill the water tank / where the spirit horses drink."
VIII. MEN'S WORK
INTERVIEWER
Your life has been so entirely occupied with writing poetry, editing, and translating poems, how did your work with men come about?
BLY
It happened through my teaching. On the farm I was never able to support myself by writing, even though I translated a book from the Danish called Reptiles and Amphibians of the World, followed by a translation of Knut Hamsun's Hunger from the Norwegian. After that I did The Story of Gösta Berling, translated from the Swedish of Selma Lagerlöf. I also did some short stories of Strindberg, which didn't get published. I loved translating fiction but, as it turned out, I couldn't support a family on that.
During the seventies I had a longing to learn something about mythology, and so I printed up a poster announcing a conference on the great mother. That was in 1975. About forty-five people came to a woods camp in Colorado. It was there I told my very first fairy tale. It was a Celtic story with castles and old ladies and some toads and so on. The implications of it for the growth of an adult person were astounding. I told the story poorly, but we discussed it well. I wasn't the first to have discovered that many of the classic fairy tales lay out stages of initiation into adulthood, which we've entirely forgotten, that our ancestors apparently knew a lot about. We're reduced to the legal age for drinking or the driver's license.
During the seventies a tremendously healthy discussion was going on as well in the U.S. around therapy, fairy tales, mythology, stages of growth, and the meaning of initiation. I first heard Joseph Campbell talk in Toronto in 1975, and his book The Hero with a Thousand Faces was the bible of those discussions. He welded many different stories and myths together in a way that emphasized the heroic male, the young hero who leaves his village, fights various multiple-headed beings, gets a boon and brings it back to the village. That was the initiation, so to speak, of the male hero. Do women have different stages of initiation? That wasn't discussed. Do artists have different stages of initiation? That wasn't discussed. Are there spiritual roads that involve the male learning grief? That wasn't discussed. Every book can contain only a small sliver of the vast field of mythology. Joseph Campbell opened the awareness of the link between mythology and initiation, and the discussions went on for years.
The Center for Healing Arts in Los Angeles, the Jung Center in San Francisco, and others asked me to tell fairy stories to groups of men and women and relate them to ordinary life. The best stories for this purpose were from the Celtic clan, the Grimm Brothers, and the Russian collection by Afanasev. Two things became apparent. Women were much more willing to talk about their disasters and delights than the men. Most of the stories that we know—"Snow-White," "Snow-White and Rose-Red," "Rapunzel," "The Goose-Girl," "Thousandfurs," "Sleeping Beauty," "The Girl without Hands," "The Goose-Girl at the Well," "Maid Maleen," and so on—were of great interest to women. Secondly, the men in these weekend seminars began to ask for a story that was specifically about the stages of masculine development. I found "Iron John," or "Eisenhans." I promised the men that I would do a book on that. Eight or nine years passed and the men kept saying, Where is it? Toward the end of that time, I had begun holding some seminars for men only. The first was at Lama Commune in New Mexico. Meanwhile Bill Moyers had heard about the work and was interested in doing a PBS program on it. When his program appeared, the work that I and many other teachers had been doing for ten or twelve years surfaced into public consciousness. It seemed to be just the right moment. The serious respect that had developed for Freudian and Jungian therapy meant that both men and women were willing to talk about some of their suffering in public, which people, particularly men, in my father's generation would never have done.
Men, we saw, took a deep interest in poetry and mythology. I thought it was beautiful. The media dismissed all this work as drumming and running in the woods, which reduced it to something ridiculous. I think the men's seminars were not threatening to the women's movement at all, but a lot of the critics of Iron John missed the point. Various horizontal forces have recently pulled the women's work away from feeling and pulled the men's work toward fundamentalism. Nevertheless, The Christian Science Monitor has estimated that there are a hundred thousand men in the New York-Connecticut-Massachusetts area participating in "leaderless men's groups." I still do a lot of teaching of men and, with Marian Woodman particularly, of groups of both men and women.
INTERVIEWER
One quality of the men's work that surprised me was the amount of poetry that you and James Hillman and Michael Meade read or recited to the men's groups. The three of you gathered many of those poems in The Rag and Bone Shop of the Heart. In a sense, the men's work amounted to university teaching outside the university setting.
BLY
The media doesn't want to know that. The media has tried to paint things differently. The most powerful enemies of men's openness are the corporate men. Three or four years ago there were hundreds of posters in New York one spring saying, You don't need to beat a drum or hug a tree to be a man. At the bottom: Dewar's Whiskey. The corporate world dares to say to young men, knowing how much young men want to be men, that the only requirement for manhood is to become an alcoholic. That's disgusting. It's a tiny indication of the ammunition aimed at men who try to learn to talk or to feel. I think that the best result of the men's work so far, beyond the emphasis on grief, is the concept of mentoring, that is, providing older men for men who have no fathers. Bob Roberts has started up Project Return in New Orleans, and that project provides older ex-cons as mentors to young men coming out of prison. The return rate to prison for these young men is fifteen percent, compared with eighty-five percent in the ordinary government programs. The major difference is the use of mentors in Bob Roberts's program.
IX. MORNING POEMS
INTERVIEWER
In 1998 you published a book called Morning Poems. Why did you take that title?
BLY
The poems in that book I wrote in bed, in the early morning. I took the plan from Bill Stafford, who, as you know, wrote a poem every morning for about forty years.
INTERVIEWER
Did this morning work produce a different sort of poem for you?
BLY
Well, the mood is relaxed. That's nice. You say to yourself, Well, this poem isn't going to be any good, but I'll write it anyway. The first detail that arrives is treated as if it were the end of a thread. When one follows that thread, whatever comes along is welcomed into the poem. It could be a three-legged dog or an old stick or a character out of Madame Bovary. Whatever it is, I'll welcome it into the poem. You can always take it out later. One has no idea where the poem is going. That's what I like. You're following a thread. Sometimes the flow goes easily—didn't Frost say "a poem is like a piece of ice on a hot stove; it moves on its own melting"? It's like that. Stafford liked the Blake lines: "I give you the end of a golden string. / Only wind it into a ball; / It will lead you in at heaven's gate / Built into Jerusalem's wall.
INTERVIEWER
What are the stages of development from the initial impulse to the final poem? Could you give an idea of what that process might be like?
BLY
It's important to say that we're riding on little waves of language here, and the great genius of our language is its constant development of apt everyday phrases.
"It will lead you in" . . . to something. So already one has the suggestion that the thread is going to carry you into memory and maybe even beyond personal memory into cultural memory or religious memory. So the stakes are very high in a poem like this; there's very little will involved in it. There is a dancing among all the experiences you've ever had and a dancing among the gifts you've received from your family, from the wider culture, from your reading. And then the hope is that you can begin to work yourself back into your own life.
INTERVIEWER
In these poems, form seems to be coming in more than it has in your work for many years. Quatrains are appearing.
BLY
Ah, well. Maybe there's enough freedom in the associations, so that it's a relief to come back to form. Things move very swiftly in these poems—it's like hands doing a swift sketch. I didn't really plan the quatrains; they happened. One of our jobs these days, anyway, is to escape from free verse.
X. NEW POEMS
INTERVIEWER
For at least three years you have been composing poems in a form related to the Islamic ghazal. Would you talk about those poems?
BLY
My son-in-law Sunil Dutta, who was born in Jaipur, asked me to help him a few years ago to translate some poems of the Indian poet Ghalib, who lived in the nineteenth century and wrote in Urdu, which is a mixture of Persian and Hindi. I resisted doing more translations, but finally we got to work and finished thirty of his ghazals. Ghalib is wicked. He says: "Their funeral date is already decided, / But still people complain they can't sleep." The ghazal form, which usually contains from three to fifteen stanzas, has two remarkable characteristics. The poet can change the landscape in each stanza. One sher, or stanza, can be a love poem, the next can be wisdom literature, the third a complaint about the poet's private life. The second characteristic is that the poet never states the subject of the poem. In our tradition the poet may start, Come live with me and be my love, and he or she will stay with that argument. A poem may begin: Something there is that doesn't love a wall. Frost will add anecdotes, arguments, images until the subject is fulfilled.
INTERVIEWER
But Frost brings many moods into a single poem.
BLY
He does, yes. We know that Frost believes there's some force in the universe that wants walls to come down. That conviction is deeply inside Frost. But also deeply inside Frost is a sense that we are somehow abandoned and left to live in a really lonely, dangerous universe. Also inside Frost is the recognition that a feeling of connection between two people may be so strong that when they walk up a mountain, the buck that looks at them will feel it. Those perceptions are spoken out in three separate poems in Frost; but in the ghazal tradition, all three of those would go inside the same poem.
INTERVIEWER
So I gather the reader has more to do. When the theme of the poem is not stated, that leaves more work for the listener. Probably it encourages him or her to listen a little more carefully than we might when the poem is recited.
BLY
Yes, that's true. The language of the ghazal is deliberately complicated as well. In general, the ghazal belongs to a cultured poetry with many references to other poems and poets. Each image is an exaggeration, one might say, which suggests the opposite. So the ghazal stanza provides a kind of chamber in which opposite things can be said.
INTERVIEWER
Did the ghazal poem come out of an aristocratic world?
BLY
The word ghazal means love poem, and it seems to have started as a love poem in Arabic. The form was elaborated by the Persians. The ghazal was developed still further in the twelfth century in Persia and in India. But the form is still used all over the Islamic world. Some of this poetry comes from Sufis who don't own anything. Sanai says, If you can't go without food for five days, stop bragging about being a Sufi. So that's not aristocratic. It's not common, either. What are you asking about this poem?
INTERVIEWER
Well, I think the ghazals you've mentioned assume a lot of learning.
BLY
That's true, they do. We need more poems like that. What's the use of having a rich literary and cultural past, and then ignoring it?
INTERVIEWER
So the ghazal is not free verse.
BLY
Not at all! I've mentioned that the ghazal often makes a leap to a new subject matter with each new stanza; that is itself a form of wildness. The ghazal has massive forms of discipline, however, as if to balance that wildness. For example, there is the radif element. The first two lines announce a radif word such as night or a word meaning "enough for us." Every couplet in the poem will end with that same word. The interesting thing is that whenever night arrives, it is as if a whole world comes with that word. In this way, it's a little different than rhyme. Hafiz has a poem in which the repeating Persian word can be translated as "enough for us": "The shadow of a tall cypress in a meadow is enough for us." And then he goes on and says things like, "You have seen the cash flow and the world's suffering. / If that profit and loss is not enough for you, for us it's enough." And by us he's referring to a whole community, so that in a way, the community appears each time the line ends: "for us it's enough." The reader knows that a word is going to be repeated, and is delighted to see that it's slightly different in each of the couplets. There is some rhyming too, and of course meter as well, but the radif is the most unusual element to us.
INTERVIEWER
Would you recite one?
BLY
Some love to watch the sea bushes appearing at dawn,
To see night fall from the goose's wings, and to hear
The conversations the night sea has with the dawn.
If we can't find Heaven, there are always bluejays.
Now you know why I spent my twenties crying.
Cries are required from those who wake disturbed at dawn.
Adam was called in to name the Red-Winged
Blackbirds, the Diamond Rattlers, and the Ring-Tailed
Raccoons washing God in the streams at dawn.
Centuries later, the Mesopotamian gods,
All curls and ears, showed up; behind them the Generals
With their blue-coated sons who will die at dawn.
Those grasshopper-eating hermits were so good
To stay all day in the cave; but it is also sweet
To see the fenceposts gradually appear at dawn.
People in love with the setting stars are right
To adore the baby who smells of the stable, but we know
That even the setting stars will disappear at dawn.
The writer jumps on a new horse with each stanza, one could say. But then the rider gets off the horse at the end of every stanza and takes the reader's hand. It makes for a wildness that still has care for the reader, almost courtesy.
INTERVIEWER
You decided to change the usual two-line Persian stanza to a three-line stanza. Why did you do that?
BLY
The line that poets use most often in both Persian and Arabic tends to be sixteen or eighteen syllables. So if you have two eighteen-syllable lines, you really have thirty-six syllables. By contrast, the typical line in English, in the sonnets, for example, is ten syllables. A line in English becomes unwieldy if it's extended into eighteen syllables. By adopting three eleven- or twelve-syllable lines, you end up with about thirty-six syllables. I think the Islamic writers felt that thirty-six syllables is a useful and complete unit of expressiveness. That's why I went to three lines.
INTERVIEWER
The poem suggests that wildness can stay with us as we get older. Perhaps the ghazal's particular merging of wildness and form is more appropriate to a seventy year old than to a twenty year old.
BLY
It's good of you to say that.
XI. CODA
INTERVIEWER
Did you ever think of going into a university?
BLY
My idea of a poet was formed in 1950! I wanted to be independent of universities, as William Carlos Williams was, or Wallace Stevens or Eliot. Part of my reluctance was probably arrogance. But I do write best when I have a lot of time alone. I still say to my wife sometimes, You know, I really should have joined a university. Then I could have one of those little white houses in some New England town, and there would be a sun porch and a salary; and when I got to school there would be these happy faces longing to see me!
Ah, she says. You would have gotten fired anyway because you never keep your mouth shut! That's probably true. Maybe I'm happier outside the university than I would be inside.
INTERVIEWER
You've done some teaching lately for Galway Kinnell at NYU, and for the Bennington writing program.
BLY
Yes, I taught "The Craft of Poetry" for Galway's program one year. I'd see the writing students from six to eight on a Monday. I'd talk about the seven holy vowels or read Stevens or Marvell to them and go out high as a kite at eight. I do like also the nonresidential writing programs like Liam Rector's at Bennington. The writers, often parents or working people, exchange letters with their teachers regularly and then come in to Bennington for a few days twice a year. Don Hall and I are "poets in residence," so we can do whatever we like. Don and I can spend some time together, meet younger writers, and hear some lectures.
INTERVIEWER
You and Don Hall have been friends for years?
BLY
Donald Hall and I have been sending poems back and forth twice a week for forty years. At one time, we had a forty-eight-hour rule: the other had to answer within forty-eight hours. My generation did a lot with letters. Galway Kinnell and Louis Simpson and Don and I and James Wright would often send five- and six-page typed letters commenting on and arguing with each others' poems. I'm amazed we had the time for that. Tranströmer and I exchanged hundreds of letters. The gist of it is that no one writes alone: one needs a community.