Interviewed by Lucas Wittmann
Issue 223, Winter 2017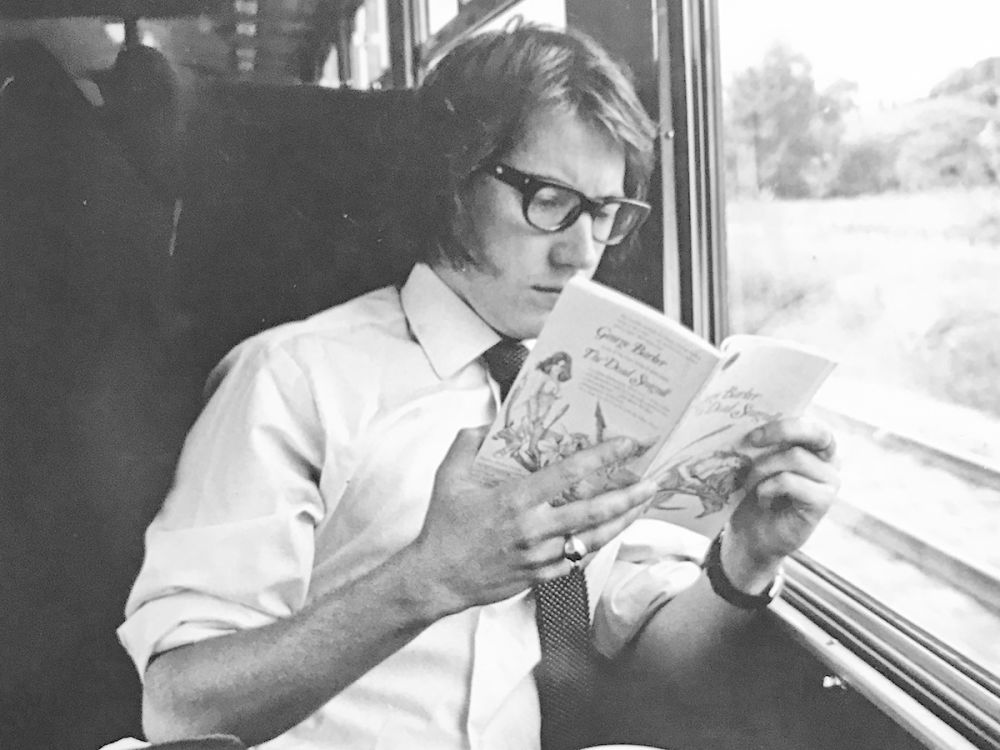 On the train to Bristol, 1970.
Born in London in 1945, Richard Holmes has written ten biographies and books of biographical essays. Even in his early works Shelley (1974) and Coleridge: Early Visions (1989), Holmes demonstrates a keen eye for place and a striking empathy for his subjects. In his pages, one has the chance, however fleeting, to imagine what it may have been like to ride on the Lido with Shelley and Byron, or roam the midnight streets of London with Samuel Johnson and Richard Savage, or take to the air over the Arctic with Salomon August Andrée. His books have warmth and intimacy combined with a knowing sense of their own ­incompleteness, an idea that Holmes sees as the very heart of biography.
We met three times in the winter of 2017. Our first meeting began at a London bistro and ended in overstuffed armchairs at the office of his literary agent in Covent Garden. The next day, we continued at his apartment in north London—not too far from where an aging Coleridge stood to salute Byron's funeral cortege. In his apartment, the books on past subjects were clustered on the shelves like memorials to old friends, some of whom (like the poet Gérard de Nerval) have escaped the full Holmes treatment but linger on in his affection. Our final meeting took place over tea and cookies at my apartment in New York.
An adventurous spirit, Holmes has followed his own Romantic enthusiasms far and wide—from a sailing adventure that ended in a helicopter rescue, to an attempted hot-air balloon landing on the front lawn of the Australian parliament in Canberra, to many experiments with fiction and radio plays. Perhaps most adventurous of all was his shift from literary to scientific biography in The Age of Wonder (2008). For a number of years, he was a professor of biography at the University of East Anglia and the editor of a series of reissued classic biographies; he now lives between London and Norfolk with his partner, the novelist Rose Tremain, from whom he will slyly admit having borrowed a character for a brief part in his latest book, This Long Pursuit (2017). The couple returns every year to their stone house on the edge of the Cévennes, where, much earlier, as Holmes explains below, he first felt the biographical urge.
INTERVIEWER
How did you start writing biographies?
HOLMES
At eighteen, just out of Roman Catholic school and desperate for freedom, I set off alone wandering around France for several months. My mother sent me her old copy of Robert Louis Stevenson's Travels with a Donkey in the Cévennes, as a kind of good-luck charm. A little red hardback with a tiny map in the front. I still have it. Suddenly I thought, Here is the map and this is the journey I must make. So I went down through the Lozère, following Stevenson's track, on foot with a rucksack, sleeping rough—but no donkey. It only lasted a couple of weeks, but for me, it was tough, very lonely, a kind of initiation. The Cévennes is like a French version of the Scottish Highlands, wild and remote. I saw no one for days, but I somehow believed I saw Stevenson and met him. I slept à la belle étoile and bathed in the mountain streams. I had a traveler's check for fifty pounds in my shoe. I started keeping a notebook about Stevenson's trip, and that's how it all began.
INTERVIEWER
But it was years before you actually published anything about Stevenson—not until your 1985 book, Footsteps: Adventures of a Romantic Biographer. First you went to university and moved to London and became a poet.
HOLMES
Well, in my twenties I wrote a lot of poetry, songs, and story-ballads, some collected as a pamphlet, One for Sorrow, Two for Joy (1970), with the help of a real poet, Christopher Logue. I supported myself by reviewing, but a publisher suggested I write a book called "Prodigies," about the lives of young creative people—poets, painters, writers, musicians. I remember he mentioned Janis Joplin. After all, this was in the late sixties. I thought, Well, maybe, but where does this fascination with prodigies really start? Not with Janis Joplin. It starts with the British Romantics, and who was their youngest star? Thomas Chatterton, the Bristol prodigy who invented an imaginary poet called Thomas Rowley. Chatterton wrote medieval poems as Rowley, ballads and rather beautiful, songlike lyrics. At seventeen, Chatterton came to London hoping to make his fortune, but it was all a disaster. He took opium and committed suicide in a Holborn attic. I was haunted by a famous Victorian painting of him by Henry Wallis, The Death of Chatterton.
In the Rowley poems, Chatterton refers to certain medieval chivalric tombs in Bristol, and I went down and found they were still there in Saint Mary Redcliffe church. Suddenly the past became very real. I wrote what was just intended as the first chapter of that "Prodigies" book. But Chatterton's story possessed me, and all the rest rather fell away. I explained this to my future agent, Peter Janson-Smith, and he sent the Chatterton piece on its own to John Murray, the publishing house that had once published Byron. And to my amazement, dear John Murray, with his abrupt manner and his witty bow tie—a direct descendant of Byron's editor—said, Well yes! Why not—we'll publish it in our magazine, Cornhill. They gave me half the issue. It was a fifty-page piece, and the other half was a wartime ­memoir by Alan Moorehead. After the poems, that was my first publication, "Chatterton: The Case ­Re-opened," with some original manuscript illustrations, and some wonderfully atmospheric photographs of the tombs taken by my brother, Adrian.
INTERVIEWER
What did you experience in writing your Chatterton essay?
HOLMES
I found how intensely I enjoyed bringing someone back to life. Gathering the evidence, recovering the story, and trying to find, for example, what he looked like. Were there any genuine portraits of Chatterton? The answer is, Possibly one. And because there was something so short and brilliant and tragic about that life, I was simply driven to retell it. I had the sense that a sort of justice hadn't quite been done to him. That's partly the biographer's job, I think, to give someone a fair hearing, to do them justice.
INTERVIEWER
Looking back, it seems that many elements of your career were there in that essay, in some form or another. The following in someone's physical footsteps, the sense of empathy, the effort to rescue a figure who is known in a superficial way as a young prodigy, and so on.
HOLMES
Yes, that's true. So many poets whom I would subsequently write about did surprisingly turn up in that piece, like Shelley, Coleridge, and even Richard Savage. They were out there, interviewing me already, as it were. I continued writing poetry, but I thought, Could I write more prose pieces on a larger scale? In those days, the poet Shelley had been dismissed by all the academics. F. R. Leavis had written that he was not serious. What's more, he was something of a dangerous atheist radical. That was a challenge, too.
INTERVIEWER
Wasn't that a good thing in the late sixties and early seventies?
HOLMES
By that time, yes it was. But I don't think I had read a line of Shelley earlier at Cambridge. With my superb, provocative director of studies, George Steiner, we read Blake and Goethe, but not Shelley. So I began to read him and found his travel letters and short prose essays were wonderfully good—for instance, "On the Devil, and Devils." They were an eye-opener for me. Then I began the poetry. I remember reading Prometheus Unbound in a laundromat off Baker. I was still living hand-to-mouth in those days. It was probably on a wet Sunday afternoon, when most things seem to begin. I was watching my washing go round in the laundromat and reading this extraordinary poem about defying the gods. This was something else. Who on earth was this man?
INTERVIEWER
So it didn't start with love?
HOLMES
No, I thought Shelley was quite a difficult character, actually, and a lot of the poetry I didn't like to begin with. But then there were astonishing things like "Ode to the West Wind" and "The Mask of Anarchy" and the Venetian poem "Julian and Maddalo." And he was always traveling—in Ireland, France, Switzerland, and Italy. That was interesting for biography, and I wanted to travel myself, too. Then also, I was writing weekly reviews for the Times, which was demanding but seemed to be settling into a safe pattern. I thought, I could go on for years doing this. If I'm going to write seriously, I must break out.
My agent got me a contract with Weidenfeld & Nicolson to write a big biography. The advance was generous—two thousand pounds over two years. In those days, I could live on a hundred a month, so it was enough to leave reviewing, go away, travel, research, and write. Though of course it took three years. I went to Paris immediately after finishing, to recover, and began a different kind of feature journalism about French historical figures like Nadar and Gautier, subsequently collected in my book Sidetracks (2000).
INTERVIEWER
How did you know how to write a biography?
HOLMES
Writing for the Times had taught me a lot about research and story lines, and deadlines. I had a fifty-page practice with "Chatterton." I knew a life had to have a beginning, a middle, and an end, although, as they say, not necessarily in that order.
INTERVIEWER
The Shelley book opens very atmospherically, with the view from the window of his family's estate.
HOLMES
I remember hitting that first sentence—"His bedroom window looked west, towards the setting sun." Immediately you are there, his eye view—that's where I wanted to write from. I hadn't dared look at the big previous Shelley biographies, so they weren't sitting on my shoulder, just his own letters and poetry. And his manuscripts' notebooks in the Bodleian. I had a growing sense of who he was. You learn about your subject not only in the research, not only in tracing their footsteps or in the archives, but actually when you sit down to write about them. The way you write about them, the tone and speed and angle you find, helps you to know them. With Shelley, it was headlong adventure. But with Coleridge, for example, I asked myself, Was I writing a tragedy or a comedy? Because Coleridge would be susceptible to comic treatment. But in the end, I realized I wasn't writing either, that I was writing tragicomedy, perhaps an ideal form for a biography.
INTERVIEWER
Do you have a system for taking notes as you go along?
HOLMES
I've always kept notebooks. Black and red, spiral-bound. Some of them are much more detailed than others. I think I have about two hundred of them. I've kept them all. These notebooks are all divided right-hand, left-hand. The right-hand pages are my research notes, and the left-hand are very personal diary notes, and that's part of the process.
INTERVIEWER
This was part of your process from the beginning?
HOLMES
I always did that, an adventure journal alongside a research journal. I ­remember catching a local bus down to San Terenzo, the little village where Shelley last lived. I arrived there with my notebook and my copy of Shelley's letters and no idea how to set things up. I went into a local bar, and in my bad Italian I said I was looking for somewhere to stay, and the bartender said, Go see Signora—and I went up and she interviewed me. She was so sweet. She must have been seventy. She had been a cook in London in the time of the war, happy memories of England survived, thereby hung her whole story. I explained about Shelley. Ah, Lord Byron! she exclaimed. She'd got a house where she let out rooms. It was usually for car workers on holiday down from Milan, but this was November, so the rooms were empty and they were cheap. It turned out this house was two doors along from Shelley's house, Casa Magni. I had the front room with a balcony. In the evenings, I could sit out with my notebook on the balcony over the sea and look across to Shelley's balcony and hear the conversation. Those lucky breaks, where you find yourself adventuring into someone else's story, for me they're part of the biographical process, too.
INTERVIEWER
Your research habits, volumes everywhere, reminds me of how Godwin ­advised Shelley to read—surrounded by advancing piles of books.
HOLMES
Absolutely right. When I was writing Shelley, my old dining-room table was very important because it had two leaves that folded out. It gave me a huge spread for books, card catalogues, pictures, and a big Olivetti typewriter. My neighbors in the flat below said, Richard, we hear this terrible thumping at two A.M.! So I put more books under the table legs. I've never been a great morning person. Everyone has a best writing time. For me, it's midafternoon on, and reading as late as possible.
INTERVIEWER
Does Rose work on a different schedule?
HOLMES
Yes, she's a morning girl. After twenty-five years, we still find that works surprisingly well. We get together for meals. A light lunch, strong coffee to see us through, and then she's finishing work and I'm starting. But it's the evenings that are so lovely. We have late supper together always by candlelight, and talk and talk.
INTERVIEWER
Who cooks?
HOLMES
She does, a brilliant cook. I can just about roast a chicken. In the kitchen, I'll have a glass of whiskey and she has a glass of gin, and the talk really begins, though not necessarily about what we're working on. Mind you, like most men of my generation, I am superb at washing up.
INTERVIEWER
Do you revise heavily?
HOLMES
Yes, so much of writing really lies in the revision. One old-fashioned technical thing—when working on a typewriter, you had to know everything about the sentence, including where it's going to finish, before you started it. Because correcting it afterward, and the carbons, was such hell. Now with a computer, you can just set out.
INTERVIEWER
So has your revision and writing process changed with the computer?
HOLMES
You can start off with a slightly freer spirit, and you can revise even more. You can "comb" the individual sentences, as Rose says, but also try out bold improvements. I remember making a major structural change with the Coleridge book, altering the narrative pace, simply by making slimmer paragraphs. The headlong Shelley looks physically different on the page, the big racing paragraphs, compared to the slimmer, slower, more contemplative paragraphs of Coleridge.
INTERVIEWER
Did this change happen in the revision process?
HOLMES
In the end, it was a reflection of each subject. Shelley dashed at everything, he rarely lived any time at any one place, he traveled, wrote, and lived incredibly fast, and he died in a storm at twenty-nine with full sails up. I wrote Shelley's life in something of the same headlong way, and finished it at the same age. Coleridge's life was far more emotionally complicated, intellectually entangled, self-reflective. He kept his own superb opium notebooks and lived long into his suffering sixties. I thought my biography needed to express that slow, rich inner life in its form, a sort of unfolding. It took nine years, far too long for both of us. Its first sentence has the older Coleridge reflecting with a sad smile on his own childhood. Already the tragicomic note.
INTERVIEWER
Let's talk about the moments of not knowing. There are a few famous ­moments in the Shelley book—for example, the incident of the intruder in the house—where there is simply no way to know what actually happened, in that case whether an assassin tried to kill Shelley or whether he made the whole thing up.
HOLMES
I think uncertainty is an absolutely central feature of biography. We all know how witnesses remember accidents differently, and how a diary or a journal written at the time will be different from a later letter recounting the same thing, let alone a memoir. There's always a forensic element in biography, of trying to piece together contradictory evidence, to work out a possible truth. You probably can't solve the apparent attempt to shoot Shelley in North Wales, but you can gather up all the evidence of local hostility, and that itself says something about him. You can also present doubts. In this case, Shelley's friends doubted his account of what happened, they thought he was deluded, even paranoid. And that says something else. So maybe the fact that there is doubt is an important part of the story. The detective narrative is just one of the many forms that the biographer has to be able to work in.
INTERVIEWER
Do you feel that certain subjects—I'm thinking especially of Shelley and Savage—are in some ways radically unknowable to you?
HOLMES
I think that's an essential recognition of biography. The biographical evidence is always partial, incomplete, tantalizing. In Richard Savage's case, almost nonexistent, beyond the transcript of a trial for murder. On the other hand, if you take the whole run of someone's life, you begin to see patterns. Henry James's "figure in the carpet." People's personalities emerge over time—in the way they act or don't act, understand or don't understand. Above all, how they love and how they imagine, including those fantasies, ambitions, and inventions which never come to pass. One of my Ten Commandments for biographers, in This Long Pursuit, is "Thou shalt be Humble about it, for it demonstrates that we can never know, or write, the Last Word about the Human Heart."
There is an interesting difference here between fictional characters and biographical characters. Rose and I often talk about this. In at least one sense, the novelist's knowledge of a fictional character is absolute. All the evidence is hers, complete and unchallengeable. Whereas for the biographer, there will never be a definitive version of your subject. Instead you ask, Does my version hold good for readers? Can they believe I've tried to tell the truth? Can they feel they've met this person? And can they see why I think this life is still important, why it's still significant to us? Biography is not just the story of a subject. It's the story of the relationship between the subject and biographer, even if that's never consciously expressed. Although, of course, I do tend to express it.
INTERVIEWER
When you break the frame?
HOLMES
Yes, the question is where you break the frame. In Shelley, there's only one place, a discussion of his mysterious "Neapolitan child." But Footsteps is ­entirely about breaking the frame, setting the biographer loose in the company of Stevenson, Mary Wollstonecraft, and others. In Coleridge, I break the frame in footnotes, like my story of triumphantly finding his initials, STC, carved in the back of a cave, and then discovering something quite different about the "recarving" nature of biography itself. Or more obliquely, in This Long Pursuit, where I go down to the little west country seaport of Watchet, the birthplace of The Rime of the Ancient Mariner. The thing that struck me about Watchet is the huge tides—they shift almost thirty feet, some of the biggest in northern Europe. You feel the power of the sea in this vast, muscular force that takes everything out of the harbor, and then brings it surging back again. It occurred to me that one of the extraordinary things about The Ancient Mariner is this idea of the "polar spirit," an underwater presence that affects everything and utterly controls the Mariner's ship, drives it out and back, in fact, wrecks it in the harbor at the end. Coleridge had never been on a ship, so maybe simply seeing that huge Watchet tide gave him a significant part of his polar imagery? At least, the biographer can slip this into the narrative frame. So the poem appears to arise directly out of Coleridge's own natural observations.
INTERVIEWER
That's something remarkable in the physicality of your books—you are very good at describing places and things, and also what people look like. Is it possible to write a biography without that?
HOLMES
As far as I'm concerned, the physical presence of the subject is very important but very elusive. There are virtually no photographs before the 1840s. There are photographs of Thomas De Quincey, but not of Shelley. There are many portraits of Keats by his friends, but no photographs. There is one mesmerizing photo of Fanny Brawne. But how can we ever know if a portrait is "accurate"? You have to work hard to re-create the visual impression. And also, how does somebody walk, how does their voice sound, how do they smell? I remember working out that for his Travels, Stevenson had this wonderful smell of wet Scottish tweed, French tobacco, and warm brandy. Because it always rained up there, he always rolled his own cigarettes, and he always carried a large flask of Cognac in his pocket. And then of course there was the smell of his donkey, Modestine.
INTERVIEWER
Of course, people's looks change over time.
HOLMES
I think that's hardest of all—to get the effect of aging, both physical and metaphysical. Shelley we only know up till his twenty-ninth birthday. Can we even imagine him at fifty? But we know what Coleridge was like at ­twenty and also what he was like at sixty. Both Hazlitt and Carlyle give vivid ­impressions. In The Age of Wonder, the scientist Joseph Banks changes from a bouncy, young explorer in Tahiti to the gout-ridden distinguished old gentleman at the Royal Society. These changes are vital to the biographical picture. And of course, as your subjects get older, they're carrying their own memories of childhood inside them, which themselves change as they look back. How an older person looks back at their own life, maybe reassessing or reinventing, is a key thing in all biography. People accuse Wordsworth or Coleridge of betraying their radical youth, becoming conservatives, rewriting their youthful memories, and so on. But I think, Hold on. What had happened to them in the intervening thirty years? What had happened to the world around them? For example, the Napoleonic Wars? What was the effect, in both cases, of their having children? Of course people alter, they don't remain twenty-year-old radicals, and memory itself is very malleable, it alters all the time. Biography should be able to deal generously with that. They say all political lives end in failure, in which case all writing lives do, too. No one really does everything they set out to do, what they thought they could do, what they longed to do. Yet so often people discount what they have actually done. In a way, it's for the biographer to say, Look what you achieved after all! Look at the effect you've had!
INTERVIEWER
You want to shake them and say, You're still being read. You still matter!
HOLMES
What did Mary Shelley think of her career? She has this immensely exciting but rather perilous beginning—and then, as it were, everybody dies and ­everything collapses. Her children die, Shelley's drowned, Byron is martyred in Greece, Polidori commits suicide, the old Italian friendships all break up, her father-in-law persecutes her, and she's left alone, bringing up one demanding child, editing Shelley's work, and potboiling her novels. Yet at eighteen she started writing this one book, Frankenstein, that we're all still reading and talking about. Did she realize what she had achieved?
INTERVIEWER
That's one thing that's so remarkable about reading your biography of Shelley. We think, You're being a bit of an idiot, Shelley—then pause and realize, He's only twenty-two. What were you doing then? Were you so much cleverer? To engage our imagination that way, it seems to me, is the sign of a good biography.
HOLMES
I think that is the heart of it. You spend a lot of time alone with your subject, but in the end you must go out and engage your readers. Readers must be able to imagine this other life as vividly as possible and understand it as personally as possible. I think it has to be an affectionate understanding, too. At least, I find that. I've never written about someone I didn't learn to like, and even to love. I call it "a handshake across time."
INTERVIEWER
Is it hard to decide, when you read private notebooks and letters, what to trust and what to doubt?
HOLMES
When you read someone's letters through, you get a certain feel for what's ­going on. It's something you learn gradually. For example, I think I now know when Coleridge is shooting a line, which he often does, because of ­opium. There may be contrary evidence, but often it's just because of his inflated style. But with Coleridge it's never simple. In his private notebooks in 1812, there's one morning of absolute crisis in his life. He's alone in London, he's been rejected by the Wordsworths, and he writes a series of pretty, well, ­suicidal notes, which include all sort of prayers, accusations, and confessions—all absolutely desperate and convincing. We also have Charles Lamb's account of Coleridge dining out on that very same night. He is "well-powdered," the soul of the party, brilliantly talking and reciting poetry, and going on for too long, as ever. These two things occur in the space of one day. Which is the true Coleridge? Surely both, because that's what human life is like.
INTERVIEWER
It seems that your work has become more personal—in your notes and interjections in the text—as it has gone along. This Long Pursuit may be the most personal yet, in some ways. Is it something you've become more comfortable with as you go on?
HOLMES
The personal note, the biographical "I," is a writer's instrument. It's part of your orchestra and you need to know when to play it. It may be just in a footnote. Or I may use it continuously, for example in the Footsteps and Sidetracks books, if I want to explain what the biographical task is like from the inside. In either case, I'm still trying to tell good stories. With This Long Pursuit, the third of the trilogy, each chapter is still meant to be like a story, to have its own particular shape and drama.
INTERVIEWER
In This Long Pursuit you talk about teaching and your more general ideas about biography, but we're still missing the Holmes manifesto.
HOLMES
Although I taught biography at the University of East Anglia for six years, and I do have strong views about how it works, I still find it very difficult to write in an academic way about it. When I put This Long Pursuit together, my publisher wanted me to write a big introduction which would be a statement of my theories. I wrote that introduction five, six, seven times, but every time I thought, I just don't like this. I want to talk to people as a biographer, a storyteller, not as a theorist. There are certain things I did want to say—for instance, we need more imaginative biographies of scientists, we need more about "forgotten lives" and minorities, we need more experiment with the "frame," and that the biography of women is still inadequate. Incidentally, I don't recognize any gender issue in biography. A woman might do a male subject, and vice versa, absolutely.
INTERVIEWER
Do you ever feel that you have projected too much of yourself onto a subject?
HOLMES
I'm sure that's true, though it's one reason for having my two-sided notebooks, to keep subjectivity and empathy under control! That's what I tell my students, who always want to use the word I. Write all your feelings down—all your questions, your doubts, your imaginings—but then discipline them and work toward the objective narrative. I call empathy the most necessary, but most perilous, of biographical emotions.
INTERVIEWER
How did you manage the switch from your earlier biographies, with one or two clear characters each, to the large cast of a book like The Age of Wonder?
HOLMES
This was also a switch from writing purely literary biography to writing about literature and science together. In 2000, I gave a lecture at the Royal Society ­titled "Coleridge Among the Scientists," based on Coleridge's friendship with the great chemist Sir Humphry Davy, which started me off in this new direction. It came to me that scientists required a slightly different kind of biography from poets. The experiments and discoveries they were making formed what I call a relay race. Each person does a certain amount, they get certain things right, certain things wrong, they often don't know which is which. And then the work is passed on, so it's a group activity, a cumulative activity, and this requires a group biography, otherwise you'd distort the ­nature of scientific research. Also I wanted Romantic poets talking to Romantic scientists, a big conversation! So starting with Coleridge and Davy, then the explorer Banks and the astronomer Herschel, then Keats and Mary Shelley, The Age of Wonder gradually acquired a cast of more than sixty and covered two generations. It began with Captain Cook's voyage round the world and ended with Charles Darwin's.
INTERVIEWER
You don't have a background in science. Did you feel you had to learn it all from scratch?
HOLMES
As a kid, I loved scientific stuff. I built valve radios, blew up chemistry sets, and flew model airplanes. I knew how both steam and petrol engines worked. I had a Royal Air Force uncle whom I rather worshipped. It was highly illegal but he took me into his V-Bomber and sat me in the pilot's seat and went through the controls. I hasten to say it was parked at the time, switched off, and not armed. But I loved all that kind of scientific machinery and excitement. Also, I went to a modern college at Cambridge, Churchill, where by statute seventy percent of the students studied science or technology. So a lot of my friends were in fact science people. I loved the chemistry professor who would recite Paradise Lost at the college bar just to show us arts students up. So when I was fifty, I simply started science again. And Rose bought me a beautiful reflector telescope.
INTERVIEWER
You've written that Shelley was shaped by the 1960s and your own youth. Do you think The Age of Wonder was influenced by the growth of the Internet?
HOLMES
I'm sure it was. Scientific data and explanation became so much more ­available. Also, from 1990 there was a period of fantastically good popular-science writing. Hawking, Dawkins, Lovelock, Stephen Jay Gould—I was absolutely fascinated by them. At the same time, science programs on television were becoming more mainstream and better done. After Carl Sagan and Jacob Bronowski, there were younger and more daring presenters. The old C. P. Snow idea of the separated "two cultures" seemed outdated. So a big biography of Romantic poets and Romantic scientists talking to each other, as it were, seemed suddenly the right thing at the right time.
That's another reason for studying biography as a form. It gives you not only a new picture of the subject, but also a picture of the period in which the biographer himself is writing. The kind of questions and concerns that are raised inevitably reflect the biographer's own time. I suspect The Age of Wonder is a typical early twenty-first-century book in that respect—it reveals both our new fascination with science and our growing anxieties about it. I made up for my students, partly as a joke, the Holmes Law. As a biography ages, it becomes more autobiographical. So that by now, Boswell's Life of Johnson is really a book called "James Boswell, My Life and Times." The biographer's shadow deepens over time.
INTERVIEWER
Falling Upwards (2013) feels a bit more like you're skipping a stone than following a clear line—you find various moments in the history of balloon flight that make a splash.
HOLMES
Exactly, it's flying by moments, and all the time asking, What's the biographical symbolism of each adventure? The opening chapter moves rapidly from pre-­Inca South American balloon burials to twentieth-­century balloon ­escapes over the East German wall. It then concentrates on nineteenth-century episodes and goes into great detail. The French balloonist Sophie Blanchard's story is very unexpected—a woman flying as the emperor Napoleon's official aeronaut. Then the thousands of letters flown out by balloon during the Prussian siege of Paris, including love letters by Gautier. Then the first revealing balloon flights over the great, grim industrial Victorian cities, or over the astonishing Niagara Falls, or over the terrible battlefields of the American Civil War.
I was literally overflying history, seeing it afresh, and recapturing the biography of those who looked down and asked questions. The balloon gives you a certain kind of bird's-eye vision of life. For example, the Prussian invasion of Paris raises the question of united Europe in many ways, and balloons demonstrate the role of national propaganda. The photographer Nadar, who organized the French balloons, became the first great master of publicity. What notion of Europe would come out of that? Similarly, with my chapter on the American Civil War, the terrible bloodshed, and the overarching visions of national unity. Of course, I also loved the romantic story of the Confederate balloon made out of the silk dresses of dozens of dispossessed Southern belles. And then the early scientific balloon flights, attempting high altitudes or trying to reach the North Pole, many of them fatal expeditions. To me, that book also has this very strong central theme, which is about risk-taking and daring, and how science itself requires this.
INTERVIEWER
Was it more liberating to write? In the sense that you didn't have to stick to someone's narrative?
HOLMES
I suppose it was—a group biography, a thrilling mixture of serious science and quixotic adventure—but still a risky book to pull together, dealing with death and failure as much as conventional success. But I think there is always danger, after a certain age, that the biographer may just repeat himself. You may just stay safe with an accepted literary thing. People used to say after my Shelley, and after my Coleridge, All right, now do Byron! Instead I did The Age of Wonder.
INTERVIEWER
With your Mary Somerville essay in This Long Pursuit, you've got a clear point of view and you've got a point to make. How do you approach constructing that kind of essay versus the larger narratives of your biographies?
HOLMES
Rose is a wonderful short-story writer, and she and I talk a lot about constructing them, how they begin, how you shape them, how they end. She ­always says they're the hardest form to get right. Unlike novels, they turn your readers into natural critics. They're immediately alert, asking, Where's this going, will this bit fit in, does the ending pay off? One reason I loved ­doing those fifteen biographical essays was the need to give every piece ­exactly this tight curve, this precise direction of a short story. They allowed me to write in different voices, too, some more intimate than others, and some frankly mischievous.
INTERVIEWER
In a story or an essay, the reader is aware that something has to happen, quite quickly.
HOLMES
Yes, you hit the ground running with the first paragraph, often a kind of challenge to an accepted view, and from then on every detail must count, and the end must be inevitable, but always hidden. When you read a full biography, as with a novel, you should be able to lose yourself within it, to take your time. Though of course the way time is handled within a big biography is often quite complicated, and not what it seems. Chronology can do all kinds of things.
INTERVIEWER
How do you mean?
HOLMES
It expands and contracts. Take down any modern biography and see how ­little space is now given to genealogy, compared to Victorian, which is usually patriarchal. By contrast, how many pages are given to the ages between one and, say, eighteen or twenty, if the material is there. Humdrum periods will be compressed, crises, love affairs, creative moments will be expanded. There will be backstories to open out, minor characters to be miniaturized. Then in the case of the young Romantics, there's the end, the final days, the last illness, the ultimate disaster. Shelley's drowning, Keats's consumption, Nerval's suicide. They demand fuller treatment because people are fascinated by the details, there's usually a lot of material, it has shaped their subsequent reputations—perhaps falsely—and the Romantic life-drama requires it. And then there is what is now called the "afterlife," the unfolding of that reputation as it moves toward us through history. But always the biographer is deciding what's most important, and what's most overlooked. Previous ­biographies of Coleridge spent all their time, really, in the first "golden" thirty years of his life, when he wrote "Kubla Khan" and so on. I wrote a whole volume on his last thirty years, which were so emotionally intense and so filled with his confessional notebooks.
INTERVIEWER
If you want to write a true psychological portrait of someone, you do need the childhood, don't you?
HOLMES
That's one thing that changes with modern biography—in shorthand, it's "post-Freud." Because you're setting out a life, you want everything that shapes or predicts adult character in childhood and adolescence, passions for things, fears of things, relationships with the parents, which long after they're dead will run right through the story. In Johnson's Lives of the Poets, the childhoods barely exist. With Victorian biography, you begin to get more. Mrs. Gaskell starts her wonderful biography of Charlotte Brontë with an amazing evocation of the landscape of the Yorkshire moors, and also the industry. How do ordinary people live there? And she gradually opens this out into the extraordinary childhoods of the three Brontë sisters and brother Branwell. That's already a new way of doing childhood—it arises out of a whole society. I think we now see childhood and adolescence as biographically preeminent and formative, and lasting a whole lifetime, to the last page.
INTERVIEWER
If you look at the history of biography, you'll see moments of intense interest in one particular figure for, say, a twenty-year period, when there are dozens of different books written about them. Then there will be a hundred fifty years of silence before they are of interest again.
HOLMES
Yes, for example in the Romantic period, Robert Southey, once poet laureate and acclaimed biographer of Nelson, is temporarily forgotten. While William Blake, virtually unknown until Gilchrist's biography of the 1860s, is now the subject of half a dozen biographies and universally studied as a school set text. The reemergence of the early feminist Mary Wollstonecraft in the 1970s is another case in point. It's not just a matter of role models. The questions we ask of biography change as we change, as society itself changes. To that extent, biography is a constant mirror of our aspirations and our anxieties. And biographies themselves, certainly as works of information, age, and date—they get superannuated. While I think a novel is always itself, it doesn't grow old in the same way. It may go out of fashion, but it remains an independent work of the imagination. Biographies are cumulative, contingent, so to speak. They may begin to creak!
INTERVIEWER
Are there timeless biographies?
HOLMES
I think there are. John Aubrey's Brief Lives. Boswell's Johnson, of course, the portrait of an entire age. William Godwin's life of Mary Wollstonecraft will always remain extraordinary—it's so incredibly frank. Mrs. Gaskell's Life of Charlotte Brontë has the force of a great novel. Like Boswell of course, she actually knew her own subject. Talking of biographical essays, Lytton Strachey's Eminent Victorians still seems completely alive, so witty and so anti-imperialist. I think many biographies written between 1960 and 2000, a sort of biographical golden age both in Britain and America, may last pretty well. But I would think that, wouldn't I?
INTERVIEWER
But there are also figures whose stories will never quite rhyme with the present again. I'm thinking of Madame de Staël, for instance. You could write a great biography of her, as people have done, but I could never imagine her life having quite the same contemporary resonance.
HOLMES
There have been some fine feminist accounts, but it's a puzzle why she hasn't had a major revival. Her novel Corinne, for all its extravagance, is also moving and had a profound effect on the Romantics, both in Europe and America. Her life was brave, adventurous, and glamorous. I tried to sketch it in This Long Pursuit. She wrote an extraordinary book about Germany, De l'Allemagne. Byron said there was no other woman in the world who could write that book. This was a Germany that was standing against Napoleon, like Britain a symbol of liberty in Europe. Napoleon burned the book, persecuted Madame de Staël, and made her a heroine for her generation. But the German experience in the two world wars plunged all this into shadow. Yet now liberal Germany is once again a shining light, and Angela Merkel has clearly been one of the great liberal leaders in Europe. So maybe Madame de Staël's time will come again. Her biography awaits her, so to speak. Biography, as always, offers a second chance.
INTERVIEWER
Has there ever been a subject that's haunted you?
HOLMES
Yes, every subject that I have ever worked on. I think that's the happy fate of biographers, to be haunted.