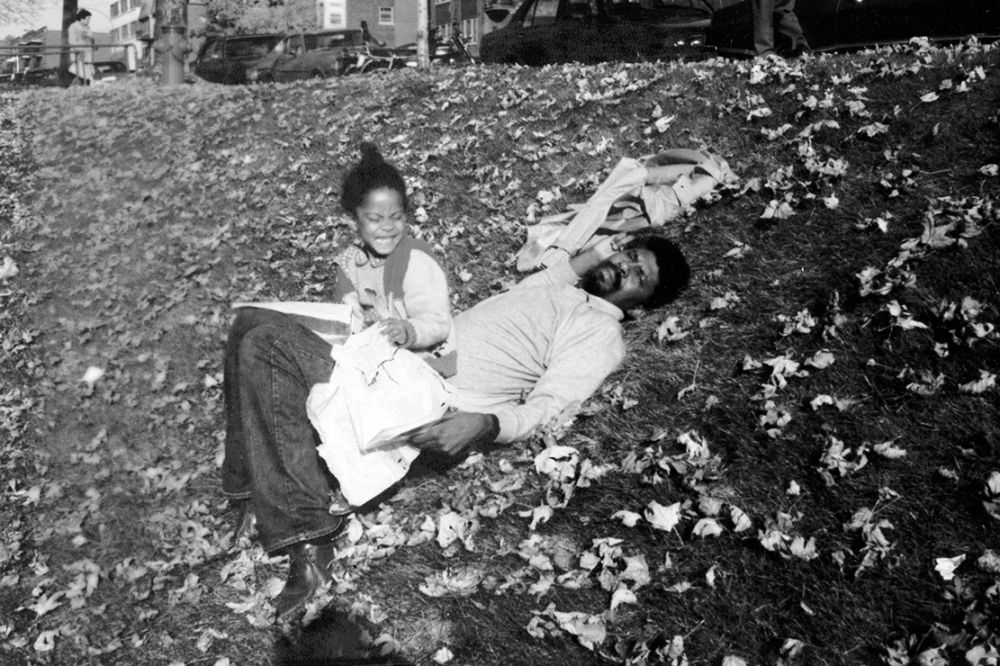 Laferrière with his eldest daughter, Melissa.
Dany Laferrière was born in Port-au-Prince in 1953. After his father, a former mayor of the city, was forced into exile in 1959, Dany was raised by his grandmother in the coastal village of Petit-Goâve. He returned to Port-au-Prince five years later and eventually became a culture reporter for Le petit samedi soir and Radio Haiti-Inter. When his colleague and friend Gasner Raymond was assassinated in 1976, Laferrière fled to Montreal, where he supported himself with a series of odd jobs. In 1985, he published his first novel, How to Make Love to a Negro Without Getting Tired, which chronicled those first years of his exile. But it wasn't until 2009, when he received the Prix Médicis for his nineteenth book, The Return, that Laferrière reached a wide readership in France. Like his other books, The Return is drawn from his real-life experience, in this case the journey he made to bury his father's ashes in Haiti.
Laferrière has written in prose and verse (The Return contains both); apart from his novels, he has published books for children and books that could be described as un-self-help, such as L'art presque perdu de ne rien faire (The Almost Forgotten Art of Doing Nothing, 2011) and Tout ce qu'on ne te dira pas, Mongo (Everything They Won't Tell You, Mongo, 2015), a guide for newly arrived immigrants to the First World. All of his books are interconnected and autobiographical: his oeuvre, approaching thirty volumes, is one long book about his writing of that book. He lives in Montreal with Maggie Berrouët, his wife of thirty-eight years, and their three daughters.
Before this interview began, Laferrière warned me that he is notorious for speaking at length: "I'm not a reticent Evan S. Connell type—je me ­raconte." Which proved true. He is open, warm, ironic, and quick to contradict himself as need be. Our interview took place over five sessions and several phone calls. The first meeting occurred on a lawn at Middlebury College in Vermont, where he was writer in residence; the second at a tavern near carré Saint-Louis, in Montreal, the setting of many of his books; the third in the back room of a Montreal bookstore; the fourth in his dining room and study. The final meeting took place at a restaurant in Paris, over a shared order of cervelle—that is, we shared a brain, an experience that will be familiar to many of his readers.
INTERVIEWER
In 2013, you were elected to the Académie française, the first-ever Haitian or Quebecois writer to join their ranks.
Laferrière
Yes, but first they had to sort out whether I was even admissible. You are supposed to be French. It turns out this wasn't a written rule. At the time the rules were written, they couldn't even imagine including someone not born in France or a French colony or département, or a naturalized Frenchman. A Haitian in Montreal is none of the above. To be eligible, you also have to live in France—which I did not. So the question became, is it the Académie française as in the French language? Or as in France? The president of the République decided the question—it's the Académie of the French language. This decision permitted my candidacy to proceed. It was what they call "une belle élection." I was received with enthusiasm, in the first round of voting. It took Victor Hugo something like four rounds, Voltaire three!
INTERVIEWER
What do you actually do there, beneath the dome?
Laferrière
I am part of several commissions, involving the dictionary, literature, and francophonie. I attend the weekly grandes séances on Thursdays. We discuss académie business, we grant literary awards and prizes, we revise definitions of words, all sorts of things.
INTERVIEWER
How do you discuss a word?
Laferrière
If a word that was used by Flaubert or Césaire falls into desuetude, if it becomes passé, we still keep it in the dictionary because it was used by an important writer. The dictionary strives to recognize the creative usage of writers. Our commission not long ago tackled the word sexe. So we looked at how writers use a word like sexe—all the different notions, phrases, and implications that have come up over the years. The Marquis de Sade doesn't have the same thoughts on the matter as, say, the Marquise de Sévigné. An ordinary word can take up half a page in the dictionary. A word like sexe can run to six or seven pages.
INTERVIEWER
How did you contribute to defining that particular word?
Laferrière
The dictionary doesn't have individual contributions. It's like building a cathedral. The workers are unknown. But one of the things I tend to do is suggest that it might be interesting to have examples of things that aren't from France. If it's a wind, which we worked on recently, does it always have to be the mistral? What about the winds of elsewhere? How about zephyrs or siroccos? In French, there exists an enormous variety of classifications, proverbs, and witticisms about winds. There are winds that push ships as well as winds that come from the gut—the noisy, bodily winds of Rabelais. All shadings have to be in the dictionary. And in circumstances like this, you realize that people always remain, in a way, children—even august adults. Words that concern the inner workings of the human body can still provoke a smile or a laugh, even within the Académie française.
INTERVIEWER
You are known for your memorable titles, which are often playful. Did I Am a Japanese Writer really start with the title?
Laferrière
It certainly did. My publisher in Paris was interested in the ways that Caribbean and Creole writers treat the question of identity. I wasn't at all interested in that. What interested me was, if literature belongs to everyone, if books belong to everyone, if anyone can go buy any book at a bookstore as soon as they get some money together—and if you can even buy a book without being able to read—then why can't we be whatever kind of writers we want to be?
INTERVIEWER
The book essentially imagines what the outcome would be if you wrote a book called I am a Japanese Writer. To be clear, the plot is about you—or your narrative stand-in—contemplating writing a book by that title. But it never actually gets written.
Laferrière
That's right. Except in reality I actually did write a book called I Am a Japanese Writer. And now it's coming out in a Japanese translation!
INTERVIEWER
In the book, you mention that Kurt Vonnegut once called you "the fastest 'titler' in America." What is the importance of a title to you?
Laferrière
A title is important to me, but it is not important for all writers. The greatest writers are the only ones allowed to have bad titles. A medium or only slightly good writer should above all strive to attract attention with a striking title. Once you have a title, the bulk of the work of writing a book is complete. A title gives a book its ambience. One could say that a title like Le goût des jeunes filles [translated as Dining with the Dictator] is an effective title. The same with How to Conquer America in One Night or Cette grenade dans la main du jeune nègre est-elle une arme ou un fruit? [translated as Why Must a Black Writer Write About Sex?]. A good title should warm the reader's heart in a bookstore, creating an immediate empathy with the book and giving the writer the chance to avoid too much explanation.
INTERVIEWER
What do you mean by "explanation"?
Laferrière
Only a truly great writer can call a book something like Man's Hope, as Malraux did. A lesser writer would have to spend countless pages explaining the title, which Malraux doesn't have to do because he's Malraux. If you aren't a great writer, you have to find another way. That's the thing with a title like How to Make Love to a Negro Without Getting Tired. I don't need to explain it. That very first title was a gift from the gods.
INTERVIEWER
Humor plays a part in the title, but is there also an element of mockery to it?
Laferrière
No, no, not at all. It was more about having a rapport with literature, but in a casual, unconventional way. It was more about what sort of writer I wanted to be—laid back. And racism wasn't at the center of the book either. Because of the title, I knew I'd get into it, but not in a frontal, direct way. The racism in the book is a hedonistic racism, which is to say, a celebratory one.
INTERVIEWER
Hedonistic racism? Celebratory racism?
Laferrière
The character is thrilled to be misunderstood, to be looked down upon. He comes off as "just" a young Negro, but then you speak with him and he can talk about Marguerite Duras, James Baldwin, Gabrielle Roy, Hölderlin, Swinburne, Leonard Cohen—plus, he can speak about them with a sense of detachment. It's as though he says, From a distance, you may see me as a Negro, but when you get closer you'll be ashamed to not have believed that this young man could have so many layers. And then you feel bad that you misjudged him.
INTERVIEWER
You intended for the book to be misjudged?
Laferrière
I saw it as being in the vein of Basquiat. At first, it just seems like graffiti—but then you see all the traces of Western culture within the images. You see Leonardo da Vinci, you see Cubism, but drawn with very contemporary lines, as though Picasso were tagging with spray paint. That's what I wanted to do. Here was a character talking about Montreal without hiding his true nature. He's a reader, an immigrant, but also a man who knows the city. We weren't in the ghetto, or lost in any nostalgia for the country he left behind, or in a slum in his newly adopted homeland.
INTERVIEWER
The book opens with two young Haitian friends in a rathole of an apartment arguing that Freud invented bebop, as proven by their readings of Totem and Taboo in the meter of Koranic verse over Charlie Parker records.
Laferrière
That first book is a factory of fantasies of all kinds. Not necessarily sexual—fantasies of freedom. People who were scraping by have told me that, in reading the book, they realized that they were actually living like princes. The glory of poverty is that rich people can't experience it. Their possessions get in the way. Some readers notice that the book is an evocation of freedom, but often people don't notice that—they see only stories of sex.
INTERVIEWER
There is sex—the protagonists seek to hook up with white McGill girls, and they can hear their neighbors fornicating loudly at all hours, and Kant's Critique of Pure Reason gives them hard-ons—but it isn't pornographic.
Laferrière
There are three pages of sex, in fact. Yet the book is imbued with sensuality.
INTERVIEWER
A reviewer once said of you, "Laferrière is totally without respect for any kind of sexual morality."
Laferrière
I've always loved that someone once wrote of Dangerous Liaisons that it gave its century its bad reputation. I would gladly accept all the negative articles that have been published about me just to have a phrase like that said about my work. But the theme that dominates the book is freedom. And friendship as well. It's about the freedom you can only enjoy if you live in a place where you weren't born. The narrator says, The fact of being in a place we don't know, where we can't situate ourselves—it's a dream! And in a dream, we do what we want. We feel what we want to feel. We dream what we want to dream.
INTERVIEWER
You've written three children's books. Is it fair to say that they echo the themes of your grown-up books?
Laferrière
Like all of my books, they are about my life. And they are also about the questions that are most important for children—love, death, and politics. Politics are pivotal to all of us, especially those who spend their childhood under a dictatorship. My childhood had a lot to do with dictatorship, with power, with the effects of power on myself. The question of race, by contrast, didn't affect me at all.
INTERVIEWER
How did you experience dictatorship as a child?
Laferrière
Living in a dictatorship meant that at certain moments of my life, my parents worried and stopped us from going out. So for me, as I made clear in La baiser mauve de Vava, my book on politics, it was the monster of dictatorship that kept a little boy from seeing the girl he had a crush on. That's what dictatorship felt like. Prohibition. But it wasn't dictatorial 24-7. We had school, we had classes, we attended them. There were Tonton Macoutes in the street—and you had to be aware of them, and be careful—but we kids didn't really know about all that. We didn't know what it could be like if you spoke your mind. We weren't interested in being for or against Duvalier. Like kids everywhere, we went anywhere we wanted and did whatever we pleased. For me, being in a little rural place like Petit-Goâve was no different than it was for any other kid. I had homework. I wanted to see movies, go dancing, play. As a child born into a dictatorship, you know you need to be careful, but you still manage to live.
INTERVIEWER
Your mother once compared you to your father by saying that you have a terrible appetite for life.
Laferrière
Yes. My father was a politician and a political activist and a dandy. He would change shirts at least twice or three times a day. He was the youngest-ever mayor of Port-au-Prince.
INTERVIEWER
Dany is your nickname, but in fact you and your father share a name—Windsor Klébert Laferrière.
Laferrière
That's right. And he, too, had to flee for his life. At the time, he was undersecretary of commerce. There were big protests going on—it was at the beginning of Duvalier's rule. The big food merchants were in the habit of starving the populace by withholding merchandise. Most major protests, which could lead to the overthrow of the regime, started in the open-air markets, which were the heart, the stomach of Port-au-Prince. Anyway, my father went on the radio, and, sounding like a Marxist, declared, If the bourgeois merchants are stockpiling merchandise, the people have the right to break into shops. He was the undersecretary of commerce, in charge of those very shops! Advocating for pillaging! So they forced him into exile. He was somewhere in his late twenties when he left.
INTERVIEWER
Where did he go?
Laferrière
He ended up in New York. He became ill. Meaning, to be clear, that he lost his mind. He lost everything, and he ended up a complete recluse. He walked. He would do Manhattan to Brooklyn every day, by foot. He was cut off from society, but people respected him because they considered him someone who could have done something for Haiti. That's how they talk in Haiti.
INTERVIEWER
And how old were you when you left Haiti?
Laferrière
Twenty-three. I had to flee the country as well, just like him.
INTERVIEWER
Because of the assassination of your friend.
Laferrière
Yes, Gasner was my best friend. We wrote for the same paper and were always together. He was a militant and a subversive. He wasn't afraid of anything. He was a character out of a novel, a romantic. He would tell people, Dany and I, we know we are going to die before the age of thirty. I would think to myself, Not me. But I couldn't tell him that because he was so enthusiastic. I was the prudent one.
INTERVIEWER
In what way?
Laferrière
My articles didn't have sentences in code denouncing the regime. His did. He did a series on prostitution and its connection to political corruption. I wrote about literature, film, painting. But then, we did a series of articles together on the cement-industry strike. We interviewed the factory workers. I knew what we were doing was extremely dangerous. The article was published. There was a picture of Gasner with the strikers. The news director hit the ceiling. I didn't understand why he was so furious. Two weeks later, Gasner was killed. Then there were rumors that I was going to be next. So I left for Montreal.
INTERVIEWER
You left right away?
Laferrière
No, there was the funeral. One or two days later, a week? I had no sense of time. I was there but I couldn't be a pallbearer, even though we were best friends. I had always taken one basic precaution in Haiti, which was not to get myself killed by being an idiot. As for rebellion, it's better to talk about an interesting movie and that people go see it. You don't need to die. For me, being political is discussing literature.
INTERVIEWER
What do you mean?
Laferrière
It's writing books. It's the fomenting of ideas. It's to be free and accessible, to meet people and travel. For me, writers are what the priest has been throughout history, this person we pay to talk about spirituality. I've always loved the figure of the priest—a guy who is paid tax-free. All we ask of him is that he speak of the soul. Three times a day. And give mass and be in charge of the rituals, blessing the newborn and the dead, marrying people. For me, the writer is the modern equivalent of that.
INTERVIEWER
Would you call yourself a spiritual person?
Laferrière
Only in the way most everyone else is. Let's say we're in Haiti, we have no medicine, no money, and we have very serious problems, but then our friend tells us a story and we start to laugh. For me, that's spirituality. It's as though lifted out by that peal of laughter. "Grace under pressure," as Hemingway put it.
INTERVIEWER
In his Paris Review interview, Hemingway was asked what he thought about the idea of being politically engaged as a novelist. He said he had no problem with being a political writer but that readers will end up skipping a book's political parts, if the work lasts. They'll no longer relate.
Laferrière
Yes, it's as simple as that. For me, a writer who is too engaged politically is a writer who has forgotten the energy that came over them when they read their first major book, Les misérables or Moby-Dick. For me a writer too engaged in the concrete realities of politics is a writer who doubts his or her own talent, because the writer should be able to touch everyone everywhere at all times.
INTERVIEWER
One of your recent books, The World Is Moving Around Me, is a firsthand account of the 2010 earthquake in Haiti.
Laferrière
During the earthquake, I faced the question everyone ultimately has to face—What will you do when confronted with death? How will you behave? Will you panic completely, or will you be a pillar for others? At that time, it seemed to me, all of Port-au-Prince behaved impeccably. Port-au-Prince really deserves its name. They are princes. It's rare to see people take forty-eight hours to pick themselves up after a catastrophe that kills three hundred thousand people. It took them two days. In my case, I started writing a book.
INTERVIEWER
You picked up a pen as soon as the earthquake happened?
Laferrière
Yes, right after the first tremors. And I started with a poetic instinct. The first thing I did was see if the flowers in the hotel's courtyard were broken. They had long stems. Not a flower was broken. The thing that helped me survive was going to see if the flowers had fallen or not. It's an extravagant idea, but fundamental to my aesthetic. And it has nothing to do with a love of flowers. If the flowers survived, I thought, the people would survive. The concrete had crumbled, but the flowers survived.
INTERVIEWER
In The Return, you write about returning to Haiti after thirty-three years in Montreal. The French title, L'énigme du retour, is a reference to Naipaul's The Enigma of Arrival, which refers, in turn, to a painting by de Chirico that was named by Apollinaire.
Laferrière
Yes! For me, there was also a linguistic and philosophical aspect behind the title that attracted me. I found that the enigma of arrival is not all that enigmatic. It's in fact relatively normal to feel displaced when you arrive somewhere for the first time, whether it's New York or Bombay. On the other hand, I found that the experience of returning somewhere after years in exile, returning to the place we came from and realizing we don't understand the rules of life there—that I found to be enigmatic.
INTERVIEWER
Naipaul's book could be seen as a precursor to yours—a Caribbean expat's description of life in his adopted home, in his case, rural England.
Laferrière
What really interested me was Naipaul's insolence. A Trinidadian writer arrives in England and starts to discuss the country with the same hauteur as a Brit going on about a little tropical island. I found it formidable. He encounters the seeming orderliness of provincial England and finds it beneath him. I don't remember the book as much as I remember its effect on me—to realize the possibility of speaking from that position.
INTERVIEWER
It is also a book about writing, like so many of yours.
Laferrière
That is a constant with Naipaul, that reflection on literature and on the act of writing. He writes as though stunned that he is a writer. In his astonishment, he keeps analyzing that occurrence, turning it over, looking at it from all angles. As if it weren't supposed to happen—and yet it has.
INTERVIEWER
A theme in all of your books is the desire to make borders vanish. Does that apply in terms of race as well?
Laferrière
In Haiti, according to our constitution, everyone who lives there is a Negro. So there's no problem. Even if you're blond or Japanese, if you are Haitian, you're a Negro. That's that. Some of my readers may read me as a black writer, but I wasn't black for the first twenty-three years of my life. We are all equal under the dictator. In Montreal, it's one way. In France, it's another—and they're deeply involved in the question of identity. In America, yes, they're still trapped in it. No group can say that the debate over race is over in America. But to read me based on skin color is to read me incorrectly.
INTERVIEWER
While preparing for this interview, it didn't occur to me that we would end up talking about race.
Laferrière
It would be more noteworthy if we didn't discuss it—if we didn't feel the need to discuss it. I wrote a book about this, called Je suis fatigué, "I am tired." It's about how tired I was of being seen as a Caribbean writer, as a Quebecois writer, as an ethnic writer, as an exiled writer—instead of as a writer tout court. We all know nationalist cultures are boring. We all come from a place where we were born, we all have a connection to our childhood and what happened then, and all of that affects how we write.
INTERVIEWER
How would you say that coming from Haiti has shaped your writing?
Laferrière
In Haiti, I think the memory of being warriors, the memory of independence, lives on. People are proud to have made it through, to have survived. They define themselves based on their resilience. That's the memory of the slave who has become independent through warfare. "Don't forget—I've already broken these chains before. Just because I happen to be poor doesn't change anything."
INTERVIEWER
Is writing hard for you?
Laferrière
There's nothing more tiring than an opening sentence. Yes, writing is a strenuous physical exertion. But it's also easy. Some of my books wrote themselves. Or they were written in around a month's time, in a month-long uninterrupted state of orgasm. Writing is not suffering. It's living faster, or with a greater intensity.
INTERVIEWER
Where do you write?
Laferrière
In bed. And yes, in the bathtub. Also walking around, wherever I may be, with a notebook.
INTERVIEWER
And how do you write? No longer with your Remington 22—the one that used to belong to Chester Himes.
Laferrière
No, no more Remington. By hand. And then on the computer. I take notes by hand, sketching out what it is that I'll be writing. It can be quite detailed. "I'm going to talk about this—one, two. Then A, from one, then B, from two." I do that in the bathtub. I think, I dream. And when I'm full of that, I start writing on the computer. At that point, I forget all the notes. The notes aren't there for me to follow them. They're to provide coherence—then I can get delirious again.
INTERVIEWER
Are all your books written in the present tense?
Laferrière
Yes. Even the books about my childhood. It's a continual present. It's a very hot present. Burning in the present indicative. It's because I find that it's the only time that exists. The past is found in memory, and I don't trust memory. And the future is a hope of people who live in countries where life expectancy is very long. I was raised by my grandmother in a place where each day we looked to find what we would eat. Each day had to be lived. At the end of the day, as we were going to bed, we would thank the Lord for having allowed us to live such a full day all the way to the end—we are not dead, we were not hungry. I wrote about it in The Return. We're born in the morning, we grow up at noon, and we die in the evening.
INTERVIEWER
What were the first books you loved?
Laferrière
It seems to me I started reading without knowing how to read. Kids do that sometimes. They recognize groupings of words from when others read to them. They start connecting images and they end up repeating phrases. In that way, I learned how to read quickly. I read all the books in the house, going rapidly from children's books to fairy tales to any book at all. My aunt Renée was the librarian at the small library in Petit-Goâve, and I would bring her food and we'd chat. I remember our conversations. And the stunning fact that there was almost never anybody at the library. But Aunt Renée didn't mind. It was mainly a medical library, with some very theoretical works on literature and literary criticism. I was young, so I didn't understand anything—but I read. I read books by Maurice Blanchot, but I read them without caring, as though they were fables. I remember an academic book about poetry. I couldn't understand why somebody would write a book to explain a poem. I still don't get why you'd want to explain a poem. The idea for me in poetry is that the pleasure is shamanic. The sound of the words we pronounce puts us in a state. I was impressed because I didn't understand.
INTERVIEWER
The idea of not understanding is important in much of your work. The senses seem to be what really matter in your writing.
Laferrière
Yes, absolutely. Vision, scent, touch. The idea of the senses is what permitted me, as a writer, not to produce logical literature based on rationality and intelligence, but rather to produce something that aimed to seduce, not to convince. The aim was for the reader to be encircled by these perfumes I'm trying to describe—in activating senses that aren't logical—so that he or she abandons the need to judge. I wanted to reduce as much as possible the distance between the reader and the odors and colors produced by the book. The reader can no longer analyze it or look at it critically, he or she is simply caught in the profusion of colors and perfumes. Though it isn't that organized. When I try to put it into words, it sounds like a scam.
INTERVIEWER
There's a moment in How to Make Love to a Negro Without Getting Tired where you speak about the smell of poverty, how it's hard to get it out of your clothes. And the protagonist decides to hang out in front of an Italian fast-food chain restaurant called DaGiovanni to take on the smell of spaghetti.
Laferrière
Yes, it's very physical. When I go to Port-au-Prince, one of the first things I do is stock up on mangoes. It's my favorite smell. On my deathbed, they should put a bowl of very ripe mangoes next to me, to fill the room with the smell of childhood.
INTERVIEWER
In The Return, you alternate between prose and verse. Why?
Laferrière
Because it is, first and foremost, a poetic book. Whether the sections are in verse or in prose, it is poetic throughout. I initially wrote it all in verse. I wrote it in Port-au-Prince—standing up, walking down the street, in the car, sitting at friends' places. But in transcribing the notebooks, I realized that the text I wrote then needed some context and some explanation, and so the prose sections are more to give context. The prose is the jewel box, and the verse is the jewel. Also, I'd have fewer readers if it had been only verse. I would've had maybe five hundred readers—under a thousand for sure. But as is, it had a hundred thousand readers. Readers see it as a novel, not a book of poetry. I wanted people to not really notice that it is made up of poems. I wanted them just to read it as they would a novel.
INTERVIEWER
Do you care about the size of your readership?
Laferrière
Yes and no. I always wanted readers. Not a lot, just some. Enough readers to win my freedom. When you have too many of them, you have to answer to another boss—the reader. As soon as you sell below a certain preordained number of books, you're in trouble.
INTERVIEWER
We're currently in a part of Montreal that figures prominently in your life and in your books, on rue Saint-Denis near carré Saint-Louis, at the sort of tavern you describe in The Return as a "crummy bar where you could spend all day over a warm beer." Why here?
Laferrière
It's where I invented myself. This is where I had to define who I was. Was I an exile? An exile is someone who remembers himself but who cannot return to the place where much of his life happened, where his sensibilities were formed, where people live that he knows, that he loves or hates. I needed to invent a new universe. So I wrote my first book, a novel where the word Haiti isn't pronounced a single time.
INTERVIEWER
At one point in that book, someone asks the main character, your authorial stand-in, where he's from, and he responds that he is from Madagascar—on Thursday nights.
Laferrière
Yes, he's erasing his traces. He says he's from Harlem or the Côte d'Ivoire or Madagascar on Thursday nights. To be from Haiti, to be imbued with coffee, the scent of mangoes, the taste of avocados, the smell of leaves, of jasmine, of ylang-ylang—those things came from my birth. They weren't things I decided. But I could decide what to be in Montreal. I severed my ties with Haiti to break the great sorcerer's spell—that of the dictator, who says, You will be obsessed with me, and you will think only of me. I can do other things, but you, you will think of avenging yourself, of getting worked up, and you will think of nothing but me.
INTERVIEWER
What is a writer's biggest enemy?
Laferrière
Ultimately, for me, the writer's enemy, his adversary, is money. And I believe that literature can eliminate money.
INTERVIEWER
How so?
Laferrière
For me, the promise of literature was to make money disappear. I'm going to be doing six or seven trips all over the world in the next two months. Everything is paid for. And that's it. I don't abuse it. I just do it. It's the order of things, it's part of my priestly function. I don't deal with money. Literature allowed me to cross borders and to make money vanish.
INTERVIEWER
What was it like when you first arrived here in Montreal, as an immigrant? What sort of jobs were you able to find?
Laferrière
I was at Dorval airport, doing maintenance work from midnight to eight A.M. I also worked as a janitor downtown. And then I had a job making rugs out of cows. We had to operate a kind of guillotine to cut their heads off. The cows arrived from Alberta. They were dead, but we had to cut the meat from the skin and cut the heads off their bodies. My job was to remove their skin. A cow is heavy. I'd put its head under the guillotine, and then skin it. It had to be done really fast—I nearly lost an arm. Some people wanted me to get my arm cut off because the guy I replaced lost an arm. My coworkers were sure that if two people lost limbs, they'd have to replace the machine, which was slightly defective. We were illegal workers getting paid under the table. We slept in a trailer in the middle of a field in winter.
I also worked for one of those companies that sends people to do a different job everyday and then takes a cut of your salary.
INTERVIEWER
A temp agency?
Laferrière
Yeah, that's it. They sent me everywhere. I did a lot of things in between 1976 and 1986. Then I got my refugee papers and was able to get my first real job, working in television.
INTERVIEWER
As a weather presenter. You were popular. You once delivered the weather report in the nude?
Laferrière
Yes. I told people that if they wanted to know the weather, they should just open the window!
But in my head, I was always a writer who had a job. I saw it as a learning opportunity. Before Montreal, the worst job I ever had was at a bank in Haiti.
INTERVIEWER
A bank?
Laferrière
I had no idea what a bank even was. Banks are wary of poor people. I was the opposite. So I quickly gained a reputation among poor people and prostitutes as the cashier to see. There was always a line of people to meet with me because they'd heard that I didn't need to see any paperwork. My guiding principle was that poor people don't cheat. It wasn't a romantic idea—it's simply that it's too complicated for them to cheat. They can't cheat a bank. Only rich people can cheat at the bank. And in the whole time I worked at the bank, I never had a single problem or a bounced check or a bad deposit. They would come and deposit or withdraw their tiny sums with their bankbook. All the prostitutes from the crossroads would come see me to send money to the Dominican Republic to their families and children. Those people never cheated. But because I wasn't a good banker, I never managed to balance my own numbers. It always took me so long that I'd end up going home late in the evenings, well after everybody else.
INTERVIEWER
So what happened?
Laferrière
They started having to pay me overtime for those extra hours, so I ended up making almost as much money as the bank director! All because they didn't understand how incompetent I was. If you don't know how to do things properly, I learned, you will be paid better than those who know how to do it and who go home on time.
INTERVIEWER
That is a classic Laferrière life lesson.
Laferrière
First off, you need to not do things. Second, you need to not know how to do things. By writing and by not trying to make any money or even touch it, I became rich. I don't believe in the action of receiving money. If Basquiat hadn't been able to sell his paintings, he might still be alive. A junkie who can sell a painting for sixty thousand dollars is a dead man. I often talk about a girl I met in Haiti way back when. She was a young woman who was a semi-prostitute. She told me, I'm not a prostitute. I don't want money—but I want everything that money can buy. And that's maybe my definition of myself as well.
INTERVIEWER
You describe yourself in an extremely unguarded way in your books. That must sometimes be difficult for those around you.
Laferrière
They're novels. My wife, for example, knows that she's reading a novel. She's been living with me since 1979, after all, so she doesn't try to understand me by reading my books. Realism isn't real. And the more I try to get close to myself, the more I'm hiding something. There is nothing more false than real life.
INTERVIEWER
In Journal d'un écrivain en pyjama, you write of how, at the outset, you were aware that suffering plays a part in writing and that literature requires struggling and pain—but you decided that for you it wouldn't be like that.
Laferrière
I heard writers speaking on the radio about the pain of writing, and I always thought they were laying it on a little thick. I figured that I knew something, at least a little, about suffering—that I knew people who had suffered. I'd been in some difficult situations, and I knew that those situations would always be harder than writing. I'm not saying that the anguish of writing is false. It is real for those who don't have a memory of true suffering. But when you have the memory of loss, of arriving in a city where you know no one, of being seen as the lowest of the low . . .
INTERVIEWER
What do you remember of that time?
Laferrière
To watch someone see you, when you are begging or homeless, and the person isn't scandalized. He's not happy about it, but he is thinking if someone has to be homeless, it might as well be you. If you saw that someone you went to school with had become homeless, you would be scandalized. You'd say to yourself, It can't possibly be! But for all the others who are homeless, it can't possibly be either! But it's like that when you don't know the person—you are categorized by race, or as a part of society that we accept seeing in a miserable situation. Native Americans drinking on a street corner or blacks in dire circumstances—these are things society thinks are normal. I'm not saying they accept it, but it's something they've always seen. Well, I've been in that situation. I've been seen that way—He's an immigrant and not white, and he's in dire straits, that's normal. There is nothing more extraordinary than seeing compassion in someone's eyes, but not the slightest surprise at your situation. That is what it is to be a desert island, with no one to protect you—which could plunge some people into despair, bordering on insanity. But for a writer, it can be interesting. Because you can observe society, since you are completely invisible. No one sees you. People will say and do anything in front of you.
INTERVIEWER
Is there anything impossible in literature?
Laferrière
Vengeance is impossible. It's impossible to avenge yourself. To avenge yourself means that you are still within a situation. The only vengeance that is possible is to forget the affront that has been committed, to be so satisfied in other ways that whatever the difficulty was gets erased. You may even come to realize that it was a good thing it happened to you, as it permitted you to get to where you are. That's revenge. Our only revenge is the number of people who've done us in that we've forgotten.
INTERVIEWER
But is there not a certain element of vengeance that fuels your writing?
Laferrière
There are interior fires. But they don't all have a source in something negative. Or at least, I don't see it that way. I'm not a writer dominated by bitterness, by acidity, or even by lucidity. If I sometimes irritate European writers because I describe a childhood that was happy under dictatorship, I tell them that they're being just as annoying by describing their extremely unhappy childhoods. André Gide said that happy feelings are not literary. I don't find this to be true. Why can't happiness be just as valid as bad feelings?
INTERVIEWER
You've said, in speaking about Haitian poets, that writers have a duty to promote work they admire.
Laferrière
Yes, it's even more important than writing, to help another writer become known. There's nothing charitable or Christian about it. When I write about someone I like and then someone says, Hey, I didn't know about that writer, and now I'm quite happy to know them—at that moment, I feel as though I maybe wrote that author's books. It was me who wrote that! For me, making a great writer better known is a way of being that great writer. It isn't just poets I love, like Ida Faubert, Magloire-Saint-Aude, Davertige, and Carl Brouard. It's also Borges, who made me learn about so many writers—not only French writers but also Locke, Kant, Schopenhauer, countless others. Borges used to say that originality is a modern superstition. Instead of trying to be original, we should just try to make known what already exists.