Interviewed by Elaine Blair
Issue 211, Winter 2014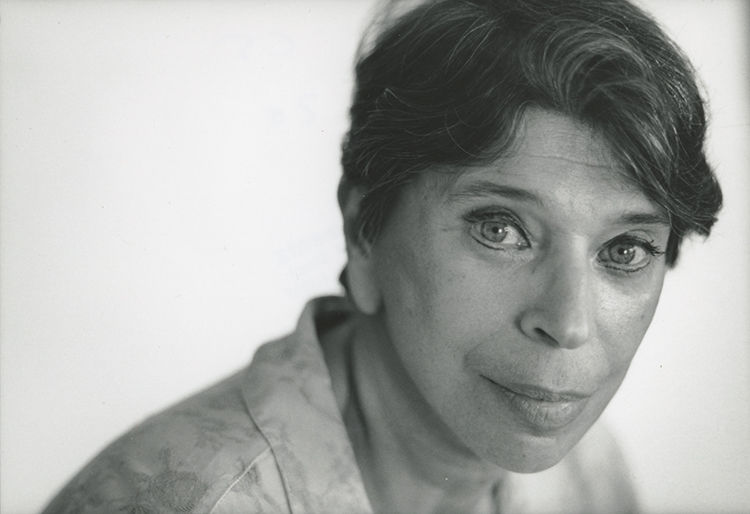 Vivian Gornick photographed in New York City, in 2001, by Jill Krementz; all rights reserved.
Vivian Gornick has written about herself in friendship, in marriage, as a daughter, as a woman living alone in New York, as a writer who has difficulty with writing. There are moments when she ­describes her struggles and her failures in love and work with such calm candor it seems that there is nothing about herself that she is afraid to see. Her ­memoirs include Fierce Attachments (1987), about her childhood in the Bronx and her lifelong ­antagonism with her ­mother, and Approaching Eye Level (1996), a collection of essays about her life as one loner among many in Manhattan. Of the awards and honors she has won for her work, the most recent is the selection of her "Letter from Greenwich Village" (see issue 204) for The Best American Essays 2014.
Although Gornick is best known as a memoirist, she is probably most influential as a critic. In her 1997 collection of essays, The End of the Novel of Love, Gornick makes an argument that was so quickly absorbed into the mainstream of literary thought that it now seems obvious: in the wake of the ­social changes of the sixties and seventies, the subject of love and marriage had lost much of its dramatic potential for novelists. "Romantic love now seems a yearning to dive down into feeling and come up magically changed . . . The idea of love as a means of illumination—in literature as in life—now comes as something of an anticlimax."
Gornick received a B.A. from City College in 1957 and an M.A. from New York University in 1960. After working in book publishing, she ­became a ­reporter for the Village Voice in 1969 and was soon assigned to cover the feminist movement, whose insights would strongly influence her work. She began writing criticism, mainly for the Voice and The Nation, when relations between men and women were changing fast, and she registered those ­changes in her own reading. We all know the term "personal journalism" thanks to Tom Wolfe, Joan Didion, and other celebrated practitioners. Gornick would ­develop for a new generation something you might call "personal criticism," a first-person style that draws on the tradition of essayist-critics like William Hazlitt and Virginia Woolf while also reflecting a very contemporary hunger for ­personal testimony. Indeed, the "I" of The End of the Novel of Love seems continuous with the "I" of Fierce Attachments, of her personal essays, and even of the ­biographies she has written (of Elizabeth Cady Stanton and Emma Goldman). Whatever Gornick's subject, her writing relies on direct, lived experience.
In conversation, Gornick speaks very much the way she writes—with point. She is an excellent storyteller and can quote the novels that matter to her at length and verbatim. She has blunt manners and a warm, disarming laugh. Our interview was conducted in her West Village apartment over two days last June.
—Elaine Blair
INTERVIEWER
Were your parents readers?
GORNICK
My father read the New York Times and the Daily Worker and the Morgn frayheyt, a left-wing Yiddish newspaper, every day of his life.
My mother was a romantic, so she read novels, many from the nineteenth century. She had only a high school education, but she was one of those immigrants who grew up on the Lower East Side and went to every free lecture in sight. When I was a young woman I began to give her books to read. She read whatever I gave her, and I would say, Ma, how was the book? She'd narrow her eyes, look steadily at me, and say, Powerful, really powerful. Or she'd say, Not powerful, not at all powerful. But once I gave her a two-volume autobiography by a popular English novelist of the early twentieth century named Storm Jameson. Jameson was a lousy novelist, but when she was in her late seventies she wrote this autobiography called Journey from the North—she came from Yorkshire—and that was her master­piece, the one book she wrote brilliantly. A week after I'd given my mother the book, I came in and there she was, lying on the couch, reading it. I said, Oh Ma, how are you enjoying that book? She sat up, swung her legs over the side of the couch, narrowed her eyes, as always, but this time she said, It's as though she's just in the room with me. And then she said, I'm going to feel lonely when I finish this book. And I thought, What more could any writer ask of a reader?
Because of this literary romanticism of hers, she pushed me to take the academic, not the commercial, course in high school. She told me I was ­going to go to college when many of the girls on the block were being urged to become secretaries. Love, of course, was the most important thing in a girl's life, but she wanted me to get an education so that I could become a teacher in case my husband died or left me. She thought that in the best of lives what happens is that a girl goes in one door marked college and comes out another marked teacher. When I graduated from City College and she discovered I wasn't a teacher, she felt swindled.
INTERVIEWER
In Fierce Attachments, you describe your years at City College as a kind of idyll. What were relations like between the girls and boys?
GORNICK
We were working-class to the bone, and that really dominated everything. Class outclassed sex, you might say. It was as if, unconsciously, we knew we were all involved in a project, and that made us comrades. Not that kids didn't develop crushes, fall in love, and some even have sex, though most of us were virgins almost until the end of college. But it was more like so many other pioneering experiments in which gender is, at least temporarily, ­ignored. The women were pressed into service just like the men. So, as in the nineteenth-century West, when many states gave women the vote to honor their participation in settling the territory, we girls at City College were most often treated as fellow pioneers.
INTERVIEWER
Who were your teachers at City College?
GORNICK
They were just smart college boys, mostly wasps—not teachers of distinction at all. They were the kind of people who, at the turn of the century, were running settlement houses. That's really what it was like, now that I think about it. The English had this big project among Oxbridge men to go north, to educate the working classes. Our teachers were something like that, although nowhere near as well connected or well-set-up as the English. But they certainly cheered us on.
I read some years ago a piece in the London Review of Books by an English writer who was about my age and who had grown up in the fifties, poor. And they were really lower-class, living in council housing. Their ­teachers would tell them, You are never going to be anything but a clerk, you don't need to study this, you need to learn that. With us, at City, it was exactly the opposite. The teachers, for the most part, seemed charmed by our rude smarts. I had a teacher who, when I finished school, said to me, What are you going to do now? And I said, I don't know, get a job. He said, Don't do that—you're better than that. Go get some more education. A lot of us had that experience. And I am sure that many of us succeeded much more fully than those teachers did, but they wanted us to do well.
It was such an oddity, the little world that we came from, it was such a set of contradictions. We went to college because we knew we didn't want to become clerks or office workers, but our ideas were so dim. The yearning for education was just part of the culture. My friends and I worshipped literature. We thought everything we would ever know or care about or be ­devoted to was to be found in literature—certainly it was in being absorbed by the books we read. And we especially—me and the girls I knew—felt daring when we read Colette and Mary McCarthy. These were fonts of wisdom for us. The work of these writers was not on any syllabus of any course we ever took, but we looked upon them as our real mentors. I memorized whole passages of Mary McCarthy. It was from her especially that I thought I was learning how to be in the world, as a woman who expected to become a person.
INTERVIEWER
Were you were reading criticism at the time?
GORNICK
Not when I was growing up. I was a dreamy kid at City College, falling in love with D. H. Lawrence and George Eliot, but I wasn't in the world, I wasn't of the world. For others my age, who came from more educated homes, Partisan Review and the other literary journals must have been a presence, but I'd come from a left-wing home, where politics and literature were worshipped, not analyzed. I was not at all a sophisticated reader. I thought I was going to be a novelist because that's what a writer was—so all I read was novels. I gave no thought to any other kind of writing.
INTERVIEWER
Were you writing fiction?
GORNICK
Of course. Stories. Not one of which was ever any good. They all lay there on the page like a dead dog.
INTERVIEWER
What were they about?
GORNICK
They were about what I thought were important events, which meant whatever was churning me up at the moment. I had had a relationship in my early twenties with a man who was an art dealer in New York. I don't mean a sexual relationship. I needed a job, and a girl I went to school with said to me, My family has this friend, he runs a gallery on Fifty-Seventh Street, he needs an assistant, go see. So I went to see him. He was a crusty old German Jew who was a well-known art dealer, actually. I went to work for him in his gallery and all kinds of characters came in and went out and a lot of nutty things happened there. It was its own education. The dealer came to adore me. I was the appreciative daughter of his intellectual dreams. We remained close in this odd way for a number of years.
Then he died and I began to discover the things he had done in his business that were a bit shady, and also that he was having an affair with my classmate's mother. I thought this was thrilling.
I would often carry paintings to the restorer, who was two blocks away, down the street. The dealer would say to me, Always walk with the canvas turned inside because Fifty-Seventh Street is full of spies. So I called my story, "Fifty-Seventh Street Is Full of Spies." Now, Mary McCarthy wrote a very brilliant story about a man like this—it's one of the earliest of her stories. She knew what to do with such material. I didn't. I sent my story to Commentary, and an editor wrote me back and said, It's a really good story, we like it a lot, but the narrative is so naive. We can't believe any twenty-year-old girl today could be that naive.
INTERVIEWER
Did you know what the editor meant?
GORNICK
A little bit, but not really. I could have probably gone back to her and said, Could you tell me exactly what you mean? But I wasn't even old enough to know to ask that question. I'm definitely what you call a late bloomer. The whole sixties went right by me. I didn't know who the hell I was, I didn't know how to find myself in any way. I wasn't in the New Left. I certainly wasn't in the counterculture. It wasn't even that I was a good girl—I just felt utterly at sea.
INTERVIEWER
Were you aware of feeling at sea?
GORNICK
Oh, yeah, absolutely. I was in my early thirties when I left my second husband and came back to New York from Berkeley, where I had quit graduate school and was working at UC Press and trying to figure out what to do next. In New York I got a job at Basic Books working, actually, for Irving Kristol. I didn't even know he was a reactionary! He was very literary, a very decent boss. I was doing secretarial work for him and I was terrible at it. Every morning I'd prop a container of coffee on the open top drawer of a filing cabinet, then I'd forget the coffee was there, pull out the bottom drawer, and the container would topple into the files. Kristol used to come into my office and between gritted teeth hiss at me, You must take control. But I never could. Yet he didn't fire me. Then Susan Sontag published "Notes on 'Camp' " and I read it and I thought she'd gotten the whole thing wrong. I thought the camp she described was really not in the spirit of Oscar Wilde but rather in the spirit of miserable Alfred Douglas, so, like the bristling, competitive young woman I guess I was, I made that distinction and I wrote this smart-ass piece taking Sontag to task, and it got published in the Village Voice and it got a lot of attention.
I had written other pieces for the Voice—in a casual, once-in-a-while way—but now I went to the editor and I asked him for a job. He said, You're a neurotic Jewish girl, you can only produce one piece a year, how can I give you a job? Not anymore, I said, I'll write anything you ask me to write. And that was it. I covered Jack Kerouac's funeral, I interviewed Dorothy Day, and I discovered that the style of the moment, personal journalism, was a natural for me. The job was mine.
For one of my first assignments, the editors at the Voice said to me, There are these chicks out on Bleecker Street calling themselves women's liberationists. Could you go and find out what it's all about? Within a week I had met Kate Millett, Susan Brownmiller, Ti-Grace Atkinson, and Shulamith Firestone. I approached them like an anthropologist meeting the natives— what is feminism? what are you about? why are you doing this, what does it mean to you?—but within a week I was a convert. Feminism was like lightning. It went right through me. Instantly, I saw myself in history, I saw myself in culture, I saw myself in the world as it was right at that moment. Long after I became a feminist, I wrote a book about American communists in which I asked every one of my subjects, How did you become a communist? What did it mean to you? Don't give me any politics now, just tell me how you felt, every step of the way. Many of them said essentially the same thing—that they'd been waiting somewhere within themselves for some comprehensive explanation of their own lives, and communism had been it. That's what feminism was for me.
For the next year, I was the resident feminist at the Village Voice, a ­polemicist who saw sexism everywhere. In everything I wrote, the point ­ultimately was ­going to be political—it was to show how people hurt each other in ordinary daily life because of sexism. That was my activism. So I would go to a dinner party, come home, and write, The other night at dinner, David said this, and Lisa said that, and these were the little murders of the soul that took place at the table. Virginia Woolf's novels are full of these little murders of the soul. She repeatedly uses this experience as a metaphor for the sympathies that, in the most ordinary of middle-class lives, are continually extended and withdrawn, extended and withdrawn between men and ­women who are ­unable to treat one another like simple fellow creatures. Woolf intends for this dynamic to be seen as life destroying. And it has ­taken half a century for us to read—or rather reread—her in the way in which she meant to be read.
Take Clarissa Dalloway. When I was in college, we all thought her a cold bitch without an ounce of sensuality in her morbidly proper being, but after feminism I reread the book and I thought, Poor Clarissa, she's just saving a sliver of integrity by going up to that virginal cot in the attic every night. Otherwise she'd be completely swallowed up inside. It was in my mind all the time now—what was happening between men and women. And in my gut, a visceral ache. I think it was E. L. Doctorow who said that all these liberationist movements grew out of one's own hurt feelings. True enough.
Still, the time felt mysterious. How to account for this moment when a few thousand women, as though overnight, were suddenly seeing their lives in this extraordinarily different light. As a journalist I couldn't get enough of it. I was at the Voice for about seven years—I stayed way too long. A lot of good writers passed through on a much quicker apprenticeship, but me, I was afraid to leave.
INTERVIEWER
Why?
GORNICK
I didn't trust myself. I didn't trust that anyone uptown would want to read anything I wrote. I didn't trust that I could find my way, make my own terms. And without that trust, I didn't have the courage to make a move. It was the first hard evidence I had of the self-doubt that has plagued me all my life. In the end, everything I know comes directly out of this lifelong self-doubt. Everything.
INTERVIEWER
While you were at the Voice you wrote the oral history of American communists.
GORNICK
Yes, The Romance of American Communism, a book I very badly wanted to write and did write—again, very badly. Its publication sent me spinning. It got attacked from the Right and from the Left, and legitimately so, because it was a book in which I failed to make terms. So everyone felt free to trash it. For a year afterward my fingers were like bloody stumps on the typewriter, because I saw that I had written a bad book.
INTERVIEWER
What did you think was bad about it?
GORNICK
I knew almost nothing about writing problems. Whenever I had one while writing Romance I'd sort of know something was wrong with the words on the page—an emptiness, a thinness, a summarizing of that which should have been unpacked. But not knowing how to solve the problem, I ­simply upped the purple prose, until at last the book was entirely marked by the kind of rhetoric that makes a work sound meretricious. Each and every time, instead of forcing myself to think harder, I'd back away from the task of thinking things through. There are a lot of marvelous anecdotes in the book, and there are a lot of marvelous portraits, but even now I have to shade my eyes from half the sentences.
As I say, the book was attacked, Left, Right, and Center. Irving Howe wrote the most unbelievable review—it sent me to bed for a week. In ­essence, he said, She writes about Stalinist camp as though it were summer camp. She is soft where she should be hard, she is wet where she should be dry. In other words, she's a cunt. It was ­unbelievable—a whole paragraph of stuff like that. He hated, hated, hated it, and so did Theodore Draper, and so did Hilton Kramer, and so did Ronald Radosh. When they came down on me like a ton of bricks, I realized that I had written a book that allowed them to terrorize me. It was then that I understood that I had not set the terms—only good writing would have done that. I ­realized from these reviews that I still didn't know how to write. That was painful. And that book still really hurts. It failed at something I think is ­important. It should have been a piece of inspired sociology about the ­relationship ­between institutions and individuals, and the need to live a large life. That's ­really what writing that book had meant to me—showing how communism with a small c had endowed all these small lives with such meaning. It was after Romance that I began to think seriously not just of the task of writing, but of the obligation as well. I'd look at the book and think, The nerve you had, sending out a piece of work as shabby as this—the nerve, thinking those sentences deserved to be out in the world. From that time on, I knew I had to stay with it as long as it took to write a sentence I could respect. That's the hardest thing in the world to do—to stay with a sentence until it has said what it should say, and then to know when that has been accomplished.
INTERVIEWER
You stopped writing journalism soon after.
GORNICK
I was in my forties by then, and suddenly I didn't want to be a stranger in other people's lives anymore, which was what being a journalist was to me. I felt that I had been looking at things from the outside, trying to order them and give them a deeper meaning, and I thought now I should be reversing the process, looking out from within. I left the Voice, and I got a job for a semester teaching at Penn State. And when I was relieved from doing journalism, I suddenly felt this thing bursting in me. I really don't know how I came upon the idea of writing about myself and my mother, but suddenly there it was, and it was urgent.
INTERVIEWER
This is the book that became Fierce Attachments?
GORNICK
Yes. That book was my apprenticeship. It took me a long time to know what I was actually writing about. To understand how deeply connected I was psychologically to these women—my mother, our neighbors, the women I grew up with. Years and years, actually. Although I didn't write Fierce Attachments until the mideighties, the seeds for the book were planted in me as early as the sixties when I read Portnoy's Complaint. I was shocked—we were all shocked, reading that book, because we saw ourselves in it, and we saw our world in it. I saw many of the boys I went to City College with and thought, Oh my God, is this what they're really like? Because nobody talked like Alex Portnoy. Even the boys on the corner weren't that ballsy, so who knew what they were thinking. The book was tremendously exciting. But even then, silently, I was saying to Roth, You don't understand these women, you don't know what the fuck they're all about, but I do—and someday I'm going to write about them.
INTERVIEWER
Did you have a sense of what Roth wasn't understanding?
GORNICK
Of course. He didn't understand the complexity of their inner lives. He didn't understand what I understood about their sexuality. He didn't ­understand what they knew of where they stood in the world. I didn't have the language of analysis, and I certainly didn't have the language of feminism—that would come later. But this much I knew consciously—viscerally, even then—I knew who they were and I knew how trapped they were. My subject would be the richness of their unhappiness.
INTERVIEWER
But as you were saying, it was years later that you wrote Fierce Attachments.
GORNICK
Yes. With Fierce Attachments I felt that my writing life as an adult had ­begun. It was with this book that I learned what sort of writer I was. I always knew that I could only write out of direct experience—no abstract intellectual, I—and that my way into that experience was through the strength of feeling translated into clarified thought. Clarity became my signature word, and the lucid sentence my passion. I used to think, rather melodramatically, that Natalia Ginzburg was a great mentor to me in that way. In her essay "My Vocation," she wrote that when she was young she thought she would be an operatic writer—extravagant, lush, full of emotional flourishes. And slowly she discovered, no, it was the exact opposite, that she, too, was writing out of direct experience, and she, too, had become devoted to the simplicity of writing in which there was no room for even a single operatic sentence.
With all that, writing has been a torture for me. A pleasure, never. Now it's not so painful—I'm used to the process, and I don't suffer as much as I used to. But for years and years I'd feel the world filling up with mist, fog—death—seeping in through the windows, under the doorsills, the kitchen vent whenever I had the chutzpah to sit down and try to write.
INTERVIEWER
You would write something, look at it, and—
GORNICK
Feel stupid. I would look at the words on the page—still do—and think, This is so naive. This is so stupid. Who's going to want to read this? How will I ever get another sentence out? Of course, every writer is vulnerable on that score. To the degree that you become a writer whose life is richly experienced through the work, you are, I believe, less tormented by that particular demon, and book by book the work will find itself deepening, paving the way for the very best a writer is capable of.
I certainly don't feel that I've even approached, much less reached, that level of accomplishment. The truth is, I had no sitzfleisch. I just could never sit down to it every day. I still can't. The only thing is, I do keep going back to the desk. And every time—every single time—the fog rolls in, my mind goes blank, and the struggle begins.
INTERVIEWER
What do you do when your mind goes blank?
GORNICK
Go to the refrigerator and eat.
INTERVIEWER
Did you think about stopping?
GORNICK
Never. I've always felt life wouldn't be worth living if I stopped writing. I really don't know why. Every now and then I'd think, Join the Peace Corps. But clearly I've been attached both to the suffering and to the work.
INTERVIEWER
There's a passage I love in The Situation and the Story about how much you came to enjoy the company of the persona you had developed for Fierce Attachments. "I longed each day to meet up again with her, this other one telling the story that I alone—in my everyday person—would not have been able to tell. I could hardly believe my luck in having found her (that's what it felt like, luck)." It seems like a kind of love story that no one else could tell.
GORNICK
It really is magic once you find the voice. Fierce Attachments was the first thing I ever wrote in which I felt the presence of a persona on whom I could rely. She figured out the scope of the book and how to fill it properly. I was never under the impression that I had written a major book, but I thought that what I had written was a small good thing. And it was all due to the hard work I put into finding that "persona."
INTERVIEWER
Did it get easier to write?
GORNICK
No. After Fierce Attachments came out, I thought to myself, Now you will have a decent writing life. Now you know that you can produce at least a small good thing and that if you sit down at the desk every day for the rest of your life you will produce, at the very least, respectable work and maybe, one or two times more, something that will match or even surpass Fierce Attachments. I really had all these thoughts exactly as I'm telling them to you.
The misery of it is that it wasn't true. What followed were the same old depressions, the same old inertias, the same old delays. I worked, I taught, I wrote book reviews, I wrote short pieces here and there, but it took me a very long time to get another book together. And until I wrote the book that I have just finished, The Odd Woman and the City, I did not write what I think of as a whole book again—what I wrote between then and now were collections of essays, critical and personal, and two biographies. I've written a lot, but not something that felt whole and, in my own eyes, worthy.
INTERVIEWER
The next book you published was The End of the Novel of Love. Did you not think of it as a whole book of linked essays?
GORNICK
Not at all. It was a clever editor who saw it as a book. This was Deb Chasman, my editor at the Boston Review, then at Beacon Press. She took all these ­pieces I had written over a number of years and put them together almost exactly as they were published. Then she said to me, This requires a title piece that will pull it all together. And she gave me the phrase "the end of the novel of love," which was somewhere in one of these pieces. She said, Write it. And I did. I wrote the title essay and that did what she said it would do. It was actually remarkable to me. I never dreamed that these essays resembled each other as much as they did. But Deb's structure made me see that I'd had this subject on my mind for a very long time.
INTERVIEWER
The title essay begins, "When I was a girl the whole world believed in love." Were you thinking of women in particular, or did you mean both men and women?
GORNICK
I was framing the question the way girls would have framed it, but I had everybody, the whole culture, in mind. When I was young, both men and women felt love was salvation. It would be a very long time before love became the enemy of freedom. Insight is one thing, being able to act on the insight quite another. That's what social change is all about, that's what analysis is all about, that's what novels that depict characters crucified by the discrepancy are all about.
I was writing the essay about Diana of the Crossways, and when I came to the part where Diana betrays the man she loves, I wrote, "She will be vile but she will be free." A friend I was teaching with read this and said, What do you mean she'll be free? How could anybody who did something so terrible ever be free? I saw that my friend was right—you can't do what Diana did and be free. You can only learn to live with your terrible no-win decisions. So I thought a bit harder and wrote that Diana was like an animal in a frenzy, tearing herself loose from a trap but leaving behind a limb. Either way—stay or go—her situation was deforming. There were moments like that in every one of these pieces when I began to think more clearly about what I was actually understanding as I was going along. I love that collection because I did think as hard as I could at that time about men and women together.
INTERVIEWER
Had you read other criticism that had a way of talking about life and books in that particular way?
GORNICK
Randall Jarrell was a big influence on me, and Natalia Ginzburg, as I've said. They wrote the kind of criticism that thrilled me. They taught me to believe in the goodness of writing out of my strongest feelings. That was my bent, and they showed me better how to do it. I used to read them again and again. I also read Leslie Fiedler. I could recognize that his was a true voice. He came from where I came from and wrote with the kind of boldness I appreciated—the boldness of thought, not of sensationalism. When he said, essentially, You have to learn to write from the very center, and you have to have the courage to look at what's in that center—that electrified me.
George Orwell was also a very obvious and a very good example to me. And so was James Baldwin in his early years. When he wrote about race, he wrote about it through sensibility. That was it essentially—sensibility. In the essays that make up The End of the Novel of Love, I was clearly writing as a feminist, but I wanted the writing to be driven by sensibility, not polemics. So I taught myself to see when I was writing rhetoric and when I was simply thinking about the piece at hand. The one major change that took place in me as I moved from polemical journalism to criticism—real criticism—was that I realized that I was never again going to sacrifice literary consideration to a political point of view.
INTERVIEWER
What did you think of Kate Millett's Sexual Politics when it came out?
GORNICK
When it came out, we all thought it was marvelous. There were other books of feminist criticism, but Millett's put her—and us—on the cover of Time. And rightly so. Many of these early feminist tracts are now unreadable, but they are social documents. I think it's like that with a lot of political movements. The early "announcements" are firebrand writing, hardly ever literature.
INTERVIEWER
And it gives other people an idiom.
GORNICK
Well, they certainly started providing us with a grammar and a vocabulary. These were extremely novel ideas at the time. I mean, for Millett to call all these famous male writers to account and say, Your books are a lot less than you think they are, and this is why—because the women in them are unknown, vilified, or shadowy creatures without a shred of reality.
INTERVIEWER
What did you think of Norman Mailer's response?
GORNICK
Norman Mailer—I mean, what could I think? He made me cringe all the time. Mailer, Roth, even Updike, although he was more genteel, all the men of that generation who became major American writers were vicious, ­unrestrained, retrograde, writing the most ungodly stuff about women. I mean, Mailer, my God, "the cosmic fuck." They were savage—especially the Jews among them. So full of hate! And why? Their story is so complicated . . . but they were nonetheless vile.
After the Second World War, all these people suddenly felt released as never before and that they had a right to think as they pleased and write as they pleased. As Bellow said when he was writing Augie March, "I felt that the language was mine to do with as I wished." And that was all true and exciting and marvelous, and the writing of those years is incomparable. But what was it they really wanted to do with this writing freedom? They wanted to put down on the page the taste of their own lives, and that taste was saturated in grievance—the grievance of their own previous social marginality.
It soon turned out that grievance was their collective middle name. When social marginality began to recede and they needed to keep the grievance ­going, they turned on women. So women became the enemy—you know, It's she who's doing me in, it's because of her that my life isn't worth living.
Yes, much of this writing, as we all know, was brilliant and frighteningly original. So for the readers of the world—including women—the poison came as a delicious shock. Until the day when thousands of those very same women suddenly thought, My God, they hate us. Why do they hate us? Maybe we all hate each other. Oh, yeah, I guess we do. We're certainly not being raised to like each other—we're being raised to exploit each other, to get away with something at one another's expense, to give ourselves a charge through pain and malevolence.
James Baldwin once wrote—I'm paraphrasing here—that an oppressed people does not come out of that oppression saints, they come out ­murderers. That is true. And usually it's exactly at the moment when that oppression is about to change character. In the case of these Jewish American writers, it was exactly when Jewish assimilation was about to complete itself that they were bursting with a creative resentment that eventually began to feel numbing. That's how it certainly has been with Philip Roth, who, although a generation younger than Bellow, was and is, in his own way, really much ­colder even than Saul Bellow. Bellow's nastiness conveys the heat of true ­inner ­dishevelment, but Roth? For me, not a single character in Roth conveys the warmth, the sheer sympathy needed to make a flesh-and-blood character live on the page. Fever, yes. Anxiety, yes. Grievance, yes. There's plenty of that. But the composite narrator who, through most of Roth's writing career, has wailed and wailed about his suffering at the hands of women—who believes a word of it?
INTERVIEWER
Going back to Mailer. As a writer do you find something suggestive or useful about his extraordinary brio? Even in The Prisoner of Sex?
GORNICK
Brio is good, brio is inspiriting. But Mailer's leaves me with the taste of ashes in my mouth, because it's in service to a sense of life I find pathetic when not odious.
INTERVIEWER
Was it in any way influential to you as a writer?
GORNICK
No, I could never write such sentences. Those are sentences characterized by a sense of self and world that was always foreign to me and to almost every ­woman I've known. But women have certainly wanted to write these sentences, the ones previously associated only with men. Virginia Woolf ­pointed that out in A Room of One's Own, when she was urging women to find their own voices and write their own sentences, and she spoke of the pernicious ­desire on the part of writers like George Eliot to write sentences that did not capture a woman's actual experience. Nowadays, of course, the strictness of that sentence-writing division is evaporating ­before our very eyes. For a reader like me, ­however, it ­remains oddly influential. That's why I never feel free to judge the work of writers who are two generations younger than me. You know Rachel Kushner's novel The Flamethrowers? She's doing big, long riffs on these subjects—she's ­doing motorcycles, she's doing Las Vegas, she's doing the international art world—that men have always taken for themselves. The motorcycle stuff really knocked me out. But hers is a world I could never find myself in, not as a person, certainly not as a writer. And I can't help it—I admired the fullness with which she inhabits it, even though the "maleness" of her book made me laugh.
INTERVIEWER
Do you think of yourself as having a critical persona?
GORNICK
I do. There are a number of writers who have made of their own anxiety a trope, a metaphor. Joan Didion, for example. She is this trembling, anxiety-ridden creature—that's how she goes out into the world—and she uses that persona well in her essays. She uses her anxiety as her antennae. My persona is different. It is certainly based in feminism—it's as a feminist that I read both the world and literature best. Oddly enough, it is when I'm well inside that perspective that I forget myself to the most useful degree. All I want then is to write as lucidly as I can. That's my prime motivation, to make art out of lucidity.
I've gone through many stages, trying to figure out exactly what it is I've wanted from writing. And I've had to bite the bullet many times, saying to myself, You're never going to be any richer or more famous than you are now, and that has sometimes felt like a bitter pill to swallow. I've not had the life I wanted, which was to be much more in the world than I've been, to be invited to entertaining parties and dinners, and all of that.
INTERVIEWER
Were there specific parties you wanted to be at but weren't?
GORNICK
The uptown parties, the New York Review parties, that sort of thing. I ­wanted recognition in those quarters. I was often envious of those who seemed to have a central position in what was indisputably New York literary life, people who were always saying, "At dinner the other night with Charles Simic . . . " It would make me feel bad about myself. And then I'd have to recover from that nonsense and forget about it—really forget about it. And I did—over and over again.
All this was never as big as I'm making it sound—really, it wasn't. I mean, it often seems as though everyone under the sun suffers from not ­being where they want to be or think they should be "in the world." I ­reviewed Alfred Kazin's Journals, and Alfred Kazin was such a neurotic that he wrote in his journals, after fifty years of a celebrated life, "I can never lose the feeling that there is some great party going on to which I have not been invited." And I'm sitting there, saying to myself, You, Alfred? You have the nerve to tell me you're never invited to the right parties? What about me, Alfred, me!
But whatever else this life has been or not been, it gave me writing. I could never discount that. If I had spent my life—instead of only half my life!—in service to the anxieties, rather than in service to the work, I'd really be miserable. As it is, I actually feel it's been a draw. And I even think the writing may yet win by a length.
INTERVIEWER
You mentioned that you just finished a book.
GORNICK
Yes. It's a memoir called The Odd Woman and the City. My closest friend for thirty years and more was a man whom I call Leonard—and for twenty of those years I've wanted to write about our friendship. He's gay, I'm obviously the Odd Woman, we each live alone, and we have each pursued this difficult life in the way that very few did in the generations before us. In short, we've both lived out our conflicts, not our fantasies. Half the people in New York have done the same. I mean, fifty percent of the households in Manhattan are single-person households. It's unbelievable. We have enough of us to populate a small country.
There's a moment in my book where I say to Leonard, Who are we? Forty, fifty years ago we would have been our parents, but who are we now? They used to seem so grown-up when they were our age, but I don't feel grown-up. I said this to him when we were both in our forties. And Leonard said, They weren't any more grown-up than we are. It's just that when they got married, they walked into a closet called Marriage, and inside the closet was a dress and a suit. So stiff they could stand up by themselves. One was marked husband, and one was marked wife. Each one stepped into those clothes and became that thing. After that, they passed. We, on the other hand, are standing here naked, that's all. I thought then that was a remarkable insight, and I still think it remarkable.
So I thought that I would like to write a book about all this, and for years and years I tried to get into it, and I couldn't. I had a situation but I couldn't find the story. Then one day I wrote something about the city, about going out into the street for relief from my solitude and having an encounter in the street, and suddenly it came together for me. I thought, I can write about Leonard and myself as creatures of the city. And that opened me up—I don't know why—and then I found the right tone of voice, the persona, if you will. And the elements in the book began to shift. So these elements—me and Leonard and the city and friendship—became parts of a collage, which became this new book. The relationship with Leonard began to reduce itself in size, and my relationship to the city began to gain more power over me. Becoming inured to domestic loneliness is a really hard job, no matter what anybody tells you, and the city, as it turned out, is what proved my salvation. This is the skeleton on which the writing is hung.
My editor and my agent kept urging me to write more about myself and love. But I've always known that, for me, love is not really to the point. I've never seen how love made people better, stronger, more real to themselves. On the other hand, if I had to live without work, life would be intolerable.
The real question for the book was, How did I become what I've ­become? I've ended up living alone for years on end not because I wanted to live alone but because for very nearly the first time in history someone like me could say yes to this and no to that, instead of just following a route of life development that was set out for you before you even got there. I was married twice very briefly, two and a half years each time, but the fact is each of my husbands was a stranger to me because I was a stranger to myself. Most people have certainly felt this way—often always!—but in previous generations no one could act on the feeling. Everyone stayed put. But I could act on it. And I did.
It isn't that I think love never lasts—love absolutely can and does last and transform itself many times in a life. I had an affair with a man for ­twenty years. He was married—thank God. But I saw him almost every day for twenty years. And we lived through a lot together. We grew estranged, and we came back together again, and we loved differently when we returned to one another. All I know about love I learned from that relationship, and I saw how it changed the shape and color of life over many years. And I said, to myself, Ah, so this is what it's all about. It taught me a lot, that experience, and I've got what it taught inside me to this very hour. But, in the end, it wasn't where I lived.
INTERVIEWER
Have you had the experience in love of being seen by someone in a way that is useful to you even after the relationship is over?
GORNICK
Yes, definitely. This man—he was great in that way. He was impossible in many ways, but he was always there to give me back to myself. He gave me courage for life, again and again.
INTERVIEWER
That sounds like a lot.
GORNICK
It is a lot, but don't forget this knowledge came to me through having an ­affair with a man who was married to somebody else, who I didn't live with 24-7, who, if I had lived with him 24-7, I probably would have found ­unbearable. Or he'd have found me unbearable. It was paradise to have a partner like that, but what I always needed was to be nourished as a writer, not so much as a woman, and this I think would have tired, even irritated him in time.
It was certainly a boon that I never felt anything in particular about ­being sexually successful. If I had I'm sure I would have found life much more of a burden than it has been.
You know, when I was a teenager, bringing home one boy after another, my mother would often say, You like him? And I would say, Yeah, Mom, I like him. And she would say, Old as I am, I wouldn't want to be touched by him. And I remember always being startled but also always thinking, She's jealous of me. She doesn't know this kind of hostility doesn't touch me. If she'd only had the wit to tell me something I wrote wasn't any good, she could have made me suffer for a week.
INTERVIEWER
Would you have said to your mother, What's important to me is writing?
GORNICK
No. She wouldn't have understood, and if she had, she would have humiliated me. You learn early, I think, to not make yourself vulnerable.
It took me years to stop caring what the family thought, to stop thinking the way they thought. When I was about eight, I was in a car with my cousin Rose, who was fifteen years older than me. I was in the backseat with my mother and my aunt, she was in the front with her husband, Irving. My aunt says, Could we stop at the grocery store, I need something. Irving says, No, we can't. And Rose says, Oh, honey, are you sure we can't? And again he says no. Then she put her hand on the back of his neck and began to massage it, and she leaned toward him and cooed like a baby. Oh, honey, she crooned. And he said, All right. Then she turned and winked at me, as if to say, This is how you do it. I was stunned.
INTERVIEWER
What part shocked you?
GORNICK
I saw that she was not at one with him. Winking at me meant that she wasn't his ally—she was my ally. She and I were in this together. She was teaching me how to become her. It was the first time I'd seen something like that, and even then I knew a world of values was behind her action, a world I wasn't going to be at home in.
INTERVIEWER
You've written a piece condemning marriage.
GORNICK
Yes, that was in 1980-something, and I've regretted it ever since. There were many people then who said to me, You really don't know what you're talking about, because I'd said, You get married, you lose yourself completely. And that was all I said. Even though I felt strongly that I was right, I knew that I didn't know what I was talking about. But I was angry then and didn't want to know what I knew. I just wanted to fight.
INTERVIEWER
You meant that women lose themselves completely?
GORNICK
I guess I thought marriage was bad for everybody, but my concern was ­women—at that time I really wasn't thinking about men as actual human beings. They were more like instruments of the "system" to me. But in fact, as my feminism grew, men became fellow sufferers in my eyes as they had not been before. My essay collection The Men in My Life is a product of that change in me—of learning to see that they suffer as we suffer. And many of them do it a hell of a lot better than we do.
INTERVIEWER
What do you mean when you say men didn't seem real to you?
GORNICK
The thing that feminism taught me very quickly was that we were all making instrumental use of each other, that, for instance, when a man was ­attracted to me, he wasn't attracted to me as such—he was attracted to the feelings I aroused in him, and what he wanted from me was that I keep that arousal alive. That is what we call sexual infatuation, and it's fine, delicious, necessary. But it does not constitute reality between people. That is not one ­human ­being ­apprehending another human being as a separate reality, akin to one's own.
INTERVIEWER
And what were you attracted to?
GORNICK
Same thing. The first time a man said to me, I can't trust you, I said, What? You can't trust me? That's not the way it works—it's "I can't trust you." But he was right to say it. I didn't have his concerns at heart—I had my own. I wanted him to act in a way that would make me feel good more than I wanted to know who he really was or what he really needed. I wanted to be secure, I wanted to be loved, I wanted the telephone to ring. I didn't want him as such. The aim of the feminist movement, I've always thought, was that ultimately we—men and women alike—will become more real than instrumental to one another.
INTERVIEWER
You've written about realizing that a man doesn't see you as a fellow creature. You haven't written—
GORNICK
About the other side of it.
INTERVIEWER
Yes.
GORNICK
I never got to the philosophic stage of writing about humanity at large. I guess I've always felt the imbalance between men and women has been so deep for so long that I don't have to square it with everybody. I just have to put the woman's position forward.
INTERVIEWER
But in your case, the woman's position is this realization that men never seemed real to you.
GORNICK
This is what the new book is about—my effort to explain, or just describe, as much as I can, how I came to be as I am. You know The Odd Women by George Gissing? I used to read that book every six months for years because Gissing had gotten it right. He nailed it. The Odd Woman, the woman who just can't make her peace with being in the world as the world is—which, ­essentially, comes down to living in a world in which people are not any more real to you than you are to them—at almost any other time in history she has been a lonely figure indeed. In order to think things through, that Odd Woman has always needed lots of company. And now she's got it.